Make money with your car or truck.
There are ways to make money from your car, truck, or SUV. In other words, there are ways to monetize owning an automobile and that will help offset the cost of this "depreciating asset". Learn how to make money with a car or truck, including by putting ads on it, helping the elderly, earn cash driving and more.
It is easy to make some extra money quickly, other than by driving for Lyft or Uber, which of course are so well known these days. Your truck or car can be used to make some extra cash from side jobs, advertising as a form of passive income, gig type work and other activities.
It is a great idea to try to make some money from your automobile. As after all cars are an expensive depreciating asset that loses about 20 percent of its value each year. Not to mention a vehicle comes with recurring expenses that cannot be avoided, such as gas, maintenance & repairs, registration, taxes, and other miscellaneous fees. There are many cons to ownership, but it can also be a great money-making asset, which is a benefit. Here are some great ways to make quick money just by driving your car or truck.
Earn cash with your car from a side hustle or business
Sell ad space on your car: Another smart way to make extra money with your car is to wrap it with some advertisements. This barely requires any effort. Simply place the ads on your car for a few weeks or months and you'll get paid for it.
It is possible to sell advertising space on your car or truck, and if you own a van you can get paid even more from ads. While rates, terms and conditions vary, drivers can earn anywhere from $100 to $400 per month. This is a completely free service. This type of money making opportunity can even be considered passive income, as you get paid each month for little or no work.
Platforms like Wrapify and Carvertise will pay you well for posting advertisements on your car. As long as you don't mind covering your car in ads for a while, this is a great money-making opportunity. You could even do it with a spare car that you rent out to make even more money.
Those who enroll will need to show advertising on the exterior of their automobile. There may be signs, murals, or other adverts placed on your car. Two of the leading companies to sign up at include wrapify as well as carvertise.com. They both have pros and cons. Learn more on Wrapify requirements to make money from your car.
Earn money taking kids to school: Working parents need assistance in transporting kids to and from school, appointments, daycare or other locations. Use your car to start a child transportation service to transport kids from different places in a safely manner. HopSkipDrive is one company that offers this service as well as other money making opportunities for driving children.
Depending on your vehicle, you can transport two or three kids at a time. And connect with parents through schools, churches or daycare centers. This can be a relief for working parents and a great way for you to earn money from your car.
Mobile Dog Grooming gig job or business: There are many busy pet owners that want to ensure that their pets properly care for. Start a dog grooming business with your car, van or truck by traveling from location to location to perform dog grooming activities, such as nail trim, wash, dry or haircut. You can also charge additional fees for taking dogs to the vet, dog walking and purchasing pet food.
Grocery Delivery Service: Grocery shopping is an errand in every household, and many people dislike doing it. Make money from your car by shopping and delivering groceries to customers. Postmates, Instacart and Amazon are a couple companies that seek drivers, and find more details below.
A grocery delivery service only requires a reliable vehicle working cell phone and a printer for flyers or business cards to advertise your service. Your potential customers will be local seniors in retirement communities, busy professionals, parents and those who are homebound with medical issues. This is a great business opportunity if you are unemployed or looking for ways to increase your income while putting your car to generate cash for monthly auto payments, insurance, and gas money.
Become An Uber/Lyft Driver - One of the most popular ways to make extra money with your car is to become a driver on rideshare apps like Uber and Lyft. These make it easy for all kinds of people to become makeshift cab drivers, offering lifts to and from anywhere people need to go.
While the hourly rates vary based on location, rider demand, day and time of week and other factors, in general an Uber or Lyft driver will make anywhere from $18 to $25 per hour. But be sure to factor in your expenses, such as wear and tear on your car.
Even if you only use these apps for a couple of hours each evening, you could make a nice chunk of money for short term needs. If Uber and Lyft aren't suitable for you, you could also consider other rideshare apps such as Curb or Wingz.
Taxi/Airport Services: Many Uber and Lyft drivers just focus on airport rides. They just activate the app when they are by the airport or decline other rides. Or you can start your own service using your car.
Depending on your state, you will need to change your license plate and contact your insurance company for liability insurance before you can start a taxi/airport shuttle service. There will also be government regulations to follow.
You can provide specialized transportation service for seniors, passengers with disabilities and families with children who will appreciate extra toddler car seats. Advertise your service by contacting local hotels, airports, and in your community. But watch your expenses and stay organized when you work as an Uber or Lyft driver, as it can be challenging to make money from this. Luckily there are apps for gig workers to help them make money or budget.
Drivers Training: Driving is a must in some parts of the US, and drivers training is still in demand, especially for teenagers with busy parents or people seeking a CDL. Driving school packages can be expensive, and many can offer a discount price.
Depending on your city's population as well as government regulations, you will need a certified DMV instructor license and a clean driving record. License fee can cost about $50, with some companies paying people to get a CDL or truck driving license. Contact your local DMV office for more information on CDL license (commercial truck driving) or other. Learn more on getting a free CDL license.
Taking Seniors, Children or Homebound People to Appointments: Turn your car into a money-making machine by taking seniors to medical appointments, even as a transit drive. The senior population is growing fast, and there will be a demand for senior transportation service since millions of Americans will be over 65.
Instead of offering lifts to single people or small groups via Uber and Lyft, you might want to become a transit driver in your spare time. This requires you to have a big enough vehicle to carry plenty of people, but it can be a nice source of extra money.
HopSkipDrive allows people to offer transit for children getting to places like school or daycare. Alternatively, ElderCare allows you to become a transit driver for elderly people. You could also simply offer your services via social media or sites like Craigslist. Learn more, or apply for these senior driving opportunities at Aging on Aging offices. Of course Lyft and Uber drivers can also drive seniors.
Seniors are typically safe drivers compared to younger age groups but are more likely to be injured in accidents due to age-related vulnerabilities, arthritis, weaker muscle, and medications which increases fatality rates on the road. And it is difficult for seniors to recover from injuries.
There are millions of people over ages 65 in rural and suburban communities, and many are forced to stay home because of lack of transportation. You can start a paid transportation service for non-driving seniors and provide a safe way for them to get around.
The federal government has included transportation cost in Medicaid programs which opens opportunities for local senior transportation businesses and a chance to earn a reliable income from your vehicle. A car and cell phone are needed to get started. Plus, you will be doing something meaningful by helping seniors to enjoy their independence.
Rent Out Your Car or truck for quick cash: Many people use their car once or twice a week and leave it sitting in their driveway for the rest of the time. Some people even forgo using their car in favor of walking or fast public transport. If you don't need to use your car all the time, you can make some extra money from it by renting it out.
Platforms like Turo and GetAround make it easy to offer your car as a rental vehicle to anyone in the area. People might rent out your car for a few hours to commute to work or they might need it for a few days. Whichever way, you can advertise its availability and start making money with it. This is an especially good idea if you have a spare car.
Help People Move: When it comes to moving or hauling furniture and other heavy items across the country, people often need a bigger vehicle. As such, if you have a truck or van with plenty of space in the trunk, you might want to make extra money by helping people haul their goods.
One way to do this is to offer your services as a mover via Craigslist or Facebook. Alternatively, you can use platforms such as TaskRabbit or GoShare. As long as you don't mind lifting heavy items, you'll be surprised at how quickly you can make money this way.
Rent Out Your Driveway Space: If you have plenty of space in your driveway or even a nice, secure garage, you might want to make extra money by renting it out. Many people will pay good money for a private parking space in a busy area. It's also easy to rent your space out via platforms like Spacer and Parkopedia.
This method doesn't involve using your car, but it does involve moving your car out of the way. Instead of using your driveway for your car, you can park your car on the road while you use your driveway for extra money.
Become A Car Blogger Or YouTuber: One of the most creative ways to make money with your car is to use it to create content. Many people often search on Google and YouTube for guides on maintaining and repairing parts of their car or even quick guides on driving and parking. You could start a blog on WordPress and create search engine optimized blogs covering common car questions.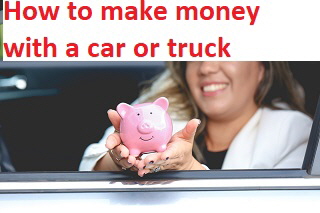 With some basic camera equipment and some dedication, you could also start to build a following via YouTube. Or set up a blog on a platform such as Wordpress. You can then make money via sponsors or even use your blog and channel as a portfolio to become a contributor to a popular car channel, blog, or magazine that will pay you to create fresh new content for them.
Car Videos on YouTube:

If you are an expert at repairing cars or have extensive information about automobiles, you can share your knowledge by starting a YouTube channel and monetize it
People are always surfing online for ways to fix things or save money on car repairs. Additionally, you can offer auto repair service locally or remotely by providing detail instructions via email, video or phone. Learn more about how YouTube can help you make money.
Use your car to make money delivering packages or stuff
Postmates: An on-demand courier service that delivers goods locally from restaurants, retail shops, and grocery stores. Postmates is now available in all 50 states if you have your own transportation.
Join the Postmates Fleet program to make deliveries with your own schedule in your own car. You will be able to keep 100% of your earnings plus delivery tips, and you can instantly cash out your funds.
Amazon Flex: Use your car to deliver goods for Amazon and make $18-$25 an hour. Amazon Flex allows you to build your own schedule and there are opportunities available seven days per week. The nation's largest ecommerce site is currently adding delivery partners, and this program is available in the majority of states now.
Roadie: An on-the-way delivery service that allows you to make money from the extra space in your vehicle by connecting people with items and drivers that are heading in the same direction. Roadie is a great way to make money from your car if you drive locally or long haul. You will simply get matched with bundle gigs with similar pick-up and drop-off location.
Whether if you are heading to work or the beach –Roadie allows you to make money on your commute. Drivers earn an average of $60 per local gig and up to $650 on long haul deliveries.
Deliv: A same-day delivery service that mall shopper and retailers. Become a delivery specialist and earn up to pay $22 an hour. Make your own schedule, complete delivery tasks and get paid weekly. You must be 18 and older with a 1998 or newer car and smartphone with data. Deliv is currently operating in 35 states.
Shyp: Earn money with your truck and earn up to $1.4k/week. Applicants must own a full-size truck (1500+), be 21 and older, ability to lift 100lbs and have a clean DMV and criminal record.'
GoShare: Become a GoShare and earn money from your pickup truck, cargo van or box truck. If you don't own a truck, you can still apply to become a helper and earn up to $47.54 an hour to assist with loading, unloading, and labor only projects.
CitizenShipper: A shipping marketplace that connects shipping customers with couriers who are traveling the same route. Become a CitizenShipper and deliver anything from pets to sailboats across the country using your car or truck. You can earn up to $800 per trip.
Food and grocery delivery companies pay gig drivers - often daily
Instead of offering lifts to people, another way to make extra money with your car is to offer food delivery. This is a great idea if you live in a busy area of the city near many popular food outlets. All you need to do is collect the food from restaurants and take out spots and deliver it to customers. Much like becoming an Uber or Lyft driver, this is something that can earn you a nice bit of extra money even if you only do it a few times a week.
Food delivery is often fast, frenetic, and stressful. However, if you want a similar option, you might want to consider becoming a general delivery driver. Many apps now allow companies to outsource their delivery to local drivers, so if you have a car and know how to get around, you can make extra money by delivering everything from groceries to Amazon orders.
PostMates and Shipt are popular services that let you deliver pretty much anything. You might end up delivering food or you might end up delivering baby supplies to someone. You could also check out Amazon's delivery platform Amazon Flex, allowing you to become an Amazon delivery driver.
Shipt: A same-day delivery service from local grocery stores. Become a shopper and earn up to $22/hour with weekly paychecks. To sign up, you must be 18 years, have a smartphone, and a reliable vehicle 1997 or newer with auto insurance.
AmazonFresh: A delivery grocery from Amazon that delivers fresh foods and locally-sourced products with same-day delivery using your own automobile. AmazonFresh drivers typically earn an hourly pay of $18-$25
Caviar: A technology platform that connects individuals that own a car and want to deliver goods with local restaurants. Sign up to become a courier and earn up to $25/hour with instant payout after each delivery. Applicants must be 18 years older with a valid driver's license, have two years of driving experience and pass a background check.
Grubhub: Deliver customer's favorite food from their restaurants and earn competitive pay and keep 100% of your tips. Drivers must be at least 19 years or older with two years of driving experience and pass a background check. Bikers must have a valid state ID.
UberEATS- A food delivery platform launched by Uber. Become a delivery partner earn money in your spare time from your car.
Conclusion on making money from your car or truck
Not up for the ideas above? Then try this. Make Money By Driving Safely. Many people might not realize that simply driving safely and avoiding any incidents can help them make extra money via their car insurance. For example, Allstate offers a generous Safe Driving bonus to drivers who avoid getting into any accidents.
Even if your insurance company doesn't offer a bonus for safe driving, it'll usually save you a lot more money on your insurance rates. This can result in more money saved for you each year and progressively lower insurance costs.
As shown above, there is a demand for delivery and transportation services across the country. Or earn a passive income by placing ads on your car. All of these options will allow you to turn your car into a money-making asset and also offset the cost of ownership.
Related Content From Needhelppayingbills.com