Disability loans.
People who are applying for Social Security Disability, or who currently get SSI or SSDI, will be able to get loans. Among other things, the money will help fill the period of time between when a bill is due and the monthly disability benefit check arrives. Find how to apply for social security loans, including from the government, banks, credit unions, SSI or payday lenders below.
Applying for disability from the social security administration will take months - many applications are rejected. Many applicants need an additional source funds over the short term to help them with their bills, food, housing and more during this timeframe. Adults, seniors, people with a handicap and others can get emergency SSI loans or funds from lenders, including applying for money only. There are also loans for current SSI recipients as well.
Loans while applying for disability benefits from the Social Security Administration
Anyone considering this approach of borrowing money while they wait on their SSI or SSDI benefits needs to proceed with caution. The fact is that the majority of applications for disability are denied the first time, and there are no guarantees to receiving this form of financial assistance from the government. Also, due to the length of the approval process, if someone were to take a disability loan for paying some of their living expenses, they need to be confident that they can repay the money.
What most people really need is an emergency loan to help with their bills when they are waiting on a decision from Disability Determination Services or their local SSA office. After an individual is already enrolled and receiving Supplemental Security Income (SSI), the monthly benefit may help them with paying their bills as it is a need based program. While the amount of money given to an individual with a disability is not extensive (most people receive less than $1500 per month) it is often enough for them to live on if they change their lifestyle accordingly. As applying for a loan, also look into other sources, and learn more on how to make free money fast and easily.
The other benefit, known as Social Security Disability Insurance (SSDI) is similar. This will also pay the household hundreds of dollars per month, which is usually enough for them to get by. But waiting for SSDI payments to start can be difficult, and once again, a disability loan can help during that period of time.
Some specialists may offer referrals to sources of loans. When applying for government benefits, a disability advocate or lawyer can provide information on loan programs as well as other financial guidance during that timeframe. They offer a number of services, the most important being expediting the application process.
Another resource they can provide is referrals to various low interest social security or government loan programs that someone applying for disability may be able to benefit from. The advocates, many of whom are attorneys, know that this waiting period can be a very challenging timeframe, so they offer as much support as they can. Learn how disability advocates help with applications.
Many state government also offer temporary disability benefits while the resident is waiting on a final determination from the government. This is often a short term, government funded social security loan for people applying for SSI. hese tend to be for residents of California, New York, Floridan Island, Hawaii, Texas or New Jersey, but other government agencies may have suggestions on loan programs as well. A local Department of Human Services will give referrals as well as applications, including online. Find public assistance.
Get loans while collecting SSI or SSDI disability payments
On the other hand, if someone is physically or mentally disabled and is already receiving disability payments from their state or the Social Security Administration, turning to a loan even then comes with risks. This should always be an option of last resort and the borrower should have a plan, and means in place, to pay it off in a very short period of time.
Once the Social Security Administration has an approved an applicant, the average monthly payment made to a family is about $1100 to $1500 per month. This amount is not always enough to live off of without budgeting or major lifestyle changes. It will barely pay for groceries, much less housing or medical bills for someone with a mental or physical disability. The first thing the person needs to do is to change their lifestyle if that is their only source of income.
State agencies such as the Disability Determination Services (DDS) or federal organizations including the Social Security Administration will not penalize anyone that borrows money when calculating their monthly cash benefits from SSI. As long as the borrower enters into a valid agreement when setting the terms of the loan, those funds will not count towards the household's income.
Another option that may be considered for short term needs while on SSI is borrowing money, either installment or low interest disability loan. The funds can be used to cover the period between when the bills are due and when the monthly check arrives from the Social Security Administration. A disability loan should never be used for any other reason than that, unless the borrower has the ability to pay it off in a very short period of time.
An alternative to borrowing money or taken on more debt using a loan is to take advantage of other non-profit or charity programs. Or people can apply for additional public assistance programs. In addition, many disabled people do hold a job. In fact, the Supplemental Security Income offers the SSI Work Incentives program known as Ticket, which allows the family to increase their total household income and prevents them from relying just on an emergency loan. For more information on working, dial 1-800-772-1213. Or learn more on Ticket to Work jobs for people on disability
The disabled can get loans from a non-profit, payday loan companies and other lenders, all of which will applications including to borrowers with bad credit. Some are focused on helping the low income, and other agencies (such as credit unions) may help the applicant rebuild their credit (if it is poor) and get funds at the same time. The options available are extensive, and people on SSI, state disability benefits, and other programs can all get help. Read more short term emergency loans.
Community action agencies have a number of assistance programs, including loans, transportation and more for disabled adults. Since there is no reduction in SSI benefits when getting a loan or borrowing money, this opens up a number of opportunities for the individual. Other lower risk options may be charities such as the Salvation Army or even local food banks.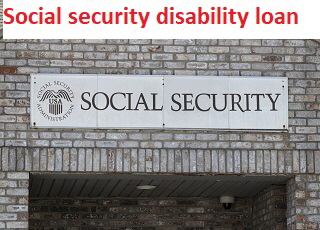 Other charities also are a great resources for people with a disability, including DHS, Jewish Family Services, Ageing on Aging offices and others. All of these groups will try to provide referrals to the individual as they are going through the application process for disability.
Some of these non-profits may provide some form of grant or online disability loan to the resident to help them with expenses such as rent or medical needs during this timeframe. However the most common form of support will be assistance in applying for other benefits such as LIHEAP for utility bills or maybe cash grants from TANF / welfare, which can be combined with a SSI loan. Click here for community action agencies.
Disability loans can be issued online from the companies, including payday organizations, regional or national banks and other lenders. A much riskier source of loans for the disabled is to turn to a lender in the private marketplace. This can include everyone from a credit union to a bank or peer to peer lending sites. Another source would be a payday lender, but this option is never recommended and should only even be considered as a last resort. Find a list of sources of loan products for paying living expenses.
Interest free loans, including for the mentally or physically disabled or people on SSI social security, are offered from groups to pay some living expenses. The money can be combined with SSI payments, government benefits, and more.. Examples of the loans may be for energy conservation needs, home modifications for the disabled, repairs, and much more. Find free loans.
Borrowing money while on disability or when applying
The bottom line is that loans are available for really anyone, including the disabled. Whether the challenge is temporary or long term, mental illness, cognitive impairment or physical, borrowing money to supplement SSI or while waiting on an application is always an option. But using a disability loan does have risks, and should not be used as a long term solution.
Related Content From Needhelppayingbills.com