Disability lawyer near you.
Find how a Social Security disability lawyer can help with applications for government benefits. An attorney near you will assist you with navigating the government regulations and rules as you apply for SSI (Supplemental Security Income) or SSDI (Social Security Disability Insurance). Locate a free or low-cost disability attorney or lawyer below.
Low-income families and senior citizens can get free disability lawyers from the federal government funded Legal Services Corporation, or LSC. The lawyers are part of non-profit organizations located in all states. They help with applications to government benefits as well, including SSI, cash assistance, SSDI disability and others. The lawyers can meet near you or provide free consultations over the phone or online.
In addition to the free attorneys who will assist adults with applying for Social Security disability, there are other "for-profit" as well as pro-bono law firms that can assist. These lawyers will help adults file for disability and charge them based on a contingency basis. This means the attorney will only get paid if they make you money – otherwise the process is free.
The bottom line is that if you are unable to work because of a disability (whether physical or mental), you may be eligible for Supplemental Security Income or Social Security Disability Insurance (SSDI) benefits. This federal government funded program provides financial assistance to workers who can't earn a living because of a long-term or severe disability.
A social security disability attorney will help. Low-income adults and seniors can get free in person, online, or phone consultations. The process of applying for these SSI or SSDI benefits, even on a short term basis, is complicated, and it is often helpful to have an lawyers assist you with the application.
How a social security lawyer helps with filing disability
Some of the services they offer include, but are not limited, too the following. An attorney can help people navigate the social security system, assist with the approval process, and even help employees who are injured at work get short term disability benefits. Some of the free consultations and advice provided is below.
Disability lawyers help people that have a complex medical condition. They can assist adults (or children) as well as senior citizens or employees with a difficult employer. Some conditions are more difficult to prove to the Social Security Administration (SSA) than others. For example, conditions that involve multiple body systems or that are not well-understood by the medical community can be more difficult to get approval for, examples being long-term covid, fibromyalgia and others..
If you have a complex medical condition, a lawyer can help you gather the necessary medical evidence and present it in a way that is clear to the SSA. Additional examples of complex conditions that may warrant hiring a free disability lawyer near you include, chronic fatigue syndrome, hypermobile Ehlers-Danlos syndrome, postural orthostatic tachycardia syndrome (POTS), Lyme disease, depression, and autism spectrum disorders. The attorney will also partner with your doctor or medical professional on the application process.
If you need immediate financial assistance, a disability attorney will help expedite your SSI or SSDI filing as much as possible. The process of applying for Social Security Disability benefits can take several months, with around 50% of first time applications rejected. Free legal aid can help here, even including with FMLA.
One reason for this is that the SSA denies most initial applications. You may appeal the denial, but this can add even more time to the process. If you are struggling to make ends meet and need your SSDI benefits as soon as possible, a lawyer can help you get your benefits more quickly.
The most effective way to speed up the process is to have a strong initial application. A lawyer can help you ensure that your application is complete and includes all necessary medical evidence. While an initial approval is not guaranteed, working with a lawyer can increase your chances of being approved the first time around.
If your application has been denied, lawyers will help get it approved . The attorney will only get paid if they are successful - so they work on a contingency basis. Even if you did not apply with the help of a lawyer, you may want to consider hiring one if your application has been denied. You have the right to appeal the SSA's decision, and a lawyer can help you with this process.
A Social Security Disability attorney near you will help you understand why your claim was denied and what evidence you need to submit to get approval on appeal. They will also have on-staff doctors and nurses to help re-file with the social security administration. They can also help ensure that your appeal is filed on time and that you meet all deadlines.
If you do not hear back from the Social Security Administration, legal aid can offer to follow if. The average wait time for a decision on an SSDI or SSI claim is about four to six months. If your claim has been pending for longer than this, it may be a sign that there is something wrong with your application.
There are many different reasons why your claim may be taking a long time to process. For example, the SSA may need more information from your doctor, or they may have lost some of your paperwork. If you are unsure why your claim is taking so long, a lawyer can help you get to the bottom of the issue.
Social security disability attorneys near you will help ensure you meet application guidelines. In other words, they will confirm that you qualify for benefits. It is a preview of your case to the social ecurity administration.
Qualifying for Social Security Disability Insurance benefits is not always straightforward, and there are many factors that the SSA will take into account when making a decision on your claim. If you have not yet applied for benefits and are unsure whether you qualify, a lawyer can help you determine whether or not you meet the SSA's criteria.
If you qualify, a lawyer can help you improve your odds of getting approved by ensuring that your application is complete and includes all necessary evidence. If your lawyer believes that you do not have a strong case, they can help you explore other options, such as applying for Supplemental Security Income (SSI).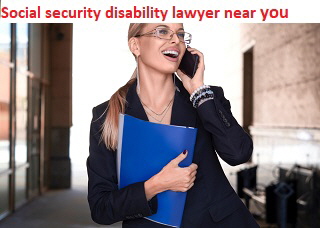 Find a social security attorney near you
Select a state below. The decision of whether or not to hire a free or low-cost Social Security Disability lawyer is a personal one. However, the system is complex, and the application and appeals processes can be lengthy and frustrating.
No matter your situation, having a lawyer by your side can give you peace of mind and improve your chances of getting the benefits you need. They will work on a contingency basis, while low-income people or the elderly can get help from free legal disability attorneys near them. With the right lawyer in your corner, you'll be well on your way to a better financial future.
Related Content From Needhelppayingbills.com