Help in paying off title loans.
Borrowers will get help from companies or charities paying off their title loans or reducing the interest rates from different lenders, banks, charities as well as government assistance programs. There are also some steps people with a title loan can do themselves in order to reduce or eliminate these debts. In addition to DIY options a number of non-profit credit counseling agencies will provide consumers free assistance. Find how to get help with title loans and/or to ways to consolidate them below.
The federal government also helps borrowers, including low-income families, get title loan relief. The Consumer Financial Protection Bureau has reported that almost 1 in 3 borrowers end up losing their car to a lender. They also note that many title loans come with an interest rate greater than 200% and that the for those few individuals who do pay them off, it can take as long as 8 months to eliminate them. The bottom line is that this form of financing should very rarely (if ever) be used, as it often leads to a car or truck being repossessed by the lender.
There are several ways to get assistance with paying or eliminating title loans, as noted below. Find how to get out of paying a title loan, or at least to reduce the amount that is owed to the lender or the interest rate. A number of charities, banks, and other lenders will offer relief to borrowers. Struggling families or people with bad credit can get assistance reducing or eliminating the amount of money they owe on a auto title loan.
Find assistance for eliminating title loans
In order to get professional help from a charity organization in paying them off, contact a non-profit credit counseling agency. These organizations offer families a number of services. In general, many of them will be free if the client has a low enough income. However even if the credit counseling agency charges for their services, the cost will be minimal. The staff at these non-profit organization do not want to see a family lose their car or truck to a predatory title loan company.
Providing clients with title loan help is but one of the services available. There is usually some underlying reason why a family took on this type of debt in the first place. So a credit counselor will meet with the client to go over their entire financial situation. They will review the household income, whether they have credit card debts, and more.
When it comes to the title loan, the agency will review options to either pay it off or make the monthly payment more manageable. This can include consolidating the debt, negotiating with the lender such as Advance America to either reduce the interest rate of the title loan or somehow modify it, or maybe even filing for bankruptcy. All of those programs, as well as others, will be reviewed.
While the exact number of borrowers is hard to determine, organizations such as the Pew Charitable Trust estimate that between 1 to 3 million families use a title loan. Many of them are low income or facing some type of emergency, and they need quick access to money. Due to this demand for assistance, there may be a wait involved when trying to sign up for a non-profit credit counseling agency. Or they may turn some applicants away and refer them to another company.
It may also be worthwhile to borrow money from a company at a lower interest rate to pay off a title loan. This is a form of debt consolidation. When exploring this option, there are different companies to look at. Some peer to peer lenders may offer a product, there can be personal loans used, or other sources of funds. Always be sure the interest rate is lower than what the borrower is currently being paid.
Title loan debts can be paid off following a full comprehensive plan that addresses all of the challenges faced by a family. As an example of how this works, there is no point in getting help if the family will just struggle to pay their bills month in and out. In other words, even if a title loan is to be paid off, the borrower also needs to address any credit cards they have, medical bills, student loans, and the like.
So this is a multi-step process, and find how to get of debts for paying all different bills. There are companies that assist as well as steps each and every person should take. Anyone that owes money to any creditor should look into this. Find help for paying debts.
When a borrower turns to a car title loan, it is often because they need some form of financial assistance to pay the bills. Maybe they need cash to pay the rent, cover a automobile repair, or some other critical expenses. Title loans should be a last resort when all other options fail. To this end, there are other ways to get money in short order. Find details on where to get emergency cash from.
Government assistance for car title loans
The federal government also encourages banks to offer low interest loans to working poor families, and these can be used to pay off more expensive debts. The program is administered by the FDIC as well as banks that the government partners with. Anyone that has turned to a title loan can use the program as a form of consolidation or title loan relief.
Since it is government supported, a focus is also on helping those families that are not in the mainstream banking system. So immigrants, people with poor credit scores, and others can apply for these low interest rate loans for low income families and use the money for a car payment or to pay off bills.
May states also have laws to protect residents from title as well as payday loans. They will vary based on where the person lives. But the federal government does not want families to lose their car to some high priced predatory title loan company. So they will set limits around what interest rates can be charged, how many times the loan can be rolled over, and much more. The industry is very regulated. More on state laws to protect borrowers.
A free car will often be provided to low-income families in lieu of a title loan. When all else fails, and if the car is seized by a lender or bank, a family will still need some form of transportation. Car title loans may assist, but there are also also government programs as well as charities that will help fulfill this need.
Charities will provide free or low cost cars to qualified low-income families or the unemployed, if the auto is needed for work, college, or job training. The truck, car, or any type of automobile can be provided if it helps the client gain self-sufficiency. Get information on programs that can show consumers how to get a free car.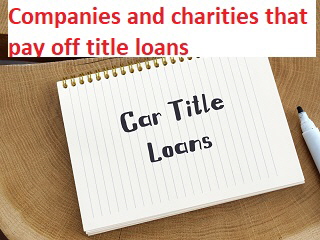 Rather than using title loans, get free car repairs from companies, auto mechanics, dealerships or charities. A number of organizations work with low income families to help fix their car for free. People with no money or poor credit can get help. The goal is to help clients get transportation for work related reasons if the family needs just a little support to gain self-sufficiency. Find free car repair estimates near you.
Related Content From Needhelppayingbills.com