Help with paying car impound fees.
Find how to get a car out of impound for free or minimal costs. There are charities, government programs and non-profits that help people get their car or truck out of the impound lot, even if the reason for the automobile being impounded was due to a legal issue, such as the police confiscating it or unpaid tickets. However always keep in mind the resources, whether financial assistance to pay fees or legal aid to waive fees or tickets, are limited. Locate assistance programs for getting a car out of impound below.
If a car has been impounded it can be difficult for a low income family to pay the costs involved to retrieve it. There is also a general lack of financial assistance available to pay for any release, towing costs or impound fees. Struggling families or individuals, including those with no money to spare or those that had their car impounded from the police, do have a few options that they can look into.
There are ways to get your car towed back to your home.

Free

emergency financial aid

programs that can help get the car or truck out of impound, especially when the car is needed for work. There is also financial help for people facing a repossession of their vehicle, which is often needed before an impound occurs. Find how to get financial assistance to stop a car repo.


Impound fees can be waived

with the help of free legal services or the support of a case worker.


Grant programs

can help low-income families, single moms or people with no money or a financial hardship pay the costs, and community action agencies or social services can help.
There are other programs as well. In general, impound fees are more likely to be waived, or emergency financial help provided, if the auto is needed for employment or job training. Locate other resources and programs below.
One of the first things to do is to determine why the car was impounded to begin with. It may be the result of unpaid car insurance, excessive parking or speeding tickets, or even criminal activity. If the issue was something related to a crime, then it will almost be impossible to get any type of financial assistance to get it released.
Low-income households that have had their car impounded for civil reasons or due to a financial hardship will often be assisted. When a charity or non-profit has funding is available (which is not common), it will usually only cover legal reasons, such as unpaid insurance, bringing registration current or rarely money can help pay parking tickets.
The focus of any impound assistance programs listed below is on non-criminal activity. However there are some ways to get a truck or car out of police impound for free or minimal costs as well or without paying any money. Even most of the free legal aid services that are available will not help people that were involved in a crime, even if the client has no cash or income available to them.
How to help get car out of impound
Car impound help for work reasons – If the person that had their car impounded is at risk of losing their current job due to lack of transportation, then a non-profit may assist. But, as noted, this form of help is rare. Some community action agencies will provide a free grant or low cost loan to help the family get the car of of the lot in which it was impounded at. Or a charity or church will assist. But even if they do provide this service, the dollar amount will be small. They can also help families register their car or pay fees associated with that impound reason.
It may be a little more likely to get a loan from a community action agency, especially if the applicant has no money but they are employed. This form of assistance for paying impound fees is more likely as it minimizes the risk to the agency. Even if the client has no upfront money to pay for the impound retrieval costs, by lending money it opens up the door to payment plans.
The use of the funds from a loan can be diverse, and some non-profit community action agencies may allow the money to go to a towing company, the government to pay speeding or parking tickets, an insurance bills, or even DMV registration costs. The applicant should have proof of employment, have a plan in place to repay any money loaned by the community action agency, and have proof of income. Anyone that may want to explore this option can contact a local community action agency.
Some regional or national programs also may offer more affordable loans for buying cars or trucks or paying impound fees. One service is available in certain parts of the country and it is usually referred to as Ways to Work. Money will only be issued to applicants with a job and that need their car for getting back and forth to work. While there are no guarantees, maybe the program will issue money to pay the impound costs to a lot or the towing company that took the car. Locate low income car loans which may help pay for an impound release fee.
Personal or payday loans to help pay impound costs – This will always be a very high risk option. The only reason it is noted here is it may be an option if the individual has a job but just no money to pay the upfront fees to the parking lot or garage. Or loans can help pay towing or automobile registration costs, or even smog fees. If it is used, the borrower needs to be able to (and follow through with) paying off the loan with their next paycheck.
Another time in which using a payday lender may be an option is some states now strongly regulate the origination fees as well as interest rates these lenders can charge. So if an automobile was impounded due to unpaid tickets or maybe auto insurance, and if the applicant lives in one of the more regulated states, then a payday loan may be a little better option as maybe the interest rate is more reasonable. But even in this case it is high risk and is the very last thing to consider. Be sure to read the find print or locate possible low interest rate payday loans.
As noted, any type of financial help to get a car out of impound is rare. The best solution is always to be pro-active. Especially if you have limited income, savings, or funds available, it is best to stop the impound from being able to happen period. This means some or all of the following.
Pay your car insurance on time.
Do not put off paying a parking or speeding ticket or registration.
Or even talk to an employer as maybe they can advance a paycheck or two.
For those families that are struggling and lack the money to be pro-active on paying these expenses, then ask for help from friends or family. Or talk to your boss at work, as in general, a company wants someone to have a car so they can make it to work as it does not do any good for the business if the employee has a car impounded and needs to be let go.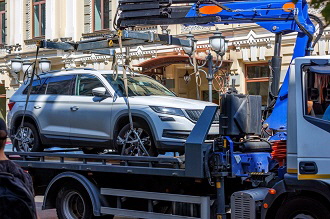 Free legal assistance for impound fees or towing costs
If the towing company or garage that took the car is being unfair, or maybe trying to scam the family, then this is when free legal aid may help get the car from an impound lot or get fees waived. As noted, if an automobile is impounded due to criminal activity, free or volunteer lawyers will not touch these types of cases. Instead they will only help very low income families with no money or assets available to them that are having trouble in getting their car released. Read other examples of what legal aid can help with.
The bottom line is that when a car that a low income family drives has been impounded, the options available to get it released are limited. But it is not hopeless. The resources above may be able to assist to pay the impound and/or vehicle release fee that the towing company or lot needs.
Related Content From Needhelppayingbills.com