Ways to Work program car loans.
The Ways to Work programs helps both low and moderate income individuals as well as people with bad credit get a car loan. The goal is to help struggling families buy a car or truck for a job. The program will help people solve their transportation issues by providing them with low interest rate or affordable car loans. Learn more on the Ways to Work program, and how to apply, below.
Car loans are provided to the unemployed who need transportation for work or to low-income families or single moms who are struggling to pay for an auto. Ways to Work is a non-profit organization that can help solve employment or job training transportation needs. The agency provides small dollar amount, low interest rate, short-term loans to working families or borrowers with no or bad credit that need a car or that need a auto repair done.
Individuals of all backgrounds and circumstances can apply. The program may even be able to assist those applicants that have either no or poor credit histories or someone with a job that is looking to reenter the workforce. Borrowers with bad credit can get car loans from the Ways to Work program. The money can be used to pay for a number of transportation expenses, including car insurance, the purchase of a new or used automobile, or repairs.
The typical loan amount provided is around $5,000, but the exact amounts will vary. It provides an alternative to families so that they do not need to use so called predatory lenders, payday companies, or other high interest rate options. The Ways to Work program is funded by the federal and state governments, as well as private foundations.
What are the Ways to Work car loans used for?
The goal of Ways to Work and the loans issued by the non-profit are to help people either remain in or advance/move forward in their job. The funds can also help unemployed people, or those who just need a car for a job, get the auto they need for employment. So the program is in effect focused on helping people become self sufficient over the long term by ensuring they have what they need to be successful in their jobs as well as careers.
What this means is that if you need a car to get to your job, bring your child to day care, attend school or technical college, or to get to job training program, then you will meet one of the main conditions. Ways to Work also helps arrange loans for people who lack credit history or have bad FICO scores.
It is not a charity or grant program. While the low-interest rate car loans can be issued for various reasons, the majority of loans are made for the purchase of modestly priced used vehicles or car repairs. The money also needs to be repaid, as the funds are cycled back into the program to help others that also need assistance. Over 90% of all Ways to Work loans processed are made for the purchase of used cars, with some money given for new trucks.
Individuals who receive and benefit from these loans will almost always have some type of future improvement or stabilization in their employment situation. Another benefit of the program is that clients also show a marked improvement in their financial literacy. This is often the case as they will slowly obtain a higher credit rating and scores as they repay the car loans, and they will have a heightened their sense of self-esteem.
In addition, and most importantly, for those who apply for an automobile loan and are successful with the program, the new car or transportation provided to them has always brought a significant improvement in their family's quality of life. It often leads to a higher income, an improved credit rating and a better overall financial situation. The organization has benefited everyone from the unemployed to single moms or dads as well as individuals that may lose their job as their car is in repair or broke down on them.
The interest rate of the auto loan will also vary, but the rates have been as low as 3%. Some of the local organizations that Ways to Work will partner with may even provide additional funding to help the low income family pay for their car insurance. Most of the loans will be offered for up to 36 months.
How many people have been helped by the Ways to Work program?
Hundreds of thousands of families from across the country have been assisted since the Ways to Work program started. Many of these low-income and struggling households have been able to afford that car or truck they need for their job. Hundreds of millions of dollars in low interest loans have been provided to low income families as well as people with low or poor credit histories.
If you meet the criteria and are provided with a loan, you will also receive additional financial assistance. Clients will also be provided with financial literacy training, budgeting skills, as well as free credit repair strategies and techniques. There is also debt counseling, referrals to other resources, and more.
Additional programs for bad credit car loans
There are other assistance programs for borrowers with bad or no credit ratings or scores. Various banks, lenders, credit unions and non-profits help people get a used or new car or truck for work, school, or job training. Some alternatives to Ways to Work auto loans include the following.
Low interest rate automobile loans - Many credit unions, non-profits, auto dealerships and even banks offer smaller dollar loans at a low interest rate, even for borrowers if their credit is poor or non-existent. These non-profits or companies are very beneficial for struggling households. These low interest loans can either supplement or replace the Ways to Work financing options and can be used to help purchase a car. Locate information on low income loans for no credit borrowers.
Refinance car loan - Major lenders such as Bank of America, Chase and Wells Fargo will help consumers refinance existing auto loans. This is for borrowers that are already facing a hardship with existing car payments. The process can possibly save hundreds of dollars over the life of the car loan. Individuals that are working part-time already may be eligible as well as others with a source of income. Find more details on refinancing car loans.
Bad credit car loans from charities, churches, and non-profits - The Ways to Work organization is not the only non-profit that can help the less fortunate meet their transportation needs. Several other agencies operate either nationally or in one or more states. Some may provide used cars, volunteer driver programs, or short term loan products or help with the approval of a car loan.
There may be financing for everyone from the disabled to unemployed or elderly as well. People with side hustle jobs, and bad credit scores, can also get approved for a car loan from some agencies. Other places to call include charities such as Opportunity Cars, St. Vincent De Paul, and many others. Read more charities and organizations.
Car loan payment help is available, from Ways to Work as well as other charities, government agencies or lenders. In general, the assistance provided is refinancing, payment plans and similar options, including for borrowers with bad credit or late payments. in rare cases the federal government offers grant money to help pay car loans. Locate help paying car payments.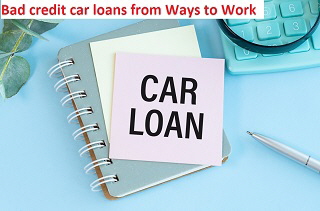 How to apply for bad credit car or auto loans from Ways to Work
The Ways to Work program is generally offered by community action agencies or government social service offices. The non-profits, as well as government agencies provide help to low-income families so they can get a job, access transportation for work, fix a car and more. Ways to Work as well as other auto loans are provided to assist. Learn more on Community Help from action agencies.
Unfortunately the program is not available in all parts of the country. If Ways to Work is offered, a community action program or social service office will put the applicant into contact with an organization or lender to apply at for a low interest car loan.
Related Content From Needhelppayingbills.com