Refinance car - auto loan.
Learn how to refinance a car loan in order to lower your monthly truck, car or auto payment. Low income families, or those going through a crisis, will get help from their bank or lender, credit union, or other, private companies. People with bad credit will also save money on their monthly auto loan from refinancing. Find how to refinance your car or truck loan, including extending payment terms or reducing the interest rate.
All banks offer this service, including Wells Fargo, Bank of America, Chase, CarMax, Ally and car dealerships as well. What many people do not know is that refinancing their auto loan is easier to complete, it can be done in under 10 minutes, and it can save you some significant money (potentially thousands of dollars) on your car, truck or monthly SUV payments. Even households with poor credit can lower their monthly care payments from a refi. Find more information on how to get help with lowering car loan payments below, including refinancing, assistance programs non-profits and other options..
How to refinance auto loan
If you know how home refinancing works, then you pretty much understand how car loan refinancing works as they are very similar. While the process is similar, one big difference is that refinancing an automobile loan is far cheaper, quicker and easier than refinancing a home mortgage. There's no need for an appraisal and borrowers can usually find out if they've been approved within an hour of applying online.
Lenders work with banks to get you a new car loan. Almost all of the major financing companies offer this refinancing service to qualified borrowers, including Ally, Wells Fargo, Chase, and others that refi automobile loans. It is generally in their best interest to work with the individual or modifying the note on their car loan rather than see the borrower default. It is also possible for borrowers with poor credit to refinance a car loan to lower their auto payment.
This new financing is then used to pay off your existing automobile loan, so you will still have one payment to make each month. Refinancing your car loan can save you money each month on your car payment by lowering your interest rate. The bottom line is that there are often lenders, credit unions and banks who will offer you a lower interest rate on your car note in order to get your business. It is always worth your time to at least check for a lower rate, as it is free to do.
Sometimes a customer may not qualify for a lower interest rate, but they can still reduce their monthly payments. They should ask their lender for other options. One common solution that can help a family is they may be provided with a longer loan term that provides customers additional repayment time.
For example, if the new loan adds additional months to the time you have to repay it, then this extra time should in effect reduce the monthly auto loan payment that you are responsible to make. However be wary of extending the term of a car note, as while it will reduce your monthly payment, it will take you more time to pay off your note.
Savings from an auto refinance
Say you bought your new car six months ago. Maybe at the time you did not have the highest credit scores, or had difficulty with obtaining financing. The automobile dealer told you that your interest rate would be 8 percent on a five-year loan for a $23,000 car. So using this example your monthly payments are currently $465 per month.
Now lets say you contact a company that provides auto refinancing, either by reducing the interest rate or maybe extending the repayment terms. You may be able to refinance the balance of your car loan to a lower interest rate, and thereby lower your monthly car payments to around $400 a month. That is equal to a savings of almost $5,000 over a 60 month period of time. Or if the term is longer, the savings may be even greater.
Ally auto loan refinancing programs are offered by various lenders. A number of banks, online lenders, credit unions and other companies will help people with a loan from Ally save money. This will include lower interest rates, extended payment terms and more. Learn more on refinancing an Ally auto loan.
National lender Wells Fargo states that customers who have refinanced or cashed out their auto loan with them received around $5,000 in cash savings. This is one of the nation's largest financing companies and they partner with Ford, GM, and other manufacturers. Read more on Wells Fargo auto loan refinance and cash outs.
Auto loans refinanced by Capital One have led to borrowers saving on average $500 per year on their monthly car payments. Learn more about assistance with car payments from Capital One.
Bank of America also offers an auto loan refinancing product, and they are one of the major lenders that operates in this marketplace. Both extensions and reduced interest rates may be offered in the car note. Continue with Bank of America auto loan refinancing.
JP Morgan Chase also provides this service. Interested consumers can apply for free, either over the phone or at a local banking center. Customer service representatives can guide individuals through the Chase auto loan refinancing process.
All it takes is about 10 minutes to fill out the refinancing application, and it can be done at no cost. By refinancing your car loan at a competitive rate your monthly truck or car payments can be slashed, and potentially save individuals thousands of dollars over time.
Fees to refinance an automobile loan
Any time a consumer takes out a loan, or refinances a product, or in general deals with any financial matter you always want to be aware of fees and charges. That being said, it is possible to refinance a car loan or payment on a truck or SUV for free. But always read the terms and conditions of any contract very closely.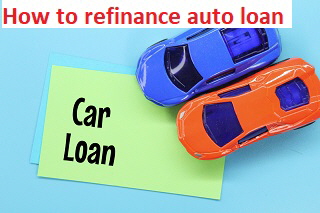 In almost all auto loan refinance transactions, there will be charges to both transfer the title of the car loan as well as to re-register your car. These fees vary depending on the state you live in and the bank or lender you refinance with, but the total cost of these various fees in general shouldn't exceed $50 in most states. Even paying a small fee will still generally allow the borrower to benefit, over time, from a lower monthly car payment.
Be sure to monitor this closely, and question it if need be. Many banks or lenders will also charge a processing fee to refinance, in which the amount of the charge will vary widely. Always be aware of these fees and shop around to find the most competitive offer. While there are generally fees involved, it usually is still beneficial to refinance a higher interest rate car loan as the savings will accrue over time.
Who should consider car loan refinancing programs
Refinancing your auto loan should be of particular interest to those people who obtained their car loan directly from a dealership. The reason being is that because dealers always serve the role of a middleman in the financing transaction, a dealer will almost always increase the interest rates they get from the lenders they partner with. They will then therefore pass along that higher rate to the buyer in order to make money from the buyer.
Another reason to refinance a loan is most automobile dealers, such as CarMax, are leaning more heavily on extra services and products. The fact is many companies do not make much money on selling the car, but they are profitable due to these extra services. One big revenue source for an automobile dealer is by offering auto loans to their customer, and they use these for profits as shoppers get savvier about researching car prices online and it becomes harder for them to make money on the sale of the car itself.
Also note that that refinancing your car loan in order to reduce monthly payments may be particularly beneficial to borrowers whose credit scores have improved since they first bought their car or truck. Maybe when they first obtained their loan they did not qualify for the lowest rates at that time, but now the situation may have changed. This is more common than not, and it is usually because borrowers have been making timely payments.
Lastly, there are a lot of options out there for refinancing a car loan, even for families with low credit. There are more competitors and lenders to choose from, even including fintech companies such as Paypal. With more competition in the industry, the interest rates you find can be cheaper.
Consumers who used a very long term loan when they bought their car, such as over 6 years in length, in order to lower their payments should also explore refinancing. What may happen is that now their financial situation or credit scores may have approved, and the bank may provide them either a shorter term (while at the same time lowering their payments) or they can get other assistance from the lender. This approach can also help them build more equity in less time.
There will be instances in which the car payment will never be affordable, even if a refinance of the auto loan is completed. Maybe the household's income has declined so much or their credit scores are so poor that a bank would never approve it. Or maybe the owner just doesn't want that truck or car anymore, so refinancing just would not make sense. In these cases the borrower will still need some form of transportation for work or other reasons, and there are charities and non-profits that will help to provide a free car.
Why don't more people refinance their car loan?
The general consensus as to why it is not more widely used is that most people do not know that they can refinance their auto loan. Another of the big reasons is that even those people who do know about this expect the same kind of application-intensive process or additional costs that they need to refinance a home loan. However, those two barriers are not true.
It is normally a 5-10 minute, quick process to apply, and that is your only risk. You can find out if you can lower your car note payment with just a few minutes of work. Most banks and companies will provide a response to your application within an hour or so, if not even sooner. As mentioned above, it is so quick and simple to apply, you should always try. Also, the fees to refinance a high priced car loan (such as the transfer cost indicated) are often very low and the monthly savings more than offset that.
The bottom line is that refinancing your auto loan, lowering your overall interest rates and your monthly car or truck payment will allow you save money over time. There is no risk to try this, and you can apply the savings towards those other bills that are due on a monthly basis.
Related Content From Needhelppayingbills.com