Salvation Army assistance programs near you.
The Salvation Army provides financial assistance as well as free items. A major focus is on low-income and working poor families. Get help from the Salvation Army near you with paying utility bills, housing or rent as well as provides free bus or gasoline vouchers or food. Many of the locations listed below also operate Family Stores or transitional housing programs.
The goal of the Salvation Army is to provide short term, emergency support while helping individuals work towards long term self-sufficiency. The type of social service of financial assistance will vary by town and the Salvation Army near you, and the application phone number, is below.
Some of the assistance includes free food from a pantry, rental assistance, clothing, thrift or Family Stores, or funds for paying utility or water bills. The Salvation Army near you may also have free prescription vouchers, back to school supplies or free Christmas toys as well as a number of other seasonal programs. There may also be free bus tickets, motel or gasoline vouchers as well. Resources are always limited, and eligibility requirements need to be met.
Regardless of an individuals background, religion, or income, people can be hit with an unexpected crisis. This can be a job loss, an unexpected medical bill or car repair, abusive relationship or domestic violence, or some other type of social challenge. Helping to meet basic needs is a key service of the Salvation Army. They do their best to try to provide free food for a meal, financial help to heat a family's home or keep the lights on, provide seasonal support to children from low income families, or offer counseling in times of crisis.
Many Salvation Army emergency financial assistance programs are short term or seasonal in nature. This can include heating bill payment assistance during the winter, back to school supplies, Easter basket distribution, job fairs, free Christmas toy and food distributions, Adopt-A-Family, and the Angel Tree program among others.
Emergency financial help to pay bills from the Salvation Army near you
Rent and Housing Assistance. The Salvation Army near you is focused on preventing homelessness in communities they serve. Housing challenges are not predictable or limited to a certain type of person, and it could happen to anyone. Some causes may be unemployment or a medical emergency. They will also try to help those who are currently homeless get back on their feet.
If a family is faced with an eviction, a local Family Service center may have funding available for emergency rental assistance. While funding is limited, and may not be available, if the center can help, they will. Or a case worker may have information or suggestions on who the person can call in their region for support.
If an individual is trying to find a safe and affordable place to call home and to live in for years, or if a client needs a roof over their head for just one night, the Salvation Army offers emergency support. This will include transitional and permanent housing as well as shelter in states and counties across the country. Tens of thousands of people receive shelter and housing from the organization each and every week.
Utility, heating, and electric bill assistance from the Salvation Army is always in high demand. If a household is faced with a disconnection of their account, some limited financial assistance from the Salvation Army may be available from time to time. They also often run local donation programs in partnership with utility companies, and find help from energy companies.
Sometimes a winter storm hits the same day you receive an overdue or disconnect notice from your energy provider, or an extreme heat spell will occur when your power is off. While more limited, the Salvation Army may help with paying water bills too. Much of the utility bill assistance is for people with a household member who is at risk, such as a senior, child, or disabled member of the household.
Centers can help families and individuals pay their utility bills in order to get through emergency crisis, and in-person requests as well as telephone inquires are received throughout the year during normal weekday hours. They will also take referrals from other charities as resources allow. Social services staff can also work directly with your energy provider in order to assist the household and to help people avoid a shut off.
Salvation Army transportation assistance programs may be available in an emergency. Sometimes people may have experienced an unexpected car accident or repair that prevents them from getting to a job interview or important doctor appointment. Many people have lost their job and money is too tight to pay for the tank of gasoline that is needed to get to a job interview. In a crisis, the Salvation Army may be able to provide free bus cards, tokens, assistance for car repairs and gas money. This is very limited by center, and is usually an option as last resort.
Housing programs from the Salvation Army
Transitional Housing, hotel voucher and homeless shelter program is a key service, and it in effect gives people time to find a more permanent place to live near them. Individuals who use this housing option tend to have been recently evicted, have faced a recent domestic break-up or violence, or are dealing with an addiction. The Salvation Army also tries to give short term housing (homeless shelters) to families with kids, including single parents or pregnant teenagers. Find a Salvation Army homeless shelter.
Other resources are offered to help people find a place to stay. If the Salvation Army can't meet the demand, then either motel vouchers are offered or they refer clients to other nearby homeless shelters.
The Salvation Army can assist single women, seniors, families with children and those who are at risk of losing their permanent housing. This is where their homeless prevention and emergency rent help comes into play. Or free motel or hotel vouchers are issued, sometimes online or over the phone, near you. They also assist people who are currently become homeless. Find a Salvation Army hotel voucher.
A local Salvation Army service office may have information on what short term transitional housing units or apartments are available in each town or city. They provide for their basic needs and help low-income clients achieve long-term stability through case management and other social services.
Nearby Salvation Army free food and meal assistance
Free food pantries, meals, and groceries. Most Salvation Army locations have on site food shelves or pantries that offer free groceries, canned goods, or perishable items. They will often coordinate grocery delivery to homebound seniors, elderly or the disabled. Since the organization doesn't want people to go a day without a meal, many centers also offer free hot meals or soup kitchens year-round to anyone who needs it. There are thousands of Salvation Army locations, and find a Salvation Army food pantry near you.
Case workers also give referrals. As there are other food bank partner sites, USDA programs, churches and more. Locate a food pantry.
Any type of Salvation Army food assistance will be limited, and is usually short term. Therefore case workers will also direct clients to longer term resources, such as help people apply for food stamps or SNAP. Many of their social service offices offer clients a pre-screening, or they will refer individuals to a local government agency that can assist.
Many pantries will allow families the ability to choose, or shop for, their own groceries. The amount of non-perishable food that each household can acquire is partly determined by family size and their income/need. This is called a Salvation Army client choice food pantry.
Families using these sites can shop for what they need. Canned goods can also be supplemented by additional choices of pastries, meat, breads, and produce. Locations can also offer a Personal Essentials Pantry, which is slightly different in that it can provide products for household and personal hygiene, such as diapers for free, laundry soap, and paper products.
Prescription vouchers or medical resources. It can be very stressful when someone is sick, or maybe they are faced with a medical emergency that is causing bills to pile up. A local Salvation Army Family Services office may have funding for medical bill assistance. For example, a location may be able to help with paying prescription costs or insurance co-pays.
There are also basic health care, medical, and dental clinics. They may be offered with local colleges or volunteer doctors or dentists from the county. They can coordinate access to health care or basic dental procedures or cleanings.
Salvation Army free seasonal assistance
To meet the needs of low-income families, various Salvation Army programs operate during the seasonal time. Volunteers as well as donations from the community help the charity offer free Coats for Kids, Angel Tree, back to school supplies, Adopt a Family, and more. A number of holiday and seasonal program can help meet your family's needs.
The free Back to School programs can identify school aged children from lower income families in need of help. They can be provided with a free, new backpack, supplies, notebooks, laptop computer, and a gift card to use for shopping for new clothes. Many studies show that a child or teenager having new school clothes, items, backpack, etc. can go a long way in building confidence and boosting a child's spirit.
A similar resource known as Coats for Kids can provide free winter coats and boots to children when the weather turns for the worse. This operates during the winter. The Salvation Army will provide free jackets, boots, and winter clothing to both kids and senior citizens. Many growing kids new boots, school supplies, gloves, hats, notebooks, coats, and more.
Free Christmas, Thanksgiving and Holiday Meals are provided on each holiday for low income families, seniors, and the homebound. Support is also offered for families and individuals who are hungry and have no place to go for a hot meal. In addition to offering food, most centers surround guests with love and compassion as they serve the meal. Seniors and the homebound can often have a holiday meal delivered to them, if they can't shop or prepare one on their own.
Angel Tree Program was created primarily to help less fortunate children and seniors and to provide them with free personalized Christmas gifts and necessities. It is a volunteer driven program for those who would otherwise receive very little or nothing during the holiday season. The Salvation Army Angel Tree program provides free toys, gifts, clothing, and more at Christmas. Some centers will also offer visits to nursing home residents and the homebound.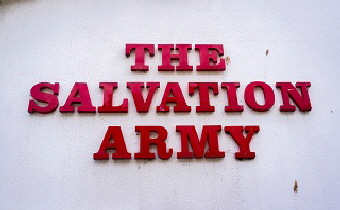 Adopt-a-Family is another holiday program that allows lower income families and their children the ability to request help. The client will create a list of that they need (such as clothing or household items) and members of the community can volunteer to purchase those items. The Salvation Army will match the needy with donors, which may include a local business or just an individual. Many children receive free gifts, toys, or school supplies from this service. Find other ways to get Christmas help from Salvation Army.
Self-sufficiency and other programs for basic needs
Employment Assistance and Job Training is key to long-term stability, income and sufficiency. The Salvation Army wants to help people find a job that can pay the bills or rent, and that will also utilize their skills. For help finding a new job, contact a local service unit to speak to a case manager or social worker. Employment Search/Resume Assistance can be obtained from a case manager, who can assist with job searches and resume writing.
Salvation Army Thrift Stores are open to people of all incomes and backgrounds. Buying household items, clothing, diapers, furniture, and more can be a drain on many family's often already tight budgets and household finances. The thrift stores and clothing closets that are available in many communities will sell these items, and much more, at a reduced cost.
Donations allow these Salvation Army Family Stores to operate. Some locations may also offer free vouchers for single adults who are experiencing financial strain or a disaster. Individuals or families who are faced with a crisis may also qualify for free household vouchers, and these will usually be done by appointment only.
Disaster assistance is also offered. Whether man made, or a natural disaster, such as a flood, tornadoes, or hurricane, the Salvation Army provides critical services as well as emergency financial aid in order to make sure survivors have the support needed to rebuild their lives. Grants are offered for prescription medicine, groceries and other pressing needs, or a voucher to help the disaster victim pay for new furniture or a motel room.
They also partner with other non-profit agencies and charities in order to facilitate long-term social services and financial help. During major disaster they also set up local hubs that provide counseling, shelter, hot meals and even a short hotel stay when all else fails.
Salvation Army phone numbers and services by state and city near you
Select the state or county near you below for a Salvation Army social service program. If your state, city, or county is not listed below, click here for the phone numbers and addresses of additional financial help by state.
Hawaii
Goals of and who the Salvation Army helps
One of the main missions of the Salvation Army is to help people meet their basic needs of food, housing, employment, and more. There are tens of thousands of households in need of emergency assistance, and many of them are led by seniors, single mothers or have young children. The agency relies heavily on donations and volunteers as they try their best to not deny requests for help because of limited funds. There are also other social services available near you as well, and find additional lists of Salvation Army stores.
Related Content From Needhelppayingbills.com