Salvation Army assistance programs in Nebraska.
The Salvation Army in Nebraska provide emergency help and social services to struggling families. The primary resources including funds to pay utility bills, rent or housing. There is also free holiday help (including Christmas toys or meals), school supplies for kids, case management services and more. Find help near you from the Nebraska Salvation Army.
Any support requires income restrictions and the applicant to go through a case management process. Programs are focused on helping low-income families or people pay their critical bills, such as energy, food, rent, and medications. There are also homeless shelter, addiction recover programs, free vouchers for gas or a hotel room and more.
Emergency help from NE Salvation Army Family Services
Salvation Army low income energy bill help is offered. HeatShare is the primary heating and utility bill assistance program in Nebraska. It can help people with a disconnect notice or who are out of fuel, with a focus on helping senior citizens, people with an illness or young kids pay their utility bills. The Salvation Army works with other organizations and energy providers in Nebraska to help families avoid disconnection of their utility service. While year round utility help may be offered, the charity will mainly ensure they have their heating service available during the cold winter months.
Other utility help is offered too.

In addition

to funds for paying past due energy bills, when appropriate the Salvation Army Christian faith based organization may be able to refer households to other non-profit agencies or government programs for additional utility assistance. The organization may also arrange for counseling by showing people how to budget, enter into payment plans, or the organization can intervene on a person's behalf with their utility company. There are also rules and regulations to protect consumers, and read utility disconnection laws.
Financial as well as Material Assistance (MASS), including seasonal services, are offered in Nebraska. These more emergency and crisis programs can provide qualified lower income and unemployed families with assistance with free clothing or furniture. The in money for paying rent, household items and prescription drugs. There may also be security deposit programs for the disabled. Additional basic food needs from the Salvation Army charity organization can be met through the free soup kitchen and food pantry, in which free groceries are given out to low income families.
The seasonal programs offered include resources such as heating bill assistance in winter and fans in the summer, Thanksgiving meal deliveries, as well as the free back-to-school supply backpack distribution

for students in Nebraska schools. There is also a free Christmas assistance programs including Toyland

as well as the Adopt-a-Family radioathon. Call a Salvation Army center in Nebraska below for details on these and other emergency services. Or find other financial assistance from charities.
A free summer fan program will occasionally operate during the summer. Each and every summer seniors, young children and people with a medical condition may be able to receive a free box fan or maybe a gently used window air conditioner. You need to meet qualifications, and only one unit is offered per household. Normally only one is provided over the years as well.
Emergency Disaster Services and assistance is offered. The objective is to help meet the basic needs of those Nebraska families who have been affected by a natural or man-made event, such as a flood, fire, or tornado. Salvation Army programs can help both survivors and first responders. The agency can provide items such as material comfort, food, shelter, emotional and spiritual comfort as well.
Referrals and information is offered. Case managers can help people access other non-profit or government services which might be available to them such as Social Security, Food Stamps, Medicaid, and more. Clients can learn about charities and DSS programs in Nebraska.
Employment programs

are coordinated. The Salvation Arms encourages employment and self-sufficiency. There will be transportation arranged for a job interview, free work items such as clothes or uniforms, gas voucher and others items. Learn more on free gas card from a charity near you.
The Nebraska Salvation Army Community Assistance Support Service Program can help those with mental health difficulties live in the community and case managers will try to help people lead productive, satisfying lives. Receive assistance in maintaining adequate housing, enhance independent living skills within vocational, social, educational, and other areas.
Free items from the Salvation Army
The annual free Nebraska Holiday and Christmas Program from the Salvation Army can provide help to single mothers, the elderly, homeless and poor. There are free holiday food baskets and meals, including at Thanksgiving, for low income families in need of help. The Angel Tree and other events are offered.
For those families with children or households with senior members, the Salvation Army can provide

free clothing, Christmas toy distribution for kids 14 and younger

, coats, free Xmas gifts and more. Usually the mom or dad can even come to the toy shop or center and pick out free, new toys and other items on their own. Or the Salvation Army Angel Tree program is an option. There are also holiday get together held by the Salvation Army in Nebraska.
Diaper assistance program can provide parents and women with a small amount of free diapers and/or baby wipes. The program will generally have the same eligibility requirements as the food pantry and distribution services. They also partner with local Diaper Depots. Learn more on free diaper distribution centers.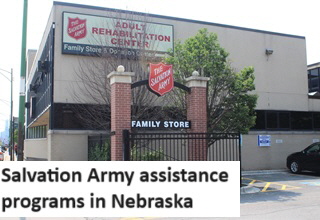 Head Start is offered at some Nebraska Salvation Army centers. This is a federal government funded program for families with infants and toddlers under the age of three as well as pregnant women. The goal is to enhance the child's educational and social development, enabling families to reach their goals and parents to be good caregivers.
Salvation Army teachers and case workers oversea this. Head Start in Nebraska is a home and center-based program for low-income families, providing parent education, health and nutrition services, as well as help coordinating family gatherings. The Salvation Army will also arrange any need mental health and disability services, and weekly home visits.
Locations of Salvation Army centers in Nebraska
There are multiple locations. Most have thrift stores and a food pantry as well as soup kitchen. There are also low cost Adult Rehabilitation Services, emergency hardship funds for rent to stop an eviction or free items, such as groceries, Christmas toys, gas vouchers for a job interview and more.
120 S 7th St, Beatrice, Nebraska 68310, phone number is (402) 223-3341

502 Harlan Dr in Bellevue is a Family Store. It covers Sarpy County, and click here for details on the Sarpy County Salvation Army.

A thrift store and Social service is at 707 N I St, Fremont, NE 68025, call (402) 721-0930.

Salvation Army provides emergency help, free food and more from 818 W 3rd St, Grand Island, Nebraska 68801, main phone number is (308) 382-4855

400 S Burlington, Hastings, Nebraska, dial (402) 463-0529
1719 Central Ave, Kearney, NE 68847, dial (308) 234-9998 for intake. The center may have food vouchers, free school supplies, and emergency financial aid. Read more on Salvation Army low income help in Kearney NE.

2625 Potter St, Lincoln, NE 68503, primary phone (402) 474-6263. Or find Salvation Army Lancaster County and Lincoln NE programs.

112 N 7th Street, Norfolk, Nebraska, 68701. To reach the Salvation Army social services or free holiday help, including at Christmas, dial 402-379-4663

1020 N Adams Ave, North Platte, Nebraska, 69101 call (308) 532-2038

The Salvation Army of Douglas County NE is at 3738 Cuming Street, Omaha, Nebraska, 68131 dial (402) 553-5694. Get free clothes, food vouchers, school supplies and more. Continue with help from Omaha area Salvation Army.
Related Content From Needhelppayingbills.com