Christmas help from Salvation Army to sign up for 2023 season.
Salvation Army centers near you provide Christmas help to low income families, with a focus on households with children and the elderly. The assistance programs available for sign up in 2023 from each location will vary and include Adopt a Family and the Salvation Army Angel Tree program. But there will almost always be some type of food baskets, toy drives, meals or free gifts given during the Christmas season to the less fortunate.
The help is provided for free to clients. The main resources from the Salvation Army Christmas programs for sign up in 2023 near you are noted below, but some centers may offer different resources or call the free toy giveaway programs by another name. In any case, almost every single one of the thousands of Salvation Army Family Service centers will offer some type of free Christmas assistance program. Find how to apply for Angel Tree, Toys for Tots or Adopt a Family from the Salvation Army, with 2023 sign ups starting in the fall.
Angel Tree
This free toy drive program provides businesses, charities, government agencies, individuals and others a way to give back to the community during the Christmas season. How it works is a Salvation Army Angel Tree will be set up somewhere in the local community during the 2023 holiday season and families need to sign up, such as a mall, post office or a school. It is truly a "tree", sometimes artificial and sometimes real.
On the tree will be the names of kids who need toys, clothes, gifts, games; something to open on Christmas morning. The children will come from low income households, including single moms or dad homes, in the community. They will have requested from the Salvation Army certain items. There may be certain types of clothes along with the size, general types of toys (such as trucks for boys, etc.), games, and more. The gift, as well as the first name of the child, is written on a paper tag on hung on the Angel Tree.
Then a generous member of the community selects the name and gift off of the Angel Tree. They buy the item for the kid, drop off at the Salvation Army, and they match the gift with the child. The gifts, including clothes or toys, are given by the Salvation Army for free to the kids. Find more details on the Angel Tree Christmas program.
Salvation Army Adopt a Family at 2023 Christmas
Adopt a Family differs from Angel Tree in a few key ways. One is it just does not provide gifts/toys, but it will also giveaway food, cleaning supplies, paper items, and more. Another key part is the Salvation Army Adopt a Family program it is for the entire household, including parents, and this is where the free Christmas food often comes into play. Last, there is no physical "Tree" to select a name from.
Low income families need to register for the 2023 program. If found to be qualified by a local Salvation Army center, their name will be put into the system along with a list of items they need. Then, based on donations of Christmas food, stuff, clothes, etc. the charity will try to provide them with as much on their list as possible.
The donor in effect sponsors the entire family, both children and the parent. Or there may be more than one contributor to the Salvation Army Adopt a Family program. In either case they donate money, presents, and more. Or they can even give gift cards. Call a local center to apply.
Toys for Tots from USMC and Salvation Army
Now this Christmas assistance program often accepts registrations from many charities near you, including the Salvation Army. A local United State Marine Corps Representative organizes it. It is a free Christmas Toy donation program for kids under the age of 14. Donations from the community also keep the service running.
This resource is also not available in all communities like the other Salvation Army program are. It is mostly available in larger cities as well as counties. So, it is not commonly open for applications. The Toys for Tots program is effective at helping kids from all across the country.
Christmas food assistance
Since most Salvation Army Social Service centers near you have a free pantry on site, they often provide free food baskets or holiday groceries to low-income families. Some of them with soup kitchens will also serve a meal during (or around) the 2023 Christmas season as well as subsequent years. Both are meant to ensure every family in the community has a holiday meal.
This is often done in partnership with other charities as well as churches. As food pantries, the Salvation Army and soup kitchens partner together to hold Christmas parties, provide free groceries, ingredients for a meal, and more. Read more on free Christmas meals.
Referrals from Salvation Army near you help at Christmas
This national organization is but one charity that low income or struggling families can turn too for assistance. There are many others that provide assistance, even to those individuals facing an emergency, in the form of free money, gift cards, toys, food boxes, and more. The Salvation Army Family Services Unit can provide information on free Christmas toy drives and programs, as well as tips on how to apply or sign up for Christmas help for 2023. Learn more on free Christmas money programs.
Most of the Christmas programs do not duplicate services. Household can turn to only one agency at a time, whether that is the Salvation Army or some other charity. Call an organization to apply early, well before the holiday season begins.
Apply and sign up for assistance from Salvation Army during 2023 for Christmas
Salvation Army Centers are located in almost every single county across the nation, including those towns and counties near you. Select a state below for information on Christmas assistance in your area as well as information on how to apply or sign up. Or a nearby county will support a region that is lacking.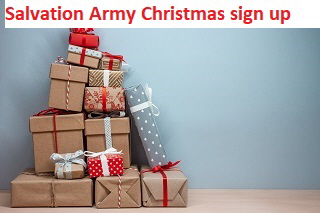 The 2023 application process for help at Christmas will vary, as will the deadlines. In all cases, be prepared with proof of total household income; residency; copy of identification; social security cards; birth certificates of children; and more. The holiday toys and presents go quickly, so apply early due to demand and limited supplies.
Applications for the assistance programs that are available at Christmas will start to be distributed in August as well as September, with the enrollment as well as sign up period also starting then. Some locations process requests up through December and others end much earlier. Apply for help at Christmas, including free toys, meals, and more, as soon as possible.
To find a Salvation Army location near you to sign up at for help during the 2023 season, use the search bar at the top of the page and search for your county and/or town and be sure to also type in Salvation Army at the same time as the county. Or use the list below.
Hawaii and Honolulu County
Related Content From Needhelppayingbills.com