Free Christmas meals, dinners and food.
There are several places get a free Christmas dinner in 2022. Charities, churches, soup kitchens, and even restaurants may serve a meal to a low income family or giveaway holiday food baskets. Or low-income as well as struggling families can turn to a free food pantry for free box of groceries or gift certificate for a supermarket, which will give them the ability allow them to make their own Christmas meal. Find resources that will provide free Christmas meals, food boxes or dinners near you below.
These charities as well as churches will provide assistance to anyone in need, not just low income families. They will not have income criteria or an application process. Anyone who wants some type of free Christmas food basket, lunch, or dinner can get help, even if it is a last minute emergency. Meals and food baskets are given away to single moms or dads, the unemployed, people with no money and homeless among others.
There may even be some places that serve a free Christmas breakfast or brunch on the holiday. Anyone can use these resources. Or a meal could be served or there could be a giveaway before the holiday itself, such as day(s) before the 2022 Christmas holiday..
The organizations will serve the homeless, senior citizens, families with children or single adults, or even just someone who is lonely. Low to moderate income families as well as households that meet poverty levels are all clients for these meal assistance programs. They not only serve them some form of free meal at Christmas, but some of the charities will hold small parties. Or if a child attends one on these meal programs maybe they can be given a small Christmas gift or toy for the holiday as well.
Ideas on places to turn to for free meals (whether dinner, lunch, or breakfast) at Christmas are below. It is always recommended to check with a local agency for hours as well if any supporting documentation is needed, such as identification. Note these charities also need both donations of food from the community as well as volunteers to serve a meal.
Free food as well as Christmas meal giveaways available in 2022
Churches – No matter what someone's religion is, free holiday meals are held by churches or they give away holiday food baskets as well as small toys at Christmas. Catholics, Buddhists, Christians, and others can drop in. For those Jewish and/or Muslims (or people of other religions) that celebrate Christmas (and there are some) they too can drop in for Christmas celebrations. Or get a meal, food basket (even Kosher items), and get other help.
A church will not ask what religion someone is. They do not care. So they will serve everything from Turkeys or meats at Christmas to give fruits, vegetables, deserts, and other items. However any religious group relies very heavily on both donations of food, time, plates, utensils, and more. The assistance giving at Christmas time would also not be possible without volunteers. Find more information on how to get help from churches as well as assistance that may be provided.
Free groceries at Christmas, food boxes, and meals may be available at a combination of food pantries as well as soup kitchens near you. While the assistance available at each location will vary, some offer both types of help. This ranges from hot meals to gift certificates, bags of non-perishable groceries, and more. Any family seeking help should call in advance though for what may be offered.
Food pantries are normally open limited hours. But they will try to stock more holiday type goods, such as meats, pies, sweets, gravy, and more which many families eat at Christmas. But what is offered on their cupboards will vary. Note many food pantries will not be "client choice" during the holiday season but they just pass out what they can. But they can be turned to in an emergency for help during the 2022 Christmas season, especially when it comes to food or ingredients for hot meals. Find a list of food pantries.
On the other hand, soup kitchens usually serve one or more meals per day. This may be a hot breakfast on Christmas morning or maybe they serve lunch or dinner around the day. They also may open parties for kids who need a gift, or parents that want company. One of the main places that offers help at Christmas, whether a meal or bag of food, is the Salvation Army. They have thousands of centers across the nation. Find support from Salvation Army.
Christmas Meals on Wheels – This is for anyone that can't make it to the store to shop, a food pantry, or holiday meal program. Volunteers will bring either a frozen lunch or dinner to the client, for a nominal cost. Many elderly and disabled people use the service. Note the Christmas dinner or meal is usually delivered days in advance of the holiday, and it will need to be reheated. More information on Meals on Wheels.
Soup kitchen free Christmas meal programs - These are charities and churches that operate soup kitchens, feeding sites, or another type of meals service. Most of them will giveaway or serve free Christmas dinners in 2022. There may be a meal the week before the holiday, or on Christmas even or the day itself. The low-income, parents with kids, elderly, homeless and others can stop by. Find a soup kitchen near you.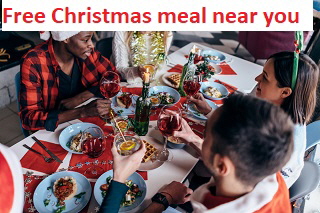 Save money on groceries and meals at Christmas
The holidays are expensive for all people, no matter their income. Another option is to of course not use one of the meal assistance programs above, but just to save money and cut back on food expenditures. Anyone can do this, and the process is simple.
The first thing to do is use coupons and rebates. These can help people save tens of dollars or more on their Christmas groceries as well as meals. There are a number of tips for how to do this and methods to use during the 2022 season. Find sources of free coupons.
There are several other places to turn to for assistance programs, namely savings. There are sources of what some people consider to be free money that can pay for a Christmas meal. Everything from online retailers, credit card rebates, gift certificates, and other resources are offered, all of which can either equate to free food boxes at Christmas or even entire meals. Now while the process is not always straightforward, it is very possible to save money during the holidays.
Related Content From Needhelppayingbills.com