Free Christmas assistance and holiday programs 2023.
Find how to get help at Christmas from charities near you. During the 2023 holiday season, low income families can get free Christmas toys, presents, gifts and meals. A focus of these programs, such as those offered by the Salvation Army, a local charity or a church, is on supporting households with kids or senior citizens. However anyone that is currently struggling can apply for charities for Christmas help.
The assistance varies. Free Christmas gifts for children as well as boxes of food are passed out to the working poor or households that are facing a hardship or short term financial emergency. There are also applications for toys available in each state from the list of Christmas charities near you, isted below.
Millions of families are struggling and the Christmas holidays make those challenges more apparent. However there are charities as well as churches, including local Salvation Army centers or a Catholic Charity parish, that have free Christmas toy and meal programs available. They accept applications that help children, the unemployed as well as the elderly. The goal is to ensure that every low income family has both food basket and some type of Christmas gift given to them.
The various Christmas Assistance Programs that are offered by the Salvation Army in 2023 as well as many other charities or churches provide holiday meals, free toys, clothing, presents and other assistance. There is support for children from a low income household as well as single mothers or fathers or people with no money. A charity will also offer Christmas help for senior citizens that may reside in the household or deliver a free meal or food basket.
In addition to a gift for a kid, the family may be able to receive the necessary food and grocery items that are needed to make a Christmas dinner for their family. The Salvation Army's Christmas Assistance Program or those from a charity can be called different names by the local centers, but the most common service is Adopt a Family or Angel Tree. Other free holiday gift giving programs are offered by other churches or charities, and the details of those will also vary.
Families and individuals may register or apply for free holiday assistance programs by completing the application process, which usually starts during October or November at their local Salvation Army center or charity that is near you. Any toys are usually provided first come and served for those that are eligible.
Details on 2023 Christmas assistance programs
The programs go by various names. Depending on where you live and your local Salvation Army branch, the holiday assistance programs may be referred to as Adopt-A-Family, The Angel Giving Tree, Toys For Tots or even something generic such as Christmas food baskets. Some local branches may also be involved in handing out thousands of winter jackets through the Coats for Kids program. Some charities may even deliver free Christmas gifts by mail to the homebound or rural area.
Terms of registration for the Christmas programs
While the exact conditions of each local agency may differ, in general the following conditions need to be met in order to receive Christmas assistance from the Salvation Army or other charities. Many of these will also apply to other charities that offer help. In general, to qualify for free holiday assistance:
Applicants can't be signed up for any other form of public holiday assistance, Angel Tree, or other programs through another local charity or non-profit agency.

Individuals will need to bring picture identification and proof of their total household income (most recent check stubs).

Social Security cards for all family members, as well as proof of residency (utility/phone bill), are required.

Income qualifications are determined by your local Salvation Army center and/or The Emergency Food Assistance Program. Applicants need to meet income guidelines that are based on family size.
In addition to the holiday programs and conditions that need to be met, the Salvation Army may have different criteria for other holiday, Christmas, and winter assistance programs that they administer. As there are many options for low-income families as well the the unemployed.
For example, they usually have assistance programs that are ready to help people bundle up for the winter, and this is offered during a Coats for Kids annual event. Or receive free, donated gifts from Angel Tree or holiday meals. Ask about what is needed to sign up for any of these free services.
Contacts to apply for free holiday assistance, including toys
In addition to the counties listed below, contact your local Salvation Army branch, local churches, community action agency, or another charity in order to learn more or apply. Click here to find local charity agencies in the area near you, including state and county resources. Or find more free Christmas resources at the bottom of this page.
The Salvation Army not only has locations in every single state, they also operate in most towns and counties in those states. Even if a center is not near you, the agency will usually have referrals to other nearby charities and churches that may be able to help during the holidays. Find local Salvation Army assistance programs.
One of the programs that is in highest demand is Angel Tree. It provides free toys, gifts, clothing, winter attire and more to children and senior citizens. Everyone should be able to receive some type of holiday cheer, and this resource can help make that happen. read more on Salvation Army Angel Tree program.
Also be sure to always ask a charity ask about some of the other programs that may be available where you live. A charity or church can be a great source of holiday information on the Marine Corps Toys for Tot program, holiday meals or food, or other Christmas assistance. Every community will have a program in place that gives kids from working poor families some type of free gift to open Christmas morning.
Additional local charity resources near you for free help at Christmas holidays
Major metropolitan areas often have several non-profits, churches, faith based groups and charities that specialize in meeting the needs of the less fortunate during the holidays. The availability of resources will vary based on city and county and also what has been donated. What will be offered for free a charity around Christmas can include free toys, hot meals, Turkeys, presents for children, and more.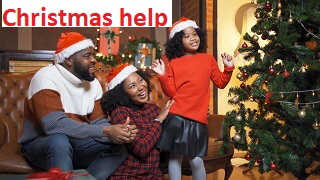 Many organizations near you will also deliver food and also companionship to senior citizens and the homebound. In addition to helping around Christmas time, many of these non-profits also offer assistance at Thanksgiving or Easter.
Alabama
Arizona
Arkansas (The entire state)
California
Colorado
Denver and surrounding counties

Connecticut
Delaware (The entire state)
District of Columbia
Florida
Georgia
Hawaii - All cities and counties.
Idaho
Boise area and surrounding counties.
Illinois
Indiana
Iowa
Kansas
Topeka region and nearby counties
Kentucky
Louisiana
Maine - The entire state.
Maryland
Massachusetts
Michigan
Minnesota
Mississippi
Missouri
Montana - Statewide holiday assistance programs.
Nebraska
Omaha, including Douglas and Sarpy County.
Nevada
New Hampshire
New Jersey
New Mexico
New York
North Carolina
Ohio
Oklahoma
Oklahoma City and surrounding counties, including Cleveland and others.

Oregon
Portland region as well as 3 neighboring counties.
Pennsylvania
Rhode Island - Agencies have Christmas help for all counties, including Providence.
South Carolina - The whole state.
South Dakota - The entire state
Tennessee
Texas
Find another charity focused on Houston.

Utah
Vermont
Burlington area, including Chittenden, Franklin, and Grand Isle.
Virginia
Washington
West Virginia (Resources for the state)
Wisconsin
Find additional help, gifts or free toys at Christmas
Free clothing banks and thrift stores are available in most communities. They may sell, or giveaway, gently used clothes or toys to the general public which can then be used as Christmas presents by those families. Some of the centers near you may even provide vouchers or gift certificates to qualified low income families. Those can then be used to shop for free items during the holiday at the clothing closet. Find more on free clothes and items from clothing closets.
While the demand is greatest during the 2023 Christmas holiday season, the Salvation Army operates year round and also has other options available to low income families for their Easter and Thanksgiving needs. Some services and resources are offered directly by the agency, such as Angel Tree, and others are run in partnership with local churches and charities, in particular Thanksgiving meals. Food baskets are even provided around Easter too. Find a comprehensive listing of all of the Salvation Army's holiday programs. Whether Easter, Thanksgiving or Christmas, there is support from the holiday programs, and find additional details.
Referrals are also available to many other holiday programs. The free United Way holiday programs is involved in partnering with thousands of charities, non-profits, churches, and other groups, all of which may provide assistance during Christmas. The non-profit is focused on local communities, and families can get information on meals, lists of gift giving programs, where to get presents for their kids, and more. Find details on United Way Christmas assistance programs.
The Lions Club is a nationwide network of volunteers, young professionals, and even local businesses. They hold holiday drives and give out everything from free Christmas tress to games, gifts, toys, meals, presents and more. The sick and elderly in nursing homes may also get help as well as the unemployed orsingle mothers with a low or no-income More details on Christmas help from the Lions Club.
Volunteers of America, a national charity that helps the less fortunate, homeless and vulnerable, also provides help at Christmas as well as other holidays, including Thanksgiving. VOA may offer toys for children, free Christmas presents for households run by single moms or parents, Meals on Wheels for the homebound, and veteran support too. Find how to get Christmas help from Volunteers of America and learn about the application process.
Related Content From Needhelppayingbills.com