Free Thanksgiving dinners and turkeys.
Charities and churches will provide free Thanksgiving dinners to low income families or really anyone that is looking for help during the 2022 holiday season. In general, the meals or food boxes given away near you are served on site to anyone that wants one and they are open to the public. Other forms of assistance may also be offered, such as gift certificates to purchase groceries or Thanksgiving baskets and some charities will even pass out a free Thanksgiving turkey to the low-income.
The terms and conditions of each free Thanksgiving meal program listed below that is offered during 2022 will vary widely. Some churches, such as the Salvation Army, may serve a lunch or Thanksgiving day dinner near you, while other charities may serve them one day before or after the holiday. Or it may be that a local charity does not even serve a meal, but rather they give the family with a free basket or box of food (or a voucher to a grocery store) to buy a turkey.
Charities also help the homeless, unemployed, single moms and homebound get free Thanksgiving food baskets or a hot meal as well. Seniors or disabled may also have frozen holiday meals delivered to them by volunteers. They also provide all the side toppings that the family needs. More information on how to apply for a free turkey or Thanksgiving dinner near you is below.
Details on 2022 Thanksgiving meal programs
Food pantries, some of which also have a soup kitchen on site, may provide help in one of two ways. These tend to be "hyper" local in that they only serve people in a limited area and each center has their own application process, resources, and hours of operation.
Food banks may only giveaway a Thanksgiving holiday turkey as well as the sides, such as cranberry, gravy, bread and other items, to an income qualified family and their children.
Soup kitchens may be located at some food banks. These sites will tend to serve an entire hot dinner to individuals, including the homeless.
Some of these charity run food pantries may give the client a gift certificate to redeem at a local supermarket for a turkey, ham, dessert and all the toppings. This will allow the family to buy their own turkey and maybe other food items.
It is recommended to call or stop by a pantry to learn more on what they offer. Anyone that is seeking help at Thanksgiving (or really any holiday) should ask in advance what type of services are provided, and do not wait until November rolls around. Find how to get help from a food pantry.
Free Thanksgiving food boxes can be delivered to the the homebound, disabled, and senior citizens. These programs are for those individuals that can't make it to a feeding site, such as they lack transportation, have medical issues, or can't drive. They should register for Thanksgiving assistance from a Meals on Wheels provider. These tend to be offered as year round services. Some of the administering agencies may charge the client, or "encourage" a donation. Other Meals on Wheels services are free, especially those offered from Agency on Aging Centers.
While they do not always offer free frozen meals on Thanksgiving day itself, the volunteer drivers may deliver the ingredients to a dinner. They may bring the free turkey, dinner rolls, pies, and other items. Then the homebound person just needs to heat up the meal on Thanksgiving day, and they too will be able to enjoy the holiday.
Free Thanksgiving lunches or dinners may also be served in November 2022 by churches or other faith based groups near you. There will not be any discrimination based on age, religion, or race and anyone can drop in. Churches, such as St. Vincent de Paul or Catholic Charities do their best to feed the poor at Thanksgiving. The goal is to spread holiday joy to all, especially to children and the elderly.
The meals served by a church depend on volunteers and donations. They rely on stores, restaurants, fund raisers, and other sources of money in an effort to offer these Thanksgiving programs. Anyone that uses a soup kitchen at a local church is always encouraged to also volunteer in an effort to give back to the needy. Find details on meals and food from churches.
Free turkey meals can also be provided by the Salvation Army during 2022. The faith based church group requests donations from the public and they also enter into partnership with grocery stores or local businesses. They will usually serve a dinner on site. Or in some exceptional cases they will deliver a food box to the sick or elderly. Salvation Army volunteers may also visit senior citizens in a nursing home or hospital to bring them a Thanksgiving meal and companionship.
Not only will the dinner be served, but many clients can also register for other social services that the Salvation Army administers near you. As during the October, November, and December time frame they begin to ramp up coat drives and other holiday programs. So both a Thanksgiving dinner or food box may be provided along with other support. More Salvation Army food programs.
Even after Thanksgiving day in November 2022, many families need help providing for their families during the Christmas holiday season. There are many other programs available during the months of December that can provide meals, boxes of food, and even small gifts to kids. It is often a good idea to apply for these at the same time as applications are made for a free Thanksgiving dinner. Learn about other holiday and Christmas assistance programs that are targeted at helping low income families.
Thanksgiving turkey assistance programs
In addition to the charities and programs that give free stuff for Thanksgiving above, there are ways to get assistance when paying for a turkey or holiday meal. Anyone can use free coupons, cash back rebate sites, store programs, grocery shopping apps or other resources to help pay for a Thanksgiving meal.
Coupons can also be used to buy groceries or a turkey at Thanksgiving. Families that want to prepare their own dinner (but save money at the same time) often benefit from these discounts. Not only can anyone use a coupon to save money, but they are also free and can be printed from an online website or cut from the newspaper. Find a listing of free coupon sites.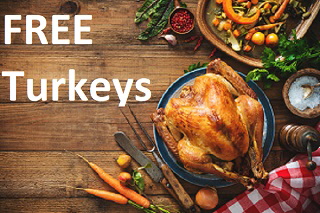 Save money on a Thanksgiving turkey or food box from grocery shopping apps. These are a number of websites with discount codes, apps for a tablet or smartphone and other easy ways to save on a dinner. From time to time some of these services also giveaway free Thanksgiving turkeys or groceries to select customers to help encourage their use. Find the best grocery saving apps.
Related Content From Needhelppayingbills.com