Grocery shopping apps.
Get details on grocery shopping apps, the digital coupons or deals they offer, cash back programs, rebate and other savings. Everything on the list is free to use as well as download. There are a number of iOS and Android grocery shopping apps, listed below, that offer quick and easy savings to people of all income levels.
Shopping for groceries is costly, especially for low income families. There are free smartphone apps (which can also be used on a tablet) that can help you easily save money on your groceries, whether it is food, hygiene or cleaning supplies, paper products and really all your shopping. There are also cashback apps for groceries and ways to get free food or samples.
Grocery shopping can be complicated. You must make lists, cut out coupons or use smartphone apps, search around and more in order best offers as well as lowest prices on the market. And if you're in a rush or not well, you end up paying higher prices to finish shopping for groceries. Grocery shopping apps help you find coupons, the best prices at all the local stores, give cahs back and they can even assist you with drafting a grocery list.
Want to save money? Save time on your shopping? If so, here are the best grocery shopping apps which will help you get your grocery shopping groove on. Once you start using these apps, your next trip to the local market will be a breeze.
Mealime
Mealime is an all in one grocery shopping app which helps users create customized and healthy meal plans for the week. It may be the best to both save money and be more productive. You'll discover the best recipes and draft lists with the ingredients which you need.
It has a large variety of options which that you only cook the type of food which you enjoy. You could be on a Paleo diet, have a vegetarian lifestyle, or you could even prefer gluten-free foods. Whatever diet you're on, Mealime will make sure you stick to it.
The app is available in free and paid versions. With the paid version you can access more recipes and even save more money on your food shopping. Mealime will add the ingredients to your next grocery list. And if you change your mind about a specific dish, you can use the "Edit" button to swap it with something else. Your optimized list is now ready to help you during your next trip to the grocery store.
Providers
Providers is a free app that is focused on low-income families, people with little or no money and those in poverty. However anyone can use and download the app, which is available on both Apple iOS and Google Android devices. Providers helps people manage their SNAP food stamps and EBT balances while also offer discounts and savings on groceries. The app helps people save money in stories such as WalMart, Target, Kroger and thousands of other grocery stores.
People that pay with an EBT card (or balance) at a grocery store will save anywhere from 5 to 20% off their grocery costs at approved retailers. In addition, the grocery shopping app helps families manage their SNAP benefits, EBT account as well as other government benefit. Find more details on Providers app for EBT.
Checkout 51
Checkout 51 is a free grocery shopping app which compares special offers from major retailers such as Target, Wal-Mart, Kroger and others. The free app provides savings on grocery shopping as well as other items, such as gasoline. Families can easily and quickly save money on shopping for food groceries, detergent, fruits, vegetables and many other goods using Checkout 51. Select your preferred products, add them to the shopping list, and check the offers. When you browse the grocery stores, the app will tell you how much you can save. It is all free to use and do and a simple, streamless process.
And, to streamline your shopping trip, the app will create different lists. You can also share the specials with your friends and family. But don't forget to set alerts for offers on products which you like.
Flipp
Flipp helps you save a significant amount of money on groceries without cutting-out coupons. Depending on family size and the monthly grocery budget, households may save hundreds or even thousands of dollars per year. This free app pulls together all weekly grocery magazines in the area where you live.
With Flipp, you can search for a wide variety of products and check which stores have them on sale. Access local deals' circulars to compare stores and find out which offer the best prices. Flipp has access to Publix, Wal-Mart, Shop Rite, Aldi, and many others.
You can also add digital coupons to the app's "Favorites" folder. Apply them to your preferred loyalty card. But, before shopping, make your grocery list with Flipp to find the best prices available.
According to Flipp's developers, the app can save you up to 70% on your weekly groceries expenses. It also provides savings at other stores, such as CVS, WalGreens and local stores. Users of the Flipp app can also get flyers and free coupons to save even more money. While most shoppers save less money, the point being free savings are there to be had.
Coupons.com for discounts on groceries, food, and other items
Coupons.com is one of the best online sites (that also has a iOS and Android app) for promotional free codes, rebates and digital grocery coupons. While each family has a different budget and shopping pattern, in general, its app will save you at least $500 on your groceries shopping (based on national averages). There is a free website to use as well as app for Android and iPhones.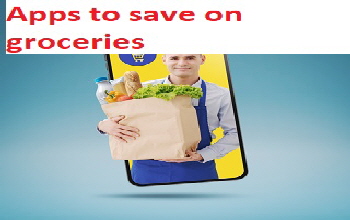 With Coupons.com app you'll enjoy two forms of saving money. You can add different digital or hard-copy coupons to your favorite store's loyalty card. It will apply a discount to your total when you check out. Or send a photo of your receipt and Coupons.com app will transfer any savings to their PayPal account.
Also, if you prefer to take real coupons, Coupons.com allows you to print the available offers at home. This will of course require a printer. Download the app for free for Android or iOS and enjoy the huge savings.
Grocery apps focused on shopping at certain stores
There are of course apps that can help customers shop at specific grocery stores, super centers, discount and other retailers. The apps can help any shopper save money. There will be free coupons. Savings, rebates, and other programs given on these free to use apps.
Many major stores have them. For example, Target has their Cartwheel App. It is available on Android phones as well as iPhones. Shoppers may save anywhere from 1 to as much as 10 or 20% on almost all their shopping. Wal-Mart has their Cartwheel and Pay apps, which match prices and even give customers rebates if another store has a better price.
Ibotta
Ibotta is a free app which helps its users earn cash back on grocery shopping, both online and in-store, including at grocery stores and food retailers. Ibotta operates like digital coupons. But instead of applying a discount, it transfers cash back into your checking or savings account. You can withdraw the savings from your Ibotta account any time you want through PayPal and Venmo. But you can also exchange your balance for gift cards which you'll sometimes find at good discounts.
To use Ibotta in-store, create an account with the app and start to search for offers on products which you need. "Find Rebates" helps you search for items at Publix, Aldi, Kroger, Whole Foods, and Wegmans. Next, select your favorite offers and go shopping.
But don't forget to keep the receipt because you must take a picture of it to proceed with cash back at Ibotta. When you're home, redeem your cash by following the instructions provided by the app. You must scan the bar codes of each product and upload a photo of the receipts.
Ibotta will let you make in-app or app-to-app purchases when you're shopping online. Log-in, choose your preferred online store and search for offers. Select an online store and complete a task to activate the offers. Tasks vary from answering a question or watching a commercial. After completing the task, start shopping online before the end of the offer.
SnipSnap
This is another free app that relies on your smartphone camera. Users take pictures of printed coupons (whether for food, clothes, or anything) and then the application will find an e-coupon. The savings can then be redeemed right at the grocery store when shopping for food.
Free physical grocery coupon websites
There are of course all these free smartphone apps available. But shoppers also can use more traditional websites to save on food and other needs. Some have apps, but some are strictly online. They are all free to use.
The savings are for low income families and anyone looking to get ahead. Save money on groceries, prescription medications, clothing, diapers, furniture, and tons of other products. Once again, the process is easy and simple to use, and find the leading coupon websites.
Bottom line on grocery shopping apps
If want to easily save money on your grocery shopping, or get cash back, these apps will do that for you. They also help shoppers who are in a hurry find the best prices. to make the grocery shopping experience better and cheap for you, check out these groceries shopping apps. These are free to get and use, and download any of the top applications highlighted above. Almost all retailers accept the use of these apps for shopping, from big box stores to super centers, discount stores, and grocery outlets.
They are available for iPhones, Samsung, Google, and other smartphones. You'll soon enjoy the benefits of great prices, saving money and earning money. And all these grocery shopping focused apps are free to download, and they're compatible with both iOS and Android mobile devices.
Related Content From Needhelppayingbills.com