Free Christmas gifts and toys in 2023.
If you need free Christmas gifts, toys, money or help finding presents in 2023 for your children, you have several resources available near you. The options include assistance programs from charities, churches and non-profits. Find places below that provide free Christmas gifts and toys in 2023 to low income families with kids. There is also information on free vouchers, Christmas gift cards to pay for a portion of your shopping or charities that give out free money for toys.
Low-income parents, people with no money and single moms often need help in paying for gifts, or they seek free toys for their kids. Many programs will help low income families, whether it is an agency that provides money for Christmas shopping to help pay for toys for a kid or charities that provide assistance. They support low income families as well as households that are in a emergency financial crisis, such as the unemployed or people with no money for holiday shopping.
The various free holiday gift giving programs rely on donations from the community. It is always very important to sign up as early as possible for a free Christmas toy program as the demand for help from low to moderate income families is very high.
Free Christmas toys, grants and financial help from businesses or charities
The organizations below will offer free Christmas toys, gifts and presents. Most of the assistance is targeted at children of low income households, or there is free toys for grand parents who are raising kids. There may also be assistance given to single mothers so they can buy a gift for the child. However any families that are in need of help during Christmas should apply at one of these charity agencies near you.
Non-profit and charity organizations operate in most states. Using donations from the community, as well as relying on volunteers, there may be free toys, gift certificates (which are really equivalent to money) and other items provided to struggling families. Other agencies such as Catholic Charities, St. Vincent De Paul, Urban League, or the Salvation Army run special Christmas assistance programs. More details on Christmas assistance programs.
Local churches provide free Christmas gifts. Throughout this site you will find lists of churches and charities to call for money to pay for Christmas toys, food boxes or gifts. Even if a local church does need offer the parent funds, they may still process applications for any number of free holiday gift giving programs. Or they may administer donation programs for your community. Find churches that help.
The Angel Tree Christmas gift giving program is operates by many businesses, charities or the Salvation Army. This is a donation program in which new, wrapped presents are provided to children from families living in poverty as well as those in a financial crisis or that have no money. All of the items passed out to the family will be free of charge, if the applicant meets the terms of the assistance program. Read more on the Angel Tree Christmas gift program and how to apply for the service.
Free Christmas Toys for Tots is a charitable gift and present program are for people of all backgrounds. It is partly run by the Marine Corps in partnership with representatives from local communities as well as businesses. It is available in most communities, and the free Toys for Tots assistance program helps everyone from single moms seeking a free toy or gift certificate for their child to the unemployed.
Most counties and local charity groups have a Toys for Tots type campaign. You need to contact your nearest Salvation Army or military installation for information on any type of free assistance that they can provide from this program. The registration for the giveaway of gifts will usually take place in September, October, or November. The focus is on giving free Christmas gifts to parents with children under the age of 14. The primary email address is [email protected], or find more details on applying for Toys for Tots.
Free toys from clothing closets or furniture banks. These non-profits that are near you may offer low to moderate income consumers free gifts, clothes or Christmas toys during the holidays. The inventory varies. Some may offer free vouchers, or money, so you can shop for exactly what you need at the store. A clothing bank may open the doors to the kids as well as so they can select the specific toys or clothes they need for Christmas, and they will be free to them. Get more information on clothing closets.
Some retailers, such as Target, Amazon or Wal-Mart, contribute to charities that may be near you. People should inquire at a local state to see if this is an option for Xmas presents for children. There are also Christmas toy donation or give away programs held by many charities as well as local businesses, and they will provide low income families with free Christmas presents, gift cards, and even money. Two of the primary providers include the following:
Toys, gifts, and other free Christmas services (including money or free gift cards) are part of Salvation Army Christmas Giving Programs. These are in addition to the resources above. These giving programs are mostly run by volunteers and donations. There are toys for boys or girls, teenagers, and others in need collected and then distributed in a community. Find Christmas toys from Salvation Army.
Local Catholic Charity affiliated churches may also be able to offer free Christmas gifts, vouchers, or money to use for shopping at a second hand store. The charities may offer free items from a thrift store to very low income families or the unemployed. Other lower to moderate income families may need to pay a little money for a Christmas gift for their child, but the stores that that tend to be available to the public and they will have very competitive prices. Find assistance from Catholic Charities.
Another mostly national organization with free Christmas presents, toy programs, clothing, and more is the Assistance League. There are hundreds of different locations, and each one of their programs may go by a different name. There may be free gift certificates or cards, money, or vouchers from Santa's Closet, toys from Operation Christmas, and much more. Find additional help from the Assistance League.
Sometimes the family needs a free Christmas meal or box of food. There are programs that focus strictly on that need as well. They try to feed low income families, maybe serve a dinner, or some charities even through parties in which gifts, money, and groceries may be given too to attendees. Find charities to contact for free meals at Christmas.
Ask for help from a non-profit or a local charity near you, but be sure to sign up for a free Christmas present early as the programs operate on a first come-served basis. Your request for money or any other form of financial help for your kid(s) will be kept confidential. In rare cases, if you do not live near a Christmas toy or present distribution site, it may be possible to get free Christmas gifts sent in the mail. If they do not have resources available, then check in with family, your friends, relatives, and neighbors.
Find how to get free money from charities, apps, corporate giveaways and other services. That cash can be used to pay for Christmas gifts or toys. The assistance can help the low income, single mothers or fathers, the working poor and others get the presents they need for Christmas. In general, there may be samples, rebates, apps or other tools to use to get the free cash - as there will be some requirements. More on get free money.
Free Christmas Trees or decorations may be passed out as well. They are limited, and some of the programs are only for single mothers or fathers and/or military families. Any assistance is first come and served as well. However some families that are low income and in a crisis may be able to get help as well. Find more information on free Christmas Tree programs.
Free Crowdfunding sites can be another way to raise money to pay for Christmas toys or ask for free gifts. The process involves using one of the networks out there, such as GoFundMe or PayPal Giving Fund, to create a campaign. You will need to tell your story, why you are struggling, and why you need toys or presents for your kid(s).
It also involves sharing your story about why your are in a financial crisis, and the person seeking free Christmas toys or food will often need to use their social network(s) to spread the word. While there are no guarantees to getting gifts or presents from a campaign, it is an option. Read more about free Crowdfunding campaigns.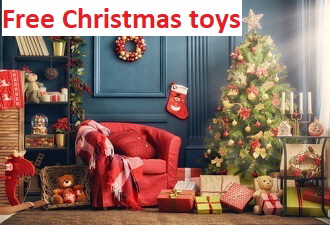 Get free or cheap Christmas toys, or low cost goods, from thrift stores. There are thousands of these across the United States and they operate in most cities, towns, and counties near you. Based on donations and the work of volunteers, the stores may have thousands of items, including goods at Christmas.
Each store is different. Some have, and give out to the needy, free items at Christmas like toys, clothes, electronics, games, dolls, trucks, and so much more. Some thrift stores will only sell items to the general public, but they will be gently used and in good shape. Or a low income or struggling family is given free Christmas gifts for their kids and others need to buy an item. The locations near you can be an option, and find more details on thrift stores.
Find help for the 2023 Christmas holidays from installment loans or deals
In addition, if you would rather obtain a loan or a line of credit in order to do your Christmas shopping, (which is never recommended) but maybe you have poor credit scores, here are some options for low-income families with children to consider to help them get Christmas toys. Note this approach should generally be a last resort.
You should always explore some of the free Christmas assistance programs listed above that give out gifts first. But if you insist on borrowing money, here are some suggestions for taking out a low cost holiday loan, starting with our highest recommendation. Anyone that does borrow some extra money around Christmas needs to be sure to pay it back as soon as possible after the holidays.
Free, zero interest loan programs do exist. Money can be provided from a number of sources, ranging from churches to community action agencies. This is in addition to any free Christmas toys they will provide. The funds can be used to pay for Christmas gifts, help parents pay bills or obtain presents, and can address other financial obligations. The reason these are called free loans is that the money will be provided with zero interest and no fees. Families can buy anything with the funds, such as clothing, Christmas toys, and more. Read more about free loans.
Free cash back for Christmas shopping online or or on your phone is offered by some companies as well as apps. All of the cash back apps are free to download and use for Christmas shopping. Consumers can easily receive free cash back ranging from about 2 to 12% on their purchases from retailers such as Walmart, Target, Best Buy, and others. This type of resource will help the family reduce the amount of the bills they incur during the holidays. Click here for cash back shopping apps.
Buy now pay later is a way for people to buy stuff now (including Christmas toys) and pay for the cost, usually interest free, over the course of weeks. It is similar to layaway or a 0% credit card. BNPL is used by many people to pay for holiday items, including toys or gifts for a kid. There are also Buy Now - Pay Later plans for people with bad credit or a low income to increase the number of options available. Find no credit check buy now pay later apps.
Need additional free programs for Christmas presents?
There are other holiday toy and free Christmas programs available for struggling families. Find lists of resources. Or send an email request to [email protected]. Be sure to include your state. As there are a number of agencies that may provide free toys, gift cards, presents for kids and other help at Christmas. Or visit or register in the community forum (the link is on the lower margin) and we will reply to your message for holiday assistance there.
Related Content From Needhelppayingbills.com