Toys for Tots program for 2023 near you.
Find how to apply for Toys for tots, the application requirements and registration details below. The program provides free Christmas gifts to hundreds of thousands of kids per year. There are a number of charities and non-profit agencies that accepts applications, and learn more about applying for Toys for Tots 2023 near you below.
In a typical year, the Toys for Tots program provides over 15 million free toys to millions children from struggling families, many of them from single mom or dad run homes The assistance is coordinated by the United States Marine Corps in all 50 states, however the USMC works with charities, corporations and social services offices to distribute the gifts. There are in fact tens of thousands of local charities, with some near you, that administer it. Get more details on the the free Toys for Tots service as well as the eligibility criteria for 2023 below.
In addition to these various local charities as well as non-profits that partner with the Marines to administer the service to children, Toys for Tots relies on donations from corporations, individuals, and the community in general. Many churches and charities both (1) accept donated gifts or money from the public and (2) provide those toys to kids from age 0 to 14. If possible give back or volunteer to help the less fortunate.
While all 50 states are covered, there are almost 1000 individual sites that operate this service. Each is focused on helping kids under the age of 14. Of course Toys for Tots has income requirements (find them below), and it is only for children from low income families or that are facing some form of short term hardship. The goal is to give each child one or more free gifts to open on Christmas morning, whether it is a toy, clothing, game, book, or whatever.
The Marines work with many organizations, local charities, churches as well as individuals on the Toys for Tots program. Everything is done as part of a not for profit foundation that was created to do this. Many different groups are part of the USMC foundation, as all these organizations help Toys for Tots provide assistance to the community.
Local distribution sites near you for 2023 Toys for Tots
As part of this service, there is a Marine who is assigned to each of the hundreds of non-profit sites that administer it. They coordinate the service with donors, tens thousands of volunteers, the charities that actually disburse the Christmas toys, and also hundreds of corporate sponsors. The coordinator also provides outreach to the community. They create an application process for parents in each community.
Toys for Tots relies on many different organizations. There are churches, charities, retail stores,companies such as Wal-Mart or Target and groups such as the Salvation Army that take part. Often local businesses assist as well, such as maybe a mall helping collect Christmas gifts or a small business owner allowing the use of a storage unit to hold the toys. Of course, there are donation sites set up as well for people to bring toys too.
As businesses often decide to help the Marines by becoming a "drop off site". Or individuals may donate money to the US Marine Corp program to help it operate, or they volunteer to help spread the word on it.
Applying for Toys for Tots this year
The local coordinator signs up distribution sites for calendar year 2023 in each town and county. Any parent with a child needs to apply for Toys for Tots at one of those local distribution centers, which are often charities. Or they may be able to apply online using the link below. All sorts of Christmas gifts, clothes, games, toys for boys or girls and more is offered.
Registration needs to be done as the United States Marine Corps will only allow charities to pass out free Christmas presents, toys, and more to kids from lower income households that qualify. As far as the items donated (or passed out to kids), they need to be new; not used. Or in some cases the US Marine Corps Toys for Tots program will give out gift certificates and/or cards to kids.
To apply for assistance from free Toy program near you, the household needs to have a child under the age of 13. In addition, each parent that is requesting a Christmas gift from the free Toys for Tots program will need to bring Social Security cards for each child that is part of their application, a picture identification as well as bring proof of residency in that town. The application start date will vary by local town or city, but it is often in September or October.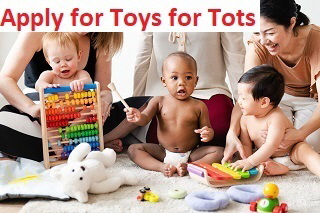 The family also can't "double dip", meaning they can't use this United States Marine corps program as well as other local resources, such as angel Tree. Applications for the Toys for Tots campaign will always be crossed referenced.
If and when approved, usually a voucher or ticket is given to the parent, and they will need to redeem it at a Toy for Tots distribution site in their community. This voucher or ticket will allow the parent to collect free Christmas toys for their kids. They need to do this before all relevant deadlines have been crossed, as Toys for Tots is time sensitive.
The free Toys for Tots program is open for applications for 2023. Find more details here. https://www.toysfortots.org/request_toys/ or dial 211 for more details. As there are many application sites that will be near you.
Related Content From Needhelppayingbills.com