Surprising items you can buy with SNAP food stamps.
Find some of the surprising items that SNAP food stamps and EBT benefits allow families to buy. This includes restaurant food in several states, some deli food or birthday cakes and more. Of course the cost of the "non-traditional" eligible items need to be within the households EBT budget, but government rules and regulations do allow it. Find more information on what EBT food stamps will pay for, much of it may be a surprise to you.
The Supplemental Nutrition Assistance Program (SNAP) is the modern version of the federal government's food stamp program. It helps tens of millions of families pay for the groceries and items they need to feed their family. Knowing what purchases SNAP allows or prohibits will help you to wisely manage your monthly benefits.
General eligible items that food stamp EBT card does or does not pay for
In general, SNAP allows purchases of food items that require home preparation. EBT eligible items includes meat, poultry and fish, fruits, vegetables, dairy products, bread, cereals and non-alcoholic beverages. Payments are made by using an Electronic Benefits Transfer (EBT) card just as you would use a debit card. EBT will also pay for vitamins and nutritional supplements in some states.
SNAP does not allow the purchase of tobacco products, alcohol, soap, paper products and cleaning or household supplies. Also prohibited are purchases of toothpaste, cosmetics, hygiene items such as deodorant, diapers and baby wipes, grooming items, vitamins or medicine. With a few exceptions, SNAP cannot be used to buy hot food or food that will be consumed in a store.
Your EBT card cannot be used to buy pet food or toys, but nothing prevents you from purchasing "human" food for your animal family members. Buying a can of tuna to feed Fluffy can be less expensive than buying a similar size can of cat food.
SNAP also does not pay for bag or delivery fees charged by a store. However, if free delivery is available once you purchase a specified dollar amount, both SNAP and non-SNAP items are counted toward that total.
The use of SNAP benefits is not restricted to grocery stores. The following is a list of surprising items that can be purchased using SNAP benefits and other outlets that may accept EBT card payments.
Restaurant Meals SNAP Food Stamp Program may surprise you
The general rule that SNAP benefits cannot be used to purchase prepared food or food from restaurants has exceptions several states. The federal Restaurant Meals Program, established in 1978, allows EBT card payments to buy food at some fast-food outlets. These include McDonald's, Taco Bell, Burger King, Popeye's, and Subway in states that are involved in the program.
The Restaurant Meals Program focuses on elderly, disabled or homeless persons who may lack either the physical capability to prepare their meals at home or the necessary means to store and cook food at their place of residence.
Participating states include California, New York, Illinois, Arizona, Michigan, Maryland, Virginia and Rhode Island. If a state opts in to the program, each county must also choose whether or not to participate. As a result, the number of restaurants where SNAP benefits can be used is very limited. To determine whether fast-food outlets will accept SNAP benefits, look for a sign stating that EBT payments are accepted.
Food stamps can surprisingly pay for deli purchases, seafood, steak and pizza
Some deli food in grocery and convenience stores can be purchased with an EBT card. This primarily includes cold food such as packaged sandwiches, sliced lunch meat and salads. Hot foods like a rotisserie chicken or steamed shrimp and food meant to be consumed immediately or on the premises such as soup and chili can't be purchased.
Steak, lobster, seafood and other shell fish can be purchased with an EBT card although they may be rather pricey. Similarly, organic food qualifies for purchase although it is typically more costly. Such purchases may not be the wisest use of your limited funds, but they are allowed.
Pizza can be purchased from take-and-bake outlets like Papa John's or a local grocery store since the pizza will be cooked elsewhere. However, baked pizzas from places like Pizza Hut and Domino's cannot be purchased unless the outlet participates in the Restaurant Meals Program.
High-energy drinks can be purchased with SNAP food stamps as an item if the label or packaging contains nutritional information. If the label on your energy-boosting beverage only includes supplemental information, then the drink is considered a supplement and, like vitamins and medicine, cannot be purchased using SNAP funds. Approved beverages include Red Bull, Monster Energy and Bang Energy Drink.
Food stamps can pay for gift Baskets, cakes and some junk food
Maybe surprisingly, holiday gift baskets, stockings and tins can be purchased using SNAP benefits so long as the food value of the items is clearly worth more than 50% of the purchase price. A large stuffed animal toy sold with a small box of candy would not qualify since the toy is obviously worth more than the candy.
However, a gift basket of meats, cheeses, cookies or snacks that also includes a small toy could be purchased since the food value clearly exceeds the toy value. An Easter basket filled with edible treats can be purchased but Easter baskets filled with toys cannot be bought.
Birthday cakes are covered by SNAP benefits if the decorations are minimal. The edible portion of the cake must make up at least 50% of the value. Cakes that include costly, extravagant decorations such as those often found on wedding cakes may not qualify for purchase as the decoration value may exceed the value of the edible portion of the cake.
While not recommended (due to lack of nutritional value), food stamps will surprisingly pay for what is traditional "junk food" or snacks. An EBT card can be used to pay for junk food such as candy, cookies, ice cream, soda, chips and crackers can all be purchased with SNAP funds even though may lack significant nutritional value.
Planting, hunting and fishing items using a SNAP EBT card
Plants, fruit trees, roots and seeds that produce food for personal consumption can be purchased. For example, if you want to grow tomatoes or carrots, SNAP will cover the cost of the seeds. Seeds and plants that make cooking spices may also qualify. The seeds must produce items to be used for food and not simply for decoration. Food grown with seeds or plants purchased with SNAP benefits cannot be sold.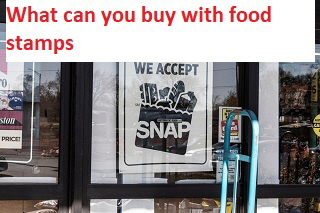 Hunting and fishing equipment can be obtained with SNAP benefits in some rural areas where there are few stores and people hunt or fish year-round as a way of life to put food on the table. For example, in rural Alaska, many people have a subsistence lifestyle in which hunting and fishing is essential to provide sufficient food for the family.
Surprising locations that accept the use of food stamps
EBT cards can be used at butcher shops, meat markets, gas stations, vitamin and convenience stores. Farmers markets in all 50 states accept SNAP funds although the market must be licensed to accept payments. Some U-pick berry farms also accept EBT payments. Read more on using food stamps at a farmers market.
SNAP food stamp EBT cards cannot be used to purchase food at wineries, liquor stores or other outlets where the sale of alcoholic beverages is the primary activity. Of course they can't pay for beer, wine, or alcohol too.
While you cannot purchase items from a local Starbucks stand-alone store, you may be able to buy your favorite Frappuccino, a canned beverage or packaged foods from a Starbucks kiosk located within a grocery store. The reason being is that items sold in that location are considered grocery items.
In many states, EBT cards can be used to purchase eligible groceries online from Amazon, Kroger, and other online retailers. Any grocery store that has an online presence will accept food stamps. In addition, senios or the elderly with a certain need can buy pet food, including for dogs or cats, with SNAP food stamps.
When browsing online, Amazon provides a list of EBT eligible items that can be purchased. Individual listings also state whether the product is EBT-eligible. Just add your EBT card as a payment method and use it to checkout. Other businesses accepting online EBT card payments in many states include Walmart, ShopRite and Safeway.
Free cell phones or tablets, including Apple iPhones or Samsung Galaxy units, are provided to people on food stamps and that have an EBT card. The federal government, working with telecommunication companies, ensures that low-income people on public aid, including SNAP, are eligible for a wireless device so that they have a way to communicate and/or access the Internet. Get a free phone with food stamps.
SNAP food stamps have some flexibility that may surprise you
Thousands of products are eligible for purchase with SNAP funds from the basics to provide daily nutrition requirements to fun foods that, though less nutritious, make life more enjoyable. Wise use of coupons, sale events and purchasing inexpensive seeds to grow some of your food can maximize your SNAP benefits and help ensure that you and your family won't go hungry.
Related Content From Needhelppayingbills.com