SNAP food stamps at a farmers market.
It is possible to use SNAP food stamps and an EBT card at a Farmers Market near you. The United States Department of Agriculture (USDA) in fact encourages low-income families, kids, and seniors among others to eat healthy, which includes fresh fruit, produce and other nutritious food. Learn more about using an EBT card at a farmers market.
There are some restrictions in place. The SNAP food stamp program will only pay for non-prepared items. This means an EBT card can help families buy fresher, healthier food such as produce, fruits, greens, plant seeds, meats, and much more. Only non-prepared foodstuffs can be covered by SNAP at a farmers market.
What you can buy with an EBT card
If it has been confirmed that the farmers market accepts the USDA Supplemental Nutrition Assistance Program (SNAP), then the family can stop by the site to shop. Only non-prepared/meal items can be paid for by this EBT benefit program. All of the same rules and regulations are in place. So there are not any exceptions or additional benefits to be had by shopping at a farmer's market other than the quality of the produce may be even better. What a family can buy at a farmers market with an EBT card includes the following:
Fruits, such as strawberries, bananas, melons, blueberries and many more.
Fresh vegetables, including, but not limited to lettuce, carrots, kale, etc.
Dairy items, such as cheese or yogurt.
Breads and cereals, providing they are not prepared meals.
Meats including beef, chicken and others can be paid for with SNAP benefits at a farmers market.
If the farmers market sells meats, chicken, or fish, then EBT cards can be used to buy those items too. These too can often be fresher at one of these locations. Or to buy those items then a family can shop at other markets provided that they accept the EBT card. So a family can't go to a farmers market and buy hot meals, snacks, or other so called trinkets that may be for sale there. The concept is the same as if the beneficiary were shopping at a local grocery grocery. Read about other stuff you can buy with EBT.
The actual payment process is very straightforward. The farmers market will allow the shopper to present their EBT - Electronic Benefits Transfer card at a point-of-sale when checking out. The beneficiary just needs to swipe their card at this terminal and the amount will be deducted from their monthly benefit.
The United States Department of Agriculture (USDA) coordinates with markets all over the nation to ensure the service is efficient. They will also set guidelines on what can be paid for. If the family tries to buy something that is not allowed as part of food stamps, then the transaction will be denied. So as noted above, all of the current rules and regulations still need to be adhered too.
SNAP food stamp deals at a Farmers Market near you
Something that is maybe more unique to a farmers market is the ability for a low-income family to buy plant seeds (or even fully grown plants) using SNAP food stamps. The seeds need to be oriented towards fruit or vegetables. Food stamps will help pay for these goods too. So if there was a tomato plant for sale at a farmers market, the EBT card could buy that. It can't pay for flowers or those types of goods.
Many of the markets also offer additional services to low income senior citizens that are enrolled into SNAP food stamps. There may be volunteers that can bring their groceries out to their car or deliver them to their home, or they are also wheelchair accessible. Not only that, but the healthier food, produce, and other items at a farmers market will all meet the USDA nutritional guidelines for the elderly.
Another tip for using SNAP food stamps is to look for any Farmer Market that provide additional matching contributions. As an example, there are hundreds of sites that will "double up" the amount on the card. So if the family were to buy $10 of fruits or vegetables using their EBT card, then that amount will be matched by the market.
This type of deals allows the shopper to buy an extra $10 worth of food, which will technically be for free. So the end result is a low income family can get $20 of fresh food, meats, seeds, and more and will only need to pay $10 on their EBT card. It is recommended to always look for these types of arrangements.
How to find a Farmers Market that accepts EBT cards
Thousands of farmers markets, including one near you, allow families to shop using their EBT - Electronic Benefits Transfer card, which is issued as part of SNAP food stamps. They can use their government benefits to purchase the healthy food that they need for their families. One of the benefits to using SNAP at a farmers market is that it may allow the person to receive fresher, healthier stuff such as produce, fruits, greens, plant seeds, meats, eggs, and much more.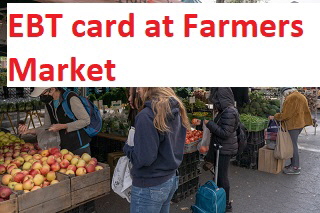 Some free good pantries will also have fresh fruits, vegetables, beef, blueberries, tomatoes, meat and other items for low-income families. Often a pantry near you will also work with farmers, local companies that provide fresh food, grocery stores or even restaurants. The goal is to offer healthy stuff to low-income people on SNAP. Find a free food pantry near you open today.
The first thing someone should do is research the Farmer Market location near you just to be sure they accept EBT cards as a form of payment. The Food and Nutrition Service (FNS), which is part of the USDA, needs to authorize the location in advance, and thousands have already been approved. People can do this online (as most farmers markets have a website) or just call the site. Find an approved SNAP location here that is located at a Farmers Market.
Related Content From Needhelppayingbills.com