Cooking Matters - Free cooking classes.
Cooking Matters is a free program provided by many food banks, Feeding America, and the USDA. The service provided free cooking classes, shopping tips, and workshops on how to find, prepare, and eat healthier. The goal is to help people, in particular low-income, seniors, or people with a medical issue, to learn how to improve their nutrition. Find free cooking classes near you or online, as well as learn more about the program.
To some, the concept of having a training program for adults that teaches basic shopping and food preparation skills seems unnecessary, but it all depends on where you come from. Cooking Matters if a free class/workshop training session that teaches you how to save money when you shop, find healthy ingredients or food, and cook or prepare healthy meals.
For the over 20 million residents of America's "food deserts," and for the additional 2+ million low-income residents of rural areas that are at least 10 miles from a grocery store, opportunities to learn these fundamental skills may have been few and far between. Cooking Matters is one resource that can be used to gain or improve these skills.
And even if you're surrounded by grocery stores, it can be very hard for working adults to find time to acquire these skills if they did not obtain them in early life; this is especially true for those trying to juggle work and raising children. These sorts of Cooking Matters classes as well as courses are also very helpful for child care professionals who are creating meals for a variety of kids on a regular basis, each of which has their own personal preferences and nutritional needs.
What is the Cooking Matters program?
Cooking Matters is a food skills education organization that has been filling this niche since 1993. It is often run in partnership with Feeding America, local pantries near you as well as the USDA. Millions of low to moderate income American families as well as single mothers (mainly their children) depend subsidized school breakfasts and lunches and these they consider to be essential meals.
But outside of that USDA program, many low income families need extra help. Cooking Matters is a division of Share Our Strength, a 503(c) nonprofit that operates across the nation with local charity organizations and runs several other food support programs such as No Kid Hungry and Taste of the Nation.
Cooking Matters offers a variety of interesting resources to low-income Americans, with a particular focus on those raising or caring for young children. The program also helps the elderly in the country who often have special dietary needs. Cooking Matters also helps immigrants (documented or not) as well as those with poor English skills who may struggle to identify money saving tips or healthy ingredients.
Free cooking courses, workshops and classes
One of Cooking Matters' most popular offering is their free hands-on cooking courses, which work from the basics of nutrition and smart shopping all the way up to preparing actual meals. The classes are free to take and offered across the country in thousands of local communities, including one near you. Cooking Matters also has free online classes as well.
Courses run for two hours at a time, once a week for six weeks. A nutritional expert and a professional chef lead the classes, and the focus is on preparing a healthy meal for a family of four while spending no more than $10. That includes shopping, weekly budgeting, proper preparation and use of kitchen tools. One example of the practical skills taught is cutting up an entire chicken to ensure that none of it goes to waste.
These courses are offered throughout the country via various community partner organizations as well as free food banks near you, taking place in locations such as housing centers and schools. Feeding America and community action agencies often work to offer Cooking Matters in local communities. There are also specialized courses for different groups: one for parents, one for single adults, one that includes children to help teach them valuable skills along with the parents, and one for child care professionals.
Participants may also periodically receive ingredients and cookware with which to practice at home. The kitchen supplies and items are free.
Grocery store tours from cooking matters
If you've ever felt overwhelmed while shopping for something at an unfamiliar store, you would have probably loved to have an expert tutor guide you through all of your options. That's the basic idea behind Cooking Matters' "grocery store tours.
These free tours focus on low-income clients and those that are in need of nutritional education, helping them to maximize their spending while in the store. This includes reading and comparing nutritional labels, comparing unit prices to find the best overall value, and maximizing the use of WIC vouchers to buy healthy produce.
Cooking Matters' will also show low income families how to use coupons, both physical and smart phone coupon applications, to save money on healthy groceries or ingredients. There is one tour that focuses specifically on the needs of WIC shoppers, and another more general tour for low-income adults.
A tour lasts 1.5 hours, and ends with the "$10 challenge" that asks participants to put together a healthy meal for four at that price. They then head home with the $10 in groceries as well as a recipe book and a reusable grocery bag.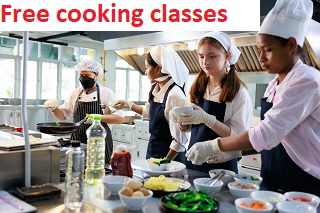 The Cooking Matters App
If you can't make it to a class (or have already taken one), the Cooking Matters app as well as online site offers support in the form of recipes that are meant to be tasty, healthy and budget-friendly. It also allows for searching by various criteria (such as food allergies or combinations of ingredients) and has a shopping list function that allows you to sort the list by store section to stay focused and move faster.
The app is free, but is currently only available for Android devices and iOS. This allows people to take a free cooking class remotely - online. There is also free information, recipes, and resources on the Cooking Matters' website. Or find other apps for saving money on groceries.
Educational references
Cooking Matters also offers a series of illustrated PDFs that you can download for free right from the website. These include an instructional guide for chefs and kids, a book about exploring new foods for young children, a guide to putting on your own community cooking demonstrations, and a guide to help food pantries. You can also find about a dozen color printable handouts for kids that teach about the flavors of different foods and healthy eating. Or find other sources of free printable coupons.
Cooking Matters' also offers other educational resources, in addition to the free online cooking classes and local workshops. All of their assistance programs are targeted to helping low income families save money and learn how to eat healthy on a budget.
Finding Cooking Matters classes
Cooking Matters offers these programs throughout the country including near you via various community partners, non-profits and food pantries. A major partner is Feeding America food banks near you. They should be able to enroll clients. Or you can find lists by state at the organization's web site. Or try Feeding America for details on cooking classes or the United Way.
Related Content From Needhelppayingbills.com