Debt consolidation loans.
Find how using a debt consolidation loan will help improve your household's financial situation. There are a number of banks, non-profit organizations, and other non-traditional lenders that can provide this form of assistance. The reason for using a debt consolidation loan is so that the funds from the new loan (which will have a lower interest rate) will pay off/consolidate other bills or debts that are outstanding. Then, going forward, the borrower will have a lower monthly payment that they need to make.
What exactly is a debt consolidation loan?
At the end of the day, it is the process of obtaining a lower interest rate on your financial obligations. A debt consolidation loan is a source of funds that you can get from a lender, financial institution, or bank to help pay off your current debts. This is a low interest rate loan that is used to pay off all of your other outstanding debts or credit card balances. You would use them for any obligations you have that have a higher APR
The "new money" you borrow will combine all of your outstanding bills, including medical, automobile, general household as well as credit card, and it replaces them with a single loan that will have a more more competitive interest rate.
In order for this to be an effective solution the new loan needs to be issued at a lower interest rate, even if is is just a slight difference. This is what allows the borrower to save money. It is one of the many effective solutions that should be explored by anyone who is trying to get back on track. Another reason to try this is that there is usually no cost to finance the debt at a reduced interest rate.
The loans can potentially offer debt relief as a form of assistance to people that are struggling and that are trying to improve their overall financial condition. The process can put them on track to future financial success. Banks and lenders are also more willing than ever before to provide help to consumers, and this is one option for credit card borrowers that will allow them to get assistance to cancel credit card debt.
Can a debt consolidation loan really help?
Absolutely. While it can, it is very important that the new loan has a lower interest rate and that you stay within any guidelines that come with it. This is really the only way this option will assist. As you need to save money on monthly interest expenses and stay within all terms and conditions of the lender.
In addition, a debt consolidation loan will only take care of your financial problem if you stop spending on unnecessary and/or foolish expenses. Borrowers will need to spend wisely, within a budget, and stop overspending. If you do not manage your budget better then was done in the past this will not solve anything. It could be very possible that in two or three years you will just find yourself having the same problems as before. Too many people do not "learn" their lesson and continue running their credit cards and bills up to the same levels that they were before they took out the debt consolidation loan.
What are some of the types of debt consolidation loans?
They can be either secured or unsecured loans. There are major differences between the two. If you have a secured loan then you will have to place collateral with the bank or lender in order to borrow money. They will in effect force the borrower to do this in order for them to take out the loan. Many borrowers will use their home or an automobile as security. So borrowing money in this fashion obviously tends to be higher risk and consumers should be very cautious before deciding to take out a secured loan. Most banks and lenders do offer various resources though, and find the best debt consolidation loans and lenders.
On the other hand, using unsecured loans to consolidate any debts does not require the borrower to use any collateral. So these come with much less risk. They are often the better option; provided the interest rate is competitive. These loans are based entirely on the capacity, past payment practices and the character of the borrower to repay the loan.
Some people can even in effect create their own bill or debt consolidation loan by rolling over all of their outstanding financial obligations into a low interest rate credit card. A con to this approach is the borrower needs to only use the money for that purpose, and not for shopping or pay other living expenses. So they open a new account and then transfer the balance to the new credit card.
To learn more on how low-income families, people with bad credit or no money can consolidate their bills, you can contact a credit counselor. There are thousands of these organizations located in many local communities. The operarte in person offices and provide free telephone or online consultations. A credit counselor is also very helpful in developing that longer term financial plan. More on nonprofit, free credit counselors.
Another technique gaining traction is debt settlement. A pro for this type of program is that it can also be combined with a consolidation loan to provide more relief in a shorter period of time, This is the practice of eliminating debt by negotiating with your creditors and it can also help individuals address the principal due. Read more.
Is using a loan to consolidate my unpaid bills right for me?
If you have some or all of the challenges listed below, then probably yes. If you are not certain, then talk to a non-credit counseling agency for advice. More info on non-profit credit counseling.
If you are having difficulty paying your outstanding debts or are struggling with keeping up with bills.
The current debt you have on your accounts has different interest rates, oftentimes at a higher level. It can help people who would like to have one interest rate, usually lower, for all your debts.
If you are currently paying multiple loans for different expenses from different lenders.
If you are having problems in staying organized and sending checks to the different creditors at different dates.
You want to reduce how much you pay on interest each month to service your various your debts.
If you want to pay off higher interest rate credit cards and debts by leveraging your homes value.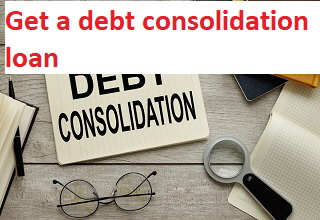 You need to take advantage of the lower interest rates to pay down your principal. In order for this tactic to work for your situation, you need to pay the money you borrowed in full and on time. Another key is you have to find ways to cut back on your expenses, and it is imperative to limit excess spending. If you do not take those steps then the con of this approach kicks in, and you can just fall behind again in the near future.
What do I need to have to qualify?
Each lender will of course have private criteria. This means that one bank or lender may deny an application, but maybe another will process it. So you often need to contact different companies to apply. But in general, some or all of the following may be true.
You must have a fairly steady source of income.
A lender may require a copy of your monthly budget, including all income and expenses, to determine if you can meet your loan payments.
A bank may review your credit scores and ratings. The better those scores are the higher chance your have to secure a loan.
Some lenders may need a consignor for the loan.
If you are declined, there are other assistance programs out there for paying down bills. For example, find how to consolidate credit card bills, as well as the pros and cons of that approach.
This approach will leave you with one low interest rate loan, thus reducing your costs every month and allowing more of your payments to go towards paying the principal. This will have the effect of paying off the overall balance in a shorter period of time.
You should only need one loan if you qualify for the best interest rate. So this will also simplify your finances in that one lender needs to have a check written to them each month. Another pro is that bill consolidation loans are also good for getting you out of an adjustable rate product where the cost of financing can increase or change drastically.
What should I consider before agreeing to a debt consolidation loan?
You need to verify several things. In addition to potentially talking over your situation with a credit counselor, some additional items to consider before taking out debt consolidation loan include the following.
The interest rate: This is probably the most critical piece of information. Lenders will charge a variety of interest rates to different applicants. They use different formula and equations to determine this. So "shop" around for the best terms.
In general, the interest rate on a secured loan will be lower than the interest rate charged on the unsecured loan. But this can vary baesd on the borrower's credit score and financial history. You always need to review the rates on any potential loan. This needs to be done before you opt for a debt consolidation loan. In addition, review all of the fees, prepayments terms, and conditions. Focus on the "fine print" too.
Fees charged: Do not select a lender that charges high fees before providing any services. This includes everything from origination to pre-payment costs. All fees can quickly add up.
Monthly repayments: Ensure that the amount you need to pay each month is lower than the amount you are currently paying before the consolidation. If you will not save money each month, then it probably does not make sense to proceed.
What steps should I take while applying for a debt consolidation loan?
Be sure to take a realistic look at the total amount of bills and debt that you owe. Review all of your accounts and financial commitments, including car payments, utility bills, medical expenses, etc.
The next step is to come up with a monthly budget, reflecting your total household income and expenses. Make sure that you include an amount in your budget for emergencies.
Determine exactly how much you can borrow as you try to consolidate debts with a loan, and take a conservative approach in doing those calculations.
If after doing this and decide to proceed, make sure you abide by the terms of any loan. If you miss any payments or default on it, then this can present even more challenges.
You need to take advantage of the lower interest rates to pay down your principal. In order for this tactic to work for your situation, you need to pay the money you borrowed in full and on time. Another key step is you have to find ways to cut back on your expenses, and it is imperative to limit excess spending. If you do not take those steps then the con of this approach kicks in, and you can just fall behind again in the near future.
Do credit card issuers have debt consolidation loan programs?
Yes, many card companies, such as Bank of America as well as Citi, offer their own debt consolidation loan programs. These are mostly focused on helping people pay off their credit card bills. Find out how to get a Bank of America debt consolidation loan.
Citigroup, sometimes still referred to as Citibank, also provides their own loan product that can be used to consolidate debts and pay off bills. They also provide free counseling services. Find information on Citibank debt consolidation loans.
How about hospitals and doctor offices?
Many medical professionals, doctors, and hospitals will work with you. They do not want the bad publicity of forcing a sick person to go bankrupt. Medical providers often offer medical debt consolidation programs. Or they offer pre-payment plans and more.
These organizations will also offer other aid, including charity care, that can help you pay off all of your medical bills and hospital debts. These types of plans are becoming more common with the escalating cost of health care. Learn more on medical debt consolidation.
What are peer to peer lending sites?
Peer to Peer (P2P) lending sites, such as Lending Club, Prosper, and Zopa, offer a way for borrowers to get access to lower interest money. The funds can be used for many reasons, including to consolidate and pay off credit card debt, access loans for home mortgage payments, student bills, and auto loans. Or even use the money to help start a business.
Many people, including regular everyday American families, investors and other groups loan money directly in peer-to-peer, or P2P, lending sites to borrowers and others who need help. There is usually not an application process. Firms such as LendingClub.com facilitate the process, thus bypassing banks and credit-card issuers. So this is a "non-traditional" form of lending, thereby offering people another way to consolidate their debts. More on peer to peer debt consolidation.
Also learn how to consolidate payday loans
While it can be more difficult to consolidate or eliminate payday loans, there are steps you can take. There are also non-profit as well as private companies that can help. Usually the biggest challenge with salary advance loans is that the consumer has poor credit. That can usually be a big barrier.
So if this is the case, trying to get assistance with the payday loan is challenging due to that fact. However, there are some things you can try and places to turn to for help. Learn more on consolidation payday loans.
What are the main advantages of debt consolidation loan?
As with any program, there are advantages and disadvantages. A debt consolidation loan will help save you money from paying high interest rates on your monthly bills. Of course this will only be the case if you receive a loan that has a lower rate than what you are currently paying. Otherwise the math often doesn't work out. So always be sure to review the Annual Percentage Rate (APR) offered on a debt consolidation loan, and compare those rates between various lenders.
Another advantage is the money can be used for different reasons. A debt consolidation loan will assist you in paying off your creditors, including medical bills and credit card debt. Or the funds can be used for various other financial needs.
It simplifies your monthly payments. Instead of someone needing to make multiple payments to multiple creditors, you will have only one payment to make every month. This will help you in managing and controlling your finances, and it will reduce the chances of late and/or missed payments. There should be less stress in dealing with just one creditor, and not multiple creditors.
There are a whole host of other options out there as well if this is not a good fit. Compare debt settlement vs. debt consolidation.
So what are the big disadvantages of consolidating debt using a loan?
There are many. Some of the main ones are below. A low interest rate loan can only help you so much. For example, it doesn't reduce your total outstanding debt and you still need to pay that balance off over time. While it does reset and reduce the interest rates that you are currently paying there are still several other steps you need to take as noted below.
Most consolation loans will involve a longer repayment period, which can be a negative. While a debt consolidation loan will allow you to lower your monthly installments and interest rates, you will end up paying the outstanding debt over a longer period of time.
For a secured loan, you will have to pledge assets like your home or car. This can obviously add a new level of risk. This, or something similar, will also be required in order to obtain a secured debt consolidation loan. Any consumer thinking of this option should really explore all alternatives first. So these are higher risk in that if you have a secured loan, and do not make the payments on it, you might lose your assets.
While it can help pay off your debts, it does not stop the borrower from taking up multiple loans again. Or it does not stop them from spending excessively. Too many people often end up in financial trouble again in a few years. It will not fix bad spending habits. After all, doing that is key to develop a budget or spending discipline.
Since there are risks, it is sometimes a good idea to talk to a non-profit credit counseling agency before consolidating any debts with a loan. Or find the best do it yourself ways to consolidate credit card debt.
Bottom line on using a new loan to consolidate debts
It will allow you to start tackling your debts aggressively, however it is extremely important that you still need to establish a plan of attack for paying down the principal of your outstanding debt over the coming weeks and months. Individuals also need to develop a plan, such as a monthly budget, to ensure their finances are in better shape over the long term.
You will not be successful if you just roll your debt over into a new lower interest rate o extended payment term consolidation loan and do not pay it off aggressively. The money needs to be paid out wisely to the creditors, and if that is not done, then the balance is still going to grow if you do that.
Related Content From Needhelppayingbills.com