Volunteers of America assistance programs.
Volunteers of America offers a number of assistance programs as well as social services to seniors, low income families, and the homeless. Resources range from housing to homeless shelters, supportive communities as well as basic needs among other programs. The non-profit will also focus on assisting veterans, the mentally or physically disabled, as well as at risk youth among others. Find how to get help from Volunteers of America (VOA) near you
Financial assistance may be offered on a limited basis, however a number of other resources can provide referrals, counseling, and case management. The non-profit organization helps more than two million individuals per year, and they operate in 46 states as well as the Volunteers of America offices listed below. Programs focus on those who are most at risk. VOA wants clients to live self-sufficiently and independently. If a client needs help to meet these objectives the charity will assist with those goals.
Support is for a wide range of individuals. They help senior citizens, at-risk youth, veterans, men and women returning from prison, homeless individuals, the disabled, and those recovering from addiction. A number of volunteers, employees, and others work with the non-profit organization in local communities. If Volunteers of America can't meet your need, they can often refer individuals to other public assistance programs or non-profit agencies.
Programs offered by Volunteers of America
Keep in mind that every location has limited funds and resources. Unfortunately not all applicants will be able to receive assistance. The exact type of programs offered by location will also vary, but in general some or all of the following may be provided.
Free Food and Clothing – Basic needs are offered to the disadvantaged including clothing and free or low cost food. In addition, volunteers may deliver meals to the homebound, such as seniors or disabled. Clothing closets and food pantries are operated from most locations. They often also have information on government assistance such as food stamps or WIC. Or VOA staff give referrals to places for free personal stuff, such as furniture.
Prepared meals may be served. Some Volunteers of America centers have soup kitchens. The

free prepared hot meals

can feed the homeless, seniors, people battling addiction, and youth after school among others. The assistance from VOA is often run in partnership with other local faith based groups. Not only may meals be given, but there are also regional food banks and pantries as well as thrift stores to get more support from.
Operation Backpack from Volunteers of America provides free school supplies to students. Each location will have different items, but kids from low-income families or that are homeless will be given a backpack full of supplies, electronics, sneakers, notebooks, calculators, electronics and more. A VOA near you will often give away school stuff during the summer months.
Rent assistance and Volunteers of America homeless prevention is a key goal of the ministry. The organizations wants to prevent homelessness, and also support those who need a new apartment or residence to live in. Many locations offer an eviction prevention program. The service that can help ensure that families who need one-time emergency rental assistance or cash can remain in their home or apartment.
VOA is also involved in assisting the currently homeless. Some centers operate emergency shelters, or they can refer clients to motel voucher programs. If a family is now currently stable, then volunteers will help them locate a more permanent home or apartment to live in.
The homeless have other resources available to them, from Volunteers of America, the government and other agencies. Everything from rehousing to meals, basic needs, medical and more is provided. Locate homeless assistance near you.
Housing assistance from VOA - Volunteers of America is one of the country's largest providers of affordable housing, including low income units and apartments. Many of the clients, if they are elderly or veterans, can move into Senior Living and Care Communities which will support them so they can be independent. There may be studio apartments or units with multiple bedrooms.
Other low and moderate-income households can access housing from the non-profit. Volunteers of America will create and manage housing units for families with children, the homeless, the elderly, and income qualified individuals with disabilities. Also, as indicated above, some cash for rent or security deposits may be available.
Utility bill assistance can be offered in some regions on a limited basis. It will usually be offered for those who may go homeless if they can't pay their energy bills. Oftentimes they work in partnership with community action and social service agencies, and the grants available will be based on federal government guidelines. Applicants need to meet these income terms to be qualified for low income energy bill assistance.
Seniors can also access VOA assistance. Volunteers of America can provide housing for seniors, professional long-term care, including nursing home care, assisted living, and home health care. Also many locations can help the elderly apply for free government health care, Medicaid, prescription medication assistance, and other senior specific services. This is often combined into their communities if they live in one of the organizations apartments. More information on senior assistance programs.
Thrift stores are operated by most Volunteer of America locations. The money raised goes towards the operation of the offices and the funding of the shelter, financial aid programs, housing, free furniture banks or vouchers and other resources. The store inventory varies by location as well as donations to VOA. But there may be clothing, furniture, appliances, shoes, kitchen supplies and more. There are also other options, and find thrift stores near you.
VOA social services
Long term supportive Services are offered beyond just rental assistance as oftentimes that is not enough to end or prevent homelessness. Case managers can help homeless youth to providing assistance in obtaining disability benefits and financial assistance for paying bills or basic needs. Get access to or information on transportation assistance and intensive job training assistance. Veterans can also receive help from the supportive services programs and referrals.
Family Volunteer of America Services for youth, including children and teenagers are offered. Volunteers of America can either provide, or refer people to, Head Start, child care, and early literacy programs to help young children improve their education and get a start. The organization serves school age children by providing mentoring, before and after school programs, and activities such as summer camps. Programming for older youth includes job training and overall leadership development.
Supporting veterans is a priority of the non-profit, and they can help military members and their immediate families. Assistance provided includes rental assistance and housing. Veterans can also access job training and employment opportunities as well as counseling. Another service is the Homeless Veterans Reintegration Program. Basically Volunteers of America does everything it can to support military members with counseling and more. It wants to support them, especially as they reintegrate into the community. There may also be financial assistance as well as programs to help veterans pay rent.
Other programs offered by the organization can include Employment & Job Training, Substance Abuse counseling, assistance for Children, Youth & Families, as well as information on emergency financial assistance programs. The homebound can seek support from VOA senior meals programs and more. The exact types and numbers of resources will vary by center.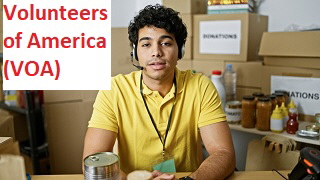 Locations of Volunteers of America centers
The main Volunteer of America offices for every region and state are listed below. However they have local facilities as well as additional offices in almost 500 local communities, so there may be a center in your town. Below are just the main offices for the region.
Volunteers of America Southeast, Inc.
This district includes Alabama, Georgia & Mississippi
Address: 600 Azalea Road
Mobile, Alabama 36609
Telephone number is (800) 859-4431; (251) 666-4431
Volunteers of America of Alaska
Location is 1675 C Street, Suite 201
Anchorage, AK 99501
Phone number is (907) 279-9634
Fax: (907) 279-0148
California and Nevada
Volunteers of America of Bay Area, Inc.
Address is 1601 Harbor Bay Pkwy., Suite 150
Alameda, CA 94502
Call (510) 473-0500
Volunteers of America Greater Los Angeles
Main address is 3600 Wilshire Boulevard, Suite 1500
Los Angeles, California 90010
Telephone number to call for information (213) 389-1500
The center operates Supportive Services for Veterans/SSVF, outreach centers, shelters, and housing for the disabled and single moms. Other housing programs are also operated by VOA in Los Angeles. Click here for assistance from VOA in Los Angeles.

Volunteers of America – Greater Sacramento & Northern Nevada, Inc.
1900 Point West Way, Suite 270
Sacramento, CA 95815
Phone: (916) 442-3691
Several housing programs are offered along with other basic needs. Resources in northern California include rent help, assistance for veterans, transitional housing, and other support. Learn more on Volunteers of America Northern NV and CA.

Volunteers of America Southwest California, Inc.
3530 Camino Del Rio North, Suite 300
San Diego, California 92108
Telephone - (619) 282-8211
Fax is (619) 282-1300
Volunteers of America Colorado Branch
Address: 2660 Larimer Street
Denver, Colorado 80205
Phone: (303) 297-0408
Provides low income housing for seniors and the disabled, including the Sanctuary Apartments. Other services from the Colorado volunteers include meals on wheels and Head Start. There are also emergency shelters in Denver and other cities as well as help for the homeless. More on Volunteers of America Colorado programs.
Florida
Volunteers of America of Florida, Inc.
Center address is 1205 East 8th Avenue
Tampa, Florida 33605-3503
Phone: (813) 282-1525
While housing is available for the homeless and low income, a focus is on veterans and seniors in Florida. Programs include Housing Services to Support Independence and others. Find help from VOA in Florida.
Volunteers of America of Illinois, Inc.
47 West Polk Street, Suite 250
Chicago, Illinois 60605-2765
Phone number (312) 564-2300
As with most VOA organizations, housing resources are available. They may have information on loan programs, landlord/tenant mediation services or information on rent and security deposit fee assistance. Other help is for veterans and seniors. School supplies and free meals are distributed too. Read more on Illinois Volunteers of America.
Volunteers of America of Indiana, Inc.
927 North Pennsylvania St.
Indianapolis, IN 46204
Phone: (317) 686-5800
Kentucky, West Virginia, and Tennessee
Volunteers of America of Kentucky, Inc.
Address: 933 Goss Avenue
Louisville, Kentucky 40217
Phone number is (502) 636-0771
There are a number of assistance programs available for Kentucky residents. Many of them have to do with preventing evictions and offer rent or housing assistance. Veterans, the disabled, seniors, and struggling families all may qualify. Read more Kentucky Volunteers of America emergency assistance.
Louisiana
Volunteers of America Greater Baton Rouge, Inc.
3949 North Blvd.
Baton Rouge, LA 70806
Call the location at (225) 387-0061
Housing, shelters, affordable day care from Partnerships in Child Care, and other services are offered. More details on Volunteers of America Greater Baton Rouge programs.
Volunteers of America of Greater New Orleans, Inc.
Address is 4152 Canal Street
New Orleans, LA 70119
Phone number (504) 482-2130
There is free basic needs, a furniture banks, homeless assistance programs and other resources.

Volunteers of America of North Louisiana
Primary address is 360 Jordan Street
Shreveport, Louisiana 71101
Phone number - (318) 221-2669
Maine, New Hampshire, and Vermont
Volunteers of America Northern New England, Inc.
Address: 14 Maine Street, Suite 301
Brunswick, ME 04011
Dial (207) 373-1140
Virginia, Maryland, and Washington DC branch
Volunteers of America Chesapeake, Inc.
Address: 7901 Annapolis Road, 2nd Floor, Suite 200
Lanham, MD 20706-1334
Fax: (301) 459-2627
Phone: (301) 459-2020. For more information, click here Chesapeake area Volunteers of America assistance programs.
Massachusetts and Rhode Island
Volunteers of America of Massachusetts, Inc.
441 Centre Street
Jamaica Plain, MA 02130
Phone number - (617) 522-8086
Volunteers of America Michigan, Inc.
21415 Civic Center Drive, Suite 210
Southfield, MI 48076
Call (248) 945-0101 for information. A particular focus of this location is to support veterans. Emergency shelter and short term housing units are available. More on Michigan Volunteers of America.
Volunteers of America of Minnesota
Location is 7625 Metro Boulevard
Minneapolis, MN 55439
Phone: (952) 945-4004
Nebraska
Volunteers of America of Western Nebraska, Inc.
Lewellen, NE 69147
Telephone: (308) 778-5548.
Housing, free food, clothing, utility assistance, and other aid is provided. Hundreds of low income families in Nebraska receive emergency assistance from this site. Click details on Nebraska VOA resources.
New Jersey, Delaware, Philadelphia
Volunteers of America Delaware Valley, Inc.
235 White Horse Pike
Collingswood, NJ 08107-1951
Phone: (800) 281-4354 or dial (856) 854-4660 for services
The non-profit provides shelter, housing services for single moms and males, and referrals to government grants for paying rent. There is also a focus on veterans in the New Jersey area through programs such as Home for the Brave. More on Volunteers of America New Jersey, Pennsylvania and Delaware.
New York
Volunteers of America – Greater New York, Inc.
(Northern New Jersey, Metropolitan New York, Hudson and Central Valley Regions)
Address: 340 West 85th Street
New York, NY 10024
Telephone number is (212) 873-2600. Housing, shelters and other support is available, such as help for veterans. Get more details on New York City Volunteers of America.
Volunteers of America of Western New York, Inc
Main address: 214 Lake Avenue
Rochester, New York 14608
Phone: (800) 462-1715 or call (585) 647-1150
Volunteers of America of Greater Ohio, Inc.
1776 East Broad Street
Columbus, Ohio 43203
Dial the center at (614) 253-6100
This location serves the entire state. A number of solutions for housing, food, meals, and other needs are offered by this VOA organization. Continue with Ohio Volunteers of America.
Volunteers of America of Northwest Ohio, Inc.
Address - 1401 N. Summit Street
Toledo, OH 43604
Phone: (419) 248-3733
Volunteers of America of Oklahoma, Inc.
9605 East 61st Street
Tulsa, OK 74133
Telephone number - (918) 307-1500. Click here for assistance from Oklahoma Volunteers of America.
Volunteers of America of Oregon, Inc.
Primary address is 3910 S.E. Stark Street
Portland, Oregon 97214
Phone: (503) 235-8655
Volunteers of America of Pennsylvania
2112 Walnut Street
Harrisburg, Pennsylvania 17103
Phone: (717) 236-1440
They have a number of assistance programs, ranging from low-income housing to help for pregnant women, SSVF veteran hardship grants, a low-cost thrift store and more. Find details here on assistance programs from Volunteers of America in PA.
North and South Carolina
Volunteers of America of the Carolinas
P.O. Box 1447
Columbia, South Carolina 29202
Phone: (803) 779-6465
North and South Dakota
Volunteers of America, Dakotas
Main office address - 1309 W. 51st Street
Sioux Falls, SD 57105
Dial the center at (605) 339-1199
Volunteers of America Texas, Inc.
300 East Midway Drive
Euless, TX 76039
Telephone - (817) 529-7358
Services include low income housing, support for the disabled, and resources for ex-prisoners. Credit counseling, information on rental programs, and other guidance is available. Read more on VOA Texas.
Volunteers of America of Utah, Inc.
Primary center is at 435 W. Bearcat Drive
Salt Lake City, UT 84115
Phone: (801) 363-9414
Volunteers of America of Eastern Washington and Northern Idaho
525 West Second Avenue
Spokane, Washington 99201-4301
Call the center at (509) 624-2378
Housing and basic needs, such as employment and thrift stores, are available. Find details on VOA programs in Idaho and Eastern Washington.
Volunteers of America of Western Washington
2802 Broadway
Everett, Washington 98201
(425) 259-3191
This location supports several counties, including King and Snohomish. The location has grants for paying rent as part of eviction prevention, free dental care from a van, and an outreach center or food pantry. More on Washington Volunteers of America.
Volunteers of America of Wisconsin, Inc.
Location is 1661 North Water St., Suite 401
Milwaukee, Wisconsin 53202
Telephone number is (414) 847-1515
Montana and Wyoming
Volunteers of America, Northern Rockies
Address is 1876 S. Sheridan Ave.
Sheridan, WY 82801
Phone: (307) 672-0475
Related Content From Needhelppayingbills.com