Rent assistance for veterans.
Non-profit organizations, the VA, charities and government agencies offer rent payment help to veterans, their spouses and families. They work to prevent homelessness. They organizations take a pro-active approach by offering funds for paying rental costs to those facing eviction. Programs will also rehouse those that are currently homeless. Get details on HUD-VASH, the Supportive Services for Veteran Families (SSVF) program as well as rent assistance from Volunteers of America. Find how veterans, or their families, spouses or survivors, can get apply for assistance by city or county.
The Housing and Urban Development as well as the Department of Veterans Affairs (VA) have a partnership in place. The goal of the SSVF as well as HUD-VASH programs are to provide emergency as well as long term housing or apartments to veterans as well as their families. There is support, as well as any needed rental assistance, offered to tens of thousands of veterans and their family members across the U.S., Puerto Rico, and Guam.
While funding is determined each year, in most fiscal years hundreds of millions of dollars is granted to the Veterans Affairs Supportive Housing Program as well as SSVF. The funds are being designated to various state public housing authorities as well as non-profits such as Volunteers of America (VOA or charities including the Salvation Army. Other charities may also receive money for veterans.
This will allow local government officials to give out tens of thousands of rental assistance vouchers that will help veterans pay their rent, security deposits, lease application fees, mortgage payments and otherwise avoid evictions from homes as well as apartments in their communities.
HUD-VASH is offer section 8 housing choice vouchers to low income veterans as well.
SSVF tends to give immediate, short term rental or deposit assistance to stop an eviction (or foreclosure) to begin with.
Funds may also be provided to help anyone who is currently homeless find, and pay the rent or deposit, on a new home or apartment to live in.
In addition to providing rental assistance, eligible veterans and their families are provided case management as well as support services by their local Veterans Health Administration medical centers. these additional services address medical needs, they can help veterans budget, access food, as well as other support they need.
The various housing authorities at the local, state, and federal levels who mange HUD's Housing Choice Voucher Program (Section 8) will work very closely with local VA medical centers to manage the assistance programs. They also work with the non-profits and agencies referenced above, such as VOA, the United Way, Salvation Army and others.
Rent, mortgage, utility bill or security deposit help from SSVF
The Supportive Services for Veteran Families is a type of veteran focused homeless prevention and rehousing program. It is more of a short term solution. As part of this government assistance program, which is run locally by non-profits and charities, veterans can get financial aid to pay for housing costs such as rent, utilities or electric bills, home repairs, mortgages and more. The goal of SSVF is to stop homelessness from occurring.
Any veteran that is currently homeless, or that does not have a stable place to live, can also get assistance from the Supportive Services for Veteran Families (SSVF) program. This is where the rehousing part comes into play. There may be funds to pay for a motel, and then for a security deposits, first months rent payment, and other housing costs. The rehousing part of SSVF is housing first, meaning the goal is to get the veteran into an apartment or home as soon as possible. Read more on the SSVF program for veterans.
Financial help and housing solutions for veterans from

HUD-VASH

The goal of HUD VASH is to provide more long term, income subsidized housing to veterans and their families. This has a financial component as well, in the there is rental assistance available to help pay for the home or apartment. As part of HUD-VASH, the veteran and their family will be able to move into a "private market" house, apartment, condo, townhome or some other unit, and the federal government will pay a portion of that costs for a future period of time.

As part of this service, the Veterans Administration, or VA rent assistance program, provides a case manager as part of the partnership with HUD as well as the local non-profits that run it. The case manager can not only provide the veteran with government funds or grants to help pay monthly rental costs or arrears, but they also give such support as assistance with medical bills or even free debt counseling. However a key focus on the support programs will be trying to help a veteran either find a job or improve the skills they currently have - as that is critical to maintaining housing over the long term.

The case managers who are assigned to the Veterans Affairs Supportive Housing Program will help select the veterans and their families who are most in need of assistance. They will meet with them to get an accurate picture of their current personal and financial situation.

After this initial assessment is completed, the case manager will support them with their housing needs and also follow up with them on any other needed care as part of HUD-VASH. The number of programs available is extensive. The case manager will cover all available resources, such as funds for moving costs, security deposits, and either first month's or back rent. Even the federal government mortgage assistance plan for Veterans will be offered.

The veterans and their families who are receiving help from VASH may be having a hard time paying their rent or other bills, such as utility. They may be facing eviction, or they may be homeless today. In either case there is help available for them from the program.
Apply for Veterans Affairs Supportive Housing Program
The rent and housing program is being administered by your local Housing and Urban Development Office (HUD). They will accept and process applications, provide more information, and guide individuals throughout the entire process. Your local non-profit HUD agency will help you apply for Veterans Affairs Supportive Housing Program. Find your HUD agency.
Another key organization is Volunteers of America. This organizations has dozens of offices across the nation. They provide a number of services and assistance programs to veterans and members of the military, including information on the Veterans Affairs Supportive Housing Program. That is not all that is offered though as they focus on those that are struggling with paying their rent or that are currently homeless. Staff from VOA will try to arrange emergency funds for paying rent, direct clients to shelter or transitional housing, and offer other social services. Read Volunteers of America programs.
More information may also be available from a few different sources. One of them will be a public housing authority, or PHA. These are located in most towns and counties. Staff from a PHA can usually provide information on the VASH program as well as other solutions, such as section 8 rental vouchers. Click more details section 8 application process near you.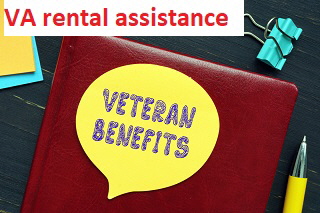 Find HUD VASH or SSVF - Supportive Services for Veteran Families rent programs
Each and every state, county and city has some form of emergency or long-term financial assistance program for veterans a well as their immediate family members. They include rent assistance as well as free motel or hotel vouchers, shelters, VA benefits or grants and more. Find how, and where, veterans can get rent or housing help from SSVF or programs such as HUD-VASH below, near them.
Alabama
Alaska
Arizona
Arkansas
California
Colorado
Connecticut
Delaware
Florida
Georgia
Hawaii
Idaho
Illinois
Indiana
Iowa
Kansas
Kentucky
Louisiana
Maine
Maryland
Massachusetts
Michigan
Minnesota
Mississippi
Missouri
Nebraska
Nevada
New Hampshire
New Jersey
New Mexico
New York
North Carolina
North Dakota
Ohio
Oklahoma
Oregon
Pennsylvania
Rhode Island
South Carolina
Tennessee
Texas
Utah
Vermont
Virginia
Washington
Washington DC
West Virginia
Wisconsin
Related Content From Needhelppayingbills.com