Eastern, northern, and central Indiana free clothing closets, furniture and school supplies
The greater Indiana region has a number of free clothing closets, furniture banks and distribution centers. Low income families will get free back to school supplies or backpacks, clothes for work, free winter coats, furniture for a home or apartment and so much more. Find free clothing closets and furniture banks near you in northern, NW, central, and NE Indiana area.
Locations are available across the state, including in eastern, central, and northern Indiana. There are also free stuff such as appliances, couches, mattresses, fridges or appliances, washers and even computers or laptops for students or adult job-seekers. Most sites can help meet basic needs, which includes clothes for everyday use. Winter coats, boots, shoes, and casual items may be offered as well as items for school. The household goods range from pots and pans to beds, appliances and more.
Many of the clothing centers in Indiana also offer seasonal and other assistance programs. For example, during Christmas children may receive special holiday gifts or birthday toys. School supplies may also be offered during the fall or later summer months, including backpacks, laptops, or uniforms. No matter the month or season the non-profits and volunteers that work at them try to meet the families basic needs, even including a free couch from a charity.
The entire region is supported by clothing centers. bargain thrift stores as well as furniture banks. They are located in Fayette, Miami, Elkhart, Lake, Pike, Orange, Howard, Allen and many other Indiana counties. If a site is not near you then they may provide referrals as well.
Where to get free stuff in eastern, NE, NW, central and other Indiana
Operation Love Ministries
Address is 620 East 21st Street, Anderson, Indiana 46016. Call (765) 644-2121
Distributes free household items, clothing, furniture, and medical supplies to Madison County families in need of help. Some low income and/or single parents can get books, educational supplies, bookbags and other school supplies during an annual giveaway.
The Christian Center
625 Main Street, Anderson, Indiana 46016. Telephone - (765) 649-4264
Vouchers are passed out for shopping at the local thrift store. Clothing, winter coats, small household goods, and maybe furniture is offered. There is also a free furniture bank. Get couches, tables, and more is passed out. Applicants will need proof of public assistance from the federal government or state Indiana.
Project Help Of Steuben County
Main location is 711 East Harcourt, Angola, IN 46703. Main number is (260) 665-9697
Gently used clothing, basic furniture, school supplies and more is offered to working poor and low income residents.
Shelter Ministries of DeKalb County
1103 Auburn Dr, Auburn, IN 46706. Phone: (260) 925-9200
Ark Food Pantry/Clothing closet
125 Baum Street, Avilla, Indiana 46710, Dial (260) 897-3627
Food, clothes for work or school, summer attire, sneakers, and more is offered. There will be free socks, winter coats, underwear and small appliances in NE Indiana as well..
Wells County Food & Clothing Bank
1254 South Main, Bluffton, IN 46714. Dial (260) 827-0053 for hours.
May have some clothing items that were donated to the center.
Helping Hands
204 N Washington St, Bourbon, IN 46504, Call (574) 342-5765
Provides school clothing, shoes, uniforms and supplies (such as notebooks) to students. Students from Kindergarten to college age will also get free clothes, uniforms, backpacks, and even gift cards for school giveaways or shopping.
Salvation Army free items and thrift stores
Assistance includes free clothing, school supplies, and Christmas or birthday assistance such as toys. All aid is passed out on a case-by-case basis. The non-profit also provides free school supplies, Chromebooks, calculators and more in August when funding allows. This may be pens, pencils, backpacks, uniforms and so much more. Locate Salvation Army assistance programs in Indiana, as many of them give out free clothes and back to school supplies.
Salvation Army East Chicago Service Center - 513 West Chicago Avenue, East Chicago, IN 46312. Call (219) 398-2939
Salvation Army - 82 West 2nd Street, Peru, Indiana 46970, Primary phone - (765) 473-5498. Supports all of Miami County.
Salvation Army Family Store and Social Services at 123 West Main Street, Portland, Indiana 47371. Phone - (260) 726-4607. Whether free Christmas toys from Angel Tree or a few dollars to pay heating bills, help is offered. Programs include a free food pantry and clothing bank, school supplies, hot meals, case management, and so much more.
The Salvation Army - 300 N Main St, Elkhart, IN 46516. Phone: (574) 970-0088. There is free stuff including clothes, couches, furniture supplies, lamps, desks and other goods.
Salvation Army Henry County is at 2500 Washington Street, New Castle, IN 47362. Call (765) 529-1303. Programs include a thrift store, clothing closet, shelter, and emergency financial support. As with most Salvation Army centers in northern and Eastern Indiana, they offer so much more. Homeless shelters, free hot meals, winter boots or hats, school book bags or computers, and more.
Salvation Army - Howard County - 3742 South Reed Road, Kokomo, IN 46902. Dial (765) 456-3846. The non-profit and its case managers have furniture, free clothing, household goods and appliances at less than retail. When possible, the center can assists families with furniture. A thrift store is open for people in northeaster Indiana too. There are also free birthday toys from Angel Tree, emergency financial help, diapers and of course an annual free school supply even for kids.
Zion Evangelical Lutheran Church - Old Church
Address is 20943 Co Rd 6, Bristol, IN 46507. Telephone - (574) 848-4880
The center has free baby items, diapers, children's, and adult clothing for all in need in Elkhart County.
Cambridge City Christian Church
106 West Church Street, Cambridge City, IN 47327. Call (765) 478-5123
Provides free gently used clothing, holiday goods, and household items (such as small kitchen appliances) to the needy and seniors.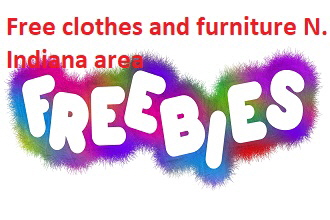 Health Connect
1515 Provident Drive, Suite 240, Warsaw, IN 46580. Dial (574) 372-3500
Senior citizens and the disabled are the main clients. Free medical equipment may be loaned, such as wheelchairs, hand rails, crutches, and so much more. There will be free phones for senior citizens, Durable Medical equipment and other stuff for home use. Even find a free bed from a hospital for home use.
Open Doors Of Westfield Washington Township - Hamilton County
19360 Tomlinson Rd, Westfield, IN 46074. Phone: (317) 867-8670
Offers adult and children's clothing, free food, and hygiene products to low-income persons in the community. Students in the town can get school items, backpacks, notebooks, pens or pencils too.
First Baptist Church Of Centerville
109 Mattie Harris Road, Centerville, Indiana 47330. Call (765) 855-3114 for intake.
The assistance at this eastern-northern charity is for qualified low income families and the elderly. Free clothes, food, a low cost thrift store, and more is available.
Bethel Assembly Of God
Location of center is 600 East Bristol Street, Elkhart, Indiana 46514. Dial (574) 264-1892
The non-profit charity offers many services. Among them include free coats for children whose families cannot afford them. Angel Tree, Christmas gifts, toys, and other personal hygiene type goods are passed out.
Church Without Walls, Emerge Ministries
731 Wagner Avenue, Elkhart, IN 46516. Call (574) 293-0776
Resources include free clothing, winter coats and shoes for all ages of residents. In addition, the site may have perishable and nonperishable food for persons in need.
Faith Community Church
55540 Apple Rd, Osceola, IN 46561. Call (574) 674-8494
Runs a non-profit clothing pantry. The location may have baby, children's, adult, and maternity clothing, among other supplies. Single, low income mothers or parents are some of the main clients.
Guidance Ministries
Main address is 216 North 2nd Street, Elkhart, Indiana 46516. Telephone - (574) 296-7192
Baby clothing, food and hygiene items are typically offered.
Career Closet, Huntertown United Methodist Church
16021 Lima Road, Huntertown, Indiana 46748. Call (260) 637-3798
The location offers the low income and income qualified a referral based clothing ministry ready to provide those in need of clothing assistance. May also have kitchen/bath needs, home decor, etc. Referrals are offered too.
Love In The Name Of Christ (Huntington County)
715 Byron Street, Huntington, IN 46750. Call the clothing bank at (260) 356-0933
Love Inc. is a major faith based charity. Referrals are given to financial aid. They may also have hygiene supplies, diapers, free clothes for work or school, some small furniture and so much more. Hot meals and Christmas help is offered too.
Pendleton First United Methodist Church
Location is 225 W State St, Pendleton, IN 46064. Telephone - (765) 778-8074
Coordinated Assistance Ministries, Cam - Kokomo
625 N Union St, Kokomo, IN 46901. Phone: (765) 452-8963 or call the center at (765) 434-0687
Christ Child Society of South Bend
Address: 2366 Miracle Lane, Mishawaka, IN 46545. Phone: (574) 288-6028
They give free baby or newborn clothes and furniture. There is clothes in kids size, free maternity items for single moms or low-income families, baby furniture such as cribs or a car seat and other items.
Faith Mission of Elkhart
Address: 801 Benham Ave, Elkhart, IN 46516. Main Phone: (574) 293-3406
The homeless and poor will get free stuff. Clothes, socks, boots, sleeping bags and other goods. Additional resources are given away too.
Shepherds Cove Clothing Pantry
Address: 347 W Lusher Ave, Elkhart, IN 46517. For hours, dial (574) 226-0261
The charity helps the poor, unemployed, people with no money and others in Allen, DeKalb, Wabash and other counties. Free clothes, school supplies for students, belts, winter hat or gloves and other stuff in adult and child sizes.
Lifehouse Church
A free clothing closet is at 1601 W Cedar Canyons Rd, Fort Wayne, IN 46845. Call (260) 637-3798
First Congregational Church UCC
Address: 26824 Co Rd 4, Elkhart, IN 46514. Phone: (574) 295-8306
New Hope United Methodist Church of Elkhart County
28765 Co Rd 4, Elkhart, IN 46514. Phone: (574) 262-9341
Clothing, household items, free toiletries and more may be offered from the clothing bank.
First Church Of God Non-food Pantry (Whitley)
1200 West Depoy Drive, Columbia City, IN 46725. Dial (260) 244-5959
God First Ministries - East Chicago
Address is 801 East Chicago Avenue, East Chicago, Indiana 46312. Main number - (219) 378-1965
Bartholomew County residents may receive clothing, toys, bikes, medical supplies, household items, furniture, appliances, and other items. Applicants need a referral for a social worker.
Farmland Friends Church
8311 West State Road 32, Farmland, Indiana 47340. Call (765) 468-6485
Abundant Life Clothing / Resource Bank
3301 East Coliseum Boulevard, Fort Wayne, Indiana 46805. Phone (260) 432-0014
Covers Allen County. A wide variety of resources are offered. This may be shoes, belts, free socks, briefcases for work and more. Students of all ages, kindergarten to high school, can get free uniforms for school, calculators, hats, and other supplies.
Adventist Community Services
228 West Lexington Avenue, Fort Wayne, IN 46807. Call (260) 745-1594
Avalon Clothing and Food Pantry
Address: 1212 Lower Huntington Rd, Fort Wayne, IN 46819. Dial (260) 747-1531
May also have clothing for those in need.
His Blessings Food/Clothing Bank
1223 East Wayne Street, Fort Wayne, IN 46803. Dial (260) 267-9154
Inasmuch Ministry (Broadway Christian Church)
930 Broadway Street, Fort Wayne, IN 46802. Call the Allen County center at (260) 423-2347
A furniture bank and clothing closet are on site. Get a free fridge or freezer, mattresses, beds, couches, pots or pans and other household stuff for low-income families.
Faith Victory Church
4286 W Jonathan Moore Pike, Columbus, IN 47201. Call (812) 372-6625
May have free clothing to those in need. Vouchers for the working poor are available through Love Chapel and the local United Way.
First United Methodist Church
Address of clothing bank is 729 Central Avenue, Connersville, Indiana 47331. Call (765) 825-8506
Provides free clothing to income qualified Fayette County families.
Clothes Cottage - Crothersville Baptist Church
Main address: 309 East Main Street, Crothersville, IN 47229. Call (812) 793-2310
A thrift store offers gently used clothing at reasonable prices and also gives free clothing to those from Jackson County in need. They also partner with Works Goodwill in Seymour to provide vouchers. Lamps, electronics, desks, and other furniture is offered.
Four Star Assembly Of God
5641 West Mulberry Jefferson Road, Frankfort, Indiana 46041. Dial (765) 296-8133
Runs a community giveaway of used clothing, household goods and furniture.
Human Services, Johnson County
600 Ironwood Dr # A, Franklin, IN 46131. Dial (317) 736-0755
Among items passed out includes children's clothing, coats and shoes.
St Martin's House (Dekalb County)
Address - 301 W Houston St, Garrett, IN 46738. Call (260) 357-3122
The Clothes Closet on site gives out free clothing of all sizes for teenagers, babies, newborns, children and adults. Some cleaning and personal hygiene items are also provided when available.
Allen Chapel CME Church
836 East 21st Avenue, Gary, IN 46407. Call (219) 883-7777
Sojourner Truth House
410 West 13th Avenue, Gary, Indiana 46407. Call (219) 885-2282
Distributes women's clothing to the general public. Dresses, slacks, blouses and more to very low income and/or working women.
The Window
223 South Main Street, Goshen, Indiana 46526. Telephone - (574) 533-9680
Decatur County Ecumenical Agape Center
906 W 4th St, Greensburg, IN 47240. Phone: (812) 222-4273
The Refuge
Main address is 65 Airport Parkway, Suite 110
The Hope Centre
Greenwood, IN 46143
Call (317) 889-7338
Offers free clothing and food to Johnson County persons in need. Based on donations to the clothing bank, the site may have personal hygiene items, fresh food and clothing in all sizes.
Operation Care of Lake County
1300 North Broad Street
Griffith, IN 46319
(219) 838-2295
The goal is to provide free basic needs. Whether it is a bed or kitchen supplies for a new apartment, or free winter coats for seniors or kids, help is offered. Both free furniture banks and clothing closets help the poor, low income or struggling.
Christian Fellowship Church
Address: 605 165th Street
Hammond, Indiana 46323
Dial (219) 931-5177
Innermission Inc.
5670 Sohl Avenue
Hammond, IN 46320
(219) 933-7013
Volunteers and donated clothes are always needed at this clothing closet. Call for hours.
Society Of Saint Vincent De Paul - Saint Casimir Church
4340 Johnson Avenue
Hammond, Indiana 46327
(219) 933-0100
Also runs a thrift store.
First Congregational Church
505 West Mulberry Street
Kokomo, Indiana 46901
Call the Howard County non-profit at (765) 452-8285
Grace Memorial Church
1417 North Delphos Street
Kokomo, IN 46901
(765) 457-2749
Kokomo Urban Outreach
Address: 1708 South Home Avenue
Kokomo, Indiana 46902
Telephone - (765) 457-1983
Saint Joan Catholic Church - Saint Vincent De Paul
208 South Union
Kokomo, Indiana 46901
(765) 868-2149
Clothing, food, and cleaning products are also available. Working with other churches and charities, St. Vincent has other resources too, such as referrals, information on housing and financial aid for rent, and more Low cost furniture, vouchers and gift cards are all offered too..
Wayman Chapel Ame Church
920 Apperson Way North
Kokomo, IN 46901
(765) 452-0228
Grace Baptist Church
2502 Monroe Street
La Porte, Indiana 46350
(219) 362-2560
Distributes gently used clothing to the needy twice a month. In addition, the church can provide help for fire, floods and other disaster victims.
Clothes And Food Basket Of Lagrange County
202 North Detroit Street
Lagrange, Indiana 46761
(260) 463-7974
Income qualified clients who are eligible for assistance may visit the clothing closet at most once per month. They can receive children's clothing, free Christmas gifts, school items, and other supplies.
Caring Center
Mai address 1230 Ransdell Court
Lebanon, IN 46052
(765) 482-2020
The location runs a clothing bank and food pantry. It is available to those facing poverty and low income who can't pay for goods on their own. The charity can have household items, such as small appliances, beds or free winter clothes for kids or the elderly.
Love In The Name Of Christ (Love Inc) Of Greater Boone County
Location is 817 West Pearl Street
Lebanon, IN 46052
Call (765) 482-6144
It offers gently used baby, adult and children's clothing, shoes, and coats. Items in Boone County also include linens, bedding, houseware, kitchenware, small kitchen appliances, and decorative items.
Red Barn
Main location is 146 East Morgan Street
Martinsville, IN 46151
(765) 342-9063
Cross Bars Ministries of St Joseph County
Address: 1102 Union Street
Mishawaka, IN 46544
(574) 204-2813
Penn Township Food and Clothing Pantry
Main address is 315 Lincoln Way West
Mishawaka, IN 46544
Telephone - (574) 259-3489
Churches In Mission
27 South Indiana Street
Mooresville, IN 46158
Main number is (317) 831-3987
Center Chapel Methodist Church
900 West Royerton Road
Muncie, Indiana 47303
Main number - (765) 288-9490
Muncie Mission Ministries
1725 South Liberty Street
Muncie, Indiana 47302
(765) 288-9122 ext. 377
Family Christian Development Center
151 South Locke Street
Nappanee, Indiana 46550
Telephone number is (574) 773-2149
Provides clothing, uniforms, free school items and related goods to the Wa-Nee School District.
Brown County Community Closet
284 S Van Buren Street, Suite C
Nashville, IN 47448
Call (812) 988-6003
God's Grace
602 North State Road 135
Nashville, IN 47448
Main number is (812) 988-9764
Westminster Community Center
2600 C Avenue
New Castle, Indiana 47362
(765) 529-5124
Provides both gently used clothing and food to individuals, senior citizens and families in need in Henry County.
Christ Community Christian Church
Clothing center is 772 North 10 Street
Noblesville, IN 46060
Primary phone - (317) 773-2719
Loving Hands Food And Clothing Pantry, Saint Vincent De Paul Center, Hamilton County
1391 Greenfield Avenue
Noblesville, Indiana 46060
Telephone number is (317) 773-7608
Jennings County Saint Vincent De Paul Society
Main address: 10 East O & M Avenue
North Vernon, Indiana 47265
Call (812) 346-2576
Provides clothing to families and individuals who can not afford to purchase clothing in Montgomery Township. A low cost or free thrift store for furniture and basic household goods is on site too.
Paoli United Methodist Church
794 East State Road 56
Paoli, Indiana 47454
(812) 723-2965
The agency maintains a free or low cost clothes closet where needy school children and their parents can select from donated winter coats, uniforms, clothing and shoes.
House Harvest Ministries
Main address - 306 North 10th Street
Richmond, Indiana 47374
(765) 914-1591
Mount Moriah Baptist Church of Wayne County
1431 South 14th Street
Richmond, IN 47374
Dial (765) 962-5710
Royal Center United Methodist Church
100 Krammer Street
Royal Center, IN 46978
(574) 643-9300
Provides clothing to Royal Center residents on an as needed basis.
Jackson County Clothing Center
207 North Pine Street
Seymour, Indiana 47274
(812) 603-8698
Mustard Seed Free Furniture Banks
3636 Illinois Road
Fort Wayne, IN 46804
260-471-5802
A regional free furniture bank. They operate the Beds4Kids assistance program. They may also have free mattresses, dressers, kitchen tables or chairs, mattresses and many other furniture items.
Praise Fellowship Seventh Day Adventist Church
54301 Maple Lane Avenue
South Bend, Indiana 46635
(574) 271-7378
Provides a free clothing, paper and even food pantry to individuals in need of emergency help in St Joseph County.
Saint Margaret's House
117 North Lafayette
South Bend, IN 46601
(574) 234-7795
Provides assistance, referrals, clothes, and winter attire to St Joseph County Indiana.
Rock Prairie Baptist Church
421 Ash Street
Tipton, Indiana 46072
Main phone - (765) 675-4588
Combined Community Services
Location is 1195 Mariner Drive
Warsaw, Indiana 46582
Telephone: (574) 269-6019
Westport Family Clothes Closet, Baptist Church
202 E Main Street
Westport, Indiana 47283
Call (812) 591-0095
The organization provides clothing twice a year for Decatur County Indiana residents.
Woodburn Community Clothing Bank
4707 Lynnwood
Woodburn, IN 46797
Main phone - (260) 632-3035
Helps residents of Allen County. Shoes, socks, winter hats or gloves, school or work uniforms and more is offered.
Related Content From Needhelppayingbills.com