Free school supplies in Phoenix and Maricopa County.
Agencies in the Phoenix region give out free back to school supplies. Non-profits, charities, and others use donations from the community to help students get the items they need for the school year. Find everything from free backpacks to Chromebooks, notebooks, backpacks, calculators, uniforms, clothes and more. School supply assistance is given to students from low income households, immigrants, the poor and others. Learn how to get free school supplies in Phoenix AZ near you.
The list below is focused on school items, and find where to get free back to school supplies for students from grades K to 12, uniforms, clothes, laptops and more in the Phoenix as well as Maricopa County region. For other options, find more details on free clothes in Maricopa County.
Students can be given many things. It depends on their age, grade (Kindergarten, middle or high school), needs, donation levels and more. Some of the free school supply items that are generally provided, and that are in demand in the Maricopa County region include the following. But each assistance program varies.
Students may be given free book bags or backpacks. There can be pens, pencils, highlighters, scissors, and crayons for younger students. Free clothing items are often given out too, including shoes, school uniforms, pants, slacks, dresses, belts, and more. Some of the school supply drives in the Phoenix area may also have electronics, but that is rare. When available this may include tablets, computers, cell phones, samples for free, and other educational focused items.
Where to get free back to school supplies in Maricopa County
Maricopa County Salvation Army Family Services
The charity holds many seasonal events, and one of the biggest is the free school supply program. Volunteers collect donated goods from Phoenix, Tempe, Scottsdale, and other cities. They then give students the goods, ranging from writing material to book bags and more. The charity also has financial aid, job programs, low cost Family Stores and much more. Continue with Salvation Army assistance programs Maricopa County.
Military Back to School Brigade
17464 N. 25th Ave., Suite A-1, Phoenix, AZ 85023. Call (210) 659-7756
Only students that have military or veterans parents can get help.
Harvest Compassion Center
Low-income families, migrants or immigrants, people with no money and others can apply for free school supplies or use the clothing bank. There are gift cards, possible laptops for kids, and other goods to help students learn.
Maryville is at 4002 N 67th Ave, Phoenix, AZ 85033. Call (623) 247-0039
North Phoenix - 4744 E Thunderbird Rd, Phoenix, AZ 85032. Phone - (602) 788-2444
West Phoenix - 5608 N 27th Ave, Phoenix, AZ 85017. Call (602) 841-7110
FIBCO Family Services Homeless Outreach
Location is 1141 E Jefferson St, Phoenix, AZ 85034-2223. Main phone - (602) 385-3900
They only help students or kids from homeless families. Free clothes, school supplies, books, shoes, uniforms and more. What a student needs to get an education can be arranged.
Urban League of Phoenix
They give out free items to low-income families, including school supplies. There is help for minorities, Latinos, and kids from all backgrounds. Get clothes, a free computer for remote learning, as well as toiletries such as soap, haircuts and more. More on Maricopa County free school supply programs.
Phoenix Rescue Mission
1540 W Van Buren St, Phoenix, AZ 85007. Phone: (602) 233-3000
An annual, one day event is held during the summer. They partner with local companies including insurance providers on giving out free school supplies. What may be offered includes notebooks, pens or pencils, hygiene supplies, bags, and some basic clothes. It is available across Maricopa County.
Operation Back to School Chandler (OBTS) is run by Compass Christian Church
1825 S Alma School Rd, Chandler, AZ 85286. Phone: 480-782-2218 or (480) 963-3997
A program has free school stuff, including backpack giveaways, clothes, sneakers, socks and more. Students from K to 12 also can also receive free haircuts or hygiene supplies.
St. Vincent de Paul Maricopa County
The parish helps kids of all ages, including with free clothes, vouchers, school supplies and more. They also partner with clinics to offer free medical or dental checkups for students before the school year, or giveaway hygiene supplies. Get clothes, notebooks, school backpacks and other items for children. The main number is 602.261.6886, or find other free dental care for kids in AZ.
1075 W. Jackson St., Phoenix, AZ 85007
420 W. Watkins Rd., Phoenix, AZ 85003
3140 N. 51st Ave., Phoenix, AZ 85031. Dial (623) 247-6871
Treasures 4 Teachers
They help teachers in Maricopa County get supplies for the classroom. Using donations from the public and companies, there are all sorts of classroom items offered from multiple sites. The non-profit may have pencils, pens, projectors, highlighters, notebooks, paper and many other items teacher need.
3802 North 91st Avenue, Phoenix, AZ 85037. Main number is 480.476.3101
3025 South 48th Street, Tempe, AZ 85282. Call 480.751.1122
Tempe Youth Resource Center - Tumbleweed Center for Youth
Main address is 505 W University Dr, Tempe, AZ 85281. Main number is (480) 966-2036
As a youth center, referrals and information is available. Back to school supply giveaway events, summer camps, snacks, and other resources for kids and students.
Tempe Community Action - Threadz Teen Clothing Closet
1730 S Mill Ave, Tempe, AZ 85281
6000 S Lakeshore Dr, Tempe, AZ 85283. Call (480) 858-2300
They help students in Tempe Union, Tempe Elementary and Kyrene school districts. There is free clothes, backpacks or school supplies, pens, pencils, and more. There are also personal hygiene kits including detergent, hair products and more. Call (480) 858-2300. Another site is at 6000 S Lakeshore Dr, Tempe, AZ 85283.
ICM Food and Clothing Bank - Nourish Phoenix
Main address is 501 S 9th Ave, Phoenix, AZ 85007-3111. Phone - (602) 254-7450
A free food pantry and clothing closet are on site. As part of this, students will get free school items, like crayons for students in Kindergarten, clothes, laptops for high school students in High school and others.
Scottsdale City Social Services - Vista del Camino Back to School Program
They only help Scottsdale students in need. Address is 7700 E Roosevelt St, Scottsdale, AZ 85257. Call (480) 312-2323
Get backpacks, hygiene supplies, pens, pencils, shoes, socks and more. Students from K to 12 can get free items. There may also be laptops or Chromebooks for remote learning as well as other items.
The Clothes Closet - Andre House
Address of the charity 1203 W Polk St, Phoenix, AZ 85007
Phone (602) 252-9023. Call for when school supplies are available.
The BHHS Legacy Foundation's "Backpack Buddies", Stitches of Love and Phoenix Back to School Clothing Drive Association
360 E Coronado Rd. #200, Phoenix, Arizona 85004. Call (602) 256-9408
Thousands of students get help each year. Donations fuel this program.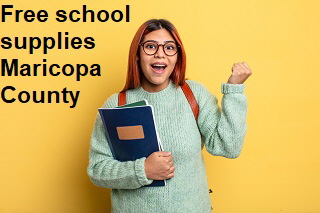 Community Action Agencies - Southwest Human Development
Non-profits work to give students, no matter their grade or language, the educational and school supplies they need. Binders, crayons, backpacks, tablets, pens, notebooks, writing material, shoes for students, and more is offered. Drop off and donations are located across the county, Tempe, Phoenix, and other towns. More on community action in Phoenix.
Family of God Ministry Back to School Program
Gilbert, AZ 85233
Call (602) 319-2080
There will be free backpacks given away. There will be supplies in them for students. The event happens annually and the supplies provided depend on donations.
Arizona Rise and Dream Foundation
Queen Creek, AZ 85142
They support the Higley School District. Call (602) 391-8876
Low income household in the district can apply for free back to school supplies, food, meals, backpacks, and more. There may be pens, pencils, protractors, hygiene supplies as well as clothes. Students from all grades can be assisted.
Arizona Helping Hands Back to School Program for Foster Kids
Location is 3110 E Thunderbird Rd
Phoenix, AZ 85032
They only help students and parents that have kids in Foster Care. Call (480) 889-0604
First Presbyterian Church
A free clothing center is at 161 N Mesa Dr, Mesa, AZ 85201. Call (480) 964-8606
A free back to school supply, and clothes, service is offered based on donations. Kids may get socks, sneakers, underwear, shorts and backpacks of other school supplies too.
Arizona Immigrant and Refugee Services
They help immigrants, migrants, asylum seekers, victims of trafficking and similar situations only. Location is 10240 N 31st Ave #112, Phoenix, AZ 85051. Phone: (602) 944-1821
All sorts of support is offered. Among them, for immigrants, they have an annual fee school supply giveaway event. Maricopa County students from Kindergarten to High school will get shoes, backpacks, notebooks, sneakers, coats, calculators and other free school supplies, and all resources from the charity depend on donations from the public.
Vineyard Church North Phoenix
The charity is at 6250 W Peoria Ave, Glendale, AZ 85302. Phone: (623) 934-4000
A focus is on kids in middle and high school. Free back to school supplies for students from low income families or single mom homes are first come - served. There is also free school physicals and other support.
Living Word
Address: 3520 E Brown Rd, Mesa, AZ 85213. The main number is (480) 964-4463
The Mesa charity has free stuff such as new pair of sneakers for kids, all in different sizes. There are free school backpacks passed out with supplies in them, such as notebooks, pens, calculators, rulers, highlighters and more.
Stonepoint Community Church
Address: 4445 W Olive Ave Suite #151, Glendale, AZ 85302. Call (623) 337-8663
There may be free clothes, shoes, notebooks, pencils, backpacks, and more.
Many Maricopa County school districts work/partner with the Assistance Lange and Operation School Bell. Low-income parents need to call their district. There will be free items such as socks, books, pants, sweatshirts, skirts, hygiene items and more. As noted, contact a school or the United Way 211 service for updated program terms.
The local districts supported include Alhambra, Creighton, Phoenix Elementary District, Balsz, Cartwright, Washington, Glendale, Imagine at Bell Canyon, Osborn, Camelback and Cortez, Wilson and Isaac. Or try Academia del Pueblo, Isaac District in west Phoenix, Alhambra School District, Glendale District in the west Valley, Pan American Charter School. There is also Tolleson Elementary, Balsz, Osborne, Roosevelt, Scottsdale, Washington Elementary and other districts participate.
Related Content From Needhelppayingbills.com