Free clothes, school supplies and furniture Phoenix and Maricopa County.
Charities, non-profit clothing closets, donation centers and furniture banks across Maricopa County and Phoenix Arizona provide free stuff. Get clothes, school supplies, household goods, furniture, appliances and other items. The items are offered when available to low-income families and people with no money. Find free clothes and furniture near you in the Phoenix AZ area.
Resources are limited, and many centers rely on contributions from the community. In general lower income families can receive free clothing and furniture, food boxes, household goods, personal hygiene items, school or work uniforms and other stuff for everyday use. There will also be free appliances in Maricopa County, including washers, dryers, or fridges. Other services can include free back to school events or birthday toys. There are also a variety of items for children, including gifts, toys, Chromebooks and backpacks.
Some of the centers will help people regardless of their income, while other free clothing closets and charities will only assist those who meet income as well as other qualifications. Each Maricopa County organization will have their own terms and conditions, so it is recommended to call first. Many locations also serve as thrift stores, meaning they will sell low cost items to the general public or give out free homeless vouchers.
While not nearly as common, some of the charities and non-profit organizations in Maricopa County will be able to provide emergency financial assistance for items such as prescriptions, rent, or electric bills. If a clothing closet or agency can't meet your needs, many can offer referrals. As every family deserves both clothes and affordable items for their home or apartment.
Where to get free stuff in Phoenix, clothing, and household items
Forgotten Treasures
Location - 214 S 5th St., Buckeye, Arizona 85326. Call (623) 386-3513
A number of resources are available. The center sells low cost goods to the public, and may distribute some or all of the following, including clothing, appliances, household goods, furniture for a home or apartment and more. A thrift shop, furniture program, and clothing closet are offered.
The Salvation Army - Phoenix and Apache Junction
A thrift store and clothing closet may have furniture, clothing, and food boxes. A food pantry is on site. They give free personal stuff, school supplies items, and clothes. Other social services include rent, prescription and utility bill payment assistance. A free Christmas and holiday gift program is offered for children, as well as school clothes or supplies for students. There are several other locations as well. Find Salvation Army services in Phoenix.
One site is at 605 E Broadway Ave, Apache Junction, AZ 85119, (480) 982-4110.
2707 E. Van Buren St., Phoenix, Arizona 85008. Call Call 602.267.4100
All Faith Community Services
214 S 5th St, Buckeye, AZ 85326. Telephone - (623) 386-3513
Resources include free baby clothing and diapers, appliances, baby formula, and other types of free gently used clothing items. Kitchen items, furniture, clothing, and more is offered. Much of the aid is for infants though from working poor families. Find additional programs that provide free baby stuff to low income families.
Vineyard Food & Clothing Bank
6250 W Peoria Ave, Glendale, AZ 85302. Call (623) 934-4000 for hours.
Provides clothing for people and families in need.
Hope Women's Center / Women's Resource Center
Address: 126 E University Dr, Mesa, AZ 85201. Telephone - (480) 983-4673 or (480) 969-5411
Provides assistance such as household products, children's/infant clothing, diapers, women's clothing, sundries, car seats, etc, to clients and individuals who participate in Hope Women's Center education classes. Single moms can apply for free school supplies for elementary to high school age kids.
Covenant of Grace Christian Fellowship
A free clothing closet and food center are at 906 W Peoria Ave, Phoenix, AZ 85029. Main number is (602) 678-0999
A wide variety of clothes are offered to the poor, migrant workers, and unemployed in Maricopa County. Get boots, shoes, jackets, sneaks, socks and more.
Open Arms Care Center
Address is 925 N McQueen Rd, Gilbert, Arizona 85233. Telephone number is (480) 539-0175
Creighton Family Resource Center
Location is 2052 N 36th St, Phoenix, Arizona 85008. Phone - (602) 381-4605
A wide variety of assistance programs are offered. There are free maternity and clothes for children. Or get diapers, small household items like pots or pans, and information on benefits, including WIC of SNAP. They also have childhood programs and school supplies.
East Mesa Baptist Church East Mesa Food Bank Ministry
Address is 752 S Ellsworth Rd, Mesa, AZ 85208. Call (480) 986-9827
Family of God Ministry Material Assistance
Call (602) 319-2080
A wide variety of free items for parents, including single moms or pregnant women. Maternity clothes, car seats, diapers, and more in the Phoenix area.
One Small Step, Inc
Address is 710 N Cooper Rd, Gilbert, Arizona 85233. Call (480) 285-4111
There is a free Clothes Cabin. Get towels, linens sheets, mattresses and more. Other clothes are offered too.
FIBCO Family Services Homeless Outreach
Location is 1141 E Jefferson St, Phoenix, AZ 85034. Call (480) 698-5453
The homeless, poor, and low income can get help. Emergency clothes as well as free personal stuff. Or get shoes, socks, and wor kattire. There are also free personal grooming supplies.
Genesis Project, Inc
Main address: 564 N Idaho Rd, Ste 5, Apache Junction, Arizona 85119. Call (480) 225-7757
Maricopa Veterans Care Center
They only help veterans (or their immediate family members). Call (615) 935-4451
Free clothes, life packs, and other critical items.
Gracie's Thrift Store
The sell gently used items at low prices. The store is at 1520 E Apache Blvd, Tempe, AZ 85281. Call (480) 967-5231
Find low cost appliances, DVDs, computers, couches, kitchen tables, bedroom sets and more. Clothes are sold too.
City of Scottsdale -Vista del Camino Community Action Program
Scottsdale residency required for financial assistance
Primary address is 7700 E Roosevelt St., Scottsdale, AZ 85257. Please call for more information (480) 312-2323
Financial assistance for water bills, rent, utilities, emergency food boxes & emergency transportation. Vista del Camino also provides free job readiness assistance to all Maricopa County residents seeking employment through a One-Stop Career Center with access to a free computer lab and internet access. They also provide free school supplies and backpacks in the Scottsdale AZ area.
Gila Bend Community Action Program
303 E Pima St, Care 1st Gila Bend Resource Center
Gila Bend, Arizona 85337
Call (928) 683-6505 or (928) 683-6502 for information
Provides assistance including case management for families and individuals with low incomes and/or the homeless. Basic needs offered include congregate and home delivered meals, clothing, food boxes, air conditioning repairs, and transportation. Students from low income families, including immigrants, can free free school supplies, backpacks, notebooks, and more. Financial aid offered is utility bill payment assistance and rent payments, as well as weatherization services. This is also a great non-profit to call for referrals to other charities, thrift stores, and government programs.
FIBCO Family Services Emergency Support Service Program
1141 E Jefferson St
Phoenix, AZ 85034
(602) 385-3900
Supplies, clothing, kitchen items, and a soup kitchen are some of what is offered.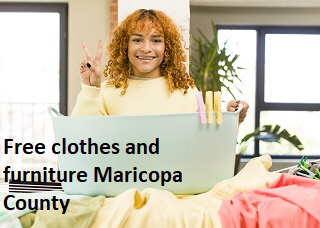 St. Mary's Food and Clothing
Address is 3131 W Thomas Rd
Phoenix, AZ 85017
(602) 242-3663
Offers personal grooming and hygiene items, a soup kitchen, and clothing.
WHEAT's Clothes Silo
4000 N 7th St Ste 102
Phoenix, AZ 85014
(602) 264-2262
A thrift store sells items. Other resources include distrusting shoes, clothing, and more. The charity also distributes women's clothing, shoes, purses, and accessories to women in need. Furniture, including beds or cribs may be passed out.
Nourish Phoenix
Clothing bank is at 501 S 9th Ave
Phoenix, Arizona 85007
(602) 254-7450
Harvest Compassion Center
Clients can use the charity at most once every 30 days. Free clothes, groceries, hygiene products and even baby stuff too. This can be formula or maternity clothes, or work attire. Or get small personal items.
North Phoenix is at 4744 E Thunderbird Rd, Phoenix, Arizona 85032. Dial (602) 841-7110
Maryvale is at 4002 N 67th Ave, Phoenix, AZ 85033. Phone - (623) 247-0039
West Phoenix Center is at 5608 N 27th Ave, Phoenix, AZ 85017. Call (623) 247-0039
Andre House Clothing Closet
Main address is 213 S 11th Ave
Phoenix, AZ 85007-3132
(602) 255-0580
Free clothes, shoes, sneakers, coats and more for the low-income and homeless in Maricopa County. Free stuff is also for immigrants and migrant workers.
Urban OutReach - Tempe First United Methodist Church
215 E University Dr
Tempe, AZ 85281
(480) 967-3376
Accepts donations, and will provide furniture, clothing, books, appliances, and more to the public.
The Clothes Cabin
710 N Cooper Rd
Gilbert, AZ 85233
Call (480) 285-4111
Provides free bedding, clothing, and personal grooming supplies.
Agua Fria Food and Clothing Bank
405 E Harrison Dr
Avondale, AZ 85323
(623) 932-9135
Programs include Thanksgiving and Christmas meals, career services, baby formula and clothing.
ICM Food and Clothing Bank
501 S 9th Ave
Phoenix, AZ 85007
Telephone (602) 254-7450
Offers free clothing, household goods, toiletries and other basic needs. May distribute emergency food boxes to individuals and families in need. Provides hot, free Thanksgiving and Christmas meals, toys for children, and food boxes when available. A clinic operates from time to time.
Society of Saint Vincent de Paul Thrift Store
There are multiple sites, but one is at 420 W Watkins Rd
Phoenix, AZ 85003
(602) 261-6824 or call (602) 254-3338
A number of social services are offered in Maricopa County. Also distributes clothing, appliances, books and electronics. Limited financial assistance is offered for bills, housing, rent, and more.
Or stop by the Glendale Center at 7018 N 57th Ave, Glendale, AZ 85301, or dial (623) 931-9901. Additional locations are at 2540 W Apache Trl Suite 601, Apache Junction, AZ 85120, telephone (480) 380-4515 as well as 2352 W Main St, Mesa, AZ 85201, dial (480) 644-0887. More on Saint Vincent de Paul in Maricopa County.
Assistance League of Phoenix Clothing Closet and Thrift Store
7044 N 7th St.
Phoenix, AZ 85020
Call (602) 944-9845
The charity sells donated toys, books, clothing, furniture, and household goods except appliances and bedding to the general public. They also provide free school supplies to students and adults from Operation School Bell. Some small furniture items are offered too.
Family Attic - Phoenix
3121 E Greenway Rd
Phoenix, AZ 85032
Location is (602) 765-1478
BOSS Clothing Bank
501 E Mahoney Ave
Buckeye, AZ 85326
Main phone - (623) 386-6365
Clothes, personal hygiene items, shoes or notebooks for school, and other goods are offered.
Maricopa County Free Furniture Bank
Dial (480) 833-3997.
Very low income families and those in poverty may be given the items they need. There is furniture for the elderly, disabled, and Spanish speakers too. Beds, coffee tables, kitchen supplies, and more is passed out.
Helen's Hope Chest
546 N Stapley Dr
Mesa, Arizona 85203
Phone - (480) 969-5411
this agency only serves Foster and Kinship families. In order to apply, CPS numbers (or other identification numbers) are required to receive any type of assistance. In addition, the organization will require an appointment as well as proof and proper documentation.
Fresh Start Treasures
Main address - 3949 E Thomas Rd
Phoenix, AZ 85040
(602) 261-7167
Sells household items and clothing to the general public in Maricopa County.
With Child Center, Ltd
3121 E Greenway Rd Ste 303
Phoenix, Arizona 85032
(602) 788-5434
Offers baby clothing and furniture, maternity clothing, counseling, and other aid for parents and women. Other assistance includes referrals for free or reduced rate medical care, free pregnancy tests and classes.
New Life Pregnancy Center - Phoenix South
1431 E Southern Ave
Phoenix, AZ 85040
(602) 243-1614
Offers pregnancy services, including materials assistance for newborns such as clothing and diapers.
Another location is at 3100 W Camelback Rd, Phoenix, AZ 85017, telephone number is (602) 515-3526.
Arizona Baptist Children's Services
1779 N Alvernon Way
Tucson, Arizona 85712
(520) 795-7541
Many items are for kids and newborns. Elementary, middle and high school students can get free school supplies, including pens, pencils, shoes, hats, bookbags and more.
Paz de Cristo Community Center
Main address is 424 W Broadway Rd
Mesa, AZ 85210
Dial (480) 464-2370
Clothing, prescription vouchers, and more are offered from a clothing closet.
Fresh Start Women's Foundation Professional Wardrobe Services
1130 E McDowell Rd
Phoenix, AZ 85006
(602) 252-8494
Counselors provide women with appropriate work and professional clothing and accessories. Items passed out are for job interviews, new jobs, training, or even court appearances.
First Southern Baptist Church of Phoenix
3100 W Camelback Rd
Phoenix, AZ 85017
(602) 242-6104
Cultural Cup Food Bank
537 E Osborn Rd Ste 101
Phoenix, AZ 85012
Telephone number is (602) 266-8370
Provides needy families with basic needs including hygiene packs, emergency food boxes, baby supplies, and also help with WIC and Food Stamp applications. Services are offered in languages including Spanish.
Tempe Youth Resource Center
Main address is 17 E 7th St.
Tempe, AZ 85281
Call (480) 966-2036
Lodestar Day Resource Center, Inc.
1125 W Jackson St.
Phoenix, Arizona 85007
(602) 393-9930
Programs include GED instruction, shoe distribution, school supplies, and employment services.
Eve's Treasures Thrift Store - Sun City
10765 W Peoria Ave
Sun City, AZ 85351
(623) 583-1434
Sells items such as donated clothing, furniture, and other household goods to the general public.
Arc of Tempe Thrift Shop
Location is 3400 S Mill Ave Suite 39
Tempe, Arizona 85282
Telephone number - (480) 967-0303
Flo's on 7th
Address of clothing center - 4116 N 7th Ave
Phoenix, AZ 85013
(602) 254-7861
Casa de Cristo Church and Apostolic Center Community Services
Address is 1029 E Turney Ave
Phoenix, AZ 85014
Call (602) 265-2831 for intake.
Professional work attire, suits, dresses, slacks and other items are offered. Students under the age of 18 can be given free back to school supplies, books, tablets, and clothing they need for the year too.
Casa de Amor Baptist Center
819 S Macdonald St.
Mesa, Arizona 85210
Telephone - (480) 464-2877
Provides furniture, clothing, and household goods.
Related Content From Needhelppayingbills.com