Urban League assistance programs near you.
Find how to get help from the Urban League, which is a national non-profit organization that helps the low income, working poor, and others. They offer information on housing assistance as well as financial help, home buying programs, free career counseling and more. While the exact type and nature of assistance programs will vary based upon the Urban League location near you listed below, in general the non-profit will provide people with support.
Apply at an office near you. Get information on mortgage and rent assistance programs, affordable housing, job programs, transportation including gasoline for a job and social services. They also help people start a process and apply for free grants or loans. Most of the support is made up as referrals, advice, and counseling and the Urban League rarely offers direct financial aid.
There may be staff that can both direct families to resources and help clients with the application process. So many methods are used to assist clients. Many of the clients are African Americans, immigrants, Hispanics, but people of all backgrounds can get support, though they focus on the underserved.
Some centers may even be able to provide limited amounts of direct financial assistance for paying expenses in an emergency, such as rent, housing, gas for a job interview, and energy bills. But this is more rare. The main goal is to help the low income and underserved with employment, housing, healthcare, and access the education they may need. A summary of some of the programs and resources offered are below, however you would need to call a local office to get the specifics for your state.
Urban League health, free food and medical programs
Savings on prescription drug programs may be provided. For example, many Urban League affiliates have information that can help clients access low-cost and discounts on their prescription drugs. This can be especially effective for the uninsured or patients that live in inner cities where the access to medical care is more challenging. Pfizer, Eli Lilly, and other drug manufacturers work with doctors, non-profits, and organizations like the Urban League to offer pharmaceutical assistance programs to the low income and uninsured. Find other financial help for prescription drugs.
Community Health Workers from the Urban League are available at some centers. These individuals will act both as coaches and guides for individuals who need help in understanding and navigating the complex and often confusing health care system. They can provide assistance in applying for free or low cost health care and insurance, advise on medical bills, provide information on government programs such as Medicaid and Medicare, and much more. They also can serve as application sites or navigators for "Obamacare", or the Affordable Care Act.
The highly trained and focused Urban League Community Health Workers are experienced, culturally competent and knowledgeable practitioners. Additional services they can provide include health management, referrals to community clinics and specialists, counseling, and the specialists can help clients find medical homes as well as local hospitals to care for them.
Some centers will run the Commodity Supplemental Food Program in their community. This will provide low income and needy eligible recipients with nutritious food and groceries at no cost to qualified people. The federal government food assistance program is paid for by the Department of Health. The Urban League will be able to disseminate a grocery bag of free food on a monthly basis to community residents enrolled in the CSFP program.
Housing assistance programs from an Urban League near you
Housing services and free counseling, including rent and foreclosure help, are offered. This is a main focus of the non-profit. The Urban League Housing and Community Development division partners with many local non-profits and government agencies, including NeighborWorks, the U.S. Department of Housing and Urban Development (HUD), and a diverse network of institutions to provide homeowners and renters with financial management. They address home ownership, foreclosure and eviction prevention and home retention strategies.
Their Comprehensive Housing Counseling services support the delivery of a wide spectrum of rental assistance and housing counseling services. Resources are provided to low-to moderate-income renters homebuyers, homeowners, and the homeless across the nation. They also help ensure that African Americans have access to affordable housing that does not discriminate against them. Specific housing programs include.
Urban League Foreclosure Prevention

– Housing specialists work to address mortgage delinquency and defaults, with a focus on minority as well as inner city communities. An extensive number of foreclosure assistance programs and resources are provided to educate client's decision-making with regard. Staff give free information on loan modification, home purchases, maintenance, and also mortgage re-finance.


Homeownership Preparation

– First-time homebuyers can get advice on buying their home, including information on government assistance. Clients can get assistance with identifying appropriate lenders, obtain down payment assistance and also get help in applying for second mortgages or low-cost loans where applicable and appropriate. They also help borrowers with bad credit. More on government backed home loans for first time home buyers.


Money management and free financial literacy

– Both adults and youth can get education and information about the importance of being stable. Clients can learn about credit scores, debt reduction, and financial empowerment. Counselors can provide specific emphasis on financial services like basic banking, saving and investing, money management and the role and use of credit cards and debts.


Urban League anti-housing discrimination programs

help ensure minorities, immigrants, non-English speakers, single mothers and others have access to a place to live. Too many landlords or apartment complex owners find a reason to not rent to these groups, and clients can get free legal aid to help them lease a home. More on pro-bono legal assistance.
Rental assistance from the Urban League can be provided by the Tenant Base Rental Assistance program or limited amounts of direct financial assistance that may be offered at certain Urban League locations. The goal is to assist low to moderate income clients in paying rent and housing costs, and can help people achieve and maintain housing stability so as to avoid/reduce homelessness. The local Urban League centers also work to limit evictions of the underserved population.
One option is the TBRA program. This service was designed to promote clients housing stability and keep people from being evicted. A primary goal is to act as a bridge to long term housing assistance programs, such as Section 8 vouchers. The Urban League can offer case management to help people gain self-sufficiency over the mid-to long term, which is a key to maintaining housing. Some of the offices also serve as refers to section 8 housing vouchers, which are for very low income families as well as the working poor.
Emergency financial assistance may be provided as well. While not as common, and depends on funding and location, some Urban League Centers may have limited amounts of cash. Or they give free cards to help pay for gasoline, food and other critical needs. Any money is paid directly to the vendor or landlord. There may be grants for rent, utility bills, food, or medications. It is usually only for a crisis, and qualifications need to be met.
Referrals – Case managers at most locations can help people apply for government and public assistance. For example, learn about and apply for LIHEAP, SNAP food stamps, WIC, and free or low cost health insurance plans. Information on a wide variety of social services may be available, and learn more on statewide resources for financial help.
Free job and education services from the Urban League
Job Finding and Employment Services - The Urban League realizes finding and keeping a job is key to self-sufficiency as well as improving economic status. Resources are available to help people find a job, increase their skills and education, and gain self-sufficiency. Access computer labs, resume reviews, jobs working from home, Entrepreneurship Center Programs, free gas vouchers and networking. There are also job sessions held for people of all ethnicities and languages, including Spanish, Chinese, Korean, and other languages.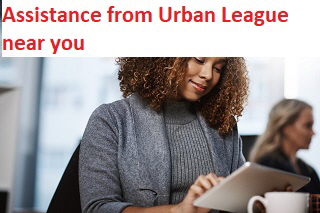 The Department of Labor funds the Urban League Mature Worker Program (MWP). This employment programs focuses on serving unemployed, low-income, and even employed persons who are 55 years and older. The goal of MWP is to increase the number of part-time and full time senior as well as mature workers in the private sector workforce. The Urban League can help facilitate job training, employment retention services, and placement for seniors.
The Urban Youth Empowerment Program prepares teenagers and youth, ages 18-24, for entry into the world of work through a comprehensive set of employment services. Clients, whether they are young African Americans or from some other race, can sign up for occupational skills training or case management. They also organize community service with faith-based organizations, postsecondary employment, mentorship, internships, and personal development workshops.
The Urban League advocates for free or affordable child care. This is often a major barrier to overcome to employment and/or job training. Local centers can provide information on how to apply for a government subsidy, and they also work to ensure safe day care is available is inner cities as well as to minority populations. This is another service available, and find more information on free daycare services.
Locations of Urban League near you
There are dozens of centers, as noted below. They each serve a wider range of area. Whether applications to free grants as a form of financial help, free job training or business startups, low cost housing, or something else, resources from the national Urban League are offered.
Alabama
Birmingham Urban League
1229 Third Avenue North
Birmingham, AL 35203
205-326-0162
Housing counseling is a key focus, both for tenants and homeowners. They help people avoid predatory lenders and arrange job placement. Clients can learn about financial aid for their expenses and other services. More Urban League Birmingham.
Arizona
Greater Phoenix Urban League
1402 South 7th Avenue
Phoenix, AZ 85007
Main number - 602-254-5611
For more details on programs, whether housing, small business support, or Head Start, Click here for Urban League Phoenix assistance programs.
Tucson Urban League
Primary address is 2305 South Park Avenue
Tucson, Arizona 85713
Phone number - 520-791-9522
Providing assistance across Pima County, this Urban League site runs the Emergency Assistance Program for rent and mortgage help. Applications for weatherization are offered as well as first time homebuyer and free foreclosure counseling. More Tucson and Pima Urban League.
California
Los Angeles Urban League
4401 Crenshaw Blvd
Los Angeles, CA 90043
Telephone number: 323-299-9660
Tenants and homeowners can get housing assistance from this Urban League Center, and many other programs are available for employment needs, education, credit counseling, and more. Read more on Los Angeles Urban League programs.
Greater Sacramento Urban League
3725 Marysville Boulevard
Sacramento, CA 98538
Telephone - 916-286-8656 or 916-286-8600
Resources include GED training as well as a computer lab. Counselors focus on career counseling and employment services, but referrals may also be available to Sacramento agencies. Read more on housing assistance from Sacramento Urban League.
Urban League of San Diego County
Location - 720 Gateway Center Drive
San Diego, California 92102
619-263-3115
Colorado
Urban League of Metropolitan Denver
2015 York Street
Denver, Colorado 80205
Phone 303-377-2790
Urban League of Pikes Peak Region, Inc.
6 South Tejon Street
Colorado Springs, CO 80903
719-634-1525
Connecticut
Urban League of Greater Hartford
140 Woodland Street
Hartford, CT 06106
860-527-0147
Urban League of Southern Connecticut
46 Atlantic Street
Stamford, Connecticut 6901
Main phone number - 203-327-5810
Delaware
Metropolitan Wilmington Urban League
100 West 10th Street, Suite 710
Wilmington, Delaware 19801
302-622-4300
Florida
Urban League of Broward County
11 N. W. 36th Avenue
Fort Lauderdale, Florida 33311
Telephone - 954-584-0777
Foreclosure counseling and other homeless prevention services are offered. The non-profit also helps with employment needs. More on Broward County Urban League.
Central Florida Urban League
2804 Belco Drive
Orlando, Florida 32808
407-841-7654
This location supports several counties, including Lake, Orange, Seminole, and others. Everything from counseling to homeowners, tenants, and job placement is available. Learn more on the Urban League of Central Florida.
Urban League of Greater Miami, Inc.
8500 N. W. 25th Avenue
Miami, FL 33147
305-696-4450
Jacksonville Urban League
903 West Union Street
Jacksonville, FL 32204
904-356-8336
Urban League of Palm Beach
Primary address - 1700 North Australian Avenue
West Palm Beach, FL 33407
Telephone - 561-833-1461
Get help starting a business, getting a free gas card, or housing - rent assistance. The staff help the youth increase their income, get new career skills and more. Continue with assistance programs Urban League Palm Beach.
Pinellas County Urban League
333-31st Street North
Saint Petersburg, FL 33713
727-327-2081
Tallahassee Urban League
Primary address - 923 Old Bainbridge Road
Tallahassee, Florida 32301
Call 850-222-6111
Among the many services they offer include funds to pay a utility deposit. More on services from Urban League Leon County.
Georgia
Atlanta Urban League
229 Peachtree St NE
Atlanta, GA 30303
404-659-1150
Supports both Fulton and DeKalb County. Job Readiness Programs, ESL classes and education services are offered. This is in addition to free foreclosure counseling and help for tenants that are behind on their rent. Click more on Urban League Atlanta area.
Urban League of Greater Columbus, Inc.
802 First Avenue
Columbus, GA 31901
706-323-3687
Illinois
Chicago Urban League
4510 South Michigan Avenue
Chicago, IL 60653
773-285-5800
An employment center is available for the unemployed or career changers in the city and Cook County. The Housing Department can provide free foreclosure counseling, information on legal rights when it comes to evictions, and referrals. Other services are offered too, including to inner city African Americans. Continue Urban League programs in Chicago.
Madison County Urban League
408 East Broadway
Alton, Illinois 62002
Phone 618-463-1906
They operate both job / educational centers and can offer referrals to financial aid, including grants from LIHEAP and homeless prevention services. More on information Urban League Madison County.
Quad County Urban League
Office is at 1685 North Farnsworth Avenue
Aurora, Illinois 60505
630-851-2203
Springfield Urban League
100 North 11th Street
Springfield, IL 62703
Phone number - 217-789-0830
Tri-County Urban League
317 South MacArthur Highway
Peoria, IL 61605
309-673-7474
Indiana
Fort Wayne Urban League
2135 South Hanna Street
Fort Wayne, IN 46803
260-745-3100
Receive information on college scholarships and loans. The agency also offers help from the Hardest Hit program and other housing solutions. More on Urban League in Fort Wayne.
Indianapolis Urban League Orleans
Office address: 777 Indiana Avenue
Indianapolis, Indiana 46202
317-693-7603
Rent and mortgage help may be offered by Federal Emergency Management Agency. They also run job placement programs, offer free computer classes and training, offer Project Ready for students, and assist the unemployed. More on help from Marion County Urban League.
Urban League of Madison County
1210 West 10th Street
Anderson, IN 46016
765-649-7126
Urban League of Northwest Indiana
3101 Broadway
Gary, IN 46409
219-887-9621
Kansas
Urban League of Kansas
2418 E 9th St N, Wichita, KS 67214
Call (316) 262-2463 or Call 316-262-8841 for information.
They support the entire state. Get home-buying advice, information on grants for job reasons, legal aid and more. Continue with Urban League of Kansas resources.
Kentucky
Urban League of Lexington-Fayette County
148 DeWeese Street
Lexington, KY 40507
Telephone - 859-233-1561
Louisville Urban League
1535 West Broadway
Louisville, Kentucky 40203
Telephone 502-585-4622
Get financial help for housing, information on loans for buying a house, job placement or budgeting classes and other support. Continue with Louisville Urban League financial assistance.
Louisiana
Urban League of Greater New Orleans
2912 Canal Street, 2nd Floor
New Orleans, LA 70119
504-620-2332
The location supports a several parish region. Programs are for Jefferson, New Orleans, and the St. Tammany region. More details on Urban League Orleans assistance programs.
Maryland
Greater Baltimore Urban League
512 Orchard Street
Baltimore, MD 21201
Primary phone number is 410-523-8150
Massachusetts
Eastern Massachusetts Urban League
Address: 88 Warren Street
Roxbury, Massachusetts 02119
Phone number - 617-442-4519
Urban League of Springfield
765 State Street
Springfield, MA 01109
413-739-7211
Michigan
Urban League of Detroit & Southeastern Michigan
Address - 208 Mack Avenue
Detroit, Michigan 48201
313-832-4600
Urban League of Flint
5005 Cloverlawn Drive
Flint, MI 48504
Telephone - 810-789-7611
Grand Rapids Urban League
745 Eastern Avenue, SE
Grand Rapids, Michigan 49503
Primary phone number - 616-245-2207.
for information, contact or apply to the Urban League Grand Rapids.
Urban League of Greater Muskegon
26 East Broadway Avenue; PO Box 4272
Muskegon Heights, MI 49444
Call 231-726-6019
Southwestern Michigan Urban League
172 West Van Buren Street
Battle Creek, MI 22314
269-962-5553
Minnesota
Minneapolis Urban League
2100 Plymouth Avenue, North
Minneapolis, MN 55411
612-302-3101
Saint Paul Urban League
401 Selby Avenue
Saint Paul, MN 55102
Mississippi
Urban League of Greater Jackson
Center is located at 2310 Highway 80, West Building 1, Suite E
Jackson, MS 39204
601-714-4600
Missouri
Urban League of Greater Kansas City
1710 Paseo Boulevard
Kansas City, MO 64108
816-471-0550
Urban League of Metropolitan Saint Louis
Address: 3701 Grandel Square
Saint Louis, MO 63108
314-615-3600.
The low-income, disadvantaged, and others will get help. Free transportation to a job or interview, home burying classes, or get information on saving for retirement. Click more information on St. Louis Urban League.
Nebraska
Urban League of Nebraska
3040 Lake Street
Omaha, NE 68111
Dial 402-453-9730
Nevada
Las Vegas-Clark County Urban League
3320 E Flamingo Rd
Las Vegas, NV 89121
(702) 476-9561
The non-profit can coordinate emergency, one time rental assistance. The under and unemployed in Clark County may also access job training as well as other services. Click here Urban League Clark County NV.
New Jersey
Urban League of Bergen County
Address: 40 North Van Brunt Street
Englewood, New Jersey 07631
201-568-4988
Urban League of Essex County
Location is 508 Central Avenue
Newark, NJ 07107
973-624-9535
Urban League of Hudson County
253 Martin Luther King Drive
Jersey City, New Jersey 07305
Phone - 201-451-8888
Various government benefits and other social services are available. More on Hudson County NJ Urban League programs.
Urban League of Morris County
300 Madison Avenue, Suite A
Morristown, NJ 07960
973-539-2121
Urban League of Union County
288 North Broad Street
Elizabeth, NJ 07207
Main number - 908-351-7200
The financial aid, such as for rent, mortgages, and paying heating bills, is available as part of Housing and Community Development Department, but funds from the Urban League are very limited. More on the Union County Urban League services.
New York
Broome County Urban League
Address - 43-45 Carroll Street
Binghamton, New York 13901
Phone number - 607-723-7303
Urban League of Buffalo NY
15 East Genesee Street
Buffalo, NY 14203
716-854-7625
Urban League of Long Island
50 Clinton Street, Suite 204
Hempstead, New York 11550
516-570-6645
The local office offers assistance to seniors from Help Our Poor Elderly (HOPE), enrolls clients into vocational training, and administers housing solutions, among other programs. More on the Urban League of Long Island.
New York City Urban League
204 West 136th Street
New York, NY 10030
Telephone - 212-926-8000.
Housing assistance, foreclosure prevention programs, and small business help is offered. Learn about loans or emergency rent or utility help, youth development programs and similar resources. Find more information on their services, learn more on Urban League NYC.
Urban League of Rochester
265 North Clinton Avenue
Rochester, NY 14605
585-325-6530
Westchester County center of the Urban League
61 Mitchell Place
White Plains, NY 10601
Phone - 914-428-6300
North Carolina
Urban League of Central Carolinas
740 West Fifth Street
Charlotte, North Carolina 28202
704-373-2256
Winston-Salem Urban League
Location 201 West Fifth Street
Winston-Salem, North Carolina 27101
Phone number - 336-725-5614
Ohio
Akron Urban League
440 Vernon Odom Boulevard
Akron, OH 44307
330-434-3101
Urban League of Greater Cincinnati
3458 Reading Road
Cincinnati, OH 45229
513-281-9955
Urban League of Greater Cleveland
2930 Prospect Avenue East
Cleveland, OH 44115
216-622-0999
Columbus Urban League
788 Mount Vernon Avenue
Columbus, Ohio 43203
Phone - 614-257-6300. Learn more and continue with Urban League Franklin County programs.
The Dayton Urban League
907 West 5th Street
Dayton, OH 45402
937-220-6650
Lorain County Urban League
401 Broad Street, Suite B, Robinson Building
Elyria, OH 44035
Phone number: 440-323-3364
Greater Stark County Urban League
Location: 1400 Sherrick Road, SE
Canton, Ohio 44707
Phone - 330-456-3479
Greater Toledo Urban League
701 Jefferson Avenue, Suite 201
Toledo, Ohio 43604
419-243-3343
Greater Warren-Youngstown Urban League
290 West Market Street
Warren, OH 44481
330-394-4316
Oklahoma
Urban League of Greater Oklahoma City
Address: 3900 North Martin Luther King Avenue
Oklahoma City, Oklahoma 73111
405-424-5243
Metropolitan Tulsa Urban League
240 East Apache
Tulsa , OK 74106
918-584-0001
Oregon
Urban League of Portland
10 North Russell Street
Portland, OR 97227
503-280-2600
Pennsylvania
Urban League of Lancaster County
502 South Duke Street
Lancaster, PA 17602
Telephone number - 717-394-1966
Urban League of Philadelphia
121 South Broad Street, 9th Floor
Philadelphia, PA 19107
Call 215-985-3220 for information. A number of housing assistance programs are offered by this Urban League center. Learn more on financial help Philadelphia Urban League.
Urban League of Greater Pittsburgh
610 Wood Street
Pittsburgh, Pennsylvania 15222
412-227-4802
Counseling or referrals to housing assistance is available, including for rental or mortgage needs. Staff also can assist with job training, self-sufficiency, and employment. Continue with Urban League programs in Pittsburgh.
Shenango Valley Urban League
Address: 601 Indiana Avenue
Farrell, PA 16121
Dial 724-981-5310
Rhode Island
Urban League of Rhode Island
Location - 246 Prairie Avenue
Providence, RI 02905
Dial the center at 401-351-5000
South Carolina
Charleston Trident Urban League
729 East Bay Street
Charleston, SC 29403
843-965-4037
Urban League of Columbia
1400 Barnwell Street
Columbia, South Carolina 29201
Telephone 803-799-8150
Urban League of the Upstate, Inc.
15 Regency Hill Drive
Greenville, South Carolina 29607
Dial 864-244-3862
They provide support (housing, employment, job training and more) to the entire region, including Anderson, Greenville and nearby counties. Click here details on Urban League of Upstate SC.
Tennessee
Urban League of Greater Chattanooga
730 Martin Luther King Boulevard
Chattanooga, Tennessee 37403
Phone 423-756-1762
Knoxville Area Urban League
1514 East Fifth Avenue
Knoxville, TN 37917
865-524-5511
Memphis Urban League
413 North Cleveland Street
Memphis, TN 38104
901-272-2491
Urban League of Middle Tennessee
Address - 2250 Rosa L. Parks Boulevard
Nashville, Tennessee 37228
Phone number - 615-254-0525
Texas
Austin Area Urban League
8011 Cameron Road, Building A-100
Austin, Texas 78754
Call 512-478-7176 for information on social services
Urban League of Greater Dallas & N.C. Texas
Address is 4315 South Lancaster Road
Dallas, Texas 75216
Call 214-915-4600
A number of assistance programs are run. Services are offered in Spanish as well. Learn more.
Houston Area Urban League
1301 Texas Avenue
Houston, TX 77002
713-393-8700
Free foreclosure counseling is available. They also operate a volunteer law program and offer employment services from H-EEC Economic Empowerment Center. Immigrants are also a focus of this center. More details on assistance from Houston TX Urban League.
Virginia
Urban League of Greater Richmond
511 West Grace Street
Richmond, Virginia 23220
Primary phone number 804-649-8407
Urban League of Hampton Roads
3225 High Street
Portsmouth, VA 23707
Call for information 757-627-0864
Northern Virginia Urban League
1315 Duke Street
Alexandria, VA 22314
703-836-2858
Washington State
Urban League of Metropolitan Seattle
105 14th Avenue
Seattle, Washington 98122
206-461-3799
Tacoma Urban League
2550 South Yakima Street
Tacoma, WA 98405
253-383-2007
Washington DC
Greater Washington Urban League
Address of Urban League office - 2901 14th Street, NW
Washington, DC 20009
202-265-8200.
The non-profit advocates for the poor, veterans, homeless and minorities. Get details on affordable housing, food banks, and government grant money to pay the bills or start a company. Learn more on Washington DC Urban League.
Wisconsin
Urban League of Greater Madison
2222 South Park St., Ste. 200
Madison, Wisconsin 53713
Call 608-729-1200
Milwaukee Urban League
435 West North Avenue
Milwaukee, WI 53212
414-374-5850
Urban League of Racine and Kenosha
718 North Memorial Drive
Racine, WI 53404
Speak to a representative by dialing 262-637-8532.
Related Content From Needhelppayingbills.com