First time home buyer government assistance programs.
The federal government has several different programs that help first time home buyers buy a house, including assistance for low-income families and people with bad credit scores. The options range from FHA loans to section 8 vouchers that will pay for a mortgage, mortgage help for rural families and veteran grant programs. Learn more below on how first time, lower income families can get government help to buy a home.
While owning a house comes with pros and cons, many people dream of owning their own home. There's help available for people of all income and credit scores, even single moms buying their first home, young adults, people with questionable or poor credit scores and others. Here are three federal government-sponsored plans that will help borrowers achieve tjeir home-ownership goals.
1. Federal Housing Administration (FHA) loan programs for first time home buyers
FHA home-ownership programs help first time home buyers, low-income borrowers, and other people purchase their own homes when the buyers have less-than-optimal credit scores or a low to moderate income. It's important for buyers to understand that most government agencies offering home ownership programs, including FHA, don't make direct mortgage loans to the borrower. Instead, FHA works with conventional lenders , including banks and credit unions, to secure financing for riskier borrowers. The goal is to help borrowers and potential buyers that have a low or variable income or bad credit.
In other words,

FHA guarantees repossession of the home and repayment of the loan if the new homeowner can't afford their mortgage payments in the future

. This guarantee helps banks and other lenders, such as Wells Fargo, Rocket Loans, Bank of America and others feel more secure about providing loans to first time home buyers with marginal credit. Requirements to obtain FHA home loans include the following:
The home you purchase as a first time homeowner will be your primary place of residence.
The home must meet strict FHA guidelines for structural integrity, health, and safety.
You must have proof of employment, including social security number, paystubs and more as well as a steady income, even if it is lower or more moderate.
You must be a U.S. citizen or living in the U.S. legally if you're not a U.S. citizen.
You must pay upfront for private mortgage insurance (PMI) and pay monthly PMI premiums
The FHA home ownership program can assist people with credit scores as low as 500. However, a higher down payment may be necessary to secure a mortgage as a first time home buyer when your credit is bad. For people with credit scores above 580, down payment amounts may be as small as 3.5 percent of the total home price, with some borrowers able to get $0 down mortgages from the FHA program. For credit scores between 500 and 579, expect to pay 10 percent of the purchase price as a down payment on a FHA government financed home.
FHA loans are good solutions for people who are buying their first home but who've struggled in the past, since you can often obtain a mortgage loan even if you've had bankruptcies, outstanding debt or foreclosures. However, anyone who's financially qualified can apply for a federal government guaranteed FHA loan to purchase their first home or even another home if they used the FHA program in the past. There are no maximum income limits to qualify for a FHA-backed mortgage.
Applicants to FHA loan programs may be required to attend classes and/or counseling to learn about home ownership and management of their personal finances. As the government, as well as lenders, need to ensure people know how to budget, live within their means, and pay the mortgage back on time. There are also FHA home equity loans for current homeowners or future buyers, including those with low credit scores. Read more on home equity loan with bad credit.
First time home buyers should contact their local Housing and Urban Development office or certified HUD counselor to discover more about FHA loans. You may also receive help by directly contacting banks, online mortgage aggregators and other lenders who provide loans through the FHA program. Call 800-569-4287, or find a HUD certified counselor near you.
2. United States Department of Agriculture (USDA) Direct Loan Programs
The USDA home ownership program guarantees mortgage loans made by conventional lenders like banks and mortgage companies. Many of the first time homebuyers who use this government program live in rural states or town, or they use the funds to buy a mobile home. However, fixed-rate, low interest USDA loans, unlike FHA loans, can come directly from the agency through the USDA Rural Development Program. There are two main government assistance programs. They include the following.
The USDA Section 502 Singe Family Direct Loan Program offers mortgage-payment assistance to low-income homeowners in certain parts of the country and in certain states. The government backed first time home buyer program will help borrowers, including those with poor or limited credit histories, qualify for higher mortgage amounts.
To qualify for the USDA Single Family Direct Home Loans, applicants must not exceed income guidelines and must meet the following conditions:
The loan is for the applicant's primary residence in a USDA-qualified location, which are in rural communities.
The applicant needs a safe, sanitary place to live, with mobile or pre-fab homes able to be bought using this government loan program.
The first time home buyer applicant can't qualify for standard mortgage loans.
The applicant will purchase a house valued under their local area's USDA loan limits.
Eligible homes covered by USDA direct loans are generally in rural or suburban areas with resident populations lower than 35,000 people. The direct loans can be used to repair, relocate, or renovate eligible homes, including pre-fab units or manufactured homes. Additionally, the government money can be used to buy a home site and prepare the site for a dwelling. In most cases, no down payment is necessary to secure a USDA Section 502 Direct Loan. Learn where to apply for USDA loans here.
3. Community Action Agency government grants for buying a home
Every county is supported by a non-profit community action organization. They help first time home buyers and even currently homeowners with buying a home (among many other programs available). They also partner with the FHA on a wide variety of financial assistance and grant programs available from State Housing Finance Agencies.
The agencies offer workshops on find a home loan, credit counseling services to help borrowers improve their credit scores, grants to fix a home and more. Case workers from community action agencies assist people of all backgrounds, ages, and employment situations with buying a home or fixing one up. More on home owner assistance programs from community action near you.
4. Housing Choice Voucher (HCV) homeownership program
The federal government allows very low income families who get a Housing Choice Voucher (Section 8) to use the government assistance program to help buy a home. The US Department of Housing and Urban Development, or HUD, sets rules and regulations in which people who use section 8 to pay for the rent on a leased home or apartment to use that voucher to pay the mortgage, property taxes, closing costs and more.
Low income, first time home buyers can find a home to buy, that is approved by their local housing authority, then get a government backed home loan and also use section 8 for making recurring mortgage payments. Learn more here on the section 8 homeownership voucher program.
4. Guaranteed home buying loan from USDA
The USDA has another program for first time home buyers. People that live in rural parts of the county have another government mortgage programs to try to buy their first home. The USDA Section 502 Guaranteed Loan Program allows borrowers to acquire financing to buy, build, or renovate a home with zero down payment. USDA guarantees 90 percent of the loan amounts, which helps banks and other lending institutions feel more favorable about loaning mortgage and renovation funds in rural areas.
Applicants to the USDA Section 502 Guaranteed Loan Program must meet strict income eligibility requirements, which can't exceed 115 percent of the median household income for the state they are applying from.
In addition, while borrowers can have bad credit scores, there are some minimum standards required. The home you purchase or restore with your USDA-guaranteed loan must be your primary residence. In addition, for first time home buyers, the home or property must be located in a USDA-eligible location as well.
f you believe you qualify for a USDA direct or guaranteed loan, contact your local USDA Rural Development office. There is a main office in each state. Officials at the Rural Development Office can help you get started on your application process or help you with other programs including rural home site loans, referrals to HUD counseling and technical assistance grants.
5.
United States Veterans Benefits Administration (VA) and Active duty Loan Program
If you or your spouse are serving or have served in the military, you may be eligible for a direct or guaranteed VA mortgage loan that requires a low or no down payment for first time home buyers. This government mortgage program is available to any age, race, or ethnicity. They also help people with home equity loans, and offer counseling in applying and obtaining the funds.
There are also government home buying grants and loans for veterans who are Native Americans. They have a direct home loan service from the VA as well. You must meet strict eligibility guidelines and apply through the Native American Direct Loan (NADL) program.
With guaranteed VA mortgage loans for active-duty or veteran borrowers, traditional lenders provide the mortgage. Almost all banks participate, including Chase, Cite, Wells Fargo, Bank of America and other companies. The federal government VA guarantees their repayment.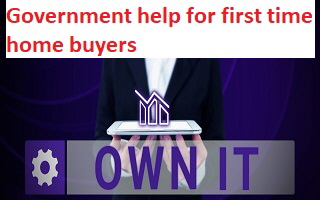 To qualify for a VA-backed, no-down-payment mortgage loan as a first time buyer, you or your spouse must be on active military duty or be honorably discharged from military service. However, depending on where and when a person served, their dishonorable discharge may still allow them to receive a loan if they meet certain duty requirements. Additional requirements include the following:
You plan to use the purchased home as your primary residence, including as a first time buyer.
You must have been deployed or on active duty for a minimum amount of time.
You must meet certain discharge conditions if you haven't met service time requirements.
You must be a qualifying spouse or surviving spouse of a military member or veteran.
You must meet the lender's income, repayment-ability, home-inspection, and credit requirements
Non-military members can also receive VA-backed mortgage loans in some cases. This includes people who work for certain government agencies or that have used some colleges. For example, if you served, studied, or worked in the following capacities, you may qualify for a VA-backed home loan:
As a cadet in a U.S. Military, Coast Guard, or Air Force Academy.
As an officer with the Public Health Service or National Oceanic and Atmospheric Administration
As a midshipman in the U.S. Naval Academy
One of the best benefits of a VA-guaranteed loan is the lack of requirements to pay PMI premiums. This will lower the monthly payment for a first time buyer. Since PMI premiums are usually bundled into monthly mortgage payments, this bonus helps lower your monthly housing costs. Contact your local Veterans Benefits Administration office or an approved VA loan provider to learn more.
Conclusion
If you feel you don't qualify for a home loan from any of the above government home buying assistance programs, there's more help available. For example, many states have their own home-ownership initiatives including down-payment assistance, mortgage assistance, and low-interest home loan programs. Contact your state's housing agency or your local HUD office to discover additional home-ownership programs that address your specific situation.
Related Content From Needhelppayingbills.com