Free Internet service for low-income families.
Find where and how to get free government Internet access or Wi-Fi below. There is also free broadband from cable or wireless companies. Get details on a number of programs that help students, low-income families, seniors and others. The goal is to ensure people have some form of connectivity. There are free government Internet service programs for low income families, students, and households living in or near poverty. There may also be financial assistance to pay the monthly bill, discounts, free WiFi connections or rebates.
In addition to federal or state government resources, find how to apply for cable or phone companies free broadband Internet or WiFi connections. They offer heavily discounted or even free Internet connections as well for low to moderate income families, students, senior citizens, single moms or children. The need for connectivity is even more valuable as many lower income as well as rural area families or students often struggle to either pay for it or have access to it. Or look here for free internet for students.
The government, as well as cable or phone companies, work to provide free access to the internet to help people with learning new skills, staying connected with friends / family, finding a job, working from home or remote learning and earning an income or starting a business. There is free high speed broadband (cable, WiFI, DSL) internet connections, including for people on SNAP Food Stamps, Medicaid, LIHEAP, EBT, or other government benefit programs.
In addition to free federal government Internet programs, including Lifeline, fortunately there are many other free or low-cost Internet services for low-income families, seniors, and students. They end to be offered by companies such as Xfinity, Charter, AT&T, Verizon and other providers .In general, assistance is forfamilies who are enrolled into some form of government benefit program, with a majority of recipients to a free internet service getting SNAP or Medicaid public assistance. But other benefits may qualify too.
Government assistance programs for affordable or free Internet service
The federal government has resources as well. The free Internet service offered, or cheap plans, are for low income families, senior citizens, or the disabled. People with an EBT card, that live in section 8 housing, or that are SSI (among other aid) will generally get a free government Internet connection. The reason the federal government FCC (working with states and local phone/cable companies) offers this support is to ensure low income households have access to communication, including WiFi, for work or school needs.
There are free government Lifeline Internet programs. It is offered for the elderly, disabled, and low-income families who get public assistance, such as food stamps, Medicaid, section 8 or other benefits. The primary federal government Internet access program is Lifeline.
The federal government will subsidize a family's Internet connection by paying for some or all of the monthly cost. Generally, the household does need to pay a small monthly fee for the program, but it can offered for free to some households. Lifeline is offered by phone companies, cable companies, and other telecommunication providers - call them to apply. Or, for anyone that is denied coverage but has a very low income, they can dial Federal Communication Commission Customer Help Center at (888) 225-5322 for more information.
The Affordable Connectivity Program, or ACP, offers (1) discounts as well as (2) direct financial help to pay for high speed internet connections as well as devices. Low income families may also get money to pay for desktop computers, tablets, Chromebooks or other devices. In addition, there is assistance to pay for, or provide free internet access, including cable, wireless, satellite internet connections and others. Learn more on the federal government Affordable Connectivity Program.
Free internet access, or the equivalent of it, is offered by government cash aid programs too. Grants can pay for hardwire or smartphone internet access using government funds. Or it pays for Wi-Fi. This means in effect the internet will be free to income qualified households. Read more on, and contact, a public assistance office.
Low-Cost or Free Internet Plans
Access by AT&T: A low-cost wireless home internet plan for low-income households. Access by AT&T provides high-speed internet service for $5-$10 per month. At least one person of your household should receive SSI or SNAP benefits to be qualified.
Spectrum Internet Assist- Provides affordable high-speed internet connection to low-income families, students and seniors for just $14.99 per month.
PCs for People: A nonprofit organization that provides low-cost computers and free or affordable internet connection for low-income households. Potential recipients must be living below the 200% poverty level and currently enrolled in a government assistance program. PC for people offers high-speed internet for only $11.25 per month with no credit check or hidden fees. You will also be eligible to receive affordable PC or laptop repair for as low $25.
Mediacom Connect2Compete: A cable and communication provider that offers an affordable home internet service plan for students and families across the country. The connect2compete plan is only $9.95 per month with up to 10 Mbps data. To be eligible, at least one child in grade K-12 must be living at home or receiving free or reduced school lunch. There are no installment, deposit or equipment fees.
Altice Advantage Internet: Get up to 30 Mbps for only $14.95 per month, plus free smart router and modem. At least one member of your household must participate in the federally funded National School Lunch Program; or a New York City student, receiving SSI or 65 years of age or older.
Eagle Communications: Offers a Connect 2 compete (C2C) program to families who qualify for free lunches through the National School Lunch Program to 5 Mb of high-speed internet service for only $9.95 per month, plus a free modem for two years.
LifeLine BroadBand: A free government assistance program that provides discount phone and internet services to low-income consumers. Lifeline broadband plan cost $9.25 per month with voice minutes and high-speed internet. This program is available to anyone who with an income at or below the poverty level of 135%, applicants who are receiving SNAP, SSI, federal public housing assistance, in poverty, National School Lunch Program or veterans pension. Read more on Lifeline Internet benefit from government.
Certain cable and Internet providers are providing low cost access to individuals or families with children that meet certain income qualifications. The federal government and the FCC have been partnering with organizations, such as Xfinity by Comcast, in an effort to expand the reach of the Internet to households that may not have otherwise been able to afford the service on their own.
The Xfinity and Comcast Internet Essential program is a free (or low cost) high speed service that also include Wi-Fi. It is available for families on government assistance, high school or college students, seniors and low-income families. In addition to offering programs such as Internet Essentials for households with children, some families may even be able to receive a low cost computer from Comcast.
Other programs from Comcast - Xfinity may also help eliminate any past due fees or bills that the customer is currently faced with. Also, there have been periods of time when free internet access has been available for a defined period of time. So there are number of resources, in addition to Internet Essentials, that are available for income qualified families, as having access to the Internet is a critical utility type service that all families should be entitled too. Find how to apply for Internet Essentials.
Companies that offer reduced priced Internet access or Wi-Fi service
Lack of free or low cost internet connection is an issue for school-aged kids as well as many elderly people. The National telecommunication reported that about 20% of teens are faced with an academic burden and are unable to complete homework assignments with a lack of reliable internet. In addition to the free government internet service programs listed above, many businesses are stepping up to the plate to offer low cost or even free Internet as well as Wi-Fi access to families, in particular youth. These companies are also offering free Internet for seniors.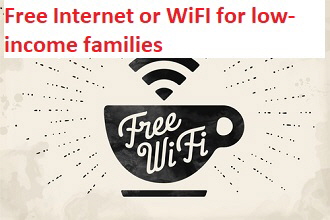 Another company to contact is CenturyLink. This provider will offer discounted or free high speed cable broadband service to very low income families or those that receive public aid. It operates under many of the same terms and conditions as noted above, and learn more on CenturyLink Internet Basics discounted service.
How to get free WiFi At Home
FreedomPop.com: A wireless and virtual network that offers free and affordable Internet as well as phone service to low-income households as well as income qualified seniors. FreedomPop comes with a FREE basic plan of up to 200 minutes of talk, 500 text messages and 500 MG of data. The home internet service plan comes with a free trial of 2GB hotspot, free charger, battery, and set-up. You will also receive up to 50% off on smartphones and other products to stay connected. Read more on this company here https://www.freedompop.com/
NetZero.net- A broadband internet company that provides high-quality, low-cost internet service for over 20 years. NetZero comes with a free dial-up connection plan that offers 10 hours per month of high-speed internet access free of charge. NetZero also offers a free mobile plan of up to 200MB data per month.
Locations With Free WiFi
Check your local library: Public libraries across the country offers wireless internet connection to all visitors during hours of operation free of charge. You will be able to connect your devices through the library network to access the internet. There are also librarians who can help seniors connect and navigate the Internet. The library also offers public computers that can be used for job searching, research and other activities.
Colleges/Universities: Colleges usually have an open and secured Wifi network that covers the campus area. Anyone can connect to campus WiFi for fre. Students and people from the community can use it. As there is a guest Wi-Fi option for visitors. Other educational facilities try to offer free internet or wi-fi service to low-income families or the unemployed.
Public Space: Free Wifi can be found in any neighborhood and public spaces. Starbucks, McDonald's, coffee shops, fast food chains, airports are some common places to find free wireless hotspots. You will find a listing of nearby shops and restaurants on Yelp that offers complimentary Wi-Fi to guests
Major cities such as San Francisco and NYC provide free public WiFi to some extent with the CityWide wireless network, also known as blanket wifi across cities. These are free government programs that provide internet access to everyone, no matter their income. Visit WifiFreeSpot.com-- for an organized database of free wifi hotspot locations in the US.
A lack of internet connection will only deny you of educational and economic opportunities. As mentioned above, there are many affordable or free internet packages as well as government assistance programs to help you stay connected and to help low income families lower their monthly bills or get free connections. Children, single mothers, students, and the very low income, among others, may qualify for free internet service from the government or corporations.
Related Content From Needhelppayingbills.com