Areas Agency on Aging senior assistance programs Virginia.
Find social services provided by Area Agencies on Aging in Virginia. They focus on providing case management, financial help or free grants to senior citizens, medical care, meals on wheels and other social work type services to older adults, including seniors as well as the elderly. Specialists and volunteers at the centers can help direct people to the right program for their needs. Find details on VA Agency on Aging senior citizen programs near you below.
Free food, grants, transportation and financial assistance for the elderly
Home Delivered Meals may be provided to the homebound, who, due to a disability or illness, are unable to prepare meals on their own and who can't make it to a local meal site. Delivery of hot meals or frozen food boxes, including lunches, to individuals age 60 and over who are homebound may be offered by volunteers and other Office of Aging representatives.
The meals can be hot, frozen, cold, dried, canned, or supplemental. Area Agencies on Aging will provide recipients with a minimum Dietary Reference Intakes (DRI) allowance to ensure seniors retain their health.
Public and government funds and grants from federal, state of Virginia, and local governments cover part of the cost of the meals, food and delivery service. The rest is covered by contributions from local non-profits, recipients of the meals, and the generous contributions of other concerned individuals and groups. Read more on free food delivery near you.
Congregate Meals is another option, and the program is offered to people who are 60 years of age and over. Some of the senior centers and dining centers in Virginia serve up hot meals along with a wide range of activities, social activities and other programs.
A general service offered by the Office of Aging is known as care coordination. The program may be able to help improve the quality of life of seniors. It can promote independent living for older adults. Staff will work on behalf of qualified clients to locate needed services and provide them support. So people can learn about programs such as food stamps, Medicare, money from the government that helps seniors pay their bills and energy bill saving programs like weatherization or LIHEAP. Fees will be charged and based on a sliding scale. Find more on how to get money fast.
Information and Assistance is offered, as the Virginia Office of Aging locations act as a clearinghouse for information of interest to seniors, older adults and their caregivers. All resources and advice is offered free of charge. Adult Services case managers and social workers provide care plan development, assessment and care monitoring. Services are available to qualified individuals depending on eligibility criteria, and it provides linkage with appropriate community resources.
Free fans, and occasionally air conditioners, may be distributed by some centers. Aid is offered for persons age 60 or older during the annual Virginia Fan Care program. Some of the fans are purchased through financial support from local utility companies such as Virginia Electric Power and American Electric Power.
Residential Repair can help improve and repair homes. It can assist older persons and help them remain independent and safe in their homes. Agency on Aging centers often work with community action agencies on this program. This is done by upgrading the conditions of their residence to make them safer. There can be roofs, grant money for repairs, low cost loans and more. Find financial assistance from Virginia community action agencies.
ElderLink in Virginia is another free information program in which case managers work directly with you and your family to conduct an assessment and develop a care plan. They also help you find appropriate and affordable services, apply for financial assistance programs, monitor and coordinate services, and adjust the care plan as needed.
Senior Connections' Caregiver Support Services provides residents information about available services in Virginia. Receive assistance with accessing other supportive services, respite Care for temporary relief from care giving roles and supplemental services like Emergency Response Systems, Home Modifications, and Assistive Technology Items.
Seniors living at home, disabled people and the sick will get free Caregiver Support . People who are caring for elderly can be offered free information regarding community resources and government programs that are available to assist them in the role of caregivers.
Free government grant money and services in Virginia will help the elderly. Senior Services may be able to offer seniors and elderly with short term financial assistance. The resource coordinates services for persons age 60 and over with low annual incomes who have an emergency need. They partner with non-profits, churches, government agencies, and more. Services offered may include some or all of the following.
Credit Counseling Information

. They help senior citizens pay down debt.

Rent Assistance/Housing Information

, including helping seniors find and live into low-cost apartments, including luxury units. Locate luxury apartments for rent based on income.

Help for Utilities

. Agency on Aging will help people apply for EA - Energy Assistance.

Public Benefits and Food Stamps

, including government benefits, even including Medicaid and Social Security.

Medication for seniors & Prescription Eyeglasses

.

Home Repair Programs

. Low-income seniors in VA will get help fixing a roof, grant money, window replacement services and more.
Transportation provides the elderly and disabled with transportation to doctor appointments, adult daycare centers, hospitals, medical facilities, and to other activities in Virginia. This service is offered as a last resort, and will only be offered if no other public transportation can be utilized. All services are free to qualified senior citizens.
Non Emergency medical transportation is provided in Virginia. Most of this will be free or low cost. Seniors need to call in advance to schedule a ride to doctor, clinic, drug store or other location - this is not for urgent care. Look here for more details on non emergency medical transport.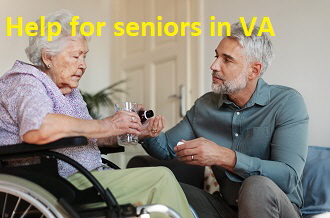 Another similar resource is known as the Medtran Volunteer Transportation Program, which uses volunteer drivers to transport non-Medicaid seniors 60+ to non-emergency doctor or medical appointments. For example, transportation is provided for appointments such as dentists, doctors, physical therapy, dialysis, pickup prescriptions, and more.
Legal Assistance may be offered to low income seniors for free. Legal aid, representation, consultations and services are provided through a paralegal, attorney, law firm and/or non-lawyer advocate that operates in Virginia. The individual can assists the senior and consult with them. Get free advice in matters related to legal benefits, rights, and entitlements by furnishing free legal counseling, advice, intervention, representation, and other forms of assistance. Read more on and find free lawyer consultations near you.
Home care and free health care for retirees and senior citizens in VA
Long Term Care in Virginia can be arrange by your local Office of Aging. When an injury or illness makes staying at home difficult, your local Virginia office may assist older adults and their families, and help them locate and arrange for in-home care and other assistance.
VICAP, or Virginia Insurance Counseling and Assistance, may put people in touch with trained volunteers who can counsel elders and others on many health insurance or medical bill issues including Medicare, fraud, Medigap, Long Term Care Insurance, and appeals or challenges to bills. Counselors may meet with clients at Senior Connections.
In addition to above, VICAP can offer information on Medicare Savings Programs for help with Medicare premiums, deductibles and co-payments. Retirees and the elderly can work with the staff at agency on aging centers about Medicare Prescription Drug Plan and help from Part D, and Supplemental Insurance. Learn more on and find out what Medicare Part D is.
Senior Outreach to Services (S.O.S.) Program will help people living in income based housing across Virginia remain independent. An on-site Outreach Worker or social worker arranges educational programs, makes referrals, assesses residents, and provides follow-up services.
Free health maintenance and care includes providing drugs and/or health care equipment which will alleviate, prevent and/or cure the onset of acute and/or chronic illness. Services can also increase awareness of special health needs or improve the emotional well-being of a senior.
This maintenance and medical program includes the provision of services by a doctor, nurse, or health professional. What may be provided includes home health services (nursing; physical, speech or occupational therapy), dental treatment, health education, or the provision of prescription medications, eyeglasses, hearing aids, or dentures..
Health Screening Monitoring can be facilitated by the Office of Aging. They partner with various medical or health professionals as well as clinics to run specific tests to determine the need for a particular health service. The agency can also provide referrals and follow-up when warranted. Some of the medical services provided by free healthcare clinics in Virginia include blood pressure, hearing, diabetes, vision, anemia, and also periodic checking/monitoring of a known medical condition.
Areas Agency on Aging budgeting, financial literacy and work programs
Health promotion will encourage healthy behaviors and lifestyle for senior citizens in Virginia. It can help them reduce the risk for preventable and chronic disease. Health Maintenance and care includes the provision of various services such as prescription medication and/or assistive devices, which will prevent, alleviate, and/or cure the onset of chronic or acute illness.
The Virginia Volunteer Money Management Program can assist seniors age 60 and over who need help with dealing with their finances and their monthly bill-paying chores. Trained volunteers who partner with the Office of Aging provide one-on-one bill paying, check writing services, and budgeting skills. Strong Money Management skills will enable seniors to live independently and with the peace of mind that their bills and debts are paid in a timely fashion. Read more on budgeting and free credit repair in Virginia.
The Area Agency on Aging offers the Senior Community Service Employment Program. The federal government program provides short-term work experience for unemployed and income eligible persons age 55 and older. The program will help seniors find permanent employment by learning new skills or upgrading old ones. SCSEP and case managers matches skills, background and interests with job openings at businesses and agencies in Virginia.
Another program is known as the Job Referral File, which can also help residents age 60 and older find a job. A Referral File is kept by many Virginia locations on those seeking full or part time employment. When an employer calls looking for an employee, the file can be used to help place someone into the right job.
Applying for senior assistance in Virginia
There are local offices across Virginia that help seniors, retirees, and disabled adults. Each Agency on Aging office in Virginia is local, and dial 804.545.1644 for an office near you. There is also an Association in VA for older people. Or call 1-800-552-3402 to find a Virginia Agency on Aging office in your community.
Related Content From Needhelppayingbills.com