Affordable, subsidized housing for the elderly and senior citizens.
Senior citizens have access to a number of low income housing programs. Several non-profits as well as government agencies listed below administer subsidized homes, apartments or assisted living facilities for the elderly near you as well as seniors on social security. The resources range from low cost, safe and senior accessible housing to more independent homes.
Some of the subsidized housing for senior citizens on social security, pensions or other sources of income can also help the elderly (or retirees) that have no money available to them or family to care for them. There is also low cost subsidized houses or apartments for seniors with medical needs, limited mobility and even units for those with no health care issues. Other units provide low income seniors, people age 55+ or retirees with a limited amount of rent and/or utility bill assistance as part of the low income housing program.
Government senior housing programs
The federal government administers a few low income subsidized housing programs for senior citizens, including those that depend on social security or a pension. There may be homes for people age 55, 62, or in their 70s as well. The programs are administered nationally by HUD and locally by PHAs, otherwise known as public housing authorities. They combine financial assistance for expenses such as rent, water and electric bills as well as medical services, including Medicare or disability services if needed. Some assisted living centers also give free transportation to the elderly.
Agency on Aging centers are a great place for senior citizens of all income levels to learn about (1) assisted living homes (2) affordable and safe houses or apartments or (3) nursing homes as well as many other assistance programs. They also provide information on emergency financial aid for paying various bills, whether rent, a mortgage, care giving costs or legal costs. Eldercare Locator is a free service that can help the elderly locate an Agency on Office program near them.
The partly government Aging Agencies help older Americans, retirees, senior citizens, the disabled, and the vulnerable. Anyone over 55, as well as their spouses can contact an office for free help. There will be databases from Eldercare Locator as well as free information on low income housing, senior friendly homes with mobility or if which the elderly can medical needs addressed, and other options. Find more on Eldercare Locator for housing.
The primary resource or rent subsidized government program for senior citizens is known as HUD Section 202. This is when Housing and Urban Development works with developers, landlords, management companies and property owners to create more affordable housing for senior citizens. Units will be for healthy senior citizens as well as those with medical care needs. There is also rental assistance vouchers provided as well, based on the senior citizens income level from all sources (pension, retirement funds, social security, job, etc.). Applications for subsidized housing are accepted by PHAs near you. Continue with more information on senior housing section 202.
Program of All-Inclusive Care for the Elderly, or PACE, is a combination of housing as well as free Home Care for the elderly. Senior citizens with a low income can use government financial assistance so that they can remain living in their own home. PACE helps subsidize the cost of the home (rent, mortgage, utilities, etc.) as well as pay for some of the medical or health care needs. Caregivers will also be addressed using federal government funds. Most recipients of PACE are on Medicaid or Medicare. Learn about Program of All-Inclusive Care for the Elderly.
Medicaid, the federal and state government funded health insurance program, can help pay for housing, assisted living, or nursing home care. While this is generally thought of as a benefit for very low income families, there are ways that more moderate and even higher income families can received subsidized housing or care from Medicaid. It takes planning and often the help from a professional. Learn more on planning for free Medicaid.
Low income rent subsidized housing is also available from Section 8 Housing Choice Vouchers. This is generally for very low income senior citizens, people that live on social security or a pension and/or those living in poverty or that have little money or savings to their name. It is also an option for the disabled or working poor. Housing and Urban Development vouchers (HUD) help pay a portion of the rent for a home or apartment. The elderly can select safe, affordable housing in the private market, including condos, townhomes, private homes, apartments, family member units, and more. Locate HUD section 8 housing choice vouchers.
Subsidized housing for the elderly from non-profits near you
Safe, affordable housing, including assisted living homes, are offered by national non-profits, faith based organizations as well as charities, some of which may be near where the senior citizen lives. Non-profits will often charge a portion of the elderly person's income for the rent. But they will have staff on site that can help with food, deliver Meals on Wheels in an emergency, check in on the health of the senior, arrange free recreational activities, and other support.
The elderly can participate in Homeshare services. There are dozens of non-profits that participate and organize these housing services. They work together as part of the national non-profit organization. The senior can share a home, apartment, townhome or some form of lodging with another individual, generally a younger person. The "roommate" will often take care of many tasks, such as cleaning, shopping, and more. In return, the roommate pays zero or little rent. It is a subsidy in another form as it still benefits the senior citizen. Read more on finding Homeshare service housing programs.
Lutheran Ministries has a social service organization. The non-profit works with banks, property developers and the federal government to offer low income apartments or townhomes to senior citizens. The age limit is generally 62 or older, but each local ministry varies in its application process for the subsidized home programs that were created for the elderly. There are also assisted living rental and retirement homes as well. More on elderly help from Lutheran Ministries.
Senior and handicapped accessible apartments are available from Mercy Housing. The national charity coordinates low cost senior housing programs that offer a number of programs to their residents. There is case management, budgeting, advice for the elderly who live on social security retirement income, and other support. Continue with Mercy Housing.
National Church Residences offers safe, affordable housing for seniors that meet HUD income guidelines. They also give subsidized permanent housing to the elderly who are or were homeless or that have little or no money available to them or give housing for seniors on social security. Dozens of states have churches that may be near you and arrange these low cost apartments for the elderly. Most tenants are low income or live only on social security and age over 62, with many widows and widowers in the units. Find low income senior housing from National Church.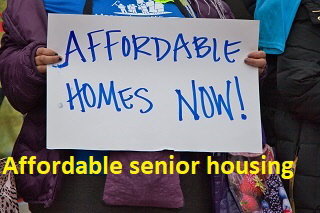 Low cost senior living communities are offered by many local Salvation Army apartments and centers. Case workers will coordinate activities, help seniors live independently in the affordable homes that are tailored for the needs of the seniors. There will be classes, clubs, free health checkups, Adult Day Care Centers, trips, free rides to the grocery store, and other activities that come with the affordable housing as well. They also offer emergency rent and eviction help to low income senior citizens. More information on Salvation Army senior supportive housing.
Homeless senior citizens or those that have been evicted, or have no place to go, can try a homeless shelter or transitional housing program. There are thousands of charities, social service offices and non-profits that operate them near you. The housing will be free (or have a very low monthly cost for transitional housing) and also comes with meals, food, clothes, basic medical care, and other benefits. Temporary housing may be for veterans, the disabled, indigent, and seniors with no other place to go. Find transitional housing near you.
Rent subsidized senior housing is offered by Volunteers of America (VOA). One of the nation's largest charity organizations for housing needs near you and also nationwide. VOA operates low income senior living communities. There are homes for the elderly with mobility needs, wheelchair accessible apartment or homes, veterans, and other resources that allow seniors to live independently in their homes. Volunteers also organizing lunches for the seniors and workshops as part of the subsidized senior housing. More information on VOA senior rent subsidized homes.
United Church Homes (UCH) operates has dozens of subsidized communities for senior citizens in the mid-west and eastern part of the country. The elderly, retirees and seniors are charged rent based on their income. UCH also operates wellness centers, transportation for senior renters, faith services as well as other programs as part of the subsidized senior homes and communities. Call 800-837-2211.
Affordable home programs for seniors and retirees
Many senior citizens that depend on social security as well as retirees have a limited income and/or asset to their name or live only on social security. It can be a challenge to live independently or to pay for housing. To help the older generation (whether age 55, 62, or any other age), there are a number of government senior citizen subsidized housing programs available, some of which may be near you. Several regional as well as national charities and non-profit organizations also work to help the elderly live independently in assisted living homes, apartments, or communities that are also affordable.
Each one of the agencies above has their own application process for low-cost housing without a waiting list near you. Most of them combine affordable, low cost housing for seniors with other support services for food, medical needs, and even recreational activities. All of the programs can affordably resources for older individuals.
Related Content From Needhelppayingbills.com