Transitional housing near you.
Find where to get transitional housing from charities, churches, or government agencies near you. Families that are homeless or facing eviction, people who are ex-offenders, veterans, anyone recovering from an addiction, women leaving domestic abuse as well as families with kids are often the primary beneficiaries of temporary accommodations. The goal is to provide free housing for homeless families, women or people. Locate transitional housing programs near you below.
A wide variety of services are provided. The goal of free temporary, transitional housing programs near you are to help families or people with no money live independently and move into long term, permanent housing or apartments. Most counties have one or more charity agencies or local churches that administer these resources for qualified residents. They also offer a number of supportive services in an effort to meet that objective.
What is transitional housing?
Transitional housing is an effort by states, non-profits, charities or local governments to help reduce homelessness and help with long term housing support. The programs are for people who are experiencing a specific, time-limited challenge. This means the programs are temporary in nature. The goal is to help homeless people, or those facing other challenges, get the long term assistance they need, including an apartment. There may be transitional housing for the following groups.
Women (including those with children or that left abusive situations).
Drug or alcohol abusers going through rehabilitation.
Men often have dedicated transitional housing.
Single mothers or pregnant woman that need a place to stay.
Immigrants or Refugees. temporary housing
Veteran who are homeless and need free housing.
The mentally ill.
Other examples of why someone can get free short term housing can include a short term reduction in work hours, individuals that need help in a transition from hospitalization to independent living, formerly homeless individuals that are well on the way to regaining self-sufficiency, and other cases in which someone needs assistance.
Transitional housing will usually give the person, or the family, their own personal room to stay. Individuals will also receive meals, basic needs such as clothing, and personal hygiene items. But many transitional housing programs will require the participant to help with chores, help maintain the facility, look for a job or have a source of income and meet other criteria. Some agencies may cover a small rent payment to be made.
Social workers and staff from a transitional housing program will almost always offer advocacy and case management. As the client needs to work towards long term financial stability That is the name of a service that offers support measures to people facing eviction or the currently homeless.
The transitional housing services are usually available in apartment style facilities or a house. Families may even receive their own unit to live in that may be near them. Or there will be separate rooms or units for males, females or their children. Substance abuse homes will often have shared rooms but that can vary. Short-term homeless shelters will often have a more open floor plan and not as much privacy. Both resources may be provided at no cost to the family or individual that is enrolled.
Free housing for homeless families or people can also be provided from other short term programs. Homeless shelters are a form of emergency assistance that provides a temporary place to stay for a very short period of time. There is normally no cost to use a center and a location will sometimes allow a homeless person to stay for a couple weeks, but some are only for overnight stays.
The free often overnight housing is often a dormitory-style center that unfortunately does not allow a significant amount of privacy. On occasion a shelter may be full, or maybe the non-profit has extra funding. In these cases motel vouchers may be passed out to pay for a night or so of lodging. Read more on, and find homeless shelters near you.
Find temporary housing including a transitional house or apartment
The specifics and details on each transitional housing program near you can vary considerably. While a shelter is usually used for a night or two, a transitional housing program will often provide a place to stay for 90 days or more. In some instances a non-profit may provide support for up to two years, in particular for women fleeing domestic violence, asylum seekers or veterans. The supportive and case management services that are provided by the organization at the same time can run for the same period of time.
One alternative solution is a post-domestic violence temporary housing program. This is when a charity, non-profit or the government will make low income, affordable rental housing available to women and their children that are coming directly out of a domestic violence shelter or living situation. The individual will often generally be able to access free legal advocacy and other services during this timeframe.
Non-profits will often provide their assistance to specific groups or people. Examples can be housing solutions for veterans, substance abuse problems, single parents, mentally ill, homeless domestic violence victims, or individuals with AIDS/HIV. There is also free transitional housing for immigrants (undocumented or legal).
Transitional housing for women, including single moms or pregnant woman, is a focus as well. As charities and churches in particular want to ensure the kid(s) have a safe place to stay as well as food, hygiene supplies and other needed support. Of course the women or mom will need to also work towards self-sufficiency. Locate housing assistance for single moms.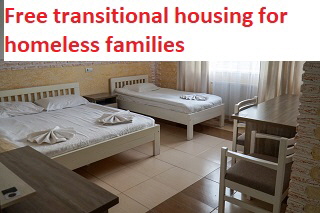 When all of the transitional housing units are full, then free vouchers may be available to pay for a motel stay or hotel room. They are only offered in certain cases by a few, select number of organizations near you. When available, it will usually only pay for a stay of a couple nights and will come with a number of conditions. Some of the programs near you may use the free vouchers to allocate the limited space in a shelter system. Or it may be used to pay for a portion of the clients costs towards a transitional housing apartment or home. More on free motel vouchers.
Churches that are part of Family Promise offer homeless families with children access to transitional housing as well as other support services. Volunteers work with the individual to find solutions as well, including help them find employment and a new, permanent home or low income apartment to live in. Those staying in the shelter or transitional housing units can receive meals, free gasoline to get to a job interview, clothing, case management and much more. Read more on Family Promise and Interfaith.
Supportive housing from National Church Residences is available to people of all faiths and religions. They are one of the nation's leading faith based groups that offers long term and free temporary housing solutions to homeless families. They may offer transitional as well as low income apartments and other programs. The elderly, disabled, homeless, and others may all qualify. National Church Residences is mostly focused on those vulnerable groups (sick, seniors, etc) who are most at risk if they were to be homeless. More details on National Church Residences.
Free housing assistance is for the chronically homeless from the federal government. An innovative HUD sponsored program known as Housing First can be used for individuals that have been struggling over many months or years. This option will often bypass a shelter or transitional housing program and instead move the family right into their own home or apartment. They then receive support services.
In general, the applicant needs to have an income and be able to pay some of the rent cost on their own. Their income can be from a job, SSI disability, or another source. It emphasizes the disabled, mentally ill, people that are in long term poverty, and survivors of domestic violence. More on Housing First for the homeless.
Often, the recipients of the short term Housing First (or a similar transitional housing program) will end up getting federal government assistance for their future rent. The main service is section 8. States and HUD work together on this and provide vouchers. Read more on section 8 housing program near you.
In addition to the agencies above, the Salvation Army also operates thousands of overnight, temporary homeless shelters near you as well as free transitional housing units for homeless people across the country. Some are free, others may be income based. The charity also provides free short term support to alcohol or drug abusers, women fleeing violence, ex-offenders and others facing extreme hardships. Find a Salvation Army assistance program near you, and inquire into their transitional housing programs.
Some families need to live in transitional housing as it is too difficult for them to find a new home due to a history of one or more evictions. Some landlords will not lease to those individuals, who were often formerly homeless, as they may be considered to be higher risk, so the families lives in a transitional apartment so they can rebuild their credit, save money for a security deposit, and more. But in these instances there are other ways to get help as well, and find how to rent with a past eviction.
Transitional housing often leads to a new, permanent home or apartment. As indicated, the goal of every single town, city, and state is to ensure people have a safe and affordable place to live in for the long term. These rapid rehousing, permanent programs are often run in partnership with charities or the government.
The client will normally need to be working, have an income, and take initiative to gain stability in order to use a rapid rehousing program. Any type of transitional or long term program will provide tenants with the rights of tenancy under their local and state law. Find how a free transitional housing program can turn into a long term, permanent home or apartment, and learn about rapid rehousing homeless prevention.
Free transitional housing for homeless families near you
Resources for the low income and those that need transitional housing are offered by numerous agencies, including non-profits, charities as well as local and state government organizations near you. They can also provide referrals to other nearby towns, government agencies or cities that may have short term housing available. Select your county below.
Nashville TN and Davidson County
The above list is only a sampling of some counties and cities. If your region is not listed, short term or transitional housing assistance is still more than likely available near you. In order to locate additional resources that may be more convenient to you, find state aid and assistance.
Related Content From Needhelppayingbills.com