Rental and housing assistance for single mothers.
Single mothers will get rental assistance or free apartments near them from the Salvation Army, government programs, churches and charity organizations such as Catholic Charities. Various non-profit or government agencies offer hardship grants or emergency as well as permanent housing assistance to single moms with a low income or no money. Find how single mothers will get rent assistance as well as stable housing, security deposit help or even free apartments.
The charities offer homeless prevention, rent payment help, free grants or housing as well as self-sufficiency programs. Agencies will also help single moms find and pay for a new or low income housing or locate an apartment, even if they have bad credit. Case workers can assist with applications to free apartments for single mothers near you.
There are also charitable as well as federal government programs for single mothers including section 8 or transitional homes. Find a list of permanent as well as emergency rental assistance programs as well as other housing resources single mothers as well as their children below.
Charity rent and housing assistance programs for single moms
A number of charity agencies that offer rental and housing programs for single moms are listed below. There are many agencies, including the Salvation Army, Catholic Charities and churches. They of programs that support single mothers, regardless of their age, race, or ethnicity. Many of the Salvation Army centers as well as charity organizations provide housing assistance as well as grants, all with the objective of ending homelessness for single-parent families. There is also cash assistance for a single person.
Charities work by connecting individuals to professional case management, emergency financial help, rental grants and trained mentoring groups from local offices. These services will ensure that single moms achieve permanent housing, family stability, and financial self-sufficiency. Some of the housing focused assistance programs offered by charities or the Salvation Army include.
Emergency rental assistance for single mothers - Get money to pay for rent to stop an eviction while gaining access to mid to long term housing stability. Based on funding levels, charities provide emergency rental assistance for a period of time of weeks if not months, especially to lower income or unemployed single mothers who do not get child support from the father or the courts. They also have homeownership programs or housing grants. A focus of the rental programs is on single parents, and in particular moms.
Charities offer

financial help for housing or rental needs

at the same time as employment for single moms or Character Development. As money to pay the bills will not do much without helping the mom gain long term financial stability. One main objective is helping single mothers develop character and employment skills, which can help them afford the home or apartment over the long term. Counselors will help parents and single moms work toward permanent, full-time employment. Parents can also be linked to career counseling. Read employment opportunities for single mothers.
Attain and maintain affordable housing - The local branches of the Salvation Army or another charity can provide a solution to homelessness and also help address at-risk nature of those needing housing. Single parents including mothers with a low income can receive referrals for transitional housing programs. This will help them find an place to immediately stay while applying for rental assistance or job programs.
Resources can help candidates who are single income households with a desire to afford and maintain long term market value housing. Centers can advocate to landlords on behalf of the participating family. Case managers will help single mom clients find assistance in locating rental units or low-cost, no wait list apartments for long term housing. Work with a social worker from a charity to find a free apartment near you or an affordable home to lease.
Emergency homeless shelter - The housing program provides temporary housing to single women and their minor children who are being evicted or who are homeless. A charity or the Salvation Army can provide a safe, stable and clean environment for single moms as well as their children. There may also be emergency free hotel or motel room vouchers.
Services provided at the homeless shelters include hot meals and case management to promote self-sufficiency. Families and women in the program develop service plans and meet with a social worker to alleviate barriers that prevent them from becoming self-sufficient. As the stay at a shelter ends, referrals may be given to programs to help single moms find and pay the rent on a new rental home.
Transitional housing for single moms while applying for rent payment help – This can be offered so that single moms have a place to live with their children. Charities and non-profit can coordinate low income housing and apartments, and help get families settled. There is also lodging for domestic violence survivors. Transitional housing can enable moms to improve their family housing stability and will also prepare participants for permanent housing in the community.
Salvation Army contact information for rent or housing assistance - The Salvation Army has locations in all states and most mid to large size towns have a branch located in it. Families with children, including single moms, can get help with their rent, food, utilities, find free furniture and other support. Find a Salvation Army financial assistance program near you.
Catholic Charities single mom rent assistance can often provide low income or divorced applicants to help them with a fresh start. They also help teenage mothers, women facing DV as well as immigrants, Hispanics and Spanish speakers. The national charity organization can help anyone, regardless of their religion. Many locations have special rent assistance and housing grant programs for single mothers and their children. There may also be emergency homeless shelters on site.
Single mothers and their children can often be provided with housing as they work towards an independent, structured program in order to achieve their longer term housing goals and maximize self-sufficiency. Read more on single mom help from Catholic Charity programs.
CoAbode - This non-profit agency will provide housing as well as indirect rental assistance for single mothers by allowing them to in effect share their expenses with other single parents. All applicants are screened and the service will do its best to ensure the parties are compatible. The service is free to clients. Sharing housing expenses, including energy bills and your monthly rent, can help ensure that mothers have a home for their children and themselves. Learn more on housing assistance for single moms from CoAdobe.
Some of agencies or services that can be looked into include

The Nurturing Network

, which is an international charitable organization that offers comprehensive housing assistance and rental needs. The support is for woman facing the crisis of an unplanned pregnancy. Contact them at https://www.coabode.org/..
YWCA - This is one of the nation's leading non-profit charity organizations that focuses on helping women, single parents, and their children. While direct financial or housing assistance for paying rent will be rare, the centers may offer a number of housing resources. The specifics will vary by location and state, but can include transitional housing, information on rental voucher programs, case management services, and they can also provide referrals too. read more YWCA assistance programs.
Single mother focused local charities operate in most states, counties and cities. They can provide emergency rent help, grants for housing, utility assistance, affordable housing and more. Additional options range from a local church to Assistance League, UMC, St. Vincent, and other non-profits. Find locations of state assistance and charity programs.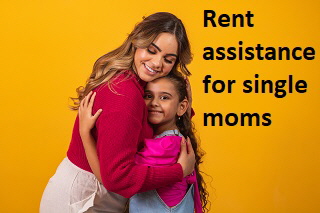 Rent grants for singe moms are available. Non-profits, charities, foundations and other organizations provide support. The free grants can help single mothers pay housing costs, whether utilities, lease application fees, deposits or rent past due rent. There are different options out there, and look here for single mom hardship grants.
Government single mother emergency rent and housing assistance programs near them
Rehousing for single mothers and rent assistance - Other agencies offer support to families with children. Whether the household is run by a mother or struggling parent, the tenant can apply for housing services. There are government grants, eviction prevention resources, rent free apartments for single moms and other programs. Low-income single mothers can also get money for a security deposit as well or storage help. Even some low cost loans may be involved. Find additional help for paying rent.
Section 8 housing for single moms - The federal government housing choice voucher program can help single moms pay their rent and housing costs. Vouchers are issued by the government, and single mothers and their children are big beneficiaries. There are section 8 rental homes, apartments, and other units, and mothers can often get emergency vouchers. Find section 8 houses for rent near you.
State and county resources help single mothers. Local government agencies, non-profits, and other agencies that may be near you, in your local community, may offer emergency or long term rent help to single mothers. Or they offer security deposit or moving cost help, homeless shelters, grants, and other housing solutions. Local resources try to ensure the mother (and even more so the child) is safely housed. Find details on rent assistance near you.
Rent money for single moms from the government - Some single mothers have zero income or money as they can't work due to child care concerns, a disability, an unsafe living environment or they get no child support from a partner. There are government programs for them as well that can provide housing and/or hardship grants to pay rent. Look here for government rent assistance for single mothers with no money.
Apartment programs for single mothers
Single mom apartments - Single mothers often need help in finding and pay for a new home or apartment near where they live or work. It can be challenging to get a landlord to agree to a lease, find an apartment that does not in effect discriminate or that is rent free, to ensure the housing is safe, and it is often difficult for a single mom to come up with the money for a security deposit as well as first months rent. There is help from the government as well as charities. Find how to get assistance finding an apartment.
Some government programs also offer

rent free apartments for single mothers

. The housing will generally be for very low income households in which the mom both lacks child support from their partner but also has some form of income coming in. The goal is to help the child have a safe place to live. Learn more on rent free housing for single moms.
Related Content From Needhelppayingbills.com