Indiana Agency on Aging senior assistance programs.
Senior citizens, the elderly and older adults will get help from Area Agency on Aging programs near them. A number of financial assistance programs, social services, and free items are offered to seniors. Government funds will help pay bills or housing costs, provide free medical or dental, home care and other resources. Find help for seniors in Indiana below.
Non-profits and government programs provide help to seniors over the age of 60. This includes free food including Ensure, money from the government, grants, Meals on Wheels and more. There are also grant programs for the elderly over age 65 or 70 as well, as noted below. The Indiana Agencies on Aging offices focus on meeting the needs of the elderly and senior citizens as well as individuals who are 55 years of age and older.
Financial help for seniors in Indiana
Seniors can also get help applying for Heating/Energy Bill Assistance Program or Weatherization in Idiana. The Low Income Energy Assistance Program provides financial assistance and cash grants to low-income senior households, with free grant money for senior citizens age 60 or older. Low-income elderly people will also get emergency financial help.
Government funds can help them maintain utility services during the Indiana winter heating season. Or apply for weatherization at your Area Agencies on Aging office. This was created by the US Department of Energy, and it helps the elderly save money by assisting with reducing their utility bills. Many other services are available for seniors, and find Indiana energy bill assistance programs.
Indiana Legal Services helps senior citizens. This is a free legal advice program for low income and elderly. Attorneys who work with Indiana area of aging centers may be able to assist families with addressing and solving family domestic violence issues, elder law, government/public benefits, housing, and consumer issues. There will be free will for senior citizen in Indiana, power of attorney documents and other legal aid such as advance directives, Medicare, Medicaid and nursing home issues.
Area Agencies on Aging offices are a great place to call for Information. Get help with personal needs assessments, including information about care options, resources, and procedures for helping yourself or an aging or disabled loved one remain independent. A major focus is on helping seniors over the age of 60 get free government benefits, whether it is money or something else.
Information is given by Agency on Aging in Indiana for a wide range of programs. Access referrals to appropriate agencies and services, family consultations, home-delivered meals, and services such as assessments and referrals for Medicaid Waiver and CHOICE in-home services.
Rental assistance for the low income is provided by the Housing Choice Voucher Program (Section 8). Agencies work with the State of Indiana Housing and Community Development Authority (IHCDA) to provide rental. free money from the government and low income housing assistance to senior citizens. The HUD vouchers can also be issued to other income qualified individuals and families in the state, or the national section 8 housing choice voucher program is a resource too.
Free appliances are offered to senior citizens. Agency on Aging in Indiana works with furniture banks, charities and other groups to provide kitchen stuff, washers, dryers, computers and other goods. The goal is to help a senior citizen over the age of 65 or 70 remain in their home, therefore appliances will help. Locate a free washing machine near you.
Foreclosure Counseling and Home Ownership Counseling is provided at some locations. While not very common, very limited amounts of foreclosure counseling is offered primarily to existing clients. Trained and certified housing counselors provide a service that is vital in today's mortgage market, which is counseling families facing foreclosure and advising them about mortgage assistance programs and plans. No one in Indiana wants to see a senior lose their home to foreclosure and face potential homelessness. Read more on Indiana mortgage assistance.
Agency Area of Aging Transportation in Indiana is available for seniors and the elderly. This is a free non-profit, government subsidized program offered in many Indiana counties. A wide variety of travel discounts and options are available for seniors and people with disabilities. Some examples of the services include a Taxi Discount Program, Wheelchair Transportation, and rides to grocery stores. There are also free medical appointments, government services, or other essential needs.
Medical and home care services
CHOICE, which is short for Indiana's Community and Home Options to Institutional Care for the elderly and disabled, is a program that provides support to seniors who still live in their homes. It is offered in all towns and counties across Indiana.
Some examples of the assistance offered by CHOICE includes transportation, home delivered meals, case management, attendant care, and medical supplies. The goal is to help seniors live in their homes, and not to be placed into state hospitals, nursing homes, or group homes. Clients of this Indiana Agency of Aging resource include those who are 60 years of age or older. Individuals with disabilities of all ages may also benefit from the program.
Medicare information is provided from State Health Insurance Assistance Program (SHIP). This program runs in all states, including Indiana. It offers free and objective information, assistance, and counseling to Medicare beneficiaries. Get answers to questions, or help with solving problems with health insurance providers or advice on medical bills, including those from Medicare. Advice is offered over the telephone or from face-to-face interactions, media activities, and/or public education presentations. Also get help applying for Medicare Savings Programs or a program known as Extra Help.
Medicare can provide seniors with medical bill assistance and health care. Staff from Agency on Aging centers will help people apply. The federal government created and paid for Medicare program covers many of the health care needs of seniors and the elderly. A number of private companies across Indiana partner with the state and the Medicare program to provide prescription drug coverage and health care services, and it impacts many expenses and costs, including benefits, doctor choice, quality, and convenience.
Agency on Aging locations in Indiana provide other information on Medicare Benefits. There are details on co-payments, enrollment ages, and how to get coverage. The non-profit also helps older people understand the terms and conditions of the complicated Medicare system. Learn more on Medicare rights center.
Medicare Prescription Drug Coverage and Plans is a health insurance program that covers both brand-name and generic prescription drugs. This is available at participating pharmacies in your area. Medicare prescription drug coverage provides protection for people who have very high drug costs or from unexpected prescription drug bills in the future.
In-Home Services for Indiana are provided by Care Managers. They can provide personal care needs during at-home visits to senior citizens, and the worker can coordinate the needed services into a care plan. Family members and other senior caregivers often participate in this program whenever possible. Assistance offered to the elderly includes adult day care, attendant care, home modifications, respite care, and home delivered meals.
Another option for seniors and that the Agency on Aging can provide details on is the Program of All-Inclusive Care for the Elderly. The government provides financial help, grants, Medicare care and more to senior citizens. It is for Medicare, low income, or Medicaid recipients, but it is another option. More on Program of All-Inclusive Care for the Elderly.
Free food and meals for Indiana elderly residents
Home-Delivered Meals will allow wholesome and hot meals to be delivered to senior citizens in many counties across Indiana. Volunteers from the agency of aging can provide free or low cost home-delivered meals to individuals who are primarily confined to their home due to physical or mental health reasons.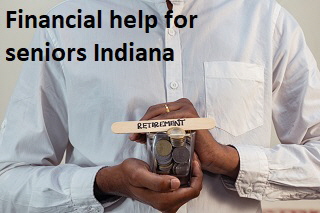 Free food is offered for those who are unable to prepare their own meals and who also meet one of the following eligibility criteria. The recipient needs to be at least 60 years of age; or under the age of 60 with a disability and receiving services through CHOICE, SSBG, or Medicaid Waiver. Or the person can be the spouse of someone at least 60 years of age.
Agency on Aging and senior centers in Indiana also try to help feed the pets of older people. Many Meals on Wheels sites provide free dog or cat food, kibble, vet medications, and other support. The programs will help the pets live longer and healthier. Read more on free pet food from Meals on Wheels.
Neighborhood Meal Sites are located across Indiana. Hot, nutritious meals are served most days of the week and on holidays at various neighborhood meal sites. Lunch service times vary for each site. Reservations are required, so please contact the phone number on the neighborhood meal sites listing to make a reservation.
Meal Vouchers are provided to individuals age 60 and over. The Area Agencies on Aging centers want to provide senior citizens with more options and increased flexibility in their dining choices. This will usually come with a minimal fee. For example, for a suggested contribution of a few dollars, seniors can receive up to eight meal vouchers each month, and they can be used at local restaurants for paying for breakfast, lunch or dinner.
Employment and financial advice from Agency on Aging
The Senior Community Service Employment Program (SCSEP) can help older adults find a job. At local non-profits, such as Goodwill and agency on aging offices, case managers can help seniors develop new skills and talents, find work, and importantly build their financial security by taking advantage of the federal government created and funded Senior Community Service Employment Program.
The program provides an on-the-job training and employment services that are designed to help those Indiana individuals who are aged 55 and older. People can get help with updating their jobs skills, continue to have economic security and well-being, and build confidence and work experience.
SCSEP can provide participants with paid on the job training, help people gain valuable skills and experience. Seniors can use skills and talents they acquire and get job training in a wide variety of locations and businesses across Indiana, including offices, hospitals, non-profit community organizations, and daycare centers.
Financial advice and bill paying assistance is offered from three main programs. They include Representative Payee Project. This is offered for seniors and individuals who are determined by their doctor as incapable of managing their own monetary affairs and have no one else to help. Participants will be receiving federal government benefits (Social Security, SSI, and SSDI) and have been determined to need a representative to help pay their expenses and bills.
The more general Bill Payer Program is for the homebound, disabled, forgetful or confused persons. Counselors from area on aging offices can help people maintain as much independence as possible, and the program is for qualified individuals in Indiana who have a current source of income.
Local Agency offices and senior programs
There are local offices, including near you, to get help for senior citizens over the age of 55 to 60 in Indiana. There is also a statewide customer service number. The Indiana Association of Area Agencies on Aging is located at 4755 Kingsway Drive, Indianapolis, Indiana 46205. Call (317) 205-9201.
Northwest Indiana Community Action Corporation
5240 Fountain Drive, Crown Point, Indiana 46307. Call (219) 794-1829 or (800) 826-7871
This agency covers the so called area 1, which is Lake, Jasper, Newton, Pulaski, Porter and Starke Counties in Indiana.
REAL Services, Inc.
Address is 1151 S. Michigan Street, South Bend, Indiana 46634-1835. Phone - (574) 233-8205
Counties - Elkhart, LaPorte, Kosciusko, Marshall and St. Joseph Counties.
This is also a community action agency for Indiana. Low-income senior citizens can apply for free hardship grants, get information on budgeting and housing as well as other resources.
Aging and In-Home Services of Northeast Indiana, Inc., or Area 3
Main address is 8101 W Jefferson Blvd, Fort Wayne, IN 46804. Call (260) 745-1200 for intake
Locations supported are Adams, Allen, DeKalb, Huntington, LaGrange, Steuben, Wells, Noble and Whitley Counties in Indiana.
Area IV Agency on Aging & Community Action Programs, Inc.
660 North 36th St., Lafayette, Indiana 47903-4727. Call (765) 447-7683 or dial toll free (800) 382-7556
Counties are Benton, Carroll, Clinton, Tippecanoe, Montgomery, Warren, Fountain and White.
Area Five Agency on Aging & Community Services, Inc.
1801 Smith Street, Suite 300, Logansport, IN 46947-1577. Main phone (800) 654-9421 or call (574) 722-4451
Seniors that live in Fulton, Cass, Miami, Wabash, Howard, and Tipton should call this non-profit center for information on food, medical care, and more.
LifeStream Services, Inc.
1701 Pilgrim Drive, P.O. Box 308, Yorktown, IN 47396-0308. Call (800) 589-1121
Covers Area 6, or the regions of Blackford, Delaware, Grant, Jay, Madison, Henry and Randolph Counties.
Thrive West Central
2800 Poplar St., Terre Haute, IN 47803. Call 812-238-1561 or 800-489-1561
They do not offer financial aid. But other senior services can be arranged. The non-profit supports counties of Vigo, Clay, Parke, Putnam, Sullivan, and Vermillion.
CICOA Aging & In-Home Solutions
8440 Woodfield Crossing Blvd., Indianapolis, IN 46240-4359. Call 317-254-5465 or 800-432-2422
Counties - Marion, Boone, Hamilton, Hancock, Shelby, Johnson, Morgan and Hendricks.
Community Services Agency of Area 9
2404 National Road W, Richmond, IN 47374. Telephone - (800) 458-9345
Covers regions of Fayette, Rush, Franklin, Wayne and Union Counties.
Area 10 Agency on Aging - Monroe and Owen Counties
631 West Edgewood Drive, Ellettsville, IN 47429. Dial (812) 876-3383 or (800) 844-1010
Aging & Community Services of South Central Indiana, Inc.
Location is 1531 13th Street, Suite G-900, Columbus, IN 47201-1302. Dial (812) 372-6918 or call (866)-644-6407
Covers the regions and counties of Bartholomew, Brown, Decatur, Jackson and Jennings.
LifeTime Resources, Inc.
13091 Benedict Drive, Dillsboro, IN 47018. Call 812-432-6200 or Telephone - (800) 742-5001
The elderly and seniors in the counties of Dearborn, Jefferson, Ohio, Ripley and Switzerland should call this non-profit.
Generations Vincennes University Statewide Services
1019 N. 4th Street, P.O. Box 314, Vincennes, IN 47591. Call 812-888-588 or (800) 742-9002
Counties - Daviess, Dubois, Knox, Greene, Martin and Pike.
Lifespan Resources, Inc.
Primary address is 33 State Street, Suite 308, PO Box 995, New Albany, IN 47151-0995. Call (812)948-8330 or (888)948-8330;
Services are offered in Clark, Floyd, Scott and Harrison Counties.
Hoosier Uplands Agency on Aging and Disability Services
1 College Hill St, Paoli, IN 47454. Call (812) 849-4457 or (800) 333-2451
Counties - Crawford, Lawrence, Orange and Washington Counties.
Southwestern Indiana Regional Council on Aging, Inc. is called Area 16
Main address is 16 West Virginia Street, Evansville, Indiana 47737-3938. Dial (812) 464-7800 or call (800) 253-2188
Counties – Gibson, Posey, Perry, Spencer, Vanderburgh and Warrick.
Related Content From Needhelppayingbills.com