Financial assistance programs Colorado.
Find how to get free grant money, financial help, or free stuff in cities and counties in Colorado listed below, including Denver and Colorado Springs. Charities and government organizations help with paying utility bills, offer free medical care or food, or assist low-income families with rent or housing among other expenses. Get financial help near you in Colorado or locate places that giveaway free stuff.
Low-income families in CO can get both emergency financial help as well as long term support. This can range from assistance with car loan payments or free gas cards to daycare vouchers, free clothes or government provided Internet service. Or get a free car in Colorado for work or a bus ticket as well as food or social services.
Find grant money to help with bills or housing in Colorado, free stuff and other assistance
Telephone Assistance Program - This is a government assistance program that is run in partnership with the Colorado Department of Human Services. There will be a free phone for the low-income, senior citizens or a disabled person. It will also pay a portion of your monthly phone bill. While some companies may provide a free cell phone, it is more likely to receive a discount on basic phone or cellular service. Dial 303-866-5700, or find more on LITAP Low Income Telephone Assistance.
Colorado Child Care Assistance Program - This program helps parents afford childcare while they are actively working, receiving job training or looking for work. This government program may also be called the Low Income Child Care Assistance. Free or affordable daycare is available to the low-income and unemployed. Dial 303.866.5700, or read more on child care assistance in Colorado.
Free Legal Aid - Organizations as well as free attorneys provide free or low cost legal assistance to low and moderate income families in Colorado. Get help with applying to benefits, eviction prevention services and attorneys that assist seniors, for free. Click here to learn more on getting free legal help in Colorado.
Colorado Disability Benefits and Assistance Programs - Residents of the state that are disabled, in particular low income households adults, can get help. Programs offer food, meals, medical and home care, employment and more. There are grants and loans for people on SSI or SSDI. The Department of Human Services is a lead government agency that supports families. Continue with disability help in Colorado.
Emergency Financial Assistance in Colorado - One of the nation's leading charities is the Salvation Army. Centers as well as Family Stores are located across the state, and they can provide cash assistance for paying bills. Or get free vouchers, immediate help with rent, hotel rooms for the homeless and other aid. Holiday programs, food, and clothing are other services offered. Learn more about Salvation Army financial aid in Colorado.
Energy, Heating, and Utility Bills - Numerous government programs, non-profits, and assistance programs from utility companies exist to help the low income pay their bills. Seniors or disabled people, and homes with kids, can get money for an electric bill or utility deposit. Energy conservation resources are available too. Read more on Colorado utility bill assistance programs.
Colorado Food Banks and Free Pantries - Millions of pounds of free food and groceries are provided to families and people with no money for food every year from various locations across the state. Get a listing of Colorado food pantries and feeding sites, that are in addition to county programs listed below. Locate Colorado free food banks.
Help for Evictions and Grants for Rehousing in Colorado - Partnering with HUD and government programs such as ESG, non-profits provide emergency funds for back rent to stop homelessness. Other support may be charitable or government assistance on paying security deposits for a new low income apartment as well as free legal aid on tenant responsibilities. Click here Colorado eviction prevention.
Low Cost Housing in Colorado - There is help for those who need help with renting or owning a home. There are government grants, low-cost homes or apartments, low cost loans for making a down payment, and other options. The foreclosure hotline is (877) 601-4673. Or read more on rent free apartments.
Social Services and Government Cash Assistance - A number of services are offered by Department of Human Services. Families can get free health care, grants for energy bills, food, housing, and more. Heating disconnection prevention is offered as well as Medicare, Medicaid and others. Read more on Colorado Public assistance.
Colorado Works/TANF - This government assistance program will help strengthen families by providing cash grant or free money. The TANF is involved in promoting opportunities for comprehensive job training, and fiscal support to state residents. The funds can pay for housing, food, gas for a car, clothes, heating bills in CO and more. Phone number is 303.866.5700 or (303) 866-6210
Food Stamps Program - The government help lower income families and people in poverty who need assistance purchasing groceries. SNAP in Colorado helps ensure the nutritional needs of families are met. EBT cards to pay for food, groceries, and other goods are offered in CO. Call 855.855.4626 or 303 866-3122, or find details on getting food stamps in an emergency.
Elderly, Senior Citizens and Older Adults - Assistance programs for seniors include free food, health, legal aid, and job training. There is government grant money, transportation and homecare too. Non-profit organizations and counselors focus on meeting the needs of older Colorado residents. Click here Colorado Agency on Aging and Senior assistance.
Rent and Housing Authority Vouchers - Resources for the homeless and very low income include Section 8 housing choice vouchers. They also assist veterans and single mothers. There is no-wait list subsidized low income apartments, senior homes, and referrals to eviction prevention services. More on section 8 program in Colorado.
Statewide Housing and Local Rental Assistance - Several government organizations as well as non-profits provide short term, immediate rental assistance an other housing resources. There are grants or funds to to help people pay back rent, storage fees and avoid evictions. It will also provide longer term self-sufficiency and no-wait list housing assistance. Find rental assistance in Colorado.
Employment Programs and Grants for Bills and Living Expenses - Non-profit community action agencies are located in every county. The focus is on self-sufficiency and employment. There will be a free car for low-income families in Colorado, use of a computer, counseling and similar services. Also short term financial hardship grants may be offered for emergency needs such as heating bills, rent, and food. Learn more on Colorado community action agency assistance programs.
Property Tax, Rent, and Heat Rebate - This financial aid program is operated by the state Department of Revenue. It provides cash grants, discounts and tax rebates for home heating payments to certain residents in CO. They must be at least 65 years old, be a surviving spouse at least 58 years old, or disabled. Qualified applicants can receive a property tax rebate. Call (303) 238-7378
Energy Outreach Colorado - If you do not qualify for any government aid, such as federal assistance under the LEAP program, or if you need additional financial help for an electric or gas bill, then you can get assistance from Energy Outreach Colorado. To qualify for help from this organization, you need to have a past-due balance on your heating or utility bill. Read more Energy Outreach Colorado.
Low Income Energy Assistance Program (LEAP) - A federally funded grant program that is managed by the Colorado Department of Human Services. This government assistance program was created to assist with paying your winter heating costs as well as summer cooling bills. Or get a free grant for electricity or fixing a furnace. There is an emergency crisis service too.. Read more Colorado LEAP and weatherization.
Weatherization -

The Colorado Community Action Agencies and DHS) program provides Weatherization services. They provide free and very effective energy efficient upgrades to lower income households. Services provided include Air leakage reduction; Complete energy audit; or Furnace efficiency assessment and improvement. Or get a free fan or roof repairs as well as Inspection for other potential safety problems and more.
Mortgage Relief and Colorado Foreclosure Prevention - Locate programs and organizations in Colorado that will help you with paying your mortgage - home loan(s). The state and local governments also try to reduce and stop foreclosures. Locate mediation, mortgage relief programs in CO and other services. Read more on Colorado mortgage and foreclosure assistance.
Organizations that employ

HUD certified housing counselors

also operate in Colorado. Free homeowner services are offered, including help with buying a home. Click here for a listing of free HUD agencies in Colorado.
Get free medications, health or care care for the uninsured or low-income
Colorado Child Health Plan Plus (CHP+) - A low-cost health insurance plan that single moms, caregivers or the working poor can apply for. The medical is offered for Colorado's uninsured children and pregnant women. The benefit is based on the federal government funded CHIP programs. Get basic dental care, vaccinations, well child check ups and other care. Dial (800) 359-1991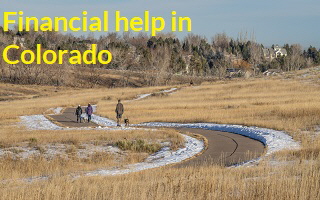 Free or Low Cost Health Care - Various community clinics and health care programs are offered in your county. There is free medical, eye exams, insulin or medications and other help for kids or adults that have no insurance. Find an additional listing of Colorado free community clinics.
Dental clinics also exist in Colorado, and can provide free care or offer services on a sliding fee scale. Patients with no income or money can get free basic or emergency dental. More information on free dental clinics in Colorado.
Residents who are uninsured or have limited health insurance may be able to access several government assistance programs as well as funded resources. Programs can offer medications, tests, dental care, medical bill assistance, and other services. Read more medical care for uninsured in Colorado.
Colorado job training, placement, and free debt help services
Colorado Employment First - Increases employment opportunities for SNAP food stamp participants through referrals, support, accountability, and community work. There is also free budgeting, tips on saving money quickly and credit repair programs. Also provides advice on how to eliminate debt. Call 303-318-8574 or (719) 486-2497
Credit Services and Debt Consolidation - Individuals who need budgeting advice or information on low cost or free debt reduction can get help from free counselors. There are also free credit repair services, debt consolidation loans, refinancing of credit cards and other help. Read more Colorado counseling agencies.
Colorado Workforce centers are another option for the unemployed and career changers. The government locations offer training opportunities, career counseling, job search assistance, and other resources to individuals seeking help during their search. Even get a phone, gas vouchers or free work clothes or a laptop in CO. Continue with Colorado job training programs.
Assistance from Colorado cities and counties
Find local resources, by county or city below. There are government assistance programs for low-income families in Colorado as well as charities and non-profits that provide help.
Adams County (Brighton)
Arapahoe County (Aurora)
Archuleta County (Town of Pagosa Springs)
Baca County (Springfield)
Bent County (Las Animas)
Chaffee County (Salida)
Cheyenne County (Cheyenne Wells)
Crowley County (Ordway)
Custer County (Westcliffe)
Douglas County (Castle Rock)
Elbert County (Kiowa)
El Paso County (Colorado Springs)
Fremont County (Canon City)
Garfield County (Glenwood Springs)
Huerfano County (Walsenburg)
Jefferson County (Golden)
Kiowa County (Eads)
Kit Carson County (Burlington)
La Plata County (Durango)
Lake County (Leadville)
Larimer County (Fort Collins)
Las Animas County (Trinidad)
Lincoln County (Hugo)
Mesa County (Grand Junction)
Montezuma County (Cortez)
Morgan County (City of Fort Morgan)
Otero County (La Junta)
Pitkin County (Aspen)
Prowers County (Lamar)
Routt County (Steamboat Springs)
San Miguel County (Telluride)
Summit County (Breckenridge)
Weld County (Greeley)
Related Content From Needhelppayingbills.com