Financial assistance programs in Arkansas.
Find how to get financial help as well as free items in all cities and counties in Arkansas listed below, including Little Rock and Fort Smith among others. Get financial assistance for rental payments or housing. Or locate help for paying utilities, free health care or dental cleanings, government grants or free boxes of food. There are also job training programs as car repairs to get to a job. Locate agencies that provide financial help near you in AR below.
Also learn more about government assistance programs including free grant money, low-income housing and social services. Many low-income families in Arkansas will be provided free stuff in addition to emergency financial help. Residents may be provided free gas cards for work or furniture for a home. Or read about grant money in Arkansas as well as short or long term housing programs, free health insurance, or get a free car for low-income people in AR from a charity.
Find free grant money to pay bills or housing, food or get free stuff in AR
SNAP as well as Emergency Food Assistance in AR - The government SNAP food stamps program as well as Emergency Food Assistance will help low-income families, the disabled, single mothers and working poor. It will make surplus food and groceries available. This assistance, including the SNAP EBT card, is intended to supplement other resources and is not intended to serve as a household's sole or main food source.
The Arkansas Supplemental Nutrition Assistance Program (SNAP) is intended to be a partial form of assistance to prevent hunger. Apply for an EBT card in Arkansas. Call (501) 371-1400 or (501) 682-1001
Government Cash Assistance in Arkansas and Social Services - Several government and public aid programs are available. Financial help and resources are prioritized for low income families, senior citizens, and the disabled across the state. Get Medicaid, TANF cash assistance to help with bills or gasoline for work, work clothes, SSI disability grants and other aid. Learn more about Arkansas public assistance.
Disability Benefits - Arkansas, working with the federal government and non-profits, provides several financial resources for disabled residents. Government assistance is available for paying bills such as utilities, food, equipment, rent, medical care, and job training. Or individuals can also get help in applying for SSD or other disability benefits. Learn more on disability help in Arkansas.
Rent payment assistance - Low income families and people facing eviction will get financial help from non-profits and government programs. There are grants to help pay back rent or place people into new, more affordable apartments. Or get free vouchers, deposit help and more. Find rental assistance in Arkansas.
Short-term Housing Programs - Some of the options include transitional homes and apartments or emergency homeless shelters. Families in Arkansas that have been evicted or currently homeless individuals can turn to non-profits that offer these housing resources, including motel vouchers online. Continue reading Arkansas transitional housing assistance.
Emergency Financial Assistance - The nation's leading charity, the Salvation Army, has centers across Arkansas. Social services available can help low income individuals access emergency financial aid programs and other resources. Apply for free food, rental assistance, money for utilities, holiday meals and gifts, and other emergency, immediate. Or get free gasoline vouchers or even a donated car. Read more financial assistance Arkansas Salvation Army.
Free Legal Aid in Arkansas from Non-Profits - A few different firms can help state residents deal with civil legal matters. For example, get free legal aid from lawyers and support for housing, family issues, debt and foreclosure filings, as well as other issues. More on free legal aid from Lawyers in Arkansas.
Free Government Child Care Subsidies - The Department of Human Services runs a program for low income parents that are working or in school. Get free or affordable daycare in AR for single moms, working parents and low-income families. Federal and state of Arkansas funds can help pay for a portion of day and child care expenses. Additional details on Arkansas free child care assistance.
No Credit Loans - Arkansas residents, whether they have good or bad credit, can borrow money. Banks, credit unions, non-profits, charities, and other businesses offer emergency, same day loans to pay bills, rent, housing, cars, and other costs. More on bad credit loans.
Programs for Seniors and Elderly - People over 55 often have fairly unique needs. The Agency on Aging can provide seniors a number of services. Get help with medical needs, food, transportation, home care, government health insurance including Medicare and other information. More details on Arkansas Agency on Aging.
Energy Bill Help - Several different statewide assistance programs can provide grants, financial assistance, energy conservation programs, weatherization, and other forms of utility bill help to the low income. Find free grant money in AR for light, electric, or AC bills. More on Arkansas energy bill assistance.
Arkansas Telephone Bill Programs - Discounts or free cell phones are provided from government funded resources such as Lifeline, which is administered by the Public Service Commission in AR. There may also be savings on setting up a new telephone, and some companies provide free government cell phones to low-income people, seniors, and the disabled. More on Arkansas Lifeline program.
Energy and Low-Income Heating Assistance (LIHEAP) and Arkansas Weatherization - This government assistance program will help lower income Arkansas households with home energy costs, including immediate money for heating and cooling bills. This is done by administering both the Regular Assistance and Crisis Intervention programs. Each of these components provides financial assistance to households in the form of a one-time per year cash grant payment to the household's energy supplier or, under certain circumstances, to the applicant themselves.
Food Assistance Programs and Free Pantries in Arkansas - Get information on organizations that can provide free food and groceries. Among them include pantries, food banks, government assistance programs and a number of other non-profits as well as charities. Read more on free food pantries in Arkansas.
Foreclosure Prevention and Mortgage Assistance - Find a listing of non profit, HUD approved agencies to call for foreclosure help in Arkansas. The federal government has certified numerous non-profits in the state of Arkansas to be HUD approved housing agencies. Get FHA loans, first time home buyer help, refinancing and other support. Read more on free foreclosure help in Arkansas.
Government medical care and free health - dental assistance in Arkansas
ARKids First - This is a free healthcare program for families with children as well as single parents. There is medical or dental care as well as low cost or free insurance. The state of AR government insurance program is a combination of CHIP as well as Medicaid. Insurance is for families whose income is too high to be on government Medicaid but have no health insurance for their children. Call Human Services at 1-888-474-8275 or 501-682-8292. Or find other health care or medical bill help.
Arkansas Community Clinics and Medical Centers - People of all income levels can turn to community clinics for free or low cost, high quality medical care. Get help with items such as prescriptions, medication, check ups, and more. The clinics, including for dental cleanings, are for lower income, medically uninsured Arkansas residents as well as people with no money or income.
Another option for those who need help are free dental clinics in Arkansas. Cleanings, exams, tooth extractions and other services are for adults or children. Get more information on services and programs offered from free dental clinics in Arkansas.
Residents that do not have insurance can turn to government sponsored and non-profit programs. Several resources are available for low income, uninsured families. Health screenings, medications, check ups, and other basic medical care is offered. Learn more on uninsured Arkansas health insurance.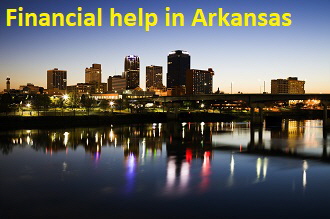 Free job placement, debt relief and money making opportunities in Arkansas
Non-Profit Debt Reduction and Credit Services - Several national and local agencies operate in Arkansas. They offer consumers a number of free credit and debt assistance programs, resources to pay medical bills, bankruptcy filing help and other services. The non-profits also provide homeowners help on their home loans. Find Arkansas free credit counseling.
Employment, Education, Cash Grants and Self-Sufficiency - Free government grants for basic needs can be provided by non-profit community action agencies. In addition, the organizations will also offer self-sufficiency type resources such as employment, government job training programs, debt help or education assistance. Or get grant money to repair a car, or a free vehicle will be given to low-income families that need transportation for work. Read Arkansas community action agencies.
Those residents seeking a career change, a new skill, or if you are unemployed, Workforce Centers in Arkansas can help clients find a new job or gain skills. More on Arkansas free job training.
Arkansas residents can get income from technology or side hustle jobs among other resources. There are smart phone apps, work from home jobs, gig work, freelance jobs, survey site and so much more. Continue with free or easy money opportunities.
Assistance from Arkansas cities and counties
Select a county or city in Arkansas below. There are local financial assistance programs (often combined with those above) to help struggling families. Find grant money, transportation, free healthcare or food and more from charities in counties.
Arkansas County (De Witt and Stuttgart)
Ashley County (Hamburg)
Baxter County (Mountain Home)
Benton County (Bentonville)
Boone County (Harrison)
Bradley County (Warren)
Calhoun County (Hampton)
Carrol County (Berryville and Eureka Springs)
Chicot County (Lake Village)
Clark County (Arkadelphia)
Cleveland County (Rison)
Columbia County (Magnolia)
Craighead County (Jonesboro and Lake City)
Crittenden County (Marion)
Cross County (Wynne)
Dallas County (Fordyce)
Desha County (Arkansas City)
Drew County (Monticello)
Faulkner County (Conway)
Fulton County (Salem)
Grant County (Sheridan)
Greene County (Hot Springs)
Hempstead County (Hope)
Hot Spring (Malvern)
Howard County (Nashville)
Independence County (Batesville)
Izard County (Melbourne)
Jackson County (Newport)
Jefferson County (Pine Bluff)
Lafayette County (Lewisville)
Lincoln County (Star City)
Little River County (Ashdown)
Logan County (Booneville and Paris)
Madison County (Huntsville)
Marion County (Yellville)
Miller County (Texarkana)
Mississippi County (Blytheville and Osceola)
Montgomery County (Mount Ida)
Nevada County (Prescott)
Newton County (Jasper)
Ouachita County (Camden)
Perry County (Perryville)
Pike County (Murfreesboro)
Poinsett County (Harrisburg)
Polk County (Mena)
Pope County (Russellville)
Pulaski County (Little Rock)
Saline County (Benton)
Scott County (Waldron)
Searcy County (Marshall)
Sebastian County (Greenwood and Fort Smith)
Sevier County (De Queen)
Sharp County (Ash Flat)
St. Francis (Forrest City)
Stone County (Mountain View)
Union (El Dorado)
Van Buren County (Clinton)
White County (Searcy)
Woodruff County (Augusta)
Yell County (Dardanelle and Danville)
Related Content From Needhelppayingbills.com