Financial assistance programs Idaho.
Find how to get financial help in all cities and counties in Idaho listed below, including Boise. Get free grant money for paying housing costs, including rent, electric bills or a mortgage. Both government programs and charities provide immediate help or free stuff to low-income families, including gas vouchers, personal items or a free car. Get financial assistance near you in ID below.
Low-income families, seniors or single moms can also get free items in Idaho as well. There are computers for school or work, free internet access as well as clinics for free medical or dental care. Or locate daycare vouchers, hardship grants from the government or non-profits as well as free car or home repair programs. Many resources, in addition to financial help for bills, are available in Idaho.
Grants for paying bills, free stuff including food, and financial help in ID
Senior Assistance is for older residents. The elderly and senior citizens in Idaho can get help from the Agency on Aging. Numerous social services, government grant money and assistance programs are available. They range from free home delivered meals, information on medical bills and prescription help, housing repairs, and home care. More on Idaho Agency on Aging.
Rental Voucher in Idaho address housing needs. Very low income families, the elderly, or homeless may be able to receive rent help or section 8 subsidies from several HUD affiliated housing authorities. Section 8 will help pay the rent on an income based home or apartment. Continue with section 8 in Idaho.
Government and Non-profit Homeless Prevention is for for tenants and homeowners. Grant money, emergency financial help and free motels is offered in Idaho. There is financial aid, free lawyers to mediate solutions, short term housing, deposit assistance and more. Most of the support is grant based. Continue with Idaho homeless prevention programs.
Temporary Assistance for Families in Idaho (TAFI) provides free cash to low-income families or single moms or dads with kids. The goals of the TAFI program are to provide employment opportunities for people and give money to pay bills, food, and more while achieving stability. The government benefit will encourage both personal and family responsibility. This programs primary focus is to assist those who require more than government financial aid alone can or should provide. Call 208-334-5500.
Hardship grants are available. There are programs such as Operation Roundup and others that can help with paying utility bills and other basic needs, such as clothes, furniture or rent. The financial aid from is used to address emergency needs while also helping with long term support, such as education expenses. Learn more on hardship grants for the low-income.
Social Services, Benefits and Public Assistance are available. The Idaho Department of Health and Welfare offers several benefit programs for the low income. Families can get help for paying medical bills, free food or SNAP applications, rent, energy bills, TANF cash aid and other government financial assistance. Read more Idaho public assistance.
Disability Programs and benefits are offered in ID. The Idaho Department of Health and Welfare administers a wide variety of resources for families with a disabled member or their caregivers. Some of what is available includes housing, in-home care, employment support, food, and other financial aid. Learn more on financial help for the disabled in Idaho.
Social Services and Emergency Assistance in is from the Salvation Army. The faith based charity has several centers in Idaho. The organization can provide financial help for basic needs (such as rent, energy bills, and food) as well as job training opportunities and case management. Or get free clothes, meals, holiday help and gas cards for work. More on Idaho Salvation Army.
Idaho Child Care Program (ICCP) provides free or cheap, subsidized daycare. The government hHelps lower income families in Idaho pay for child as well as day care costs. This free government assistance program is for parents who either work or are attending school. Call 877-456-1233, or read free child care assistance in Idaho.
Free Food Pantries help feed low-income and people with no money. Get the addresses and phone numbers of free food banks and distribution centers that operate in Idaho. The locations provide free food, groceries, and maybe other forms of non-financial aid, such as clothing or personal toiletries, to qualified low income residents. More information on Idaho free food banks and pantries.
Self-Sufficiency, Government Grants and Employment Assistance is for long term stability. Community action agencies can assist with short term needs by helping residents apply for grants for housing, energy bills, and more. The centers will also assist with longer term needs such as job training, employment counseling, provide free transportation and educational services. More information on Idaho community action agencies.
Free Internet access is also available as part of self-sufficiency and education programs. There is service in rural communities of ID, Lifeline for high speed internet, Wi-Fi and other support for seniors or the low income. Learn about free government Lifeline internet.
Energy Bill Assistance in ID from a utility company. Find where to go to and who to call for help with paying your energy and heating bills in Idaho. A large number of charitable, utility company as well as government assistance programs can help the low income. Click here energy bill assistance in Idaho.
Idaho energy bill assistance is available. The main program for senior citizens, disabled people and the working poor is LIHEAP. The Low Income Home Energy Assistance Program n which the goal is to help eligible households pay their home heating, gas and utility bills. There are also free grants for furnace repairs or AC units. More on LIHEAP in Idaho.
Idaho Weatherization Assistance Program

is often combined with that. This free government assistance This provides measures to low income households. It includes roof repairs, new windows, insulation, caulking and more to help people save money on utility bills.
Free Legal Programs help with civil needs. Law firms and free attorneys provide pro-bono (free) advice to clients for dealing with a large number of legal issues or other concerns. Read about how to get free legal advice in Idaho for such issues as housing, predatory loans, government programs, and family matters.
Assistance For Phone Bills help seniors and the low income. There are two government assistance programs that can assist low income Idaho families. They either provide monthly discounts on existing telephone bills, give out a free cell phone or help pay to connect a new service. They can also assist with wireless devices. More details on ITSAP Idaho telephone bill assistance programs.
Foreclosure and Mortgage Relief Programs are offered. There are several different non-profits to contact in Idaho for foreclosure and mortgage help. Get loan modifications, mediation, payment plans and other mortgage help. Learn more on Idaho HUD agencies.
National and Local Idaho Charities helps the poor. There are many national organizations with a local presence in Idaho. Food, emergency medical transportation, grants, substance abuse help and other support is offered. Read about emergency charitable financial aid.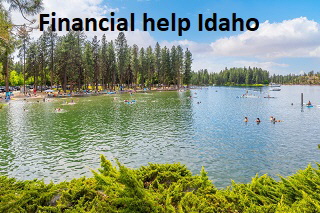 Free medical and dental care programs in Idaho
Idaho Clinics offer free medical care. State residents, no matter their income, can turn to a free or low cost community or health care clinic. Dozens of centers operate across the state. Get eye exams, physicals, Chronic disease management and more. Read more free community clinics in Idaho.
A large number of

free dental centers and clinics

operate across Idaho. They also provide a number of free or low cost services and assistance. Read more on Idaho free dental clinics.
Teeth implants, when needed for work or a medical reason, are provided. There are government grant programs, clinics, volunteer surgeons and other resources from charities or the government. Look here for free government grants for dental implants.
Government and non-profit administered medical assistance is available for uninsured families. Individuals in Idaho who either lack health insurance or that have limited coverage may be able to receive treatment, prescription medications, free medical care, OB/GYN or telehealth and other support. Continue with Idaho uninsured healthcare programs.
CHIP is a form of Medicaid insurance for kids and teens. A federal as well as state government assistance program that provides low or free health insurance to both working and non working families in an effort to to help them pay medical bills. Call 1-877-456-1233, or look here for other types of free government health insurance.
Assistance From Idaho cities and counties
Select a county and/or city below for local financial assistance programs and charities for free stuff in ID. Get help from social services, the government and resources in each Idaho county that help struggling families.
Ada County (Boise)
Bannock County (Pocatello)
Bear Lake (Paris)
Bingham County (Blackfoot)
Blaine County (Hailey)
Bonner County (Sandpoint)
Bonneville County (Idaho Falls)
Boundary County (Bonners Ferry)
Camas County (Fairfield)
Canyon County (Caldwell)
Caribou County (Soda Springs)
Cassia County (Burley)
Clearwater County (Orofino)
Franklin County (Preston)
Idaho County (Grangeville)
Kootenai County (Coeur d Alene)
Lincoln County (Shoshone)
Minidoka County (Rupert)
Nez Perce County (Lewiston)
Oneida County (Malad City)
Power County (American Falls)
Related Content From Needhelppayingbills.com