Financial assistance programs Virginia.
Find how to get financial help in all cities and counties in Virginia listed below, including Norfolk, northern VA and Virginia Beach. Get help with paying rent or housing costs, including a mortgage as well as money for a utility bills. Or find free food, bus passes or gas cards for work. Or locate free stuff ranging from medical or dental care to hotel vouchers. Find financial assistance near you in Virginia below.
In addition to the state benefits, free grant money, and government assistance listed below, there are local charities that help low-income families. Agencies in VA provide struggling families with emergency financial help as well as free stuff. This may include funds for paying a car loan as well as free clothes for work. Or get a free car for work in VA as well as credit repair service or access to low-income, affordable housing.
Get financial help for bills or free grants, food, housing assistance and social services in VA
Rent payment help - Each city and county, as well as the state, provide local or regional rental assistance programs. A combination of immediate grant money as well as moving help, legal services or loans are offered to low-income families and people facing eviction. Locate rent assistance in VA.
Temporary Assistance for Needy Families - The TANF grant program will provide eligible families with a free monthly cash payment to help pay bills, buy food, fix a car and more. It is time limited in Virginia. Low-income, single mothers and working poor families can use TANF cash aid for paying a wive variety of expenses. Call (804) 726-7000, or learn more on how to get cash assistance in VA.
General Relief (GR) - The GR Program is a local program that was created to provide a variety of assistance. It can help households in Virginia in which a child (children) is living with grandparents or other caretakers. There is emergency financial help for bills or rent, housing, grant money, free medical care and other social services. Or get free medical transportation for a doctor visit. Dial (804) 726-7000.
Government Subsidized or Free Child Care - Free vouchers and government financial aid can help low income families in Virginia pay for their child or day care expenses. The applicant needs to be working, in job training or attending school. There may be free daycare too, including for single mothers in VA or dads. More on child care programs in Virginia.
Virginia Mortgage Assistance and Foreclosure Aid - Virginia offers mortgage and foreclosure relief as well as government assistance programs for those homeowners who need help. Resources are available at the local town and county level too. Find mortgage help in Virginia.
Virginia Free Legal Programs - Lawyers throughout the state offer free legal assistance, telephone advice and consultations. This service is for low income residents and seniors as part of various non-profit law firms in Virginia. Read more free legal aid from Virginia attorneys.
Social Services, Government and Cash Assistance - The state of Virginia offers low income residents a number of programs that can provide cash assistance for medical bills, food, energy bills, auto repairs, air conditioning units and other expenses. This public aid is offered with case management and longer term self-sufficiency. More on Virginia public assistance.
SNAP Food Stamp - Food Stamps in Virginia can be used just the same as cash to buy eligible groceries, perishable goods, and food items from authorized retailers or grocery stores. Social Services in VA will provide low-income families and EBT card. Dial the hotline at (800) 552-3431
Help from a Church - Virginia is served by many churches and faith based groups. The charities will offer emergency support to the low income and families living in poverty. Programs can help with paying bills, transportation costs, or coordinate housing or shelter. Find emergency help from churches.
Phone Assistance Programs in Virginia - There are free government phones or discounts from Lifeline as well as financial aid programs. Most of the assistance from the state and government goes to seniors or the disabled, but families in poverty may benefit too. Find more details on Virginia telephone bill assistance programs.
Low Income Housing in VA - The state of Virginia VHSP is a partnership of non-profits and the Department of Social Services. Funds are used to pay for housing needs, such as water or heating bills, rent, lease application fees, and deposits. VHSP also helps tenants sustain their current low-income or subsidized apartment so it offers case management. Read more Virginia VHSP housing programs.
Assistance for Disabled People - Several disability benefits and resources are provided for Virginia residents with a disability. The state offers them home care, limited financial aid, respite for caregivers, medical care, and assistance for their family members as well. Subsidized housing and free rides are arranged too. Read more on Virginia disability programs.
Virginia Eviction and Homeless Prevention Services - Non-profits, churches and charities work with the Department of Housing and Community Development to provide emergency rent or energy bill help. The homeless may qualify for short term, low income housing and grants to pay a security deposit as well as other support. More on homeless prevention program in Virginia.
Department of Housing and Community Development - This state organization helps coordinate various grant programs for housing needs. Everything from transitional housing for the low income to assistance for veterans and the disabled is available, including funds to pay rental or deposit expenses and free legal aid to stop evictions. Continue with Virginia department of Housing.
Virginia State Employee Loan Program - This loan program is a unique partnership that provides low interest loans to over 100,000 state employees. The Virginia State Employee Assistance Fund and the Virginia Credit Union partnered together to create this program. More on low cost loans in Virginia.
Senior Support and Financial Aid - The elderly, older adults, and individuals age 60 and older have immediate access to services that focus on them. The state and non-profits coordinate medical bill assistance, food programs, grant money and much more for seniors. More on Virginia agency on aging.
Energy and Utility Assistance in Virginia - Find a wide variety of programs offered by utility companies in Virginia that offer financial assistance and/or grants. Read more on Virginia utility bill assistance.
Food Banks and Pantries - Several food banks and free pantries provide food to families in need throughout Virginia. They work with local non-profits as well. Drive-thru pantries also pass out free groceries and personal stuff to seniors, the low-income and unemployed. Read more free food pantries in Virginia.
Financial Aid, Social Services, and Case Management - One of the leading non-profit agencies to call in Virginia for help is the Salvation Army. The agency offers low income families and others who may be struggling a number of resources. While some programs can help pay bills in an emergency, many others provide referrals and other aid such as food, eviction prevent programs or clothing. Or get a free gas vouchers, furniture, or holiday help. Learn more on Salvation Army assistance in Virginia.
Energy Assistance (EA) - The EA Program in Virginia will assist lower income households with paying utility, cooling and heating bills. It is made up of four components. There is crisis aid, winter fuel bill help, cooling or Air conditioning assistance during the summer as well as free weatherization to help VA households save money. All of these are offered to the low-income, elderly, and disabled. Free grant money can also pay a utility deposit. More on low income LIHEAP energy assistance in Virginia.
Section 8 HUD Rental Vouchers - Housing and Urban Development as well as public housing authorities offer section 8 housing choice vouchers in Virginia. The program can help pay for the monthly rent expenses on low income housing for the very low income, seniors, and the disabled. find more information on section 8 housing vouchers in Virginia.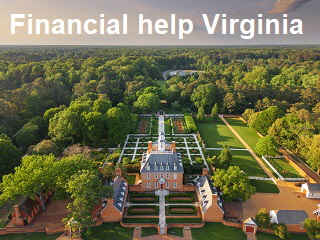 Free or low-cost medical, dental and health care for people with no insurance in Virginia
Virginia Family Access to Medical Insurance Security (FAMIS) - This is a low cost or free health insurance plan for families in Virginia with children. This program has two options that help with paying medical care. Children under teens under the age of 19 can get free health insurance, medications, dental screenings and more. There are also managed health care organization or fee-for-service. Call 1-855-242-8282 or find additional free health care.
Cardinal Care - Medicaid - The state and federal government funded Medical Assistance program was established to enable local communities in Virginia to provide free or affordable health care for low-income families and the disabled. Get prescription assistance, insurance for people with no money and other Support is also offered for vulnerable persons, which are defined as persons of low income who are disabled, blind, or elderly. Call 1-855-242-8282.
Free Medical, Dental, and Health Care
Numerous community clinics operate across Virginia and they provide the low income and uninsured with free health care and other medical services. Some agencies, such as in Fairfax Virginia, offer free prescription discount cards for buying medications. They are in addition to the clinics you will find at the county level per the links below. More on Virginia free community clinics.
Families who are either underinsured, or who lack health insurance, have several free health insurance programs available to them. Virginia coordinates government and non-profit resources, including Medicaid, free medications, and health check ups for the uninsured. Read medical care for uninsured in Virginia.
Assistance from debt relief programs, free job placement programs and social services
Debt, Housing, and Credit Counseling - A number of nationally based non-profit credit counseling organizations have local branches in Virginia. They help people refinance credit card debt or car loans, help rebuild credit and more. Find a listing of local credit and housing counselors. Locate free credit counseling in Virginia.
Job Programs, Financial Counseling and Government Grants - Those services, and much more, are offered from your local community action agency. Dozens of these non-profits operate across Virginia, and they offer employment services, grants for paying bills, help for seniors and children, and other aid. Or get grant money to fix a house or a free car to the unemployed or working poor. Click community action agencies in Virginia.
Assistance from Virginia cities and counties
Find nearby financial assistance programs, grant money and programs that offer immediate relief. Select a county and/or city below in VA in order to find help with bills, free items for the low-income and more.. As many programs help the poor, low-income families and unemployed.
Alleghany County (Covington)
Augusta County (Staunton)
Botetourt County (Fincastle)
Brunswick County (Lawrenceville)
Campbell County (Rustburg)
Caroline County (Bowling Green)
Carroll County (Hillsville)
Craig County (New Castle)
Essex County (Tappahannock)
Fauquier County (Warrenton)
Franklin County (Rocky Mount)
Franklin (City of)
Frederick County (Winchester)
Greene County (Stanardsville)
Greensville County (Emporia)
Henrico County (Richmond)
Henry County (Martinsville)
James City County (Williamsburg)
Lee County (Jonesville)
Loudoun County (Leesburg)
Middlesex County (Saluda)
Montgomery County (Christiansburg)
Northampton County (Eastville)
Northumberland County (Heathsville)
Pittsylvania County (Chatham)
Prince Edward (Farmville)
Prince William County (Manassas)
Rappahannock County (Washington)
Ray County (Grundy)
Richmond County (Warsaw)
Rockingham County (Harrisonburg)
Rockbridge County (Lexington)
Scott County (Gate City)
Smyth County (Marion)
Southampton County (Courtland)
Washington County (Abingdon)
Westmoreland County (Montross)
York County (Yorktown)
Related Content From Needhelppayingbills.com