Assistance programs Spotsylvania County.
Low income families will get financial help or free stuff from churches, charities, DSS or non-profits in Spotsylvania County. Find free grant money or loans to help with back rent or security deposits, grants to pay electric or utility bills, funds for mortgage payments, free groceries from pantries, and even medical or dental care. Find financial assistance near you in Spotsylvania County VA.
Get hardship funds and learn how to get transportation, such as a free car or gas vouchers for low-income families. Or get debt help, job training, and social services from the government as well as other support.
Spotsylvania Spotsylvania County emergency financial assistance programs
Spotsylvania Emergency Concerns provides emergency financial help, social services and other aid. . Call them at (540)582-2465. The non-profit agency may be able to offer including cash payments for paying bills such as water, electric, rent, housing expenses, or fuel. They also coordinate free and medical and health care needs for low-income families and people with no insurance in Spotslyvania County.
The agency can also provide free holiday assistance for Thanksgiving and Christmas such as meals and gifts, emergency free food from the food pantry and they help single moms. The charity also offers free household furniture, computers, beds, couches and appliances from the Thrift Shop. Financial assistance and cash grants are provided once every six months with free food, baby formula and meals offered more often. The address is 8812 Courthouse Rd, Spotsylvania Courthouse, VA 22551.
Spotsylvania County Social Services – This is the main government agency for benefits and public assistance. A main program they run is for paying utility, heating, and cooling bills. They may be able to help eligible lower income households, including seniors or disabled people, when Fuel Assistance or other government resources, such as LIHEAP, cannot meet the need. Emergencies addressed can include inoperable or unsafe heating or cooling equipment, lack of heat, or utility disconnections.
Energy Bill Crisis Assistance

may include payment of utility bills or security deposit; money to buy a portable space heater; replacement or repair of heating equipment, and more. Assistance during the summer is offered too. This can include funds to purchase or repair cooling equipment or money for cooling or air conditioning bills. Free fans or AC units may be offered as well as the poor and low-income.
Other social services provided from the office may include SNAP food stamps, the WIC program, and more. Uninsured Spotsylvania residents can also learn about government and public health care programs and plans too, including Medicaid, unemployed and free disabled grants. Call for advice, referrals and public aid. The address is 9019 Old Battlefield Blvd, 2nd Fl, Spotsylvania, Virginia 22553. Telephone (540)507-7898, or read more on public assistance in Virginia.
Fredericksburg, Redeemer Lutheran Church – Free food is offered for residents of the City of Fredericksburg and Spotsylvania County. There are groceries, milk, free government cheese, bread, produce and more. Emergency financial aid may be paid out for utilities too. Location is 5120 Harrison Rd, Fredericksburg, Virginia 22407. Call (540)898-4748.
Fredericksburg, American Red Cross Rappahannock Area Chapter provides a Military Family Assistance program. This non-profit provides services to military families. Some of the resources offered include access to financial assistance, emergency communications that link them with their families back home, counseling, information on government aid, and assistance to veterans of the military too. Thy help veterans with free government phones and other support. Dial (540)735-0500, or learn more on veteran cell phone discount plans.
Peace United Methodist Church – Families with a utility disconnection notice may apply for electric, light or gas bill assistance in the amount of $25. they work with single mothers, seniors and people facing a shut off for electric and natural gas bills. Only the first four callers on Thursdays may be accepted. Location is 801 Maple Grove Dr, Fredericksburg, VA 22407, main number is (540)786-8585
Spotsylvania Salvation Army can be called at (540)373-3431. The church has many emergency asssistance programs, give out free stuff, and helps people with no money or the low-income. The charity works with Dominion Power to help with paying heating and cooling bills. Also, limited funds are offered for rent payments, mortgage, utilities, food, prescription medications and clothing to persons who are in need due to an emergency or drastic change in circumstances.
Additional Social Services from this national charity may include free school supplies for students, Christmas toys from Angel Tree, and vouchers for gas or car repairs. The case workers provide assessment and referrals for public assistance. Any type of monetary assistance is limited to once per year. Applicants will need to usually meet with a Salvation Army case manager as part of the application process. More on the Spotsylvania County Salvation Army.
Catholic Charities - This agency has locations across Virginia, including in Spotsylvania and the eastern and northern part of the state. While they do have limited financial aid for expenses such as utilities, rent, or medications, the organization administers a number of other resources. For example social workers from the charity can provide, or refer the low income to the following.
Clothing

, including free clothes for kids or adults including work or school uniforms.

Transitional housing

, homeless shelters, and no wait list apartments in Spotsylvania County.

Senior assistance programs

, including free rides to the doctor and meals on Wheels.

Free food

, hot meals, and groceries.
The charity has

resources for immigrants

, migrant farm working including work permits, ESL classes and more.
They even

run an automobile program

. This includes a free car, gas vouchers, or financial help. Learn more on free low income car programs.
Other support is given, including to the poor, low-income, homeless and elderly. Read more Spotsylvania Catholic Charities.
Wilderness Community Church - Also offers rent and utility assistance to low income families up to $50. Other resources provide a clothing give-away to the low income up to twice a year in the Spring and Fall, free school supplies for the children at the Fall clothing give-away, and Turkey Dinners for the community at Thanksgiving.
The church also serves hot meals at the Thurman Brisben Center, offers Thanksgiving Basket distributions, and administers the Christmas Angel Tree program for children. Location is 10501 Plank Rd, Spotsylvania, Virginia 22553, dial (540)972-8808, or find more assistance from Wilderness Community Church.
Saint Vincent de Paul Conference – People can apply for help in paying rent, doctor bills, utilities, or receive free bus tickets, including to get to work or a job interview. There is also free prescription medication, and almost anything else that constitutes an emergency. Call (540)898-8065 for information and locations.
Central Virginia Housing Coalition – The non-profit serves as an approved administrator for the Virginia Housing Development Authority, including running mortgage loan programs for borrowers. They also have section 8 apartments for rent, including for bad credit tenants. Eligible families must be able to qualify for a loan and meet all qualifications. Other housing assistance includes support with down payment and closing costs. Dial (540)604-9943 Ext 211 for intake. Or locate additional Virginia foreclosure assistance programs.
Low income families and the working poor can get free holiday assistance. Christmas toys, meals and turkey dinners (including at Thanksgiving), Angel Tree or Toys for Tots, and much more is offered to struggling residents. Find more details on free Christmas help in Spotsylvania County.
Quin Rivers, Inc. – Financial assistance, grant money, and loans can be given to help with paying rent/mortgage payments. Aid is part of The Homeless Intervention Program, and this can assist people who are at risk of becoming homeless so due to a temporary crisis or hardship. Location is 500 Lafayette Blvd #130, Fredericksburg, VA 22401. Phone: (540) 368-2700
Housing and rent programs - Low income families that are out of all other options can apply for no-interest loans or (in some cases) cash grants. The goal is to provide short term rental help to stop an imminent eviction while long term support is arranged. Services support tenants of all backgrounds, including single moms, veterans, and the disabled. Locate rent assistance programs in Spotsylvania County.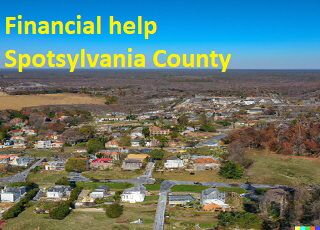 Free lawyers are at Legal Aid Works. Pro-bono attorneys give free advice, consultation and support to the low-income and seniors. They assist with stopping evictions, help with will or senior needs and other civil legal cases. Address: 500 Lafayette Blvd #100, Fredericksburg, VA 22401. for a free consul, dial (540) 371-1105
Rappahannock Goodwill Industries provides job training, employment placement services, free clothes for work or an interview, and other community-based programs for people facing employment challenges. The program is at 4701 Market Street, Fredericksburg, VA 22408. For information, dial (540) 371-3070, or rad more on free Goodwill job training for the homeless.
There is also low cost or free

CDL training programs

for the under or unemployed. People can get a license to drive a tractor or truck, either locally or across the nation. More on free CDL training for unemployed.
Free grocery charities and regional food banks
In an effort to limit (or end) hunger, there are many charities that provide everything from free boxes of food to meals, cooking classes, and applications to USDA program, including SNAP or EBT cardss. The Spotsylvania County organizations support senior citizens, the disabled, children, and others with their nutritional needs.
Some of the primary food pantries to call on for help are as follows. Many also offer seasonal support, such as Christmas meals, summer snacks for students, as well as clothing and more.
St. Vincent de Paul

is a church on Courthouse Road. They provide holiday meals, free toiletries from a thrift store, food vouchers, and operate a pantry too.

Craigs Baptist

can be reached at (540) 582-5033. The pantry requires an appointment.
St

. George's Episcopal Church

has a free emergency food pantry. The address is 905 Princess Anne St, Fredericksburg, VA 22401. Call (540) 373-4133.
There are

many other locations to try, both for food

or a meal from a soup kitchen. Find Spotsylvania County food pantries.
Get free medical and health care services
The Lloyd F. Moss Free Clinic provides free primary health care services to those who individuals and families are unable to pay for their own private medical care. They provide a variety of dental and medical services for uninsured residents of Spotsylvania and nearby counties of Virginia. Some of the medical services provided are below. The list is just a sampling, and there are others.
The Clinic provides primary, non-emergency health care for more of so called minor health problems such as a sore throat.
They hold Tuesday and Thursday evening clinics, and will refer patients to medical specialists when appropriate.
Some of the basic diagnostic testing that is offered includes laboratory services and radiology in partnership with MediCorp Health System.
They also have some

free specialty medical care services

, such as a clinic for Patients with Chronic Diseases, Gynecology Clinic, or an OBGYN. Or get referrals to health care specialists when appropriate and needed.
Free Dental care services provided from Tuesday and Thursday evening clinics include cleanings, fillings, Extractions, and Dental Hygiene only.
Referrals to

free or cheap dentures or teeth implants

are offered in Spotsylvania County as well. Find additional ways to get help with dental bills. Learn more help paying dental bills.
There is also a

prescription medicine

program. Free or discounted prescription medications are provided from an on-site licensed pharmacy. The Community Pharmacy that is available on site helps medical patients make the most of available resources by providing them with low-cost prescription medications to those who qualify for aid. Get free meds for diabetes, depression, asthma, heart disease, and more.
The clinic is located at 1301 Sam Perry Boulevard, Suite 100 in Fredericksburg Virginia. Dial (540) 741-1061. Also locate additional Virginia dental centers.
Free dentures with the possibility of implants are offered as well, including from volunteer dentists, clinics, and some benefits including Medicaid. In general, th work is for the front of the mouth and implants will be for the low-income who need them for employment reasons. More on free dental implants for people with no income.
Related Content From Needhelppayingbills.com