Help with paying dental costs.
Low-income families will get help with paying for dental work from programs offered by the federal government, state benefits, insurance companies, as well as other non-profit organization or charities. Financial help is provided as well as payment plans, grants, and emergency assistance. Many dentists, dental practices or chains also offer payment plans or will forgive an unpaid bill. Find how to get help for dental costs below
There is assistance to pay for dental work that results from cleanings, braces, dentures, implants, tooth extractions and emergency oral surgery as well. The number of programs that provide financial help with an existing dental bill is not as extensive as those for other more general health care needs, but there are options.
Government assistance to pay for dental work
Another option to save on as well as to get financial help with dental costs is Medicaid, Medicare, state assistance programs, or CHIP, also known as the State Children's Health Insurance Program. Each of them offers their own benefits to patients from chains such as Aspen or Heartland Dental. However this type of dental insurance coverage varies by each state as well as local county. There will also be several qualifications that need to be met by anyone applying for these government benefits near them.
In general, the low-income programs CHIP, Medicaid, and Medicare only cover dental services that are crucial to another covered treatment, such as jaw reconstruction after an accident or other critical operations. The government benefits also partner with charities, chains such as Pacific Dental Services as well as clinics. This is done in an offer to offer free dental services such as dentures, preventative treatment, cleanings, braces or implants and more. Some of them will help pay the bills of a child as well. So what they will pay for tends to be more limited. Locate dentists near you that take Medicaid
Medicaid will help pay for teeth replacement, such as dentures. The government benefit program will pay for the cost of treatment at a charity, clinic, pro-bono dentist or private dental practice. In general, Medicaid will pay the cost for treatment for dentures on the front teeth of adults, seniors, or people who need emergency care for a job or to get work. More on permanent dentures.
Emergency dental implants will often be paid by government insurance. The terms and conditions vary by state, but in general this type of care is covered for teeth towards the front of the mouth. There are government grants, benefits from Medicaid and more. The billing specialists at chains such as Aspen or Familia Dental will advise low-income patients or people with no money on options. Get a dental grant to pay for implants.
Get assistance for dental costs from low non-profits. In general, these funds are limited. But there will be some local non-profits, charities, and maybe even churches that help the very low-income, uninsured or poor get past due dental bills or debts paid. Pr referrals are given. Learn more on how to get immediate financial help.
Assistance with dental costs from a dental school or charity dentist
Yet another option can be to go to a local dental school for reduced-cost treatment. Any bills charged to the patient will be a fraction of usual rates. The care will be delivered to patients by supervised dental students and the school. Professors are also involved in supervising. Find a list of low cost dental school clinics.
There are many federally qualified charitable dental health centers, which serve people regardless of their insurance status or income. Some services are free, and others will lower the patients bill. These health centers and clinics will also offer dental care at varies rates and help low-income patients (or those with no insurance) pay the costs of any treatment. The price charged is based on a patient's ability to pay. More on government clinics and health centers.
There are also

state specific programs for residents

. For example, find how to get reduced fee or free dental care in Ohio. Click here for Ohio Dental OPTIONS program.
In addition, many state as well as local government health departments, various charities such as the United Way, and others offer information on low cost and free dental care. If there are not any resources in your community, then the staff at these agencies may offer individuals other ways to get help with paying for their dental bills. All resources, whether from the government, a charity, or a private company, will be assessed. More on free dental clinics for the low income.
Help paying for dental implants, on multiple or a single tooth, is available. There are non-profits, pro-bono (volunteer dentists), government programs and other places to turn to for financial help. In general, the agencies will pay for the cost of one or more implants up to a limit, but help to pay the dental bill for the service is offered. Learn more on a free single tooth dental implant.
Non-profits that provide help with dental care
Some non-profit organizations coordinate the services of volunteers dentists, medical professionals, hygienists and others. These various individuals will be provide free or reduce priced dental care to certain qualified low income families or people with no money or dental insurance. Other clients may be the disabled, retirees, or young children. Each and every year tens of thousands of people receive assistance with their bills from these organizations.
A charity bill help pay dental costs

. The terms of each one of these programs will be different. There may be some amounts of limited financial

assistance to pay for the free care

you need, such as grants or flexible payment plans. Or they can refer patients to government or non-profit programs. Read more on getting free dental care.


Bill payment programs

can also be provided by

credit counselors

, most of which are non-profits. They normally are reactive, it meaning that if the patient is in debt due to past dental bills, the credit counseling agency can provide them with free advice. They can help negotiate a settlement, coordinate a payment plan with the dentist to reduce costs, mediate a solution, and often offer other types of support. Some of this bill paying programs are free (to low income households), and others may have a minimal cost. Find assistance with dental bills or past due debt from credit and debt counseling agencies.
Insurance plans provide financial assistance dental care
The first step is to be pro-active. Many companies do not provide comprehensive dental insurance for the treatment that needs to be done. If an employer offers limited coverage or if they don't offer the type of benefits that are needed, then there are many independent dental insurance companies that will provide coverage for any dental work. The range of options is extensive, and some or inexpensive and others are much more costly. Both national as well as regional insurance companies offer this type of coverage.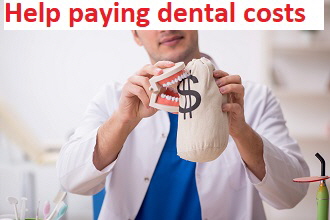 Consider purchasing an individual dental insurance policy

, and there are many to choose from in an effort to get financial help. Like a standard health insurance plans, typical dental coverage options include preferred provider organizations, traditional indemnity plans, access to a charitable dentist near you or clinic and also health maintenance organizations. This can often be used in combination with other benefits from an employer or even the government, such as Medicaid dental coverage. They will normally help the patient pay the bill as the coverage will address a portion of the cost.
For those patients and low-income families who need frequent dental care, an HMO insurance plan might be the best option. This is a fairly common selection made by patients and they can usually be acquired for a reasonable monthly cost. An HMO, such as from Delta Dental, MetLife or Humana, will offer minimal out-of-pocket costs and typically no annual maximum for preventive care services.
A low-income or uninsured patient that has a need for dental work then you should try to make sure that those future services, such as certain type of filling, root canal, dentures, braces, or even regular check-ups or cleanings by a favorite hygienist or dentist, are covered by the insurance plan that offers financial help to pay for the treatment. Review the details of the plans closely to determine what bill will be paid for and who is part of the network before settling on any dental insurance plan.
Discount dental programs
For those patient who can't obtain private dental insurance on their own or from their employer, there are discounted or cheap insurance plans to help pay for upcoming dental work. Or look into options such as payment plans, negotiated settlements, and debt reduction. Many chains, including Aspen, Great Expressions, Smile Brands and others offer payment plans to low-income families or those without insurance as well.
Some medical providers and dentists belong to discount dental programs. As

part of this they

have agreed to charge those plans' members a reduced amount on their bills and also give them lower fees. Or they may provide certain types of limited, free services.
The website DentalPlans.com has a list of dozens such dental discount programs that provide financial help or charity care. While each of them will vary, they are normally charging annual fees of $80 to $300 for families and individuals. There are plans focused on seniors as well as charity programs for the poor, families in poverty, and others. Members in these plans will get 10% to 60% off the typical cost of any dental care provided at thousands of participating providers.
Financing and loans to pay dental bills
Still other options to explore are low cost dental bill financing. Several credit card companies offer cards to pay for needed dental work, even including dentures, implants or emergency oral surgery. There are also free medical and dental loans from banks, online lenders and fintech companies. Find how to get a loan for medical or dental care.
Credit cards exist too. For example, CareCredit from Synchrony, offers a credit card that is accepted by more than 200,000 health centers, dentists and dental providers. Learn more on CareCredit.
There are

other dental credit cards

too. Patients, even those with no insurance or bad credit, can save a significant amount of money on their monthly interest expense by using a medical loan or a credit card for dental work. Be sure to carefully read the terms of any potential financing deal before you enter into this type of agreement. Locate credit cards for medical.
Related Content From Needhelppayingbills.com