CareCredit will help pay for medical and dental care.
CareCredit will help people who are dealing with a medical expense that they can't afford to pay out of pocket, but who don't have health insurance or the upfront money to pay for care. The credit card, including interest free financing. may be the solution patient's need. CareCredit is a healthcare credit card that can be used to pay for a variety of medical as well as dental expenses, from routine check-ups to dentures, oral surgery, or major medical surgeries. Learn how CareCredit works, a list of providers to use it and how to apply.
The credit card, offered by Synchrony bank, will help patients pay for medical dental, behavioral health care, substance abuse treatment and more. It is also offered to families on Medicaid, the uninsured, or patients with poor credit scores. With CareCredit, you can get the medical care you need without having to worry about how you're going to pay for it.
Synchrony is one of the largest financial services companies in the US, which means you can trust them. The financing program has earned many endorsements from a long list of credible healthcare organizations. Hundreds of thousands of hospitals, dental chains, government official and medical providers use and endorse the CareCredit card.
What exactly is CareCredit?
CareCredit is a healthcare financing solution that offers patients a line of credit to help pay for medical, dental, and even veterinary services not covered by insurance or Medicaid. It works like a credit card (but with a lower interest rate or even free financing), allowing patients to payfor services over time through monthly installments. This can be particularly beneficial for low-income families, people with bad credit or households on Medicaid who cannot afford to pay for their medical expenses upfront.
CareCredit is a personal line of credit. It can be used to provide medical services for your entire family, even including your pets. CareCredit works like a credit card but it does have two distinct advantages.
You can get Zero percent interest financing every time you use it.
Many vets, doctors, dentists and other medical professionals give extra benefits, rebates or savings to people with a CareCredit card.
What medical bills or dental care costs will CareCredit pay?
CareCredit can be used to pay for a wide range of medical expenses, including the following. As noted, the financing is available for patients even if they do not have medical insurance or dental coverage. Also, the Synchrony CareCredit card is offered to families on Medicaid and/or that have no or bad credit, though some borrowers may have higher interest rates due.
Dental care, including for dentures, implants, preventive care, teeth whitening and more.
Vision care, including glasses for kids or adults, eye doctors costs and other exams.
Hearing care or aid.
Veterinary care. CareCredit can help pay for cat, dog, or other animal care or surgeries. Or locate free veterinary care for low income near you.
Cosmetic and plastic surgery, even including Botox, implants, dermatology and other services.
Weight loss surgery, including gastric bypass or Ozempic.
Fertility treatments
Medical equipment and supplies, including walkers, Durable health care equipment and CareCredit will also pay for CPAP or chair lifts. CareCredit can be used to finance medical devices such as hearing aids, eyeglasses, and dental implants, which are often not covered by insurance or Medicaid.
CareCredit is accepted by over 250,000 providers nationwide, including hospitals, doctors, dentists and other facilities. So chances are, you can use it at the healthcare provider of your choice. The card will help pay for Dentistry, LASIK, Cosmetic Surgery, Veterinary, Cosmetic Treatments, Hearing Care and more
Another advantage is the CareCredit card can be used over and over without reapplying. You can use it for you, your family, and even your household pets. If you are not comfortable with this, then look into free health care.
Many dentists and doctors endorse this service as it does provide people a way to pay for a needed medical procedure rather than put off the treatment, which could just lead to further and more severe health care problems down the road. The use of the CareCredit card allows patients to get the care they need and it allows health care providers to focus on delivery of the best possible healthcare, instead of costs.
You just need to simply pay your minimum monthly payment and pay off the entire card balance by the end of your promotional period and you will not pay any interest expense on the medical treatments you need. If it turns out that you do need additional time to pay for your healthcare, you can take advantage of the extended payment plans on your loans with very low, fixed interest rates.
This is not the only option available for consumers or those seeking medical care. Patients can discuss available financing programs with medical billing advocates, explore low interest rate credit cards (in addition to CareCredit), and look into other solutions. If you want to learn about other financing options, find additional ways to get help with medical debt and bills. There are many programs out there. Continue with loan and debt assistance.
What are the CareCredit interest rate ranges?
The credit care issuer, Synchrony Bank, looks at many variable. The interest rates for CareCredit can vary depending on the length of your payment plan, the amount of the care needed and your credit score among other factors. In general, interest rates typically range from 10% to 25% APR. However, CareCredit does offer promotional financing options, such as 0% interest for 6 or 12 months, on certain purchases.
Interest-Free financing options from CareCredit are available. One of the most attractive features of CareCredit is the interest-free financing options it provides. Depending on the healthcare or dental provider (or psychiatrists, eye doctor, etc), patients can choose from a range of promotional financing options, including 6, 12, 18, or 24-month plans. During the promotional period, patients can make monthly payments without incurring interest, making medical care more accessible for those with limited financial resources.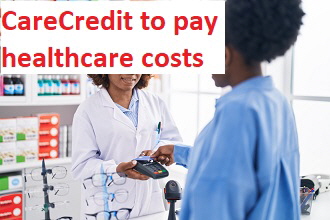 What is the CareCredit payment plan?
The payment plan that is offered by CareCredit offers a full range of payment methods. The 3, 6, 12, & 18 month or even longer if approved. No Interest plans feature monthly payments as low as 3% of the outstanding balance. The better the borrowers credit, the more payment options are offered.
Additionally, CareCredit card offers free promotional financing options, such as 0% interest for 6 or 12 months, which can make it easier to manage medical expenses without accruing additional interest charges. The card is even offered to families on Medicaid or that have no health or dental insurance plan.
As indicated, these particular plans let you pay off your bills within the specified time without incurring interest charges. So just simply make your minimum monthly payment, which will allow you to pay off your entire balance during the agreed upon time period, and you will end up paying zero interest costs or fees.
How does CareCredit help people with no insurance or bad credit?
If you don't have medical, vision or dental insurance or good credit, getting the medical care you need can be a daunting and expensive process. Medical bills can quickly pile up and become unmanageable, making it difficult to get the care you need.
Helps build credit

- Using CareCredit responsibly and making on-time monthly payments can help low-income families and uninsured patients build or improve their credit scores. This can be advantageous when applying for loans, credit cards, a jop, or even housing in the future.

Can be used in conjunction with Medicaid

- For those who are already on Medicaid or Medicare CareCredit can be used to cover the expenses that Medicaid or thje government does not. This can include copayments, deductibles, and services not covered by Medicaid, ensuring that patients receive comprehensive healthcare without breaking the bank.
CareCredit offers a solution to this problem by providing a low cost, credit card type financing option for medical expenses. Unlike traditional credit cards, CareCredit is specifically designed to be used for medical expenses, making it a more accessible option for those with less than perfect credit. The financing will also help pay for dental care, medications, behavioral health / therapy and really any health care related expenses.
How is my Visa or MasterCard different from CareCredit?
Unlike your MasterCard or Visa credit card, the CareCredit card is exclusive for healthcare services, medical bills, prescriptions, dental care, teeth implants and other health care debt. Another key benefit is that you also can get No Interest financing every time you use it. As the 0% interest rate may last for a year or more - depending g on the borrowers credit and other factors.
You can therefore save your consumer credit cards for paying household bill or other expenses. Or if you need more time to pay for your medical bills or procedure, you can take advantage of the CareCredit extended payment plans that offer low, fixed interest rates.
Can you pay for a portion of the medical treatment and use the CareCredit for the remainder?
Absolutely. You can pay a portion and then use CareCredit to help pay for any treatment balances that range from from $1 to over $25,000. So patients can combine different types of credit cards, financing, discounts, or payment methods in order to get the treatment they need.
In addition, there are absolutely zero prepayment penalties with CareCredit. In fact, it is recommend to do this to ensure that no financing charges are incurred. Regardless of how a patient decides to pay for any needed health or dental procedure, always be sure to minimize the interest costs and be sure to explore all payment plans, debt or loan options that may be available to you.
Applying for CareCredit for health care needs
Applying for CareCredit from Synchrony is a relatively simple process. Potential applicants can either apply online or call the toll-free number to receive a paper application. To qualify, applicants must be at least 18 years of age and provide basic personal information, including their Social Security number, employment details, and annual income. Also locate places to use the CareCredit card.
Emergency approval is typically granted within minutes, and once approved, patients can immediately use their CareCredit account to pay for medical services. Note that CareCredit can also help people with no social security number (SSN), such as immigrants. The application number is (800) 677-0718.
Related Content From Needhelppayingbills.com