Financial assistance programs in Illinois.
Locate financial help as well as free items in all Illinois cities and counties that are listed below, including Chicago, Cook County and Rockford. Find government assistance programs and charities that help with paying utility bills, rent, groceries or transportation costs. There is also free stuff for low-income families in IL such as gas cards, home repair programs or clothes. Get financial help with bills near you in IL.
There are non-profit and government organizations in Illinois that offer free grant money, medical care as well as other social services. Locate free food, bus passes or cars to help low-income families in IL get to work. There are also daycare programs in IL, car or auto loan payment help as well as low-income housing units for qualified families as well as other social services.
Find grant money for bills, financial help in IL as well as free stuff for the low-income
Rental Housing Support Program - The state of Illinois Rental Housing Support program is run locally, in each county, by housing authorities. It is the largest state run housing assistance program. The state, working with non-profits, helps thousands of people pay their rental costs each month. The RHS program will provide grants, low cost apartments and income subsidized homes for thousands of low income Illinois residents. Call IHDA at (312) 836-5200.
Temporary Assistance for Needy Families (TANF) - This cash assistance program helps both families, single moms or dads and pregnant women in IL with one or more dependent children. It provides them with temporary cash, free money and also other benefits. The financial aid from TANF can help pay for shelter, rent, food, utilities, heating bills, auto repairs and expenses other than medical. Phone - (800) 843-6154
Emergency Rent Assistance and Low Income Housing - The state of Illinois runs two other emergency rental and government housing programs. Receive funds to pay for expenses ranging from security deposits, first months rent, and back, unpaid housing expenses. There are also income subsidized homes and no wait list apartments. More on Illinois rent assistance.
Illinois Mortgage Help and Foreclosure Assistance
Illinois has various programs that will help families with keeping their mortgage current. The state and local counties offer resources, most of which are free, that can help those in need avoid foreclosure. Find mortgage help in Illinois.
Free Legal Aid in Illinois - Non-profit law firms and lawyers throughout the state offer Illinois residents free legal assistance, consultations and related services. Tenants can get help stopping an eviction, or get an attorneys to assist with disability applications. Receive advice and representation on a number of matters. Click here to read more on free legal aid in Illinois..
Disability Programs and Benefits - A number of resources are available in Illinois for those that are disabled, their families, and caregivers. Receive information on applying for immediate financial assistance, free government grants, income based housing, home care, medications, and much more. More on Illinois disability benefit programs.
General Assistance (GA) - This government assistance program provides families and people with emergency funds, cash grants and also limited medical care to help take care of themselves. It is available in each town in Illinois. This is offered to individuals if they do not qualify for other cash programs administered by the Department of Human Services (DHS). If a person has children and the family is not eligible for the Temporary Assistance for Needy Families (TANF) aid, the family might qualify for GA Family and Children Assistance (GA-FCA). Contact your local town or city.
Food Stamp Program - The Food Stamp Program/SNAP will help lower income people, single moms and families in Illinois buy the food they need for good health. Households are given a free EBT card to shop and pay for groceries. Many households that have a low income can get food stamp benefits and vouchers from the state. Dial 1-800-843-6154
Illinois Homeless Prevention Assistance - Programs funded by the Continuum of Care can help those facing eviction or that are currently homeless. Funds can help pay for rent, coordinate transitional housing, help with security deposits and provide assistance on locating permanent low income or emergency government housing. Click here homeless prevention in Illinois.
Utility and Gas Company Programs - Emergency and financial assistance programs are offered directly by your energy company. Low income customers and seniors can qualify for payment plans, emergency funds, discounts, grants to pay a utility deposit and free energy conservation measures. More on Illinois energy bill assistance programs.
Resources Seniors and Older Adults in Illinois - People over 55 years of age have access to a number of assistance programs and benefits that focus on older individuals. The Illinois Department on Aging works with offices around the state to provide medical care, food, medications, energy assistance, transportation and other support. More on senior care in Illinois.
Phone bill help - The government offers programs such as LifeLine and others to help low-income families and senior citizens. There is everything from a free cell phone to help to pay landline or cell phone bills as well as low-cost internet. The goal is to ensure all families or single people have some form of wireless device, and more on phone bill help in Illinois.
Crisis Assistance - Organizations such as the Illinois Department of Human Services and other social service agencies offer a number of programs that give free money. Or get personal stuff or cash assistance programs. Find help with medical bills, housing, food, ride to the doctor, and job training. Read more Illinois public assistance.
Free Child Care Assistance Program - The Illinois Child Care Government Assistance Program will help provide working and fully employed individuals, as well as low-income families, with access to affordable yet high quality child care. The program also provides free grants as well as vouchers to help pay monthly child care bills. Call 1-800-843-6154. More on Illinois free child care assistance programs.
Housing and Rent Assistance Vouchers - Very low income families can get a portion of their rent paid from federal government HUD housing vouchers. There is also assistance available for senior citizens as well as the disabled in Illinois, provided they meet income and other guidelines. Read more on section 8 Illinois.
Free Food Banks - Hundreds of food banks as well as free drive through pantries throughout Illinois provide free or low cost food, groceries, and other non-financial support to residents of the state. These are in addition to programs offered in your county below. Learn more free food pantries in Illinois.
Crisis Assistance - If you are faced with unexpected bills or need help paying for basic needs like food, rent, and more, the Salvation Army operates across Illinois. They offer financial assistance and advice. Or get free vouchers for furniture or gas, hotel rooms and clothes. Read more Salvation Army financial assistance in Illinois.
Emergency Cash in Illinois - Families, individuals, single moms and others in the state can get money in a crisis. Employment, technology, gig economy, and other tools are available. Find emergency cash for paying bills.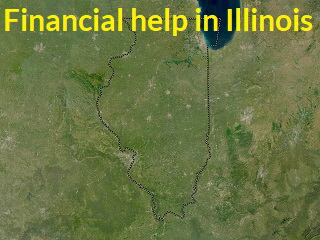 Illinois Low Income Home Energy Assistance Program (LIHEAP) - The Low Income Home Energy Assistance Program (LIHEAP) was designed to help eligible low-income households in Illinois pay for their utility bills. The program is often combined with free weatherization measures as well.
Utility, heating, or cooling bill assistance

is provided by not-for-profit agencies or local community action agencies located throughout the state. The government funded LIHEAP program will provide a one-time benefit to households that need it, with an emergency component offered too. The amount of the benefit provided is determined by many factors, including fuel type, income, household size, and even geographic location Continue with LIHEAP in Illinois.
Get free or affordable medical, dental and health insurance in Illinois
Illinois Cares Rx Basic and Plus - This is a state-sponsored prescription plan for senior citizens. The program, and free prescription discount card, helps pay for medicines and drugs that Medicare Part D does not pay for. Dial 1-800-226-0768, or find other sources of senior citizen prescription drugs.
All Kids - FamilyCare - Low cost, very affordable healthcare coverage for caregivers or parents who live with children under age 18. There are small co-pays and there is a low cost monthly premium. Free dental is for kids too, including teeth extractions. It is the Illinois version of CHIP. Dial 1-877-204-1012
Medicaid in Illinois - Medicaid is government health insurance for Illinois low-income families, patients with no money and the disabled. The government program can help families pay for medical bills, no matter what the family income is. Get free health insurance plans. Telephone - 1-800-843-6154
Programs to Stop Medical Debt Collectors - Regulations and laws exist in Illinois that will stop both aggressive and illegal collection efforts from medical debt collectors as well as hospitals. Fair pricing and coverage laws also ensure patients have access to free health care, affordable dentists or doctors and competitive prices. Continue with medical debt collection laws in Illinois.
Medical Assistance - If you and your family are eligible for medical assistance from Medicaid through the state of Illinois, you will have two basic decisions to make on how your health care will be delivered. The available options for medical bill assistance are below. Or find other sources of free health care services.
Fee-For-Service -

If you decide on the regular fee-for-service medical aid program, you need to find your own clinic or doctor that will accept Medicaid clients.

Managed Care -

If you choose the Illinois managed care plan to help with paying medical bills, you and your family will receive the standard, basic health care through a primary care doctor that is associated with an accepted managed care plan.
Illinois Community Medical Clinics and Health Care Centers - Families and individuals who are either low income, or who have no or limited health insurance may be able to get help from community clinics. These centers offer numerous medical and free dental services to Illinois residents. More on Illinois free community clinics.
The low income, people with no or limited health insurance, or patients facing a hardship may be able to qualify for low priced or free dental care from clinics in the state. Dentists give free care, as well as emergency help, to adults, kids and people with no money. More on free dental clinics in Illinois.
Residents who do not have health insurance or whose coverage is limited can apply for free government medical care or assistance from non-profits. Screenings, medications, immunizations, and charity care is available in the state. Read Illinois uninsured medical care.
Debt relief programs, free job placement, and budgeting help in Illinois
Debt Consolidation, Loan Repayment, and/or Credit Counseling - Homeowners, borrowers and individuals in debt can get access to services from not-for profit credit counseling agencies. Many assistance programs are offered at reduced prices or for free, including free credit repair. Get a list of free credit counseling agencies in Illinois.
Government Grants, Employment Opportunities, and Self-sufficiency - Every town and county in Illinois is supported by a community action agency. The non-profit organizations can provide help for finding a job, assist with applying for emergency government grants, and offer other case management type services. The programs can provide free laptop computers in IL, a ride to work, or free cars to the unemployed or single moms. Continue with community action agencies in Illinois.
Illinois Job Search and Career Building Assistance - Worknet Centers can provide the unemployed and anyone looking to gain a new skill with support and career counseling. Government assistance programs range from job search assistance to free desktop or laptop computers to help in developing and acquiring new employment skills. Read Illinois job training.
Free Money Saving Tips in Illinois - A great way to save money, build wealth, and get help is saving money. There are countless resources, both non-profit and charity, to meet this goal. Locate apps, free credit counseling workshops and other support in IL. Find how to save money.
Assistance From Illinois Cities and Counties
Select a city or county in Illinois below for more resources. As there are government programs that offer financial help, charities that provide free stuff and other social services in each local area.
Adams County (Quincy)
Alexander County (Cairo)
Bond County (Greenville)
Boone County (Belvidere)
Brown County (Mount Sterling)
Bureau County (Princeton)
Calhoun County (Hardin)
Carroll County (Mount Carroll)
Clinton County (Carlyle)
Coles County (Charleston)
De Kalb County (Sycamore)
DuPage County (Wheaton)
Edwards County (Albion)
Franklin County (Benton)
Gallatin County (Shawneetown)
Greene County (Carrollton)
Grundy County (Morris)
Hamilton County (McLeansboro)
Hardin County (Elizabethtown)
Henry County (Cambridge)
Iroquois County (Watseka)
Jackson County (Murphysboro)
Jefferson County (Mount Vernon)
Jersey County (Jerseyville)
Johnson County (Vienna)
Kane County (Geneva)
Lake County (Waukegan)
La Salle County (Ottawa)
Lee County (Dixon)
Macon County (Decatur)
Macoupin County (Carlinville)
Madison County (Edwardsville)
Marion County (Salem)
Marshall County (Lacon)
Massac County (Metropolis)
McHenry County (Woodstock)
McLean County (Bloomington)
Morgan County (Jacksonville)
Ogle County (Oregon)
Pike County (Pittsfield)
Pope County (Golconda)
Pulaski County (Mound City)
Saline County (Harrisburg)
Sangamon County (Springfield)
Schuyler County (Rushville)
St. Clair County (Belleville)
Stephenson County (Freeport)
Tazewell County (Pekin)
Union County (Jonesboro)
Vermilion County (Danville)
Wabash County (Mount Carmel)
Warren County (Monmouth)
Washington County (Nashville)
Wayne County (Fairfield)
White County (Carmi)
Whiteside County (Morrison)
Will County (Joliet)
Williamson County (Marion)
Winnebago County (Rockford)
Related Content From Needhelppayingbills.com