Assistance programs Will County Illinois
Find where to apply at for financial help from charities, churches, and government agencies in Joliet and Will County. Get grants money or loans for paying utility or electric bills, rent or mortgage payments, and funds for paying other bills. The financial assistance is combined with free stuff, ranging from medical care from clinics to food from pantries. Locate financial help near you in Will County IL.
There are even resources for free clothes, Christmas presents for kids, and school supply programs in the region. Find the main resources below. including government aid, in Will County Illinois that help with bills along with employment programs, debt reduction services, grants to fix or repair a car and more.
Financial assistance and grant programs from Community Action
Low income families and/or struggling people may be able to find help from local non-profits or the community action agency. Various social services, financial aid, and referrals are given. The goal of the Will County Center for Community Concerns is to assist both low and moderate income families as well as people in a financial hardship in Joliet IL and Will County.
They help them obtain the resources they need to make it through short term emergencies, and at the same time provide them with resources that are needed to prepare themselves for self-sufficiency over the long term. Some of the programs offered are below. They also focus on employment, transportation and even cars or repairs needed for a job. More on grants to fix a car.
Grants and Funds for crises and Emergency Services -

The Emergency Services Program will provide assistance and possibly grants to families or individuals who are facing an imminent eviction. They can also give financial help to people who are threatened to have their water, utility, sewer, or heating service disconnected.


Illinois Low Income Home Energy Assistance Program (LIHEAP) -

This federal government funded program was created to assist Will County and Joliet low and moderate income households with paying for winter heating and summer cooling bills.
The LIHEAP program will provide a one-time cash grant/benefit to qualified households, and the funds are to be used for paying energy bills. The amount of the grant provided to an applicant is determined by household income and the size of the family. An shutoff notice or overdue energy bill is not required to apply and renters or homeowners can apply for LIHEAP in Will County. This emergency utility assistance provided to qualified applicants may be either paid as:

A one-time cash grant that is paid directly to your gas and/or electric company.

In addition, the Illinois LIHEAP program also includes an Emergency Furnace Component that will either replace or repair non-operational home heating systems. Or get free window replacement services in Will County. More on LIHEAP applications in IL.
Illinois Home Weatherization Assistance Program -

Reduce your heating bills and receive free upgrades. Low income Will County residents will reduce their energy bills, save fuel and also conserve energy while increasing the comfort of their homes. The Program evaluates and will upgrade a homeowners heating system, insulation of exterior walls, floors, and attic areas, caulking, weather-stripping, and more.


Free Mortgage Relief and Housing Counseling -

The community action agency will provide counseling and training to low-income renters and home owners. Some of the resources offered to them include Mortgage Default help, landlord/tenant relations, budgeting, family and life skills. There is also free debt counseling, foreclosure prevention services, Pre-Purchase, Homebuyers Education, and HECM (Reverse Mortgage), and Post-Purchase support. Find other Illinois foreclosure programs.


CSBG Scholarship Program -

If you need help for school or paying for an education, the CSBG Scholarship Program awards grants and scholarships each year to low-income and disadvantaged students of high academic potential or achievement. Students who apply need to be enrolled or enrolling in an institute of higher education somewhere within the state of Illinois.


Prescription Drug Assistance -

Get free medication or save on your prescriptions from the Prescription Drug Assistance Program. People can get vouchers for prescribed medications, and they can be used by qualified clients at participating pharmacies for free or discounted medications. Call them find more information on medications.


Employment Support and Help finding a job -

The Employment Support Program will assist Joliet and Will County households with either obtaining or maintaining employment. Get help with such free items as transportation, daycare, work supplies or clothing or gas for a job. Or look here for gas assistance near you.
The agency, also known as WCCCC can provide other support as well to the low income. One focus is on addressing housing needs and preventing homelessness in Joliet and nearby towns, so to this end funds for paying rent, transitional housing services, and help for security deposits is available. Since funding is limited, in some cases a loan is issued for those expenses. Also get referrals to government subsidies, such as HUD section 8 vouchers. The Will County Center for Community Concerns is located at 304 N. Scott Street, Joliet, IL 60432. Phone 815.722.0722. Click more details on Will County Center for Community Concerns assistance programs.
Financial help for rent, transportation, food and utility bills in Will County
Will County and Joliet Illinois Salvation Army is a faith based charity. They are a great place to call for referrals and case management type services. Some of the other programs they administer include a free food pantry and soup kitchen. Or get free baby formula, Boost or Ensure for seniors and nutritional support.
The

financial assistance

they offer is focused helping with paying Illinois American Water bills as well as energy and heating expenses from Nicor. There are also emergency car repairs, funds to help pay rent, shelters and other housing resources. Interested parties should call in advance to learn what paperwork and support is needed for any programs.
Social workers from the Salvation Army also offer low income families advice, case management, and information on job training and employment programs. The goal of the agency is to help a family facing poverty pay their immediate bills but even more importantly get back on their feet. Other programs offered include free Christmas assistance or toys, winter coats, hot meals, and school items or backpacks for kids. The address is 300 3rd Ave, Joliet, IL 60433. Call the firm at(815) 726-4834 or (815) 727-5123 for more information Salvation Army Will County.
Catholic Charities runs a service known as Daybreak Center. It is fairly extensive, and both offers its own financial assistance and resources, and they are a great place to call for referrals. Some of the programs offered include.
Emergency Services/Homelessness Prevention Program

-This provide financial assistance for paying rent and/or mortgage. They may be able to help people and provide additional ways to get mortgage assistance.

Free food

- Get access to groceries and food vouchers.
A homeless shelter and referrals to free motel vouchers in Will County.

Clothing, household items

, furniture, samples and other free personal or household stuff for low-income families. Boxes or a sample is offered too, and locate places to get free samples.

Health assistance

, in particular funds for prescriptions and information on medical programs.
Daybreak Center

is a service. The locations help the homeless and single mom in Will County, provides emergency assistance and cash grants that can be used for food, heating bills, rent expenses, etc. and more.
The aid is available in order to prevent homelessness and utility service disconnections, and it also offers Transitional Housing for single mothers and parents in the community A number of other services are offered in Will County Illinois. Funding is limited, but call them at 815-774-4663. Read more Catholic Charities assistance programs.
Federal government grants are available in Will County as a form of homeless prevention. This includes everything from eviction or foreclosure prevention to rehousing the currently homeless. Get legal aid, tenant-landlord mediation, and help moving as well as pay for deposits. There are also transitional housing programs, vouchers for motels or hotels and so much more. Continue with homeless prevention in Will County.
Will County Community Development

- Helps administer various grant programs. One is the government Homelessness Prevention and Rapid Re-Housing Program (HPRP). This can provide financial assistance to people to help them stay in their homes and prevent an eviction. Also get help for security deposits, lawyers for tenants and other housing expenses. Phone (815) 774-7894 or 815-774-7890, or look here for free legal aid for eviction near me.
There are other agencies for security deposit as well as emergency rent assistance. In addition to the resources above, several other options exist for housing and rent help. Some agencies may have government funds from the emergency solutions grant program, or ESG. Other services for tenants includes eviction prevention help, no interest loans, and one time financial aid. Read more Will County rent assistance.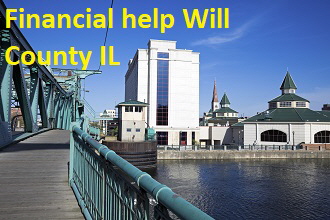 Housing for women and disabled - The non-profit Lambs Fold offers many housing resources. The focus is on victims of domestic violence, women, single parents, and individuals with a disability. Some of the programs are as follows.
Transitional apartments

, and help in locating a permanent home is available. They also help people access section 8 housing or homes, even luxury units. Look here for details on luxury section 8 apartments.
Trinity Services is the agency that offers

solutions for the disabled

, including referrals to rental programs and grants in Will County.

Job training, education, and case management

, services will help women gain stability and employment. A focus is on addressing the cause of a hardship.
A major focus is on housing. Other support is provided by Lambs Fold. Click more information Lambs Fold housing programs.
MorningStar Mission Ministries offers housing assistance as well as food programs. There is free emergency shelter, transitional housing, and food programs for low-income families. The charity is at 350 E Washington St, Joliet, IL 60433, or call (815) 722-5780
Community Service Council of Northern Will County is for families, the homeless or single people in that area. Get mortgage relief from a HUD counselor. Or learn about home buying services or a financial literacy program, including budgeting and and bill tracking apps. The address is 440 Quadrangle Drive, Bolingbrook, IL 60440. Phone: (815) 886-5000, or find the best bill tracker app.
Christmas, Thanksgiving, and Free Holiday help - Families can apply for assistance from a number of charities. There are programs for the elderly, immigrants, single moms, and unemployed among others. Clients can be given free Christmas toys to present to their kid or a box of food with meats, vegetables and more to prepare a holiday meal. Continue with free holiday help in Will County.
Department of Human Services in Will County administers benefits for low income residents, the disabled, and working poor. Any type of grant or cash assistance available will be contingent on the client attending job training or self-sufficiency services.
Some of what DHS will provide includes vouchers for groceries from SNAP food stamps, emergency rent rent as part of EFSP program, loans or cash from temporary assistance for needy families or GA, and low cost medical care. There is free insurance from Medicaid, TANF cash grants and other benefits. Many other resources are available as well, and find public aid in Will County.
Referrals from Crisis Line - A center operates in Will County and the specialists direct the less fortunate to a number of programs for their needs. The service has information on everything from emergency financial aid to applications to public benefits, such as food stamps or disability applications. So a wide range of services are administered, and read Will County Crisis Line.
Will County free household goods, including clothes and furniture, are offered based on donation levels. Some of the agencies ramp up during the fall or holiday months to also offer assistance in acquiring school supplies or they run Adopt a Family Christmas programs. There are free clothing closets, furniture banks and other stuff for low income households. Find free clothes, school supplies and furniture household goods in Will County.
In addition to the clothing closets and furniture banks above, many Will County charities give out free school supplies. Students from elementary, kindergarten, middle and high school age (K-12) can get what they need. Whether writing material, backpacks, laptops or chrome books, or clothes, it can be offered. Continue with free school supplies and uniforms in Will County.
Child care expense assistance - A local non-profit, Child Care Resource and Referral, helps Will County Illinois families and individuals in locating childcare. They also offer free day care from the government. It will also help eligible families with paying for their childcare bills, provides consultations to childcare providers regarding early childhood issues, and the organization also offers professional opportunities for childcare providers. Dial (815) 741-1163. Or the address is 801 N Larkin Ave Ste 202, Joliet, IL 60435. More on day care assistance in Illinois.
Senior programs - The Peter Claver Center which is headquartered in Joliet, serves low income people who are 50 years or older. It provides them with educational opportunities, humanitarian assistance, recreational services, and job training and placement. Or get free money for seniors in Will County. The address is 172 S Chicago St, Joliet, IL 60436, or dial (815) 722-6361
In a last resort, borrowing money can be an option. Regardless of credit, there are private lenders, online payday type loan companies, banks, and other organizations that may offer emergency funds. The interest rate will vary, nut the cash can be beneficial in a crisis. Read more on emergency payday loans.
Free food programs
There are dozens of pantries in the county as well as national non-profits such as Feeding America that support families from Joliet IL and other towns. Other support may be meals for children that are out of school and free Christmas food and gifts. The locations will offer everything from groceries to clothing and USDA food stamp applications or free pet food. Locate a free pet food pantry near you.
Peace Community Church is at 21300 South La Grange Road, Frankfort, IL 60423. Volunteers offer an emergency box of food to clients. There are free holiday food boxes, Thanksgiving dinners, and meals for the homeless. Call 815-469-2868.
Catholic Charities, which can be reached at (815) 774-4663, runs a food bank and clothing closet in Joliet Illinois. Immigrants, women facing DV and others will get free groceries or a meal.
Levy Center - Meals on Wheels and healthy food is for senior citizens and their spouses. Or applicants can learn about home care programs. Dial (630) 759-3411. The address is 251 Canterbury Ln, Bolingbrook, IL 60440.
St. John The Baptist operates a soup kitchen and food pantry. For information, call (815) 727-4788.
If those locations can't help, low to moderate income families have other free food banks and soup kitchens for options. Some of what is available in the county includes free soup kitchens, groceries from pantries as well as applications to government aid including food stamps. Find emergency free food pantries in Will County.
Free medical care in Will County
If you are low to moderate income, do not have health insurance or if your coverage is limited, the Will County Community Health Center offers high quality, free or low priced preventive and primary health care services to the medically under served individuals and families of Will County. Get free women's health care, teeth cleanings or extractions, physicals, eye exams and more. Call (815) 727-8670, or the location is 1106 Neal Ave, Joliet, IL 60433.
Aunt Martha's Youth Service Center is a private, not-for-profit organization that provides comprehensive health care, medications, and social services for family members of all ages. Medical care is offered to all who qualify, regardless of age. There is free medical and dental for low-income families and people on Medicaid in Will County. Call (815) 768-8750, or the location is 409 W Jefferson St, Joliet, IL 60435. Or look here for free stuff for medicaid recipients.
Last, but not least, the Will-Grundy Medical Clinic (dial (815) 726-3377) can also help the underinsured and others on a limited income. It provides comprehensive dental and medical care to the uninsured residents who meet income guidelines and have no other access to health care or the ability to pay for it. offers both primary and preventive health care services to the medically under served, unemployed and low income patients of Will County and Joliet Illinois regardless of age, sex, color or their ability to pay for the medical bills. They also help with dental needs
Free lawyers in Joliet IL and legal aid
Prairie State Legal Services/Will County Legal Assistance has attorneys and other professionals who can offer free help If you can't afford an attorney, non-profit law firms exist in the area that may be able to provide you with free advice as well as court representation. There is a hotline as well in Will County for phone calls. It is a non-profit, pro-bono service. Or look here for a free lawyer consultation over the phone.
The programs are provided without charge to help low to moderate -income persons, the elderly, and seniors resolve important civic legal problems such as stopping family abuse, preventing foreclosures and evictions as well as preserving housing and similar urgent needs. Phone (815) 965-2134.
Related Content From Needhelppayingbills.com