Get financial help while on FMLA – Family Leave.
There are financial assistance programs that can help people on FMLA pay their bills, housing costs, rent, medical expenses and other costs. The fact is when on Family and Medical Leave (which can last several weeks if not longer) the reduction in income can be very challenging. Get assistance from grants, loans as well as government or non-profit organizations. Find how to get paid and financial help while on FMLA below.
Whether the FMLA is from a pregnancy, short term disability, parental leave, an injury, or some other reason, the loss of income can present many families with a financial challenge. Find a list of emergency assistance programs, including cash aid, grants for women on maternity leave or anyone on short term disability as well as loans for people on FMLA.
It can be a little easier to get financial help while on FMLA. The reason being is that the leave will be short term in nature. Organizations, including charities, non-profits, community action or government agencies and other groups are more likely to offer help if the applicant. Many employers also offer financial help to employees on leave, including pregnancy or a disability or work injury.
In addition, it may be possible to borrow money at a low interest rate for paying bills. This can be an effective option provided the client is 100% guaranteed to go back to work so they can pay the emergency FMLA loan off. Below are details on how to get assistance with everything from rent to mortgage payments, utilities, and other bills while on FMLA.
How to get paid from charities and government programs while on FMLA
Since FMLA is intended as a short term issue (up to 12 weeks) a charity may be more likely to offer support while on leave. As many charities as well as non-profits can help fill the gap due to a short term reduction in income. This is most applicable when a new childbirth has occurred or a women (or male) needs to leave work or unpaid leave or maybe the applicant was hurt at work so they need to go onto leave.
However if the issue may term into something that is longer term (such as a full fledge disability case), than it is less likely to get help. In those cases either the federal government grant programs SSI or SSDI may be the best option.
There are hundreds of local as well as national charities to apply at. They range from the Salvation Army to St. Vincent de Paul, the United Way, local churches, and many others. Some of the resources that might be must effective while on FMLA include.
Loans for paying bills while on FMLA
Since the vast majority of FMLA cases (if not all) are for short term, a loan may be an option for paying bills. The cash can help with various costs, ranging from rent to a mortgage payment, credit card or medical bill or something else. Find some of the ways to borrow money while on FMLA, regardless of the borrower's credit score.
Interest free loans

– This includes everything from loans from non-profits to short term advances on a credit card. Generally if the borrower has decent credit, and needs very short term cash for a few bills, this may be an option. Find sources of loans that are interest free.


FMLA borrowers with poor credit scores

– Anyone who is on family leave (FMLA), and who has trouble borrowing money, can look into loans for borrowers with poor credit. They tend to offered at a higher interest rate, but the cash can still help pay short term expenses.


Short term, emergency disability loans

– These too can be used by anyone on Family Leave – FMLA. The money, which often comes at an affordable interest rate, is effective for paying bills in a crisis. Learn more on

short term disability loans

.
Financial assistance for people on FMLA Medical Leave
As the list above indicates, anyone on FMLA has many different options available to them to get financial help. Whether it is a new mom or dad out on leave after having a new baby, or someone who was injured at work, FMLA is a safety net program to ensure the family still has some money coming in the door.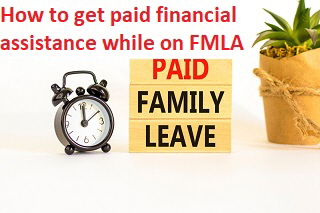 Combine the assistance from charities, companies or non-profits with government benefit, anyone going on FMLA can get emergency or long term help. If going on unpaid leave from a job or workplace, apply for financial aid and programs listed above to keep up with paying your bills.
Related Content From Needhelppayingbills.com