Eviction prevention, rehousing and homeless assistance in Illinois.
Low income families facing eviction as well as the homeless in Illinois will be able to get assistance from non-profits as well as government programs. Homeless prevention services are offered by IL agencies near you that participate in the Continuum of Care as well as other resources, such as ESG grants. Get help stopping an eviction, free landlord-tenant medication services or legal aid, grants for rent or security deposits and more. Find how to prevent an eviction near you in IL and rapid rehousing.
Free federal government grants from HUD, or the Housing and Urban Development, are used to provide various housing programs in the state of Illinois, which are listed below by county and city. Hardship funds are also from the United Way and other non-profits, including for veterans, single moms or disabled people. The main objective of this particular program is stop future homelessness and help those individuals that currently need a home or apartment to live in.
In order to meet that objective, organizations listed below coordinate resources for those that need them. They may have financial help (for rent arrears or security deposits), short term housing (emergency shelters and transitional units) as well as referrals to permanent solutions. All throughout this process, the Continuum of Care (CoC) will ensure that case management and self-sufficiency is provided to qualified individuals.
Grants and financial help to stop homelessness or evictions in IL
Illinois families or people with no money facing imminent eviction may be able to get help. Priority is for those that would be most at risk if they were to be homeless. If a tenant has an eviction letter from their landlord, emergency help is offered. Some of what is offered, but will vary by location, includes the following.
It is always best to seek help as soon as you start to struggle. Do not wait until an eviction notice has been sent by your landlord, as by then it is usually too late. While emergency rent assistance is available, it does take time to apply and get approved. Not to mention it will take time for the funds to be issued to the household. So seek assistance early, before an eviction is imminent.
Assistance for the homeless in Illinois is also available. Grants from Continuum of Care are also focused on getting people into both short term, and ideally long term, stable housing in Illinois. So different services are offered to make this happen.
Permanent housing assistance as well as referrals
For those that are homeless, placed into a new home, or faced with eviction, the various organizations in Illinois work with clients on long term housing self-sufficiency. Different workshops, case management sessions, and other support is administered. Topics touched upon will include credit counseling, job placement, budgeting, and medical care or nutrition. All of this, and much more, is a key component of Continuum of Care as it is intended to end the cycle of poverty or homelessness, including for single moms. Look into single mom apartments for free near you.
If for some reason you are not qualified or if the non-profit does not have the resources available to meet your needs, then referrals may be offered. They centers will have linkage to other local charities, churches, government agencies or non-profits in Illinois. One of the key partners will be law firms, as being able to access affordable (or free) legal advice and support can go a long way to averting an eviction. So pro-bono law firms are often a key part of the Continuum of Care services as well as homeless prevention and rehousing.
The agencies that offer homeless prevention in Illinois also are aware of other Housing and Urban Development programs. The case managers can refer clients to specialty resources, and there are many for the disabled as well as low income senior citizens. All of these can both stop an eviction or rehouse the individual. Find a listing of HUD programs.
Illinois local eviction prevention programs
Many other charities as well as Department of Human Service Organizations also operate their own eviction and rehousing programs near you. These will be for local families only. Everything from security deposit help to motel vouchers or money for paying utilities or rent may be provided. Find a county below, or scroll down for more resources..
Homeless prevention and rehousing agencies in Illinois
Central Illinois HUD Continuum of Care - Path Crisis Center
201 E. Grove , Bloomington, IL 61701. Call (309) 828-1022 for information
Counties are DeWitt, Ford, Grundy, Iroquois, Kankakee, Kendall, Livingston, Logan, Mason, Menard, McLean, Piatt, and Vermilion.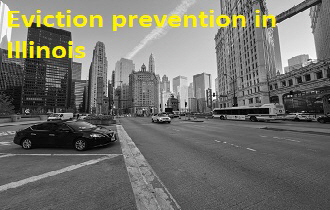 Hope Haven - Rapid Rehousing - City of DeKalb non-profits that offer Continuum of Care
1145 Rushmoore Dr, DeKalb, IL 60115
Phone: (815) 758-5765 or (815) 758-3166
They help low-income families that have an eviction notice, provide permanent housing placement, and hardship grants.
City of Evanston Continuum of Care
Address is 2100 Ridge, Evanston, IL 60201. Main phone - (847) 866-2955 or (847) 475-7070
City of Chicago Continuum of Care
651 W. Washington Blvd., Chicago, IL 60661. Dial 312-379-0301 or (312) 573-8819
Supports the greater metropolitan area, and families that need a more affordable home or apartment to live in, or that are homeless, can be assisted with first months rent or the security deposit, as funding allows. They help single moms in Cook County that are facing eviction, people facing housing discrimination and more.
Continuum of Care for Kane County
421 N County Farm Rd, Wheaton, IL 60187. Call (630) 407-6500 or for information, call (630) 926-0598
Cook County and Chicago Continuum of Care
Housing Forward - 1851 S 9th Ave, Maywood, IL 60153. Main Phone: (708) 338-1724
721 North LaSalle Street, Chicago, Illinois 60654. Call (312) 655-7700
The non-profits offer solutions to low income families that are behind on their rent or even delinquent on a mortgage payment. Assistance is available to help the homeless, including funds for security deposits. Other resources include transitional housing, grants, and advice for tenants with a pay or quit / eviction notice.
Decatur and Macon County Continuum of Care - Homeward Bound
788 E. Clay Street, Decatur, IL 62521. Dial (217) 362-7700 for intake.
Du Page County Continuum of Care - The Department of Community Services of Du Page County
421 N. County Farm Road, Wheaton, IL 60187. Telephone number for information is 630 407-6500
Eviction prevention from Central IL Heartland Continuum of Care
Springfield Urban League, 100 North 11th Street, Springfield, IL 62703. Call 217-789-0830 or main phone (217) 525-6061
Catholic Charities - 120 S 11th St, Springfield, IL 62703, call (217) 523-4551
Counties are Sangamon, Rosalind, and Bond. Some clients may be given a loan as a form of payment to stop an eviction, and other mediation services are also administered.
Homeless Action Council Continuum of Care - St. Clair
Office address is 19 Public Square, Belleville, IL 62220. Call (618) 277-6790
Joliet/Will County - The non-profit Will County Center for Community Concerns runs the service
2455 Glenwood Ave, Joliet, IL 60435. Call (815) 722-0722
Lake County Continuum of Care - Lake County Coalition for the Homeless
Primary location is 18 N County Street, Waukegan, IL 60085. Phone: 847-377-2000, 211 or dial Telephone: (847) 360-6352
Call the government agency for referrals to charities in Illinois. Agencies may have funds for either a utility or rental deposit, free motel vouchers for rehousing and other financial aid.
Madison County Continuum of Care - Madison County Community Development
130 Hillsboro Ave, Edwardsville, IL 62025. Phone - (618) 692-7040
There may be referrals to government grants and other support.
Mchenry County Continuum of Care
Main location is 101 North Virginia Street, Crystal Lake, IL 60014. Call 815-759-7133 or (815) 206-5805
Northwestern Illinois region - Project Now
Address is 418 19th Street, Rock Island, IL 61201. Phone - (309) 793-6391
Counties served are Knox, La Salle, Lee, Marshall, Mercer, Ogle, Putnam, Rock Island, Stark, Stephenson, and Whiteside.
Peoria Area - YWCA of Peoria
Main address is 4440 N Prospect Rd # A, Peoria Heights, IL 61616. Dial (309) 685-7655
Supports both Peoria and Fulton County.
Programs support single parents, children, and others.
Rockford/Winnebago/Boone County Continuum of Care
425 E. State, Rockford, IL 61104. Call 815-489-8500, (815) 987-5700 or (815) 967-6759
South-Central Illinois Continuum of Care agencies - CEFS Economic Opportunity. Corp.
1805 South Banker, Effingham, IL 62401. Telephone (217) 342-2193
Counties are Calhoun, Christian, Clark, Clay, Coles, Crawford, Cumberland, Douglas, Edgar, Effingham, Fayette, Greene, Jasper, Jersey, Macoupin, Montgomery, Moultrie, and Shelby. Rapid rehousing services can help families with placement into a new home, or assist with paying the security deposit on it.
Southern Illinois Continuum of Care
The Women's Center, 408 W. Freeman, Carbondale, IL 62901, (618) 529-2324 or (618) 549-4807
C.E.F.S. Economic Opportunity Corporation, 1805 South Banker St., Effingham, IL 62401-0928. Phone 217 342 2193
Counties - Alexander, Bond, Clinton, Edwards, Franklin, Gallatin, Hamilton, Hardin, Jackson, Jefferson, Johnson, Lawrence, Marion, Massac, Monroe, Perry, Pope, Pulaski, Randolph, Richland, Saline, Union, Wabash, Washington, Wayne, White, and Williamson
Urbana/Champaign County Continuum of Care - Department of Community Development Services
400 S Vine St #1, Urbana, IL 61801. Phone: (217) 384-2439 or call (217) 384-8263
Numerous services can prevent homelessness in the area. They also support the vulnerable, such as disabled and seniors, if they are faced with an eviction.
West Central Illinois region - Western Illinois Regional Council/CAA
Location is 133 W Jackson St, Macomb, IL 61455. Phone: (309) 837-2997 or dial (309) 837-3941
Assists residents in Adams, Brown, Cass, Hancock, Henderson, McDonough, Morgan, Pike, Schuyler, Scott, and Warren.
Other counties and residents should dial the Illinois Department of Human Services
300 Iles Park Place, Springfield, IL 62762. Main phone - 1-800-843-6154 or (217) 557-9108
The agency may have information on a number of programs to help those facing eviction. Examples could be the emergency solutions grants for paying back rent or an energy bill, free legal aid from pro-bono firms, and other cash assistance from the state of Illinois.
Related Content From Needhelppayingbills.com