How to apply for food stamps (SNAP) near you.
Find how to apply for, and get food stamp applications for your state, including online or over the phone. The federal government hunger prevention program, which is officially known as Supplemental Nutrition Assistance (SNAP), was created to help low income families, the unemployed and working poor buy the groceries that they need on a monthly basis. Get an application for SNAP food stamps and an EBT card near you.
SNAP food stamps is the primary USDA benefit program for preventing hunger of working poor families as well as many children. Each state offers the service, however note that many states call SNAP food stamps a different name. This can sometimes make it challenging when searching for food stamps near you, in your state. Find details on what each state calls SNAP, and that is listed below.
The state or county social service office near you will go over food stamps eligibility rules or income requirements. This information can be found online or provided by a state's customer service department. Many charity and non-profit organizations, such as Feeding America, also help low-income families apply for food stamps.
While the federal government provides the money to pay for food stamp benefit, the applications are taken by state governments or local agency offices that are near you, in your state or county. The telephone numbers to apply for food stamps in your state are below. Applications can also be processed online using on state social service websites. Each state offers an EBT card to qualified low income families who meet the income requirements for the application process.
How to qualify for SNAP food stamps
Tens of millions of people receive help the program every month. They include single mothers, senior citizens, the disabled, veterans, and families facing a short term hardship. Many other low income households can benefit from food stamps but do not realize they are eligible. While each state will have its own criteria for both determining who can apply and who is eligible, general requirements are as follows. Note states may also call food stamps a different name, as noted below.
SNAP food stamps are

available for both U.S. citizens

and are also eligible for certain non citizens.
Many of the people that benefit from the service are

senior citizens or the disabled

that are living on a fixed income, such as a pension or SSI.
The applicant needs to have a

limited income or be close to living in poverty

. Income requirements are based on state and number of people living in the household.
In order to use the EBT (Electronic Benefits Transfer) card that is issued as part of the SNAP food stamp program, they need to buy

food at a store and make the meals

at home.
In addition individuals and families who are currently living in

battered women's or homeless shelters

as well as drug/alcohol treatment centers
Many

unemployed people or those that have had a significant drop in income

are also eligible for food stamps and apply.
Certain other group living arrangements are also eligible to apply. The food stamp benefit program is meant to take care of families as well, so even if you are not eligible yourself, then you can still apply for your children, extended family members or other household members. So this means that someone caring for a sick person or a caregiver can also apply as they may be eligible for SNAP from an office near them.
After an applicants eligibility for food stamps and SNAP is determined, the assistance on an EBT card will start to be issued. The individuals approved food stamp benefits will be automatically deposited into an account each and every month on a fixed schedule. In order to use the account to, the program participant will be provided with a Electronic Benefits Transfer (EBT) card.
Families can also use their EBT card to shop at "non-traditional locations near them, such as Farmers Markets. This benefit will allow the recipient to receive even fresher items, such as fruits, vegetables, meats, seafood, and even seeds for plants to start their own garden. The income criteria for this SNAP benefit is the same as that for the underlying food stamp program, and find information on the Farmers Market SNAP program.
There are other general requirements to get food stamps as well as an EBT card. Families can also apply online for food stamps or in person to an office near them. Read more about, and find details on guidelines for food stamp eligibility.
If your local social service near you office denied the food stamp application, or they refuse to pay the amount that the family expected to receive, the applicant can appeal the decision. Every household, whether they are elderly, disabled, or living in poverty, can force the government to take a second look at their application to SNAP food stamps. There is agencies and law firms that help with the appeal process. Find details on appealing food stamp denials.
How much will you get in food stamps?
The amount of assistance provided from the EBT card will vary by state as well, however the national average is about $120 per month per person. For most adults who meet the conditions for the government food stamp program, who are between the ages of 18 and 50 and who do not have a child in the home, SNAP benefits are usually provided for at most 3 years (but that depends on state and other factors).
It is possible to double the amount of monthly food stamp benefits as well. As almost 30 states provide a service known as the Double Up Food Bucks Program. This allows low-income families to use their EBT card shop at stores, farmers markets and other locations to in effect "double" their buying power. Learn more on how to double your SNAP benefits.
Note the length of the program will vary too. The food stamp EBT card will help them buy the food they need in a 3-year period of time. However some states or applicants can receive assistance for as short as 1 month, and the phone number at your local office can provide details on this.
Most states encourage (and some require) low income people who are receiving benefits from food stamps to work. When this is done, the benefit period in which financial help is available can be extended to be a longer timeframe if the adult is either in a job or training program of if they work at least 20 hours a week. There can be exceptions made though, based on the food stamp applicants income, asset level, and their state.
Not all people who apply or get an extension necessarily need to work. Some individuals may not have to work at all to get benefits or an extension to their SNAP EBT card, such as those who are pregnant or have a disability. There may also be exceptions made for single mothers with a young child. A renewal application is typically sent from the government agency to a family getting SNAP before the end of each benefit period.
Emergency SNAP benefits
Many states provide so called emergency food stamp benefit applications. Some people from time to time face a crisis or some form of financial emergency, and they need to keep food and groceries on the table during this timeframe. The application process can be accelerated for a crisis situation occurs. An emergency or crisis situation may include.
An applicant with limited resources at their disposal, and a total household income that is less than their most recent monthly expenses for paying their monthly utility bill, and rent or mortgage payment.

If the individual or family has almost run out of money or is unemployed, the food stamp benefit (Supplemental Nutrition Assistance Program) may be able to help. For example, if the individuals has $100 or less, and an extremely limited monthly recurring income, food stamps can be offered to this low income applicant.

A family or individual that includes a seasonal or migrant farm worker who has $100 or less in resources and very little income can turn to SNAP for aid.
There is also emergency help available when food stamp benefits have been reduced or stopped. This can happen as state government's reduce their entitlement programs or when the enrollment qualifications change. Everything from charities to government organizations may offer alternatives, and find help when food stamps are cut or stopped.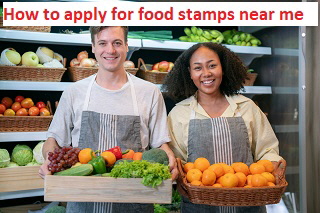 Families with a very low income, and that are facing an emergency or that have lost their job, can apply for the expedited, emergency food stamp service near them. It is available in most states, including in person, online or a free phone call. What will happen is the application will be reviewed within at most 7 days. At the end of that period of time the individual may be issued an EBT card. Learn more on the emergency food stamp program.
What can you buy with an EBT card?
The amount of food covered by SNAP is fairly extensive. It will never pay for prepared items though. USDA food stamp benefits can be used to buy almost any type of groceries for you and your family. The benefit will help pay for items from supermarkets, convenience stores, grocery stores, and places like Walmart or Target. Food stamps can pay for vitamins, Ensure, baby or infant formula, Similac, some personal hygiene supplies and other products, depending on state regulations.
Probably some of the only things to keep in mind that SNAP food stamp benefits cannot be used to buy are alcoholic beverages and tobacco, medicines and non-"typical" vitamins, hot foods, and nonfood item, such as soaps, household supplies, pet foods, cosmetics or paper products. An EBT card issued as part of food stamps will also not pay for grooming type items and supplies such as cosmetics or toothpaste. So recipients are not able to buy prepared food using the vouchers or debit card that they will be provided with. But find some surprising items that food stamps can pay for.
Some of the most recently bought items from the SNAP food stamp program include everyday food and groceries (that are not hot meals or "ready to eat"), baby formula, water, fresh produce, dairy products, eggs, weight loss products such as Nutrisystem, Dynatrim, Slim Fast, Cambridge Diet, and other standard grocery type items. Single mothers are dad can also use it to buy formula or other items for their baby. So all of these items are in effect free as they are covered by the Supplemental Nutrition Assistance Program.
Apply for SNAP food stamps online, over the phone or an office near you
If you want to learn more or apply for SNAP food stamps and get an EBT card, contact your local social service office near you, community action agency or a non-profit organization such as Feeding America in your state or county. Applications can also be completed online or over the phone at the numbers below. Find a listing of community action agencies and non-profits.
Or the main customer service numbers to apply for food stamps at by state, as well as the name of the program in your state, are as follows as well as a link to applications to food stamps as well as other benefits.
Alabama - Food Assistance program call 334-242-1310

Alaska - FSP call 907-465-3347

Arizona - Nutrition Assistance dial 1-800-352-8401

Arkansas - SNAP food stamps, dial 1-800-482-8988

California - CalFresh food stamp phone number is - 1-877-847-3663

Colorado - Food Assistance Program application number is 800-536-5298

Connecticut - 1-860-424-5030

Delaware - Food Supplement Program (FSP), dial 1-800-372-2022

District of Columbia - 202-671-4200

Florida - Food Assistance Program phone number to apply at is 1-866-762-2237

Georgia- SNAP food stamp intake number is 1-877-423-4746

Guam - 671-735-7245

Hawaii - 1-855-643-1643

Idaho - FSP program can be reached at 1-877-456-1233

Illinois - 1-800-843-6154
Indiana - FSP is the food stamp program. Call 1-877-768-5098

Iowa - Food Assistance Program, dial 1-877-347-5678

Kansas - Food Assistance Program includes SNAP. Call 1-888-369-4777

Kentucky - 1-800-372-2970

Louisiana - 1-888-524-3578

Maine - Food Supplement Program is the state's version of SNAP. Call 1-800-442-6003

Maryland - Food Supplement Program. For information, call 1-800-332-6347

Massachusetts - 1-800-249-2007

Michigan - Food Assistance Program (FAP) issues the SNAP EBT card. Call 1-855-275-6424

Minnesota - Food Support Program application number is 1-888-711-1151

Mississippi - 1-800-948-3050

Missouri - FSP customer service number is 1-855-373-4636

Montana - 1-800-332-2272

Nebraska - 1-800-383-4278

Nevada - 1-800-992-0900

New Hampshire - 1-800-852-3345

New Jersey - SNAP food stamps requirement and applications are at 1-800-792-9773

New Mexico - 1-800-843-8303

New York - 1-800-342-3009

North Carolina - Food & Nutrition Services includes food stamps, nutrition and other programs. Call 1-866-719-0141

North Dakota - 1-800-755-2716

Ohio - Food Assistance Program is at 1-866-244-0071

Oklahoma - 1-866-411-1877

Oregon - 1-800-723-3638

Pennsylvania - SNAP food stamps are at 1-800-692-7462

Puerto Rico - 877-991-0101

Rhode Island - 401-462-5300

South Carolina - 1-800-616-1309

South Dakota - 1-877-999-5612

Tennessee - 1-866-311-4287

Texas - Food stamps are known as SNAP in TX. For applications, dial 1-877-541-7905

Utah - FSP program phone number is 1-866-526-3663

Vermont - 1-800-479-6151
Virgin Islands - 1-340-774-2399

Virginia - 1-800-552-3431

Washington - Basic Food Program includes SNAP. Call 1-877-501-2233

West Virginia - 1-800-642-8589

Wisconsin - FoodShare Wisconsin phone number is 1-800-362-3002

Wyoming - 307-777-5846
Each and every state runs their own food stamp program. Applications can be done at an office near you, online, or over the phone - depending on the state. A different amount of assistance will be offered as well as eligibility requirements There is a main USDA website too, but families who need information on, or applications to food stamps, should call the numbers above.
Related Content From Needhelppayingbills.com