Financial assistance programs in Oregon.
Learn how to get financial help, government assistance, and grant money in all cities and counties in Oregon, listed below including Portland and Eugene. Get financial assistance to help with utility bills or rent, free medical or dental care, groceries, and more. Also find free stuff including food, Meals on Wheels services, medications and foreclosure prevention. Locate financial help near you in OR.
Low-income families will take priority. The immediate financial help is combined with long term support, such as credit card bill help, free job placement in OR, as well as basic needs include clothes or gas vouchers for work.
Money to help pay electric bills, housing, free food or stuff, and financial help in OR
Government Cash Assistance and DHS Social Services - The state of Oregon offers low income families a number of financial assistance programs and benefits. Get help for paying for basic needs such as food, medical costs, child care, housing and other bills. The benefits help the poor, seniors and people with no money. More public assistance in Oregon.
Employment Related Day Care (ERDC) - The ERDC program can be used to help pay for most kinds of child care expenses and daycare in Oregon. It is intended for lower income families as well as single moms or dads. This government funded child care assistance program will help those families work, get job training and find employment. Call 1 800-342-6712, or click here free daycare in Oregon.
Emergency Financial Assistance and Case Management - Non-profits such as the Salvation Army can provide residents with limited amounts of financial assistance, case management, and other services. Locate resources to help with bills and expenses, including rent or light bills. Or get free clothes in OR, hotel vouchers and other stuff. More on Oregon Salvation Army.
Housing Vouchers for Subsidized Rent - Public Housing Authorities, or PHAs, in Oregon work with Housing and Urban Development to administer section 8 housing in the state. Very low income families, including the disabled and senior citizens, can get help in paying for approved low income apartments from this government assistance program. More information on section 8 in Oregon.
Food Stamp Program - The goal of this SNAP program is to assist and improve the well being and health of lower income households and families. An EBT card is used in Oregon to help families buy healthy groceries to meet their nutritional needs. Call 503-945-5600
Temporary Assistance for Needy Families (TANF) - The program provides free government cash assistance grants to lower income families with children while the families strive to become self-sufficient. The goal of TANF is to reduce the number of families that are living in poverty or near poverty, through employment, training, and community resources. The government hardship money will help pay for rent, clothes, gas for a car, food and other bills. Call 503​-945-5600.
Oregon Telephone Assistance Program - This program will provide money per month to families to help them pay their phone bills. Or a free cell phone, including Apple, is provided. Discounts from Lifeline or other forms of government financial aid is available both for cell phones and standard land lines. Find details on LifeLine in Oregon, or for telephone and broadband assistance, call Oregon Lifeline at 800-848-4442.
Pantries and Food Banks - Hundreds of non-profits, churches, charities and other organizations provide free food, groceries, and nutritional items to families and people with no income in Oregon. Kids, seniors and the homeless will get free food or meals too. Get more information on Oregon free food banks.
Programs for Seniors in Oregon - A number of agencies are focused on helping seniors and elderly. Get information on medical bill assistance, food, government assistance, free health care, transportation, and other assistance programs. Click here on Oregon Agency on Aging.
Free Lawyers in OR and Legal Aid - Receive high quality, free legal advice and consultations. A non-profit organization, Legal Aid Services of Oregon, provides this service to residents. It is government funded. Learn more on free Oregon legal aid.
Homeless Prevention in Oregon - Government grants from ESG are used to pay for back rent, utility arrearge, or a security deposit in order to both prevent evictions and rehouse the homeless. Other solutions include the Emergency Housing Assistance, homeless shelter, hotel rooms, and transitional housing programs. More information on Oregon eviction help.
Free Hotel or Motel Vouchers - Homeless people that need a place to stay can get help from a charity. Free vouchers, motel rooms, lodging and other accommodations are offered to help adults, the homeless or families with kids. Locate a place to stay with hotel voucher.
Oregon Energy Bill Help - There is immediate financial help available from many Oregon utility and gas companies. Companies work with non-profit organizations to provide various types of assistance and grants to those in need. The program can help with paying utility and heating bills, offer payment plans, grant money and more. Click here Oregon energy bill help.
Low-Income Energy Assistance Program (LIHEAP) - This government financial assistance program helps households with paying their heating or gas bills. It is funded by the US Department of Health & Human Services. The money will also help pay for utility deposits, light bills and furnace repairs. More information on LIHEAP low income energy bill help in Oregon.
Low-Income Weatherization Assistance Program -

This free government program provides weatherization and energy conservation services at no cost to households with lower incomes and high energy bills. The goal of this program is to provide homeowners with lower heating and utility bills, a safe home, and conserve energy.
Oregon Energy Efficiency - Utility companies provide conservation education and also the hardware necessary to lower energy use through its free home audits and Energy Smart program. This project takes a holistic approach to satisfying household needs by lowering energy bills to make them more affordable. Get a free energy audit check up.
Help with Rent - The state and non-profits provide housing and rent assistance programs. There is help for seniors, single moms, veterans, and one is for low income Oregon families who are faced with an eviction. Apply for grants, direct cash assistance, and counseling as well. Several programs are focused on eviction and homeless prevention, offering emergency funds for rent, and provide housing stabilization services. Learn more on Oregon rental assistance.
Oregon Mortgage Relief and Foreclosure Help - Several programs are available to homeowners to help them deal with a foreclosure notice or help them catch up with their mortgage. Resources are offered by non-profits and local Oregon municipalities as well as the state government. Low-income homebuyers can also get a loan or mortgage help. Read more on mortgage assistance in Oregon.
Another option for Oregon homeowners is a

HUD approved foreclosure counseling agency

. Click here to find a listing of locations. Continue with free foreclosure HUD counseling in Oregon.
Low to moderate income families often struggle to buy a home in Oregon. The cost of housing has greatly increased. There is assistance available. Find ways to get help paying for a mortgage, even a first time homeowner.
Get free dental care, health services or insurance in Oregon
Free Community Clinics - Government funded clinics, as well as centers that are run by volunteer medical professionals or full time doctors. Centers will offer low income, working poor, and uninsured with free health care, therapy, medications, check-ups and more. Read more on free community clinics in Oregon.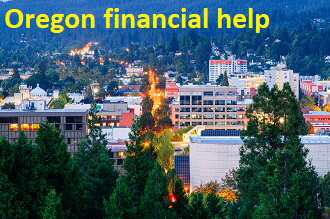 Federal government and state of Oregon sponsored programs can provide medical bill assistance to uninsured families. This can include prescription medications, physicals, care for children, help for seniors and other support. Continue with uninsured Oregon health care programs.
Dental Clinics and Dentists in Oregon - There are several clinics that focus on providing dental care and financial aid to the low income in the state. Cleanings, check-ups, extractions and other free dental work. A number of assistance programs are available. Read more Oregon free dental centers.
Oregon Health Plan - This is a government subsidy program in Oregon that assists families in need with paying for health insurance premiums (monthly cost). It is the state's version of CHIP and CHIP government insurance. The state will not pay for office visit copays or deductibles, but provides other help. All low-income residents, even those currently with insurance, are eligible to apply. Dial (800) 699-9075 or 800-527-5772.
Oregon Prescription Drug Program (OPDP) - This is available for all Oregon residents. It will provide individuals with enrollment in a cost-saving program, and there are no costs to enroll. You can save up to 60% on medical prescriptions. Find additional medical bill assistance programs. Call 800-336-6016.
Free Oregon Prescription Assistance Program - It is a discount prescription drug card service, called Oregon Rx Card. The card, which is free to all individuals and families in PR, will provide substantial discounts on both generic as well as brand name prescription medications. The average savings are projected to range from around 20-60% per user. This card is free. Call 800-527-5772. More ways to save on prescription drugs.
Job training, placement and money management in OR
Reduce Debts, Credit and Housing Counseling Services - Learn how Oregon not for profit organizations can assist families with getting out of debt. A number of other credit and housing assistance programs are offered too. More on Oregon free credit counseling agencies.
Free Budgeting and Money Saving Resources - Non-profits, charities, and government offices in Oregon help families get ahead. Self-sufficiency, budgeting, and information on how to save money and invest is provided. Find resources for saving money.
Government Grants, Employment, and Case Management - If you need a job, new skills or career counseling, a community action agency can assist. Specialists can also help clients apply for grants to pay their bills, child care, or rent while they work receive counseling. Read more community action agency Oregon.
Car Programs - Job seekers that need transportation, such as a car fixed, will get help from charities, churches or mechanics. There are auto fixes, repairs to a car or truck and other support. More on free car repair shops near you.
Job Search and Employee Development - WorkSource Centers in Oregon can help the unemployed or residents seeking a new opportunity find a job. Training, career counseling, programs for veterans and seniors and more is available from the government funded employment services. Or get a free computer, clothes for a job, work from home position and more. Click here Oregon free job training and placement.
Assistance in Oregon cities and counties
Select a county or city for additional financial resources or free items. Charities and government agencies help low-income families with bills at a local level as well.
Baker County (Baker City)
Benton County (Corvallis)
Clackamas County (Oregon City)
Clatsop County (Astoria)
Columbia County (St. Helens)
Coos County (Coquille)
Crook County (Prineville)
Deschutes County (Bend)
Douglas County (Roseburg)
Gilliam County (Condon)
Grant County (Union City)
Harney County (Burns)
Jackson County (Medford)
Jefferson County (Madras)
Josephine County (Grants Pass)
Klamath County (Klamath Falls)
Lane County (Eugene)
Lincoln County (Newport)
Linn County (Albany)
Malheur County (Vale)
Marion County (Salem)
Morrow County (Heppner)
Multnomah County (Portland)
Polk County (Dallas)
Sherman County (Moro)
Umatilla County (Pendleton)
Union County (La Grande)
Wallowa County (Enterprise)
Wasco County (The Dalles)
Washington County (Hillsboro)
Wheeler County (Fossil)
Yamhill County (McMinnville)
Related Content From Needhelppayingbills.com