Assistance programs in Washington County Oregon and Hillsboro.
Find financial assistance and free stuff for low income families in Washington County Oregon. The charities, churches, and DHS Hillsboro government programs that offer help with paying rent or mortgage payments, utility bill assistance, or a free box of groceries are below. Or also learn how to apply for job programs, free car repairs, and other support. Get financial help near you in Washington County OR.
Low income families, seniors or the disabled with an income may get financial immediate help in Hillsboro and the county. Residents in a crisis, regardless of income, may be given free items. Those range from school supplies, furniture or a free vehicle to hot meals or Christmas toys in the Washington County Oregon area. There are also free government internet programs, health clinics, and other resources listed below.
Washington County OR community action free grant programs
The non-profit organization that offers the most services is the Community Action Organization. They offer everything from emergency financial assistance to social services, free items, grant money and resources to qualified individuals.
Energy assistance

- The agency helps low to moderate income households in Hillsboro and the county with paying their heating bills and electricity costs. The energy bill assistance program operates year-round using federal government, state of Oregon, and private funding from utility companies and other private donations. Funding is limited. Assistance for utility bills and its availability depends on funding cycles, type of requests, and other factors/


Workforce Development

- The community action agency helps the under employed or job seekers find work or gain new skills. This is done in many ways. They include entry level employment for people with a GED, work for seniors or Spanish speakers, and many other resources.


Rental assistance programs

- The Washington County Oregon Community Action agency also has limited funding to provide emergency rent assistance. There may be some funds for a deposit too. The goal is to help individuals and families can stay in their homes or apartments. Read more on eviction prevention programs.
Weatherization assistance

- The non-profit agency also provides cost-free weatherization services and energy conservation programs to low to moderate income-qualified residents (both homeowners and renters) of Washington County. The primary objective of the weatherization program is to provide free services and resources that will help families lower their heating and utility bills and stay warmer, safer and more comfortable during the year.

Transportation programs

, including free cars or autos, can be arranged. The CAO of Washington County helps job seekers, the formerly homeless and others who have a path and plan to stability. Non-profits may offer low cost loans, free cars (or the ability to work towards them), grants and other support. More on free car giveaway programs.
Call Community Action Organization at (503) 648-6646 to learn more about these or other programs. There are many other services offered too. Find more details on assistance from Community Action Organization.
Emergency cash grants, free stuff or financial assistance in Washington County
Renters assistance is offered. Charities in Washington County, The City of Hillsboro and of Beaverton, and the Hillsboro Community Foundation all have been major contributors and supporters of the programs being offered. There are also charities, churches as well as other government agencies that offer grants for rent. Several other agencies focus on providing eviction prevention, housing grants, and other services. Read more about Hillsboro and Washington County rent assistance programs.
Additional housing as well

as rental assistance programs are available from

local partnerships as well as agencies in the county. The United Way, working closely with Community Action in Washington County (phone (503) 648-6646), provides rent assistance to people in need. They they will also provide funds to those who may be facing an eviction. There are also resources to help the homeless find, and pay for, new housing or apartments in the region. The United Way also helps fund some rent assistance programs in Portland Oregon.
IRCO, formally known as the Immigrant and Refugee Community Organization, provides qualified individuals with access to rent and utility bill assistance programs. There are other resources for immigrants in the area, both documented or not. Find help for undocumented immigrants.
They also run culturally specific financial education classes, debt reduction services, and budgeting skills to promote long-term financial stability of African refugee and immigrant families in the area. Call (503) 234-1541, or read more on debt assistance.
Care To Share - One day per month qualified clients may call to request rent assistance for the following month. Several other assistance programs will be offered too, many by referrals. The non-profit can coordinate giveaway free food to low income families or single mothers. There are also funds for energy bills, and other emergency financial aid. Beaverton Oregon. (503) 924-3129. Learn more on Care to Share assistance programs.
St. Alexander Catholic church of Cornelius Oregon provides limited rent, heating, and utility bill assistance. In addition, the church provides food boxes to Cornelius residents. Or get free clothes for work or school, furniture vouchers and other goods. Phone (503) 359-0304
St. Francis Social Action offers numerous assistance programs. Groceries, every day free food, as well as holiday food boxes are available for Christmas, Thanksgiving, and Easter. Free furniture and clothes can also be provided. Sherwood Oregon based. The pantry is open Wednesdays 9-11am and 5-7pm, as well as Thursdays 9-11 am. Call (503) 625-7067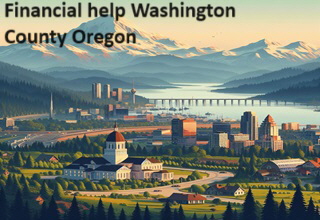 Hillsboro Department of Human Services (DHS) processes applications to government and cash assistance, with an emphasis on self-sufficiency. There is everything from SNAP food stamps to TANF cash assistance, senior care, SSI disability and other aid. The Family Resource Centers can provide information on government benefits and public assistance programs. They can serve as a great resource for the less fortunate and low income in the community.
Food stamp applications

and information on job training for recipients. There are EBT cards for the low-income in Washington County, WIC vouchers and USDA benefits. Additional nutritional support and food is available from WIC.

Information on federal government

low cost, or free, internet programs for students or at home workers who need access. More on free government internet programs.

Grants and cash

assistance programs are available for the very low income, such as TANF.

Homeless prevention

, emergency rent and utility help, and other support may be provided to Washington County and Hillsboro families in a crisis.

Senior citizens get support

too. Elder care in Oregon is arranged as well as job programs.
The main office is at 5300 NE Elam Young Pkwy, Hillsboro, Oregon 97124. For more information dial (503) 693-4555. Other government assistance is available too. They help the unemployed, working poor and low income. More on public assistance in Washington County.
Your Next Step - This agency provides grant payments of up to $200, and the money is payable for each qualified applicant of the programs and agency. The hardship funds can be used to pay an emergency, in a crisis, and people can apply for help only once. The grant can be used to help pay for either utility bills, prescription, medical bills, rent, or certain other expenses. Or get money to pay for a car repair or gas for a job. The location is Beaverton Oregon. Call (503) 330-7755 or 800-799-7233
Salvation Army of Washington County Oregon and Tualatin Valley Council (phone number (503) 640-4311) and Hillsboro Oregon is a non-profit that provides energy and utility bill assistance from January through May when funds are available. Note they do not help with rent expenses. The agency tries to assist the low income in western Washington County.
Several other Salvation Army centers operate in the region. While some emergency financial assistance may be offered for needs such as rent or heating bills, the focus is on offering other types of support. The non-profit tries to address the cause of the individual's hardship.
So case managers will provide such support as credit counseling, employment referrals, and more. They try to give elementary to high school age kids from school supplies. Other basic needs such as food, clothing, and holiday meals or free Christmas gifts may be offered too. Click more Washington County Salvation Army programs.
Washington County Oregon Care To Share – Funds can help pay utility bills, including water, electric, and gas. They help people in Washington County turn on their power - or keep it on. Dial (503) 726-0407
Homeless Prevention from Emergency Solution Grants can help tenants and the homeless in Washington County Oregon. The resources available include case management, motel vouchers, shelter, and emergency grants for certain costs such as rent, water, or heating bills. The program can help the following.
Low income families that need to find income based apartments.
Seniors or the disabled that are close to losing their home or apartment.
Families with past evictions on their record, or single people, can get help finding a place to live, and locate second chance apartments for people with evictions.
Tenants that are facing an imminent or future eviction doe to unforeseen financial circumstances will get help as well as homeless people in Washington County OR. Find more Washington County eviction and rehousing assistance.
Churches from Society of Saint Vincent offer basic needs. The charity, which is faith based but helps regardless of age, race, or religion, may have some of the following.
Thrift stores, food pantries and clothing closets offer furniture, work clothing, and food in Washington County.
Referrals are given to grant programs and short term help for deposits, water bills, and more.
Other services may be shelter, vouchers for gasoline for a job interview, and more. More on St. Vincent in Washington County.
City Of Forest Grove – Offers limited amounts of help for paying electric bills. Location is 1924 Council Street, Forest Grove, Oregon 97116. Dial (503) 992-3221 for intake.
Impact NW helps the poor, low income, and homeless (among others). Some of the assistance programs include the following:
Home care services for the elderly, and respite for caregivers in the Portland area and Washington County.
Information and applications to programs for children, students, or single moms, including Head Start or WIC vouchers.
Help in applying for grants, energy conservation services, and financial aid.
Low cost or sometimes free rides for medical or doctor appointment in an emergency.
Other resources may be offered too. Much of it through referrals as well as case management. More on assistance from Impact NW.
Washington County Love INC covers small portions of the county. The faith based, church group and its ministries offer many programs, most of which are for satisfying basic needs. Call for intake or referrals.
Examples of the resources include free food, clothing, Christmas gifts and school supplies for children. There may also be items for infants or single mothers, such as diapers or formula. The Clearinghouse at the charity offers other referrals too, including to shelters or low income housing units in the region. Learn more on Newberg LOVE Inc.
Share and Care provides housing assistance in the region. The homeless, or people facing eviction, can call the organization. Everything from information on low income housing, government grants, and short term loans for rent or housing expenses is available for Washington County families. Read more Share and Care housing assistance.
Transitions Project - Veterans only can get rent and utility bill assistance. The grants are available as part of SSVF. Other resources are arranged too. They include security deposit or first month rental assistance, employment and education services, eviction prevention, free legal aid around housing discrimination or barriers. In addition, the program can pay for pother bills (such as energy) that may support stable housing. For details, dial 503-280-4700.
Home repair programs can help the low income, elderly, and disabled in Washington County Oregon. You can receive housing assistance from the Home Access and Repair for the Disabled and Elderly (HARDE) program. The program provides grants and/or low-interest loans to low- and moderate-income Washington county residents so that they can improve and repair their homes.
Various improvements can be made. They include taking such actions as repairing deteriorated siding or roofing, fixing a broken door or windows, repairing plumbing or electrical systems, replace or repair defective heating systems and structural defects. The maximum grant or low interest loan that is available through the HARDE program is $3,500.
In addition, the loans and grants also can be used to improve accessibility needs, such as providing wider doorways, including adding ramps, adding shower rails, grab rails, lower kitchen counters and cabinets. Or the loans can pay for elevated toilets, roll-under sinks, installing security devices and door handles.
Qualifications for the home repair assistance program include being disabled or elderly (62 or older), being a Washington County resident, having an urgent need for the improvements or repairs, or accessibility improvements, and people applying also must meet income guidelines. Dial (503) 846-8814 to learn more
Goodwill has a bargain thrift store in Washington County Oregon as well as offers employment services. It sells gently used items to anyone in need. Job seekers can be given fee clothes, boots, work uniforms or other support too. The location is at 920 SE Century Blvd, Hillsboro, OR 97123. Phone: (503) 649-5424.
Free stuff in Washington County OR and voucher programs
Christmas toys, holiday meals, presents, and food boxes are available from seasonal programs. Agencies as well as volunteers provide free Easter, Thanksgiving, and Christmas help to less fortunate residents. More free holiday assistance in Washington County Oregon.
Free school uniforms and supplies may be passed out in Washington County. Dozens of items may be given to kindergarten, middle and high school students. Pens, pencils, notebooks, bags, shoes, clothes and so much more (based on donations). Continue with free back to school supplies Washington County Oregon.
Free diapers, baby formula, and supplies - Many Washington County area help struggling parents. Call an organization for information on WIC vouchers, pantries that have baby formula, and diaper banks. Other aid can be provided too. Assistance is available in the region. More on free diapers in Washington County.
Thrift stores, furniture banks and free clothing closets in Hillsboro and the county can provide free items or low cost goods to the needy. Low income families may receive vouchers or gift certificates that they can use to pay for as well as receive free clothes, school supplies, shoes, and Christmas gifts or toys. Other individuals and families can shop at a thrift store in Washington County Oregon for low priced items, such as furniture or household goods. Continue reading free clothes, furniture, and school supplies Washington County.
Tablets and phones are offered. Washington County families on government assistance, such as food stamp or lifeline, will get a free tablet (Samsung or Apple) as well if they apply. Many telecommunication companies offer devices, and read more on how to use foodstamps to get a free tablet.
Foreclosure help and mortgage or debt relief in Washington County Oregon
Open Door Counseling Center - Located in Hillsboro, the non-profit is a HUD certified housing counseling agency. They also help borrowers pay down debt, budget, and build financial literacy. The programs are free.
Among other services, they provide a mortgage foreclosure prevention program (free counseling, mediation, advocacy with lenders, debt reduction, money management, and loss-mitigation). The non-profit can also help people buy a home through pre-purchase home ownership counseling and workshops. Learn more on Oregon mortgage assistance programs. Or dial (503) 640-0952
Free medical care from community clinics for low income and those with limited or no insurance
Virginia Garcia Memorial Health Clinics - Provide primary health care for the whole family. They focus on prevention and health maintenance by offering, among other health care services, physicals, immunizations, well child exams, and family planning are some of the services. Call (503) 352-6000
The low income, uninsured, and those with no other options can contact Essential Health Care Clinic in Hillsboro Oregon for free or low cost medical care. Call (503) 846-4919
Find more free community clinics and health centers in Washington County Oregon. Clients may get basic dental services or cleanings. Or learn about insurance such as Medicaid. Read more free community clinics in Washington County OR.
Free food assistance
Beaverton Seventh Day Adventist - This is a religious organization gives emergency food box and has a clothing closet on site as well. The location is 3565 SW Walker Rd, Beaverton, OR 97005. Call (503) 591-9025
Sunshine Pantry - A non-profit that runs a food pantry and is also offering food, household items, clothing, toys and toiletries for needy families in Beaverton Oregon. Call (971) 506-7827
Gales Creek Community church - Monthly food boxes. Dial (503) 357-8873. The location is 9170 NW Sargent Rd, Gales Creek, OR 97117.
Sonrise Church's of Hillsboro (dial (503) 640-2449) offers a Food Pantry & Clothing Closet programs. The programs distribute food and clothing to needy people once a month in the community.
Several other food distribution centers, hot meal soup kitchens and pantries provide assistance to anyone who needs help. Groceries, personal items, holiday meals and even government aid is offered from the USDA. Click here to find a listing of more Washington County Oregon food banks.
Related Content From Needhelppayingbills.com