Easy entry level jobs.
There are entry level jobs that pay well, even for people with no degree or experience. There are government positions, well paying employment opportunities for people with a high school degree, and other easy job opportunities out there. Some of these employment opportunities are work from home or online too. Find details on entry jobs for people with no experience that are both easy and high paying.
While a job search without a college degree, experience or a trade education might be disheartening, it's not hopeless. There are a number of easy yet good paying jobs for people with no experience or those looking for an entry level position. These employment opportunities are also great options for people with a GED only, immigrants, recent graduates and even those who are working towards a GED. The fact is, there are jobs out there and sometimes you just need to know what you should be looking for and where to look for it.
Jobs, including well paying ones, that offer benefits and the potential for advancement are available to those without college or specialized training. Of course, you still need to survive while working up the ranks, so the jobs selected for this list also start their employees out at substantially more than minimum wage. Or if you want more experience or skills, look into the help offered at One Stop Career Centers.
High paying entry level positions for people with no experience
There are many different types of easy jobs that pay well that are also entry level positions. They do not require experience and are listed below. The salary will vary for each job, based on geography, employee skill set, education levels and other factors. However it is possible to get a decent, or even high paying job that pays well, even if the applicant does not have experience or a college degree.
1) Customer service / support call center jobs
A customer service or support call center is a great entry level job, with a decent wage and possibility of higher income as time goes on. A position doesn't involve cold calling to sell things to people. Instead, you field questions from existing customers. Call centers often contract with major brands looking to outsource their customer service, and FlexJobs is a great place to look for these positions. Many of these are entry level jobs that pay well, at least over time. Or look here for other call center jobs to work from home.
These jobs usually start at a few to several dollars an hour above minimum wage and are often temp-to-hire positions that can be easily done from home. After a few months as a temp or new worker, you have the opportunity to move into full-time work with benefits. Basic requirements are only a GED or high school degree and the ability to type at least 25 words per minute, as well as basic familiarity with computers. Find more on Flexjob call center positions.
2) Paid internships
Teenagers, people with a GED or college students (among others) can look into paid internships. A number of local as well as national corporations offer opportunities to younger, entry level workers and even high school students. There are also easy government jobs that are great paying, offer insurance, and offer internships. These types of positions help both the entry level worker (or even high school student) gain much needed skills while the company benefits from the effort the apprentice put in.
In addition, the entry level/younger worker may hope the paid internship turns into a future part of full time job. As does the company, as turning a qualified intern into an employee also benefits the employer as the person is mostly trained, it reduces the companies recruitment costs and more. Read more on youth internship programs.
3) Easy gig economy jobs
There are many hustle and side gig type positions out there that can be done as primary jobs, a second or third job and more. Many positions are jobs with no experience, and depending on how hard someone works, they can pay pretty well over time. The positions include everything from starting an online business to using smart phone apps, various entry level freelance positions, arts and crafts, reselling products, survey sites and so much more. Even make a hobby a job.
Most side hustle jobs are great for people that lack an education or experience in a certain field. They can be entry level positions or second jobs. Regardless, there are many options out there. Find a list of side gig jobs
4) Costco
Costco has grown to become the second-largest retailer in the world and has more than 500 locations across the United States. While it's a fairly standard retail/warehouse job, the company's treatment of employees is not typical of the retail industry. The CEO has maintained a long-term commitment to ethical treatment of retail workers, setting the starting wage for all employees at $11.50 and boasting an average wage of $21 for its hourly retail workers.
Many of their jobs require nothing more than being at least 18 years old, but it can still be very difficult to find an opening, as the wages are usually much better than comparable options in the area. The company usually has a seasonal hiring rush that begins in early November, which can be a chance to get your foot in the door.
5) Drivers or delivery services for people with no experience
It is possible to use your car to make money as a job or even career. Ride share and delivery services, drivers, contractors and others use their car to make money. The jobs are filled by people of all backgrounds - immigrants, retirees, people with a GED only, and others. Find ideas on making money from your car.
6) In-N-Out Burger
As with Costco, In-N-Out Burger is known for ethical employee treatment in an industry that has one of the poorest reputations for it. The company starts all employees at $11 per hour and also offers benefits that are rare in the fast food industry, such as paid vacation days and a 401k. It is a great entry level employer. They also do not require a college degrees, so Costco hires people with technical school or GEDs only
Expect a fast-paced work environment, however, as In-N-Out has a cult following that keeps most locations hopping all day. The company has also only made it as far east as Texas at this time, but you'll find plenty of them if you're in California or Nevada.
7) Oil Rig Roustabout
Oil rig work is physically demanding and isolates you from society for months at a time, but the compensation can't be beat for someone who has nothing but a high school diploma or GED. Pay generally starts above $50,000 per year, and the industry average wage is just short of $100,000.
You'll need to be on the Gulf Coast for these jobs or one of the other arears of the country with rig (such as Texas or the coast of Southern California), with most hiring taking place out of major cities in Louisiana and Texas. Look for regional drilling companies and the recruiters they contract with.
8) Picker/Packer
Warehouse work in general is a good choice for workers with little or no experience or education, and the picker/packer job is a very good way to get your foot in the door. Many immigrants often take these very manual labor jobs. Picker/packers usually work in shipping areas, pulling various items from shelves and storage to fill orders.
Pay will vary from place to place, but it's usually well above minimum wage. Temp agencies that specialize in unskilled labor (such as Manpower) often place people in these types of jobs. One of the country's biggest picker/packer employers is Amazon, and they start new warehouse workers at $12.50 an hour in most locations (and usually have no shortage of work).
9) Railroad Jobs
There are two basic options for working on the railroad - a freight company (such as BNSF) or Amtrak. Both higher applicants with no college degree or even a GED.
The job to look for at freight companies is "Conductor Trainee." These jobs usually only require you to be 18 or older and have a high school diploma or GED. The job involves not just moving trains from place to place, but also switching them safely and making various repairs. You are given paid on-the-job training that usually takes at least a couple of months. Conductor trainees can expect to make around $37,000 a year starting out, but that salary doubles for experienced conductors.
Amtrak's jobs pay a little bit less, but have more regular hours, are cleaner and are much less physical. The entry-level jobs to look for are "passenger conductor trainee" or "enroute cleaner"; you can also look into an "onboard services trainee" job if you have either some college or some experience working in food services. Pay usually starts at around $15 an hour.
Both job types will usually require you to also be able to get a Transportation Worker Identification Credential, which involves being able to pass a basic TSA background check.
10) Non-profits or charities have easy entry level positions
Many organizations can be gateways for more experience. No experience needed at most. Make a little money from these jobs and gain critical experience. Whether you have a college degree or GED, or high school diploma, the demand for workers is almost always there. As one example, learn about Goodwill jobs.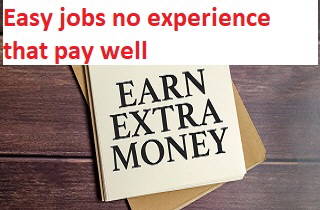 11) Retail Chain Distribution Centers
Entry-level retail jobs generally offer low pay, unpredictable scheduling and no benefits. The exception in the retail chain is the regional distribution centers, which more resemble typical warehouse jobs. For example, while Walmart is usually the poster child for the unsustainable low-end subsistence job, their distribution centers usually start workers at around $17 per hour.
Amazon also offers many high paying entry level jobs in distribution centers and they do not require experience or a college degree. All of the centers may hire immigrants, single moms and others with limited education, experience or degrees. There are also companies that hire entry level workers that allow you to get paid daily; this means you do not need to wait for a weekly or bi-weekly paycheck. Read more about daily pay.
You won't find these everywhere, but odds are some major chain has a distribution center somewhere near you. The Home Depot has 70 in the United States, Walmart has 42 and Target has 39, just to name some of the biggest retailers. Amazon has dozens of locations as well. All of these are great entry level job opportunities for those that lack a degree, and there is major upside to working for these employers.
12) Free money for High School and GED graduate students
There are many places, jobs and opportunities for what is as good as "free money". Now generally this is not a lot, and may come with conditions or sign ups, but it is possible. Whether it is a cash back shopping site which anyone with any experience can use, jobs such as online jurors (which often need diverse people including those with no experience or GEDs only), smart phone apps and more, it is possible.
Some of these are also grant programs, that are mostly for the low income or working poor. These may require job training, but some government grants and charities can help the undereducated. Find more on free money from jobs and grants.
13) Trader Joe's
As Costco is to retail and In-N-Out is to fast food, Trader Joe's is to grocery stores. Entry level employees get at least a couple of dollars an hour above minimum wage, along with dental, health insurance and vision coverage for anyone working more than 15 hours a week and full medical for anyone working 30. Trader Joe's has a work culture of being fun, easy, and great entry level positions for people with no experience who want to start a career.
14) UPS hub worker high paying positions
Package handler jobs at UPS hub locations pay a little more than similar positions elsewhere. Immigrants, people re-entering the workforce and applicants without degrees tend to find UPS a great place to work. Entry level and high level jobs are available. They are also a good entry point to work your way up to a driver job for employees with a GED or high school degree, where the average UPS employee makes over $70,000 per year.
15) U.S. Post Office
The Post Office has long been a solid middle-class job option for those with nothing but a high school degree and no experience. Since it's a government job, there is a fixed pay scale. Most workers will start between $15-17 per hour, but advancement is relatively swift compared to similar jobs. There are also great benefits for such as entry level position, such as retirement plans, affordable health insurance, and other benefits.
As with Costco, many workers get their foot in the door by being hired during the seasonal Christmas rush. Look for "casual" positions listed on their website.
Jobs do pay well for people with no experience or limited education
The bottom line is that there are easy, fulfilling job or career opportunities for entry level workers. Anyone with a high school degree (or GED only) or people with no experience can earn a decent income. In addition, many of these positions can lead to a future career with promotions and a higher pay.
While all of these jobs can be had with nothing more than a high school education or a GED, that doesn't mean they're easy to get or easy to do. Employers will expect value and hard work for the money they are paying, and if you don't have a rare skill set, then they'll be getting that value either through hard work or long/odd hours. They'll at least provide a living wage in return, however, and usually the opportunity for advancement to a much better position.
Related Content From Needhelppayingbills.com