Grants to pay medical bills.
Federal government and non-profit funded grants will help pay medical bills. The resources are available from a number of private as well as public organizations. They can be a very good option to those who have limited resources and are out of options when it comes to paying health care bills or that need treatment. Get details on grants that help with medical bills.
The grants are not loans. People never have to pay them back, so they are basically equivalent to free money Learn more on the application process below. Also, it doesn't matter if you do not have a good credit score. You can still apply for a grant even if you are considered low income or have poor credit. Individuals with no credit history can get a medical bill grant for a surgery, treatment, or as a form of debt relief.
In addition, the government as well as non-profit grants tend to also be tax free. You can apply for them if you are a U.S. citizen and if the applicant meets other conditions that will be established by each non-profit or government program.
Where to get medical bills grants
Billions of dollars of funds are generally issued each and every year to address medical needs. There may be grants available from local or national stimulus packages, hospital chains, pharmaceutical companies, non-profits including the United Way raise money, and there are many other institutions that offer financial aid.
Depending on the source of the money, some of them will be considered to be government grants. But others funds for paying medical bills are more charitable in nature. Free grant money for medical treatments or to pay off existing bills is available from a variety of sources.
Even today, money continues to flows to non-profits and local government agencies from a number of sources, including private donations and federal government tax receipts. Or the assistance covers other medical needs, such as debts from a hospital visit, prescription medications, and more. There are many different grants available besides just those for health care or for paying medical expenses. You can also apply for more than one program at a time.
Examples of how grants will help pay medical bills
While there will usually be some form of restrictions in place, and each program varies, some of the criteria and conditions can be as follows.
Health care grants

can be used to pay for dental care, prescription drugs, eyeglasses, medical services, emergency care, emergency surgery or treatment and other needs.
Funds can usually to be used to help pay for

mental and emotional treatments

, drug and alcohol treatment, or rehabilitation.

Government grants even help pay for the elderly nursing homes

as well as medical needs of senior citizens.
All sorts of medical as well as hospital bills can be paid by a grant. There are also several non-profit organizations that take part in these programs. Some examples include Cancer Care Inc. (phone 866-552-6729) which will help patients who are fighting cancer. Assistance is available for their immediate family members as well.
How do you locate these grants to help pay medical bills?
You have to search the web and contact many different companies and organizations. When you do perform your search you have to be very specific. Most programs are readily listed on the website, such as the Healthwell Foundation ((800) 675-8416) which can help patients who can't afford their copays. Another option is the United Healthcare Children's Foundation (Brides for Kids), which can assist the underinsured with sick or injured children. Their telephone number is (952) 992-4459. Another option is Vision USA for glasses or eye exams ((800) 365 -2219 or 1-800-766-446).
There are other places that individuals can turn to for information. We have extensive information on this site, with a search bar above to use. You can type in your county/state, medical needs, et. for details, including some grant programs. There is also a comprehensive listing of different resources, both government and charitable, that help with medical bills.
Grants for paying medical and health care costs, as well as other expenses, can be provided from community action agencies too. There are hundreds of offices around the country that focus on low income members of their specific county. Even if an agency can't help you by issuing a grant, they often have referrals. Find local community action agencies.
Cancer patients will often get able to free grants from the government to help pay for their medical bills. There will also be funds from charity services or non-profits. As there are many programs out there that work to find new and/or innovative treatments, or they help pay for costly cancer treatment. State and federal options exist, and locate free government grants for cancer patients.
There are many non-profits that offer grants as well as other free healthcare related assistance. This may be medical equipment (such as crutches or wheelchairs), insulin pumps, transportation to a clinic, and of course direct financial aid to pay a medical bill. Find a list of free stuff and grants for all sorts of needs.
Pharmaceutical companies also provide grants. Of course this sort of funding will be for prescription drugs only. The grants will normally help pay the medical bills for the uninsured or those that need a certain medication but their income as well as insurance company will not pay for it. Find a listing of grants and other resources that can help with prescriptions.
Grants will help with dental needs, such as the cost of implants for one or more teeth. The funds will help pay for the medical treatment, after care, and the implants themselves. Everything from government benefits or Medicaid as well as dental chains will provide medical grants for the care. Locate government or non-profit grant money to pay for dental implants.
What to look for in health and medical care related grants
In general, we recommend never to pay some company or service for information on a medical bill grant as using that approach can come with risk. It is generally more effective to do research on your own to better understand all of the health care options out there.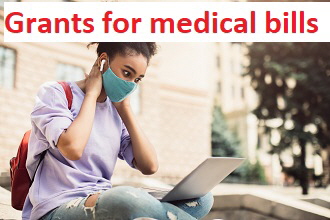 A good non-profit or government agency will guide you through the search, review, and application process for a grant. A solid organization will basically "hold your hand" as much as possible throughout this process. You should never pay a fee in order to apply and always read the fine print of any application for a grant. Do not pay for an application either and those should always be provided for free to those who request them.
With millions of people struggling to pay for healthcare, and with many others lacking comprehensive health insurance, be sure to review these programs. If you have high medical bills and debts, never hesitate to apply for a free non-profit or government grant. There are some cases in which the money can help you pay your medical bills in less time or reduce existing debt. It can be the best solution for your problem and will help reduce your stress during a difficult period.
Related Content From Needhelppayingbills.com