Military Homeowners Assistance Program (HAP).
This foreclosure as well as tenant assistance program that is offered by the federal government was created to help surviving as well as current military members, veterans, their families, and other personnel. There may be a combination of financial aid as well as free counseling to help clients with their mortgage, rent, or other general housing needs. The Military Homeowners Assistance program also is able to include the following participants:
Surviving spouses of fallen service members-DOD, including civilians and Coast Guard who need to or are forced to move within two years of the death of the service member.

Wounded soldiers who need to relocate for medical reasons or leave a hospital. This also is includes military members with a disability.

Active duty service members and military personnel who are facing foreclosure or who may be unable to sell their homes or pay the rent.
Active service members, and their families, can also apply for the Basic Needs Allowance Program, which is a monthly financial benefit from the government. Those funds can also be used to pay a mortgage or housing costs, and learn more on the Basic Needs Allowance.
Resources provided by the Military Homeowners Assistance Program
The federal government Military Homeowners Assistance Program (HAP) provides a variety of options to help. The several resources available to assist eligible homeowners including foreclosure assistance, private sale, and a federal government initiated purchase of their home. Some states, such as Pennsylvania, offer additional grants for military families.
Both financial and non-monetary help is offered. Details of the Military Homeowners Assistance Program include :
There is emergency financial help and other forms of assistance if the military member or their family were to default on their mortgage.
The government may reimburse the client for part of their loss from selling their home.
Government aid is provided to assist the person if they don't have funds from the sale of their home to payoff your mortgage.
The applicant may also be able to have their home purchased by paying off the mortgage.
HAP also offers free legal aid as well as counseling, both to tenants who need it for landlord disputes or homeowners with foreclosure.
Foreclosure Assistance: If court or lender initiated foreclosure proceedings have begun against the borrower, an applicant to this program can elect to get help. Military members or veterans can either receive foreclosure benefits, assistance refinancing a home loan or support in the private sale of their property from the federal government.
Foreclosure benefits provided by Military Homeowners Assistance Program (HAP) may be paid directly to the homeowner to reimburse them for costs and expenses that need to be paid by the applicant. Whether it is court or legal fees, the grants may be able to help them with those costs. Additional financial aid may be provided for any bills that may need to be paid to third parties on the applicant's behalf.
The HAP program is managed by the Army Corps of Engineers for the Department of Defense. This agency supports military families, surviving spouses, or service members who believe that they meet the assistance program criteria and wish to learn more about eligibility. Any applicants can also learn about expanded benefits for warriors in transition. Anyone that serves the country should look into this program.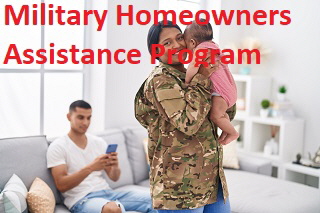 There is another program was created to stop foreclosure filings for active duty military personnel. It is known as the Civil Relief Act. Read more on this Service Members Civil Relief Act program.
Renters and those seeking to lease a home can get help too. As noted, Military Homeowners Assistance has a rental option and assistance too, often in partnership with HUD. A couple of the services include section 8 housing choice vouchers as well as homeless prevention and rapid rehousing from ESG grants.
Active service members, veterans, and their families may benefit from this HAP resources. In general, section 8 is for very low income veterans that requires them to pay some of their income (even disability or a pension) for their rent. HPRP, or homeless prevention and rapid rehousing, is for an emergency. Read more on section 8 veterans and military.
Expanded Homeowners Assistance Program: The HAP program is always changing, growing, and improving. There is additional housing support and rent assistance to military personnel, their families, veterans, and even to Department of Defense civilian employees. So it has been expanded on the number of people that can be assisted. Read more on the expanded Military Homeowners Assistance Program.
Apply for Military HAP
The programs(s) for renters and homeowners are national. Any struggling service member (current or past) can seek housing help. The main contact information is DODHAP1@usace.army.mil. Or Dial 800-861-8144 to learn more on the Military Homeowners Assistance Program.
Related Content From Needhelppayingbills.com